Well true to my word, I set off on a flight in Northern Norway to discover the mysterious northern lights for myself. I started at 'Frames' airport (ENNK) and took off at 7:30pm, in European wintertime. The sky was pitch black, apart from the numerous stars twinkerling overhead, and I had set the weather to 'All Clear' with unlimited visibility without a cloud in sight. I took off in the Beechcraft Kingair and headed north, and followed the fjord I could just make out below me. I got up to about 6,000 feet put on autopilot and switched to an outside view, looking around with my POV hat searching for the phenomena. I couldn't see it anyway, so I took off autopilot and pulled the joystick back. Suddenly at 9,000 feet, the sky in front of me light up in many fantastic shades of colours. It looked great and I was just positioning my camera angle for a screenshot when they disappeared. I carried on heading north for about another 50 seconds and it happened again- yet this time appearing slightly higher. I climbed up to 11,000 feet and it was absolutely amazing- the northern lights where appearing all over the place in two separate stands, one below me a 9/10,000 feet and one way above me. I turned west and followed another fjord climbing to 17,000 feet as the lights kept on flashing in front of me. (Whatever way I turned they always happened bang in front of the nose. I followed the lights for 20 or so minutes then decided to attempt a landing at night time, something I don't do very often. I picked out the neared airport on the GPS which was 'Andoya' (ENAU) and circled around the island it was on for a good 10 minutes till I was low enough to land. I parked up at the gate and searched the sky in vain for the lights I had just seen but I saw nothing!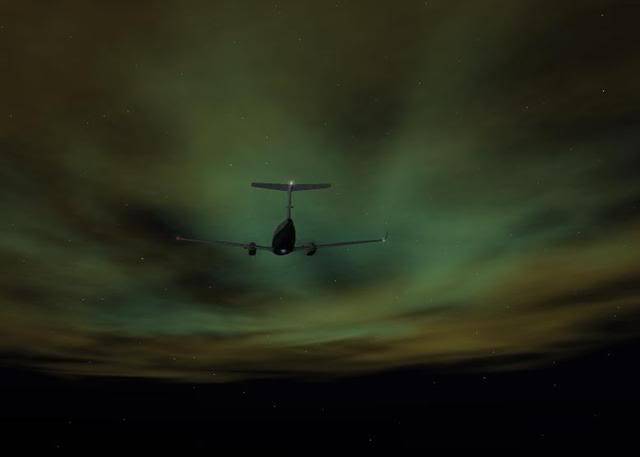 If you are reading this and want to see the lights, here are some tips that will guarantee a sighting:
Set your 'Special Effects Detail' to 'High' in your scenery settings
Take the flight I did, ENNK to ENAU and fly higher than 9,000 feet
Take off at night time, try 7:30 onwards and do it in wintertime (February in the Northern Hemisphere)
Have your weather set to All Clear
Thanks for your info Liono, I wouldn't have had all this fun if it wasn't for your help! Now I'm off to find the southern lights...
PS: Try flying around Northern Norway in day time too, its beeeeeautiful!