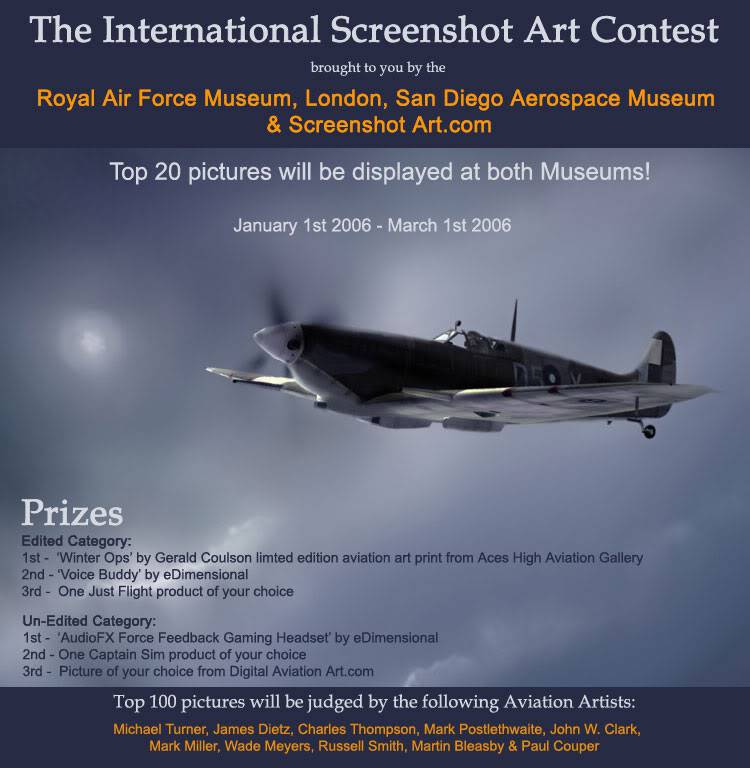 Screenshot Art.com is very proud to announce,
In association with the Royal Air Force Museum, London and the San Diego Aerospace Museum we bring you the biggest and best Screenshot Art contest ever held. The top 20 pictures will be displayed at both Museums for two weeks and along the way will be judged by the following professional Aviation Artists:
Michael Turner
James Dietz
Charles Thompson
Mark Postlethwaite
John W. Clark
Mark Miller
Wade Meyers
Russell Smith
Martin Bleasby
Paul Couper
As if having the chance to have your work displayed at two Aviation Museums and judged by pro Aviation Artists is not enough we are pleased to offer the following prizes:
Edited Category:
1st - Limited Edition print of 'Winter Ops' by Gerald Coulson courtesy of Aces High Aviation Gallery
2nd - 'Voice Buddy' by eDimensional
3rd - One Just Flight product of your choice
Un-edited Category:
1st - 'Audio FX Force Feedback Gaming Headset' by eDimensional
2nd - One Captain Sim product of your choice
3rd - Picture from Digital Aviation Art.com of your choice
Many thanks to all the sponsors for supporting this contest so generously.
Please go here to read the details and how to post your entries.
Please go to the International Screenshot Art Contest Forum to post any comments or queries regarding this contest, guests can post in this forum.