Since last time we all have the pleasure to meet new members in Fly Away and since i have notice a lot of them asking how they can upload their screenshots or to create a signature in their profiles i would like to share my small knowledges in order to help in this point.
Lets start

First of all we must capture our screen.This can be done by using one of the following programs

Screenhunter

http://www.wisdom-soft.com/products/screenhunter_free.htm
or
Grabclipsave

http://www.simviation.com/fsdtutscreensh.htm
or from here(23rd program)
Most of us upload our pics in 2 sites.
http://www.photobucket.com/
&
http://www.imageshack.us/
The first one(
Photobucket)
offers the ability to create more than one albums and host our pics there.We can send the link of these album to other people(by copy and paste the adress from our browser)
The most preferable utility is that we can host a screenshoot or a pic....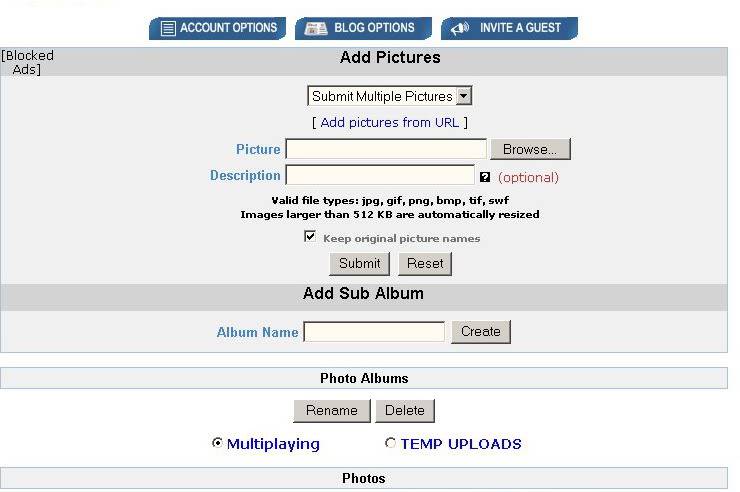 .....by hitting
Browse
and choose it from our folder and just
Submit
it.(here you can see that we can upload until 19 pictures by once if we choose the
Submit Multiple Pictures
in the upper level of the page.)
When we finished upload our pics,if we scroll down we will notice the following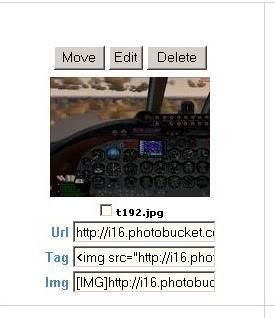 As you can see in the above example you have your picture uploaded and
you have some choices under it.
The most common way is to copy the
Img
URL line and paste it (as i have done to post the pics for this topic).
The same way (copy the
Img
URL) we use if we want to add a pic in our
signature
.
We go to our profile and copy the
Img
URL in the signature blank .Here is an example of mine

Finish the signature by doing this.
In your
Profile
(top of forum) put a "bullet" ''
.
'' (dot) in
Always attach my signature: yes
.


Then press "
Submit
" in the bottom of the page.
In your reply post put a checkmark in
Attach signature
(signatures can be changed in profile).
The Photobucket needs a simple and free registration.
NOTICE:
I would like to suggest to upload resizing or cropped pics cause a huge pic expands the page size(it happens to this topic too...)or use the following method...
......What about if we need to post more than one screenshots or pics in our topic and we dont want to make others scrolling for ever...


Well...we can simple use the following process on
Photobucket
suggested by dear
Liono
:
...or you can use
Imageshack.
Here the process is the following.As you can see below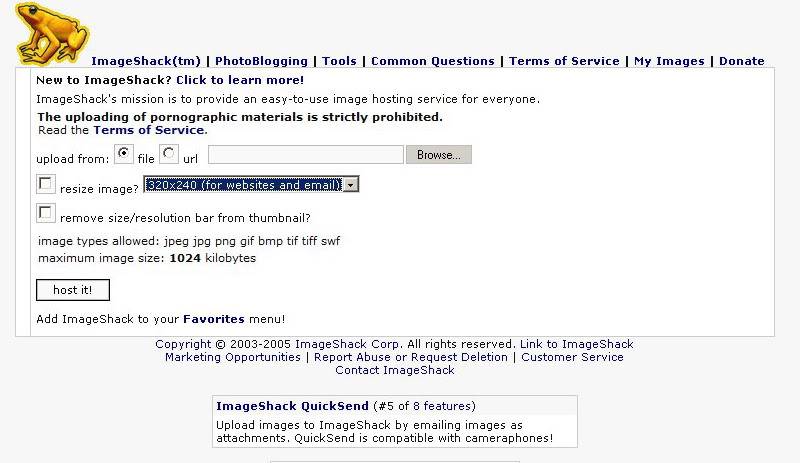 There is a
Browse
button here too.
We choose from our folder the pic we want to upload.Next step is to hit
host it
and after a while we will get the next screen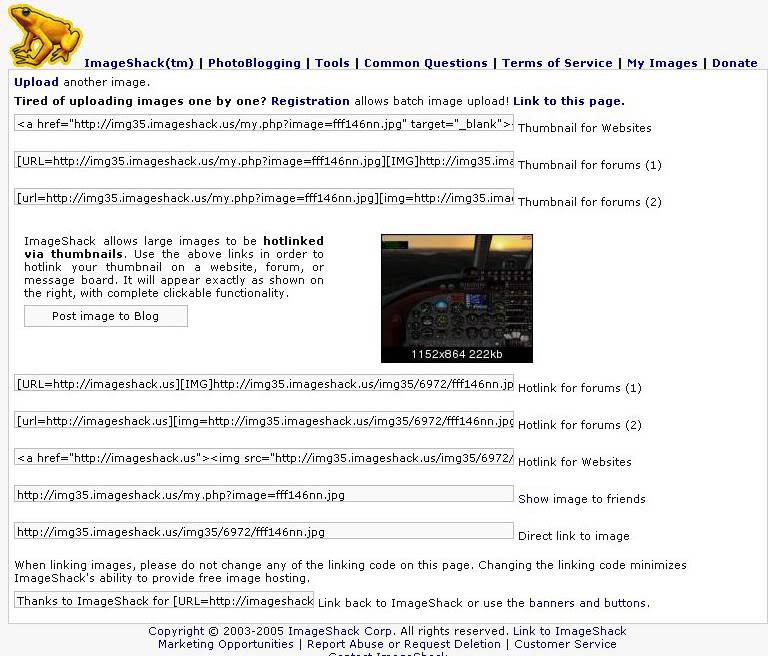 We have several options to choose.I use the second one

....by copy and paste the URL left of this choice, and we get the following
result

Now if we hit this thumbnail a new full view page will open.
With this way we avoid to make our post huge,but the users of 56k connections may have to wait a litle more.

This is my way.i hope it helps.Any more comments are acceptable.

Sorry for my bad English.




Last edited by Greekman72 on Mon Sep 04, 2006 5:35 pm, edited 13 times in total