Have you guys seen this website before: www.simkits.com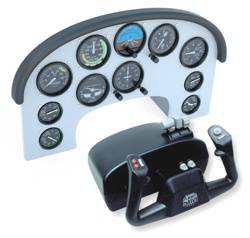 Sim Kits- The Supermarket for home cockpuit builders!

Simkits offers over 500 realistic (hardware) aircraft instruments for flight simulation and flight simulator related products to build your own cockpit without requiring programming or electronics knowledge. Build your own realistic flight simulator cockpit or the aircraft panel you want and connect it to Microsoft Flight Simulator and feel like a real pilot in a real aircraft! You can purchase instruments as a kit, ready built or even a complete turn-key simulator! Are you ready for the most realistic experience?

It's all really really cool but the simpler version that you put the pic of in cost's a total of 1000$!

Very nice, I like it! Just a little too expensive for my tasting, I think...