This weekend, I took a 3 day trip down through the beautiful countryside of New Zealand to my Cousin's wedding in the district of Taranaki. Where I was staying there was no internet access or computers, so as you can image, the moment I arrived home I dived straight for the computer and logged onto flyaway to post my trip report: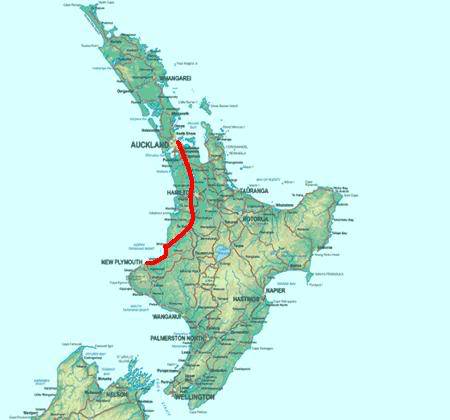 DAY 1:
I knocked off college at 12:30 and went home early for a quick lunch before loading up the car with my Mum, Dad and brother and started the 360km drive south from Auckland to New Plymouth. As I got out the city, the highway was pretty empty, with it being mid afternoon on a Friday and it took me just 45 minutes to reach Ngaruawahia, the home of the Maori Queen and the original capital city of the country.
I had been given directions to "turn right at the BP service station and then take an immediate left over the main trunk railway line" heading south again through the flat green Waikato countryside to the small touristy town of Otorohanga, which was another hour and a half away. I had been to this town when I was visiting New Zealand on holiday before I immigrated here, to see the rare Kiwi bird, and it looked exactly the same as I passed though it a little while later.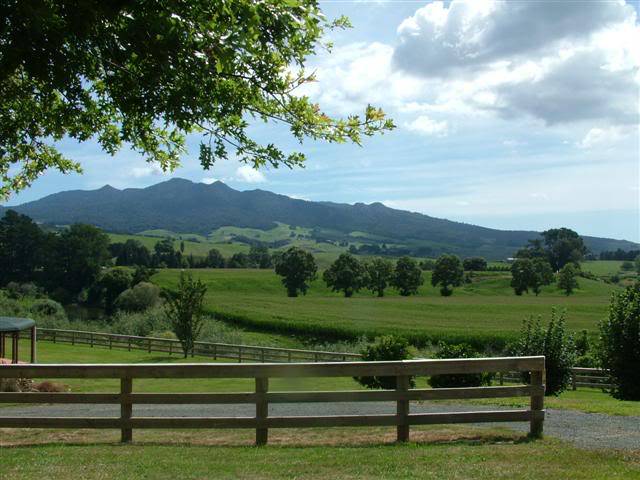 When I reached the town outskirts, I turned onto State Highway 37 and continued south to Te Kuiti, a medium sized town 30 minutes away. I was surprised to see lots and lots of traffic slowing down in front of me, as so far I had been cruising along at about 110 kilometres an hour, with no other vehicles (or cops) to worry about. The reason for all the slow movement was because just ahead of us, a land rover had rolled off the road and down an embankment, and a crane had been bought in to lift it onto the back of a truck to take it away, which was blocking both lanes of the highway. 😳
We sat stationary for only a few minutes before arriving at Te Kuiti, and heading straight though it's main street, and up into the hills heading south-west towards the coast. I was now driving along State Highway 3, the 3rd most important road in the county which was pretty embarrassing as to start off with, there was a 30 kph speed limit thanks to roadwork's (See photo1 below) and it was only two lanes wide! The reason it was only two lanes wide was because the road climbed high up into the mountains, so high that my ears popped! I carried on driving for 90 more minutes, following the road along ridges, through valleys, along side rivers and though a few tunnels (See photo 2 below) before the sea suddenly came into view as I reached Awakino. The scenery along this drive was so wonderfully beautiful, the most breath taking landscapes that I have seen by car in my country and I seriously wish I could have taken more photos to show you all, but, I was using my Dad's digi camera and he wanted to save space on the memory card for the wedding the next day. (The pictures in this post are actually of the most plain boring aveage countryside on the journy, because this was when I had time to take photos. During the exciting moutain gorges, I was concentrating too hard to use the camera, lol)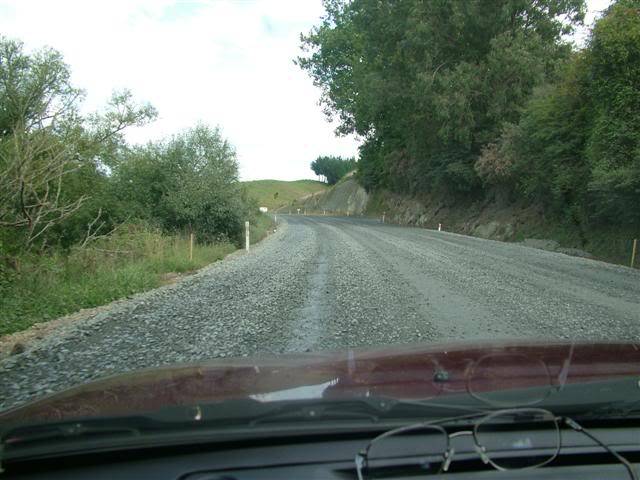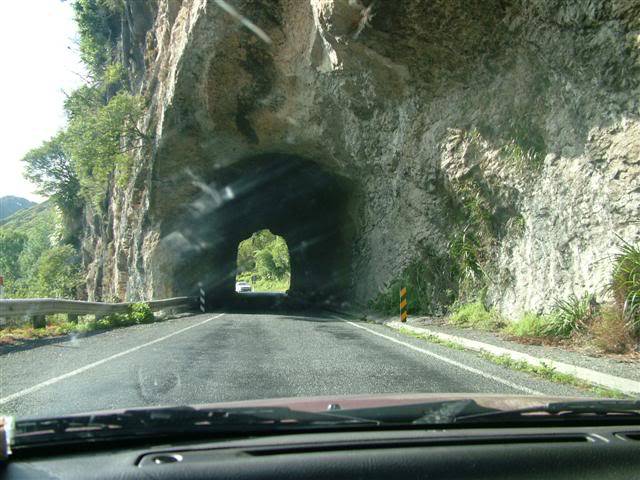 After slowing down and passing through the small town, we followed the coast road for a few kilometres admiring the large rolling waves smashing the sandy west coast next to us before venturing back inland through a summit known as Mount Messenger. The drive up was very gradual but the decent was awesome, the most fun I have ever had in my whole driving experience, and I properly took the bends a little too fast as I entered the north Taranaki district and followed the road though more and more mountains, then back to the coastal village of Urenui where my Uncle lives.
The wedding was not until the next day so our family stayed in a little batch by the beach, which is a very traditional kiwi thing to do. After unloading all our gear we headed into New Plymouth, (20 minutes east) the 12th biggest city in the country for dinner and then explored the city centre before heading back home for bed.
DAY 2:
The next morning one of my Cousin's arrived via plane from Auckland, flying on an Air New Zealand Link B1900D to New Plymouth airport, and caught a taxi to the batch. I would have really liked to have gone to see the airport but didn't have any time as I was getting all ready for the Wedding in the afternoon.
We spent the rest of the day at my Uncles house where the ceremony and reception were hosted in his huge garden, which as a lot of fun and ran just as planned. The temperature was hot at 25 degrees, with clear blue sky's all day long and we even saw a shooting star in the evening to finish off a perfect day.
After stuffing our faces with the finest foods and drinks, I gave my cousin a lift into New Plymouth city, which was full of rugby supporters and a pumping night life. I then drove back to our residence past the airport, but it was too dark to see anything, and there would been no flights operating in the dark so I passed it by, only reading the big signs about the sight seeing flights around Mount Taranaki, (Free photoreal scenery of the area can be found here: https://forum.flyawaysimulation.com/forum/topic/11611/heres-some-ex-payware-now-freeware-scenery/ ) which is the regions highest peak and can be seen from miles around. I took the photo below on Friday afternoon when we arrived when the peak was poking above the clouds which I thought looked pretty: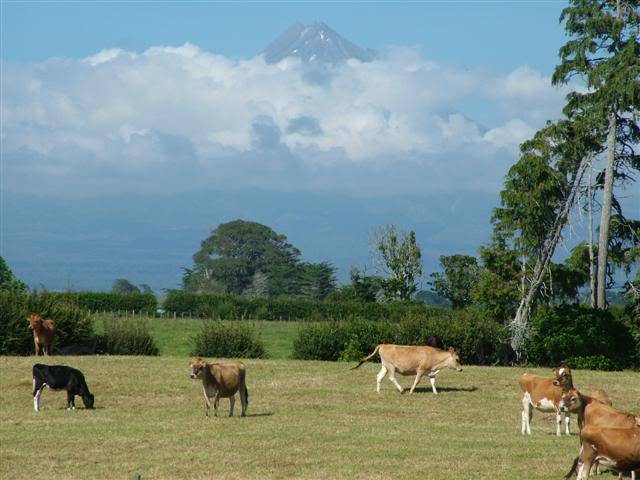 DAY 3:
After a late night last night, we got up early and planned to go to Waingaro Hot Pools on the way home. We left at 8:30 am and I raced back though the beautiful countryside arriving at Ngaruawahia at 12:00, which was a record journey time considering it took my 5 hours on the way down. I turned off the main road and went out into the "Wop Wops" along some dusty bush tracks until we arrived at the complex, but it didn't look very impressive and we turned around and decided to just go straight home, taking a minor detour 20km east to Hamilton (where jarred_01 lives) to get some KFC 😀
After lunch, I was too lazy to drive, and after clocking over 980km on the clock this weekend, I let my Dad drive the final 100km North back to Auckland along the motorway. We hadn't been travelling for 5 minutes until all of a sudden, my Aunt's purple Mitsubishi honked us from behind, which was a funny coincidence / surprise as she had also been travelling back to Auckland today with some of the bridesmaids, but hadn't left until a few hours after us, but thanks to my detour we now where on the same road together!
…the end. Hmmm, not a very interesting "report" but I felt like I had to let it all out. I don't even care if anyone reads this LOL, I had a good time, and the best drive of my life. I really recommend NZ as a fantastic tourist destination for all your foreigners- it's apeal for me is the sheer diversity of landscapes and cultures you can find here… flight sim doesn't do it justice!