A late start to the day meant I would be eating my lunch on board the plane as I continued the tour today.
I filled up my tanks to the brim at Launceston (YMLT) hoping the petrol supply would let me get all the way to the mainland with out running out. ATC directed me to take off on the active runway 14R where I had landed yesterday, and I was soon up and away, and banking left above the Tasmanian countryside as I changed my heading to 062 degrees.
My next stop was St Helens (YSTH), an ex-whaling and tin mining town, now a pleasant tourist resort on the north east coast. I climbed up to 6100 feet, rising above small foothills for the 50 mile trip and set autopilot on to enjoy the surrounding view.
It wasn't long before the smaller foothills grew into snow covered mountains, (
Screenshot 1
) and I continued over them for quite a while as I crossed the Break O' Day Ranges. After 15 minutes, the terrain began gently sloping down again, and the sea became visible on the horizon. I tuned in St Helens un-manned tower and selected runway 8 for a touch and go landing. Then I turned autopilot off, raised my flaps and started a descent (
Screenshot 2
over the heavily wooded countryside, before banking to the right across Binalong Bay and descending down onto the grass strip a smooth landing.
No sooner than my wheels touched the ground, I was airborne again and climbing up above the coastline, changing my heading to 336 degrees for my next hop to Flinders Island (YFLI). I climbed up to 2000 feet and followed the shoreline towards the northern tip of Tasmania before venturing across Banks Straight to Cape Barren Island. (
Screenshot 3
) I had made this trip on my first tour of the country, except heading in the opposite direction, flying higher and faster and did not take much notice of the natural beauty that covered this corner of the earth.
Flinders Island soon came into view, sitting right next to Cape Barren Island, only a few hundred feet away. I tuned into YFLI tower and chose runway 32 for a touch and go. As I made my approach, I had to bank to the right around a large line of hills (
Screenshot 4
) before descending steeply over the dry summer countryside (
Screenshot 5
) and hitting the runway a little too fast and off-centre, 35 minutes after leaving Saint Helens.
I rolled along the tarmac for a few feet and gained enough power to lift off again, climbing steadily up to 3000 feet for my longest hop so far, all the way across the Bass Straight to the mainland. Lots of thick clouds started to roll in (
Sceenshot 6
) and as I looked back down upon the island behind me, (
Screenshot 7
) I was not so sure that leaving the safety of the airport was the wisest choice I made. I changed my heading to 299 degrees, and aimed the Cessna's nose for Leongatha (YLEG) which was another 138 miles away and would take me 56 minutes to reach.
So far on the tour, I had been cruising at about 115 kias, taking a low and slow approach to the tour to admire the VOZ 1.1 scenery- but now, with only open sea for a while, I cranked up the throttle to run at an impressive speed of 140 kias, unleashing the Stationair's true potential for a short while. The next 40 minutes where dull, with a flat blue mass of water below me and a large grey mass of cloud above me. The occasional small brown island passed my window, but too my disappointment, I couldn't spot any other AI ships or aircraft while I sat back and relaxed in my Carenado Virtual Cockpit.
Eventually the Victorian coastline came into view (
Screenshot 8
) and once overhead, I slowed my speed right down to observe the "Wilsons Promontory Peninsular" which happens to be the southern most point of mainland Australia.
Once the peninsular widened out into flat inhabited land, I managed to tune into YLEG traffic and chose runway 32 to make a full stop landing at. As I descended down from 3000 feet I noticed the surrounding countryside to be much different from Tasmania where I had spent the last two days flying, and instead of mountains and forests everywhere, the rural landscape was covered in farms for as far as the eye (
Screenshot 9
)
All of a sudden I was 10nm away from the airport and couldn't see any sign of a runway. I changed to the VC view again and scanned the surrounding fields until I managed to pick out a black line or tarmac, with a gravel grey line crossing it. I was far too wide and had to turn sharply to the left before announcing I was on finals to the Unicom, and bringing the aircraft down to a bumpy halt and switching off the engines (
Screenshot 10
) to complete the 2nd leg of the tour.
Click on a thumbnail below to see the 800x600 version of the screenshot: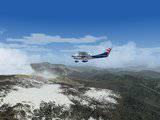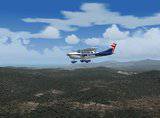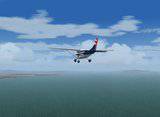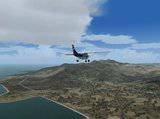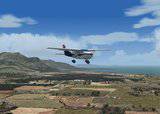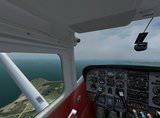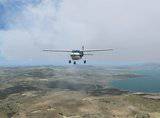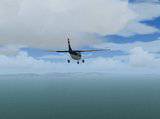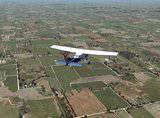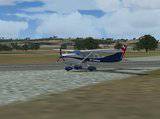 Be sure to log on to see my next report,
Thanks for reading again!