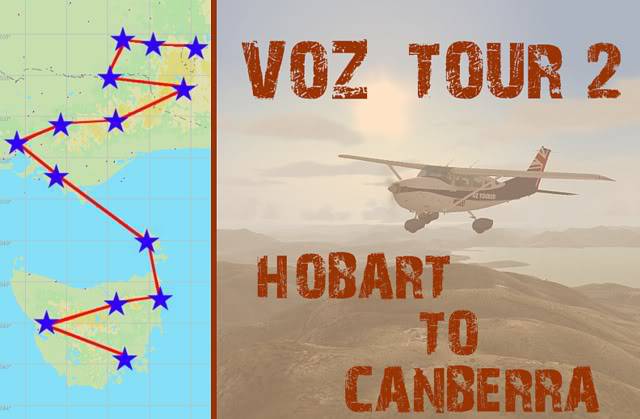 Welcome to my VOZ Tour 2- officially sponsored by Vista Australis 1.1
Yes, I am back at it, after the success of my OZ TOUR 2006, I could not resist a 2nd tour of the great southern land, commonly known as Australia. Now the fantastic new Vista Australis textures have been released publicly and I am on Easter Holidays for two weeks, I could not think of a better way to spend my time, and I hope you will be joining me, reading my daily tour reports and viewing my accompanying screenshots, as I make my way from the city of Hobart in Tasmania, all the way to Canberra, the capital city of VOZ.
Sure this tour is not anywhere as long as the previous one, but from the last time around, where we have viewed the whole country in all its splendor, getting a birds eye view of the entire land, with vast differences between each corner, I think now it is time to focus on individual regions, paying more detail to localized scenery, if you see what I mean.
The tour will begin in Hobart, and from tomorrow, I will begin a 975 mile journey which will bring my right through the heart of the Tasmanian mountainscape, then across the Bass Straight (where I ran out of fuel of my last tour), into the magnificently modified Melbourne city, and then up into the Great Dividing Range, passing some of Victoria's highest peaks, before arriving in the Australian Capital Territory.
You can download my flight plan in a .doc format here
I will be flying my custom painted Carenado Cessna 206 Stationair II, with a detailed livery I designed myself, and which was created by Matt Hinchliffe aka "Hinch" (Check out his site at http://www.forum-design.co.uk/air/) This repaint is available for anyone to use, and is uploaded at avsim.com under the file name "voztourpaint.zip" but remember your need Carenados payware model to use it!
Please feel free at add this page as a bookmark in your favorites, as I assure you this tour will include many images from Vista Australis 1.1 scenery package, the best freeware addon Flightsim has ever seen. Unlike the messy links in the last trip reports, there will be quality quick loading thumbnails for your viewing pleasure…
That's all for now,
Log on tomorrow for trip report 1!
You know, if you quit drinking, this flight could be lot shorter! You'll get pulled over by the air-police for sure with all the weaving you've got planned! lol
Just kidding, I'm sure it will be a beautiful flight and I can't wait to see the screenshots!
Excellent idea CT, looking forward to the first days report tomorrow!






Looking forward to it


It was a late summer's morning when I started to push-back from the GA ramp at Hobart International (YMHB) earlier today. There was no other traffic visible, and ATC directed me to runway 12, and with out delay I was soon airborne, with my tanks filled to the brim with 92 gallons of fuel, commencing the start of VOZ TOUR 2.
The first leg was to Queenstown (YQNS), a small mining town on the west coast of Tasmania from where I had previously taken a test flight in my custom painted C206. As I banked right over Hobart city (Screenshot 1) I climbed up to 5200 feet and set my heading to 289 degrees, which differed from my flight plan as I wanted to take in some extra scenery along the way.
Once I reached my cruising altitude, I sat back and turned on autopilot, and lowered my speed to 109 kias, which is much, much lower than the aircraft's top speed, but going slow allowed me to see the world below me in greater detail.
The terrain surrounding me seemed to be getting more and more mountainous as I continued east (Screenshot 2) and it was not long before a thick blanked clouds began to set in all around me, which was scary on a VFR flight because I did not know if I would suddenly strike a mountain side or not! It turned out I was well above any peaks, and once the clouds passed, I noticed some interesting craters to me right, which I decided to circle, and tuned off autopilot for a while.
I completed a circuit around the rocky outcrops (Screenshot 3), and then continued on my original heading, tuning into the YQNS un-manned frequency and choosing runway 27 for a touch and go. This approach was particularly tricky as there were steep mountains blocking a direct path in, so I had to bank right, then left, and immediately right again to make the landing, which I achieved successfully (Screenshot 4), touching down 1 hour and 2 minutes after departing Hobart.
My next stop was Launceston (YMLT), the state's second biggest city, which was approximately 82 miles away. After rolling along the gravel runway for a few seconds, I lifted off again and climbed steeply, turning right to a new heading of 054 degrees I originally leveled off at 5200 feet, but soon had to climb up to 6000 feet with numerous mountains of increasing size appearing in front of me .Another big bank of cloud blocked my path and I had to turn off autopilot for a short period and make my way around the edge of it to avoid an almost certain collision if I had continued on my heading with zero visibility (Screenshot 5).
Soon afterwards, the mountains flatted down into a plateau, covered in patches of snow. (Screenshot 6) The flat land seemed to stretch on forever but it eventually came to an end with a sharp drop off into a rather unexpected valley! (Screenshot 7) I was flying right in the center of the island now (Screenshot 8), and soon picked up "Lany Tower" on 118.7, the same frequency as my local airport, Auckland, who directed me to land on runway 14R, where I had made a perfect touch and go on my first tour. I repeated a perfect approach, thanks to lots of wide open ground surrounding the airport, banking over the center of town (Screenshot 9) before a spot on landing and then a taxi to the GA ramp where I parked up with 79% fuel left.
I will need to refuel before continuing my journey tomorrow across, when I will make my way the Bass Straight to the mainland, as I continue on my way to Canberra.
As well as clicking the links above, you can also click on a thumbnail below to see the 800x600 version of the screenshot: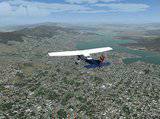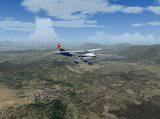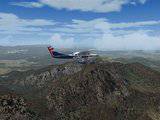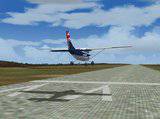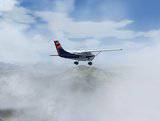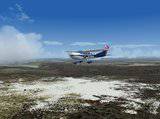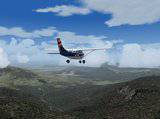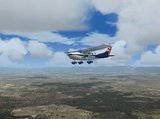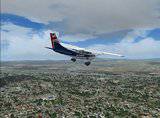 Be sure to log on to see my next report,
Thanks for reading!
Great report Cheeky





A late start to the day meant I would be eating my lunch on board the plane as I continued the tour today.
I filled up my tanks to the brim at Launceston (YMLT) hoping the petrol supply would let me get all the way to the mainland with out running out. ATC directed me to take off on the active runway 14R where I had landed yesterday, and I was soon up and away, and banking left above the Tasmanian countryside as I changed my heading to 062 degrees.
My next stop was St Helens (YSTH), an ex-whaling and tin mining town, now a pleasant tourist resort on the north east coast. I climbed up to 6100 feet, rising above small foothills for the 50 mile trip and set autopilot on to enjoy the surrounding view.
It wasn't long before the smaller foothills grew into snow covered mountains, (Screenshot 1) and I continued over them for quite a while as I crossed the Break O' Day Ranges. After 15 minutes, the terrain began gently sloping down again, and the sea became visible on the horizon. I tuned in St Helens un-manned tower and selected runway 8 for a touch and go landing. Then I turned autopilot off, raised my flaps and started a descent (Screenshot 2 over the heavily wooded countryside, before banking to the right across Binalong Bay and descending down onto the grass strip a smooth landing.
No sooner than my wheels touched the ground, I was airborne again and climbing up above the coastline, changing my heading to 336 degrees for my next hop to Flinders Island (YFLI). I climbed up to 2000 feet and followed the shoreline towards the northern tip of Tasmania before venturing across Banks Straight to Cape Barren Island. (Screenshot 3) I had made this trip on my first tour of the country, except heading in the opposite direction, flying higher and faster and did not take much notice of the natural beauty that covered this corner of the earth.
Flinders Island soon came into view, sitting right next to Cape Barren Island, only a few hundred feet away. I tuned into YFLI tower and chose runway 32 for a touch and go. As I made my approach, I had to bank to the right around a large line of hills (Screenshot 4) before descending steeply over the dry summer countryside (Screenshot 5) and hitting the runway a little too fast and off-centre, 35 minutes after leaving Saint Helens.
I rolled along the tarmac for a few feet and gained enough power to lift off again, climbing steadily up to 3000 feet for my longest hop so far, all the way across the Bass Straight to the mainland. Lots of thick clouds started to roll in (Sceenshot 6) and as I looked back down upon the island behind me, (Screenshot 7) I was not so sure that leaving the safety of the airport was the wisest choice I made. I changed my heading to 299 degrees, and aimed the Cessna's nose for Leongatha (YLEG) which was another 138 miles away and would take me 56 minutes to reach.
So far on the tour, I had been cruising at about 115 kias, taking a low and slow approach to the tour to admire the VOZ 1.1 scenery- but now, with only open sea for a while, I cranked up the throttle to run at an impressive speed of 140 kias, unleashing the Stationair's true potential for a short while. The next 40 minutes where dull, with a flat blue mass of water below me and a large grey mass of cloud above me. The occasional small brown island passed my window, but too my disappointment, I couldn't spot any other AI ships or aircraft while I sat back and relaxed in my Carenado Virtual Cockpit.
Eventually the Victorian coastline came into view (Screenshot 8) and once overhead, I slowed my speed right down to observe the "Wilsons Promontory Peninsular" which happens to be the southern most point of mainland Australia.
Once the peninsular widened out into flat inhabited land, I managed to tune into YLEG traffic and chose runway 32 to make a full stop landing at. As I descended down from 3000 feet I noticed the surrounding countryside to be much different from Tasmania where I had spent the last two days flying, and instead of mountains and forests everywhere, the rural landscape was covered in farms for as far as the eye (Screenshot 9)
All of a sudden I was 10nm away from the airport and couldn't see any sign of a runway. I changed to the VC view again and scanned the surrounding fields until I managed to pick out a black line or tarmac, with a gravel grey line crossing it. I was far too wide and had to turn sharply to the left before announcing I was on finals to the Unicom, and bringing the aircraft down to a bumpy halt and switching off the engines (Screenshot 10) to complete the 2nd leg of the tour.
Click on a thumbnail below to see the 800x600 version of the screenshot: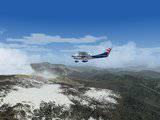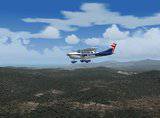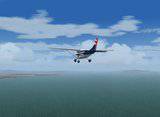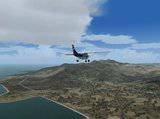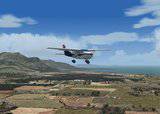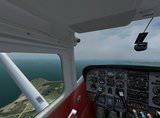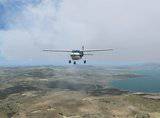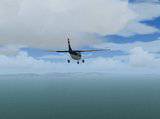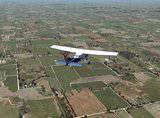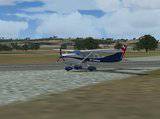 Be sure to log on to see my next report,
Thanks for reading again!





Nice report Cheeky


I had my lunch before I started the third leg of the tour today, accompanied by a range of left over Easter eggs, then I got back to the computer and loaded up the sim with real world ozzie weather.
The skies where noticeably darker today when I started up the engine at Leongatha Airport (YLEG), and upon take off from runway 16, it was made clear that the winds were now very strong too! (Screenshot 1) I banked to the right and climbed to 3000 feet, circling over the township (Screenshot 2) as I changed my heading to 303 degrees, for the 69 mile trip north to Melbourne- the city which had recently hosted the 2006 Commonwealth Games and the Formula 1 Grand Prix at Albert Park.
The rural countryside soon changed into the odd town here and there, which eventually marched into a large urban mass. I soon passed Moorabbin airport, and as the autogen built up, the grey skyscrapers of the city CBD became visible on the horizon. (Screenshot 3) I tuned into the in the international airport (YMML) frequency and requested a touch and go, which was permitted on runway 16, and entered the pattern downwind to descend for landing.
I had made the trip in 28 minutes which was surprising fast, but with the help of a tailwind, my cruising speed had reached 125 kias, about 10 kias faster than the previous two days of the tour. My computer had handled the big city well, and with the help of a new 1GB stick of RAM, the scenery appeared very smooth and not blurred unlike times during the previous tour.
The visual approach was difficult, with low visibility of about 10nm and heavy winds battering my tiny Cessna about, but I managed to land just off centre with the help of a lot of rudder. The airport itself was a brand new scenery addon included in VOZ 1.1 and was very pleasant to view (Screenshot 4) for the few seconds where my wheels touched the ground. Another thing that was pleasant to see (and hear) where other AI aircraft at the airport, as for the previous part of the tour I had not seen a single other plane!
Within seconds I was back in the air and climbing out of YMML airspace towards my next destination, not an airport- but a VOR known as "EILDON WEIR" (ELW) which was 55nm away at a heading of 048 degrees. I was already at the edge of the suburbs and while banking to the right, lots hills started appearing and I had to rapidly increase my altitude up to 4000 feet to clear them. These hills of coarse where the beginnings of the Great Diving Range that stretches all the way up to Brisbane, and before long, the hills grew into mountains and I had to climb up to 7000 feet to be safe.
The weather was really deteriorating by now, and lots of mist was rolling in, bringing my visibility down to about 5nm, which made VFR navigation much harder, but the misty mountainsides look very attractive (Screenshot 5). 22 minutes later, I reached the VOR on the shore of Lake Eildon (Screenshot 6) which looked really mysterious using VOZ 1.1 inland water textures in the dim light.
It was time to change my heading to 071 degrees for my final hop today, another 72 miles away deep into the Victorian alpine region to Mt Hotham (YHOT) A thunder storm was brewing out to my right and I retired to my VC (Virtual Cabin) for the next 28 minutes, enjoying the quality Carenado comfort while the controls where set to autopilot (Screenshot 7). The mountains surrounding me seemed to be forever getting higher (Screenshot 8) but eventually the blinking PAPI airport lights became visible among the mist and I lowered my flaps for landing. The altitude of the runway was actually 4258 feet AGL so the time it took to descend was much quicker than some of the other airports I had visited on the tour.
Once down on the tarmac, I taxied over to the pump and refilled my half empty tank for the last time this tour ready for tomorrows trip (Screenshot 9)
Click on a thumbnail below to see the 800x600 version of the screenshot: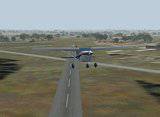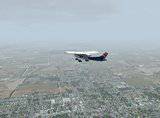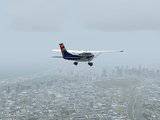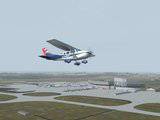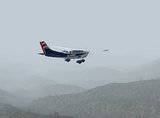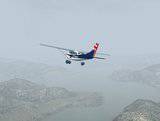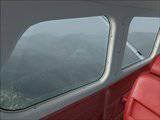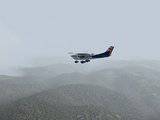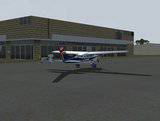 Be sure to log on to see my next report,
Thanks for reading again!

Keep up the good work

and very nice pictures by the way

Brilliant




Great stuff! look forward to seeing more.

The weather had drastically improved since yesterday, with no low clouds blocking the beautiful views I was to experience today on leg 4 of the tour.
Starting off from Mt Hotham (YHOT) airport high in the mountains, I taxied to runway 29 and pushed the throttle in, climbing steadily up to 7000 feet, then banking to the left changing my direction to 049 degrees. The next airport on the list to visit was Cooma "Snowy Mountain" (YCOM) which was 91 miles away and would take me about 40 minutes to reach cruising along at 115 kias.
The sun was low in the sky as the afternoon drew to a close, covering the valleys with hundreds of shadows, rather than blanket mist like yesterday (Screenshot 1). The mountains continued for a fair while, but then flatted out into a plain as I crossed the state border into New South Wales. I tuned into YCOM's frequency where I picked up an unmanned Unicom, so I selected runway 36 for a touch and go, and began my decent down to 3100 feet (Screenshot 2) which was the altitude of the runway above ground level. Even though the area is known as "Snowy Mountain" there was no snow visible today as I was simming in summertime, but in the winter, more snow falls in this region than in the whole of Switzerland, making it one of Australia's favorite skiing resorts!
As I bounced along the runway, I looked behind my shoulder to see the sky to the west turning a lovely orange shade as the sun started to set. I thought it was time I better turn on the aircraft lights as I began my ascent, banking to the left for my next destination, Corryong (YCRG). I leveled off at 7000 feet again, and held my heading at 356 degrees for the 54nm trip that awaited me. To my right I could see the large Lake Victoira (Screenshot 3) reflecting the evening light, with enhanced effects I had not been able to see before, thanks to a slight system upgrade.
When I reached 30 miles out from the airport, I tuned into YCRG and cleared myself for a T&G on runway 24. As I crossed the border back into Victoria, tiny stars began appearing in the sky above me as the sun sank behind the horizon (Screenshot 4) making the hills below me grow darker and darker, contrasting very well with the beautiful light show in the sky. Soon afterwards, my GPS indicated I was just 10nm out of the airport, and I began to descend down into a valley.
To my dismay, there was no runway in sight (Screenshot 5) and then all of a sudden I realized that it must be just over the large hillside that was directly in front of me, and in an instant I had to pull the nose up very abruptly, and push the throttle all the way in just to clear the top of it. Then once at the summit, the tarmac strip appeared and I had to descend equally as quickly as I had just climbed to make a smooth-ish landing.
I allowed myself a little to long to roll along the runway and nearly ran out of power to get airborne again for the final stop today, Albury (YMAY) I had only visited Albury three times previously on the sim, with today being my 4th visit, but every time I had been there, by coincidence it had always seemed to evening time, with today being no exception. I was only a short distance of 44 miles away now, so I climbed up to 3800 feet (Screenshot 6) and changed my heading to 266 degrees. The scenery below me was glories (Screenshot 7) and I wished that the trip could have lasted longer, but at a speed of 120 kias, it would only take me 18 minutes to arrive.
It was only 5 or so minutes before I was close enough to tune into the tower, who directed me in for a full-stop landing on runway 25. I started my descent soon after that, lowing my flaps over the Murray River (Screenshot 8) and crossing the state border (for the third time today) back into New South Wales.
I touched down, then taxied over to the GA parking area opposite a Qantas Link Dash 8, the closest I had been to any AI in a while. I then turned off the engine and saved today's progress to complete leg 4 of the tour.
Click on a thumbnail below to see the 800x600 version of the screenshot: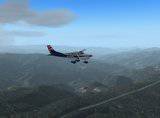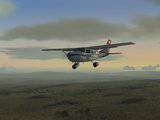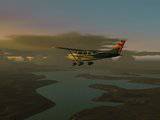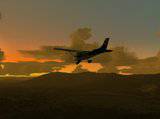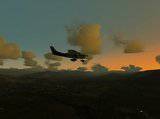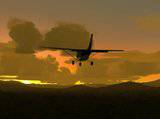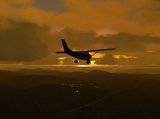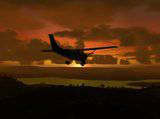 Be sure to log on tomorrow for the FINAL report,
Thanks for reading again!
Looking forward to it

Very scenic report CT :


So far during this tour, I have tried to give you all a variated view the South East region, by changing the weather and time of day for each leg. Today, when I loaded up the VOZ TOUR 2 for the final time, I knew there was only one more "colour of the great south land" to show you, it being "dawn" or early morning.
Back at the parking bay at Albury (YMAY) I started up the engines at 4:30am, just as the sun was rising in the east, tinting the sky a lovely pink color (Screenshot 1) rather than the oranges we saw yesterday evening.
My first hop was to a town to the north with a very interesting name, Wagga Wagga (YSWG) which if you didn't know already means 'the place of many crows' in Aborigine! I taxied to runway 25 with ATC's permission and took off, banking to the right over the beautiful township (Screenshot 2) as I switched my heading to 013 degrees for the 59 mile trip. When I reached an altitude of 3000 feet, I pulled the throttle out a little to cruise at 125kias, as there where not much mountains around to observe, just flatter plains (Screenshot 3) now that I was flying away from the mountains. The sunlight created very different moods depending on which way I changed my view, with one side being very sunny and warm, and the other being shady and cold (Screenshot 4)
The airport soon came into sight, and I told the Unicom I would be making a touch and go landing on runway 5 as I began my descent over the foothills of the distant mountain ranges (Screenshot 5) I rolled along the runway for a while and then pulled up climbing away and changing my heading to 087 degrees for the next town on the plan, Tumut (YTMU) As I climbed up to 3000 feet again, I looked all around but could not see the township of Wagga Wagga, as it was obviously situated quite a way from the airport, so all I saw was a restricted fly zone on my GPS.
It took me just 15 minutes to arrive at Tummet, a town known for being exactly the same distance from both Sydney and Melbourne, and once considered as a possible site for the national capital although nearby Canberra was chosen. This airport had no ATC system, so again it was up to me to decide what runway end to land on, and I picked 35. I banked over the town centre (Screenshot 6) then smoothly touched down right on the centerline, before ascending back into the air for my final hop this tour.
As you all know, my last stop today was Canberra International (YSCB), the city which is the nation of Australia's capital, thanks to an argument between both Sydney and Melbourne wanting to have the title, so Canberra was chosen instead. The destination was only 47 miles away from Tummet at a heading of 082, but I had to climb up to 5000 feet to clear the Victorian Alps that had come back into my path. (Screenshot 7) I crossed the border into ACT (Australian Capital Territory) and tuned in YSCB tower, who cleared me to land on runway 35, although I did not fly the airport pattern as I was supposed to. Instead, I continued my path right across the centre of town (Screenshot 8) to view the city in all its new landclass splendor. Last time I had visited this city on my previous tour, I did not stay for very long and only went to the airport, but since VOZ 1.1 has been released, a great deal of work has been put into making the area is realistic as possible by a few scenery designers actually living in the city.
After crossing all the parliament buildings in the CBD, I banked right over the southern suburbs, and then turned to the right, leaving the territory and going back into New South Wales for a minute as I lined up my approach for runway 35. Soon afterwards, I re-crossed the state border and preformed a full stop landing on the long tarmac runway, then taxied over to park next to a Learjet to finally switch off my engines at 5:35am sim-time.
Click on a thumbnail below to see the 800x600 version of the screenshot: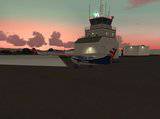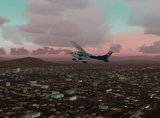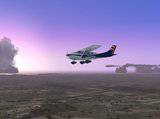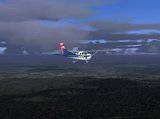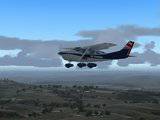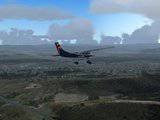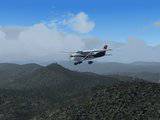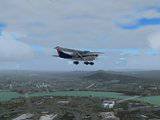 Thank you for joining me this tour,
I hope you enjoyed the final report!
Great job Cheeky!!!






Great report CT

Very interesting and scenic!

Another BRILLIANT report Cheeky

lots of nice shots, very detailed report