How does this sound to you guy's ????
I've been offered this tower for £400 = $736
What do you think ???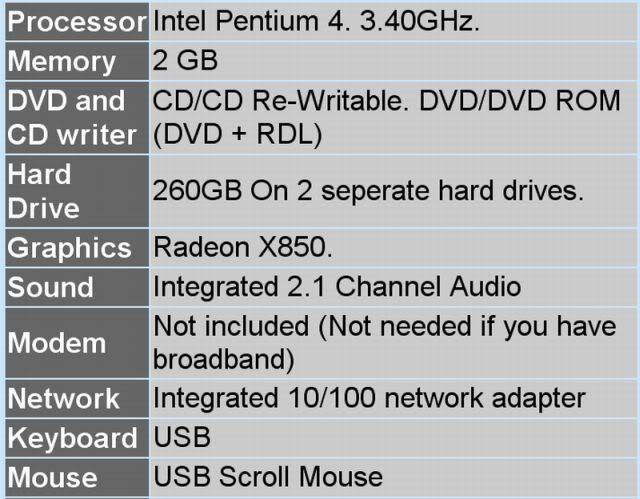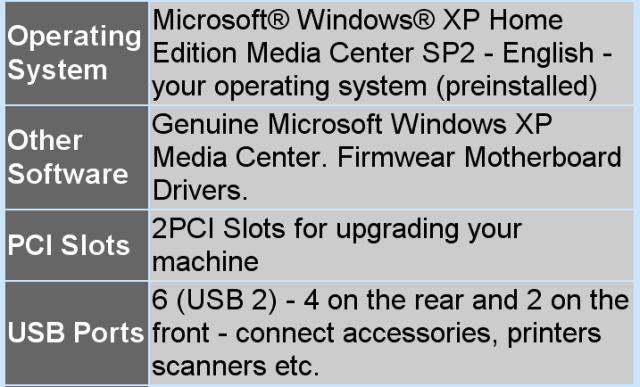 Sounds a very good deal to me 👍
Change the CD-RW/DVD unit to one that burns DVDs as well. Saving copies of downloads is much easier that way. Consider larger hard drives. And be suspicious of firms that don't proofread their own ad copy. The word is separate, not seperate.
Looks graet to me the only change i´ll do it, must be the DVD-RW, so as Crash sayed, it could burn dvd´s, instead.
But that way is atractive to many...
😎
What sort of RAM is it? You want RAM of a decent quality and speed
What memory has the GFX card got and who made it? (as in constructed the board not the chipset)
What sort of hard drives are they? (you want ones that spin up at a good speed and have a decent cache, are they SATA etc)
Thanks for all your replies guy's 👍 but it's turned out to be a no go

The (ebay) seller expected me to do a 3.5 hour round trip, which I was prepared to do, but would'nt give me a contact number or address, only a post (zip) code. I can understand sellers being cautious and all that, but hey 🙄 give some sort of address or contact to pick up the goods (it helps 😂 ). So thanks for all your replies guy's, but I think I'll build my own afterall.
Any way good luck...
If you could not sell it it beacuase it wasen´t supposed to happened. 😉
that is strange lol
A: The post code will give you the road the person lives in, how long would it take to knock on every door..
B: How are you supposed to meet with them if they won't tell you where ¬_¬ scam alert!
If you put the post code into www.multimap.co.uk it'll give you all the info you need...even directions from your house 😉
im not really sure cause I dont even know what you are talking about 😕 sorry
jensabrat wrote:

im not really sure cause I dont even know what you are talking about 😕 sorry
Then why comment.