Story for this flight:
After arriving a couple days ago on a Global Star flight from ORD to LAS, I went home and got some needed sleep. Today I was called back to work. My flight was going to take me from LAS to SFO. After checking the weather for my routing, I headed down to my 757. When I got to my plane, I noticed that my Check Captain was already on board, and doing a couple inspections of the plane. I then realized that my check captain was an old friend of mine. His name was Ryan Finn. Anyway, lets get on to the pictures. Also, I finnaly figured out how to put AI traffic on there. That made the flight interesting.
-------------------
1. Waiting to take off. Seventh in line:
2. Finnaly taking off. Check out how many planes are waiting. (I've never seen so many flights in LAS in real life. Hope it fixes it's self):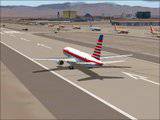 3. Climbing out of LAS:
4. Two Crusing photos:
5. Starting Descent:
6. On fianl for rwy 28R:
7. Had to go around. Got this interesting message:
8. Waiting for a NWA 757 to pass:
9. After literaly taxiing around the entire airport, I arrived at the gate:
---Just like with the rest of my pictures, these will be deleted from photobucket in about two weeks.
AHAHAHHAHA, I Like what they said, it was a trafic at 0 ? interesting never had that before......anyways good pics
A very nice variety of aircraft shots, that traffic is getting heavy and looking good.