Today I went from LAS to LAX. It was pretty clear until I started my descent into LAX. Then it got very, very, very hazy, but it cleared after about 5mins. I also upgraded the lighting, sky, water, and a few other textures. Thanks Liono, for the links to the upgrades:
1. Pushback from Gate D35:
2. Taking off from rwy 25R. A SWA 735 is landing on 25L. The Arizona Cardianls 757 was behind me: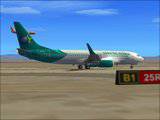 3. Climbing out of Vegas. I was five minutes ahead of schedule. Also, count the planes:
4. Cruising at FL280:
5. Two descent pics:
6. Approaching LAX. Inbound for rwy 24R:
7. Slowing down on rwy 24R. I touched down at -100ft/s:
8. Taxiing to the gate:
9. Parked. You can see the SWA California One in the background:
Nice shots, great AI and clever comparison between the city names in the post title

Very nice PanAm.
I'm glad you liked the links
Good Job PA! Where to next?