Congratulations on such a great tour Greekman!!!
I've enjoyed every post and every screenshot - you're an asset to the screenshot forum!
Congratulations again


Click below to support FSF:

GM -
Smashing, smashing, smashing!!!




Congratulations on a great trip - I doubt anyone has ever explored so
much of Alaska - the avaitors paradise!

Radio K.A.O.S.
When one looks at the shots you've taken during this inspiring trip, he thinks, "What more can they add to FSX?"...You've done excellent work here GM, and your consistency only makes it better. Thank you for the detailed shots and descriptions of flights. I can't add much more, at the risk of becoming a parrot..after all, its difficult to put into words the vast expanse of your acheivement

Thanks Again!!

Have you ever had that feeling, where everything just seems right, and you have no cares in the world..As if heaven smiled down upon you, and told you everything was going to be ok?
Yea, neither have I
Where are you heading next then.....I cant wait




Thank you my friends.Thank you very much



Here is a view of the route from FSPax map.Not the best but it gives an idea.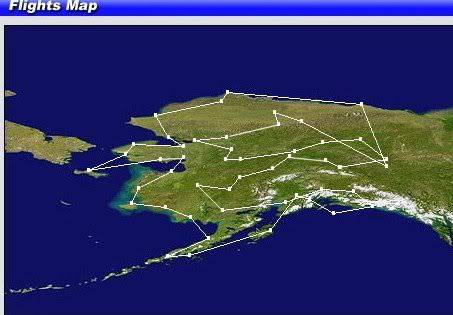 Radio K.A.O.S.
Those snowy mountain peaks shrouded in the mist and clouds are poetry in motion.
The have the look and feel of an Ansel Adams photograph.
Thank you for inviting me to come along with you on this amazing journey through one of our most spectacular and most beautiful states.
(After viewing here for a while this will become a prominent sticky in one of our forums, thank you for keeping it all in one thread).



Thank you too RadarMan.




Wow .... wow!!! wow!!!
That's an awesome tour of Alaska GM! Thank you for calling it to my attention. I love the links for the airport maps. Also loved the beautiful scenery and you always superb work with capturing it all on the screen shots and narrative.
Here are some comments I've jotted down as I went through your presentation.
You had a number of landings with some good cross winds didn't you?
And you found another airport in a hole in the ground. Just added that to my list of odd places that I want to visit some day.
Wow… you found some wonderful places that I want to fly to. PAKP is one!
I enjoyed seeing several of your AI aircraft… DC-3's and even Patty Wagstaff!
Okay… saw that lake up on the tall column… gonna have to go there sometime…. Perhaps the Wilga Amphibian could land on it.
The diversity, and fantastic nature of the scenery is amazing! I'm definitely going to have to do more flying up that way.
I'm making a mental note that some time I might just follow your same route if you wouldn't mind. I don't think of making a presentation, but just to fly over all those beautiful places and perhaps compare notes and experiences with you.
Umm spider.... August 2006?
US AIR TALES- Stories of one man's virtual life as a pilot
belgeode wrote:

Umm spider.... August 2006?

I may be slow (as I am even now replying to you Bel) but I will usually, eventually get to things I want to have a look at.