Hello everyone,
I'm trying to figure out what career I'd love to pursue in the future, and its proving very difficult for me. Although I'm entering 11th grade this year, I'd like to know what and where I'm going to study as quickly as possible, in order to make certain arrangements. The thing is, I don't know what to pursue. I've taken career tests galore, to no avail. I'd love to become a pilot, with all my heart, however I'd also like to have a family, and I'd wouldn't want to gamble with finance etc. etc. I may want to become a physician, but I don't know if I'd end up enjoying it. I also have an interest in engineering, (civil)...WHAT SHOULD I DO!!
become a CFI so you can live in the neighborhood and fly out of hte local airport and be home for dinner everyday.
No money in being a CFI, mostly a intermediate step to commercial flying. Engineers make good money, chemical engineering. 🙂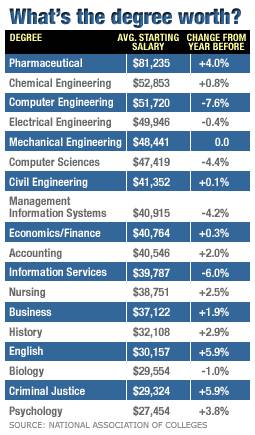 Pharmacist, they are in big demand, tons of places to work and a outstanding salary. Draw back, degree is six years. The job looks really good, I should become one. 🙂
Im gonna be a commercial pilot my second chocie would be airforce
Thunderbirdman2 wrote:

Im gonna be a commercial pilot my second chocie would be airforce
I'm interested in the Air Force also. I still don't understand why boot camp is a part of the training.... 🙄
Chris102 wrote:

Thunderbirdman2 wrote:

Im gonna be a commercial pilot my second chocie would be airforce

I'm interested in the Air Force also. I still don't understand why boot camp is a part of the training.... 🙄
Chris, you have to be prepared to give your life for your country.
The armed services weren't formed to teach you a trade they expect you to follow orders. If they hand you a rifle and tell you to fight along side an infantryman because they need more "bodies" that's what you do.

Chris102 wrote:

I'm interested in the Air Force also. I still don't understand why boot camp is a part of the training.... 🙄
The Air Force is a military force that engages in combat from time to time. It you have to eject over hostile territory, what you are trained for in boot camp is what keeps you alive.
Crosscheck9, I would concentrate on your education and of course having fun for now. Its admirable that you have direction but at this stage of your life you shouldn't be worrying about adulthood and its responsibilities. Enjoy youth while you can because it won't last forever and a career you decide on now could change completely in the future for any number of reasons you can't envisage. The most important thing is to get a good standard of education behind you now as this will better equip you for making important career decisions in the future. Whatever you decide on by giving it 100% guarantees you won't fail. 👍
Another one is a instructer beacuse fly for money and its just amazing to see there faces when there flying 😉
I agree with Jamie.
You seem fairly young to be deciding your future - a lot of people don't know until they are actually doing it, that it is their future. Although you are being very mature about it, I think you are going to cause yourself unnecessary worry.
😉
Jon and Jamie,
I'd like to first of all, thank you very much for your responses. They made a lot of sense, however, the reason I must plan my future as soon as possible is a result of other factors, of which I will list only a few.
My brother is currently searching for a job to work at for 2 years, before he is permitted to continue to work towards his Masters Degree. Now, when the time comes for him to return to university, he would rather study wherever I'm studying in order to make life easier on the both of us. Consequently, he needs to know where I'm going to be, so as to prepare a life for us...ie. apartment, etc...
My father, (the only working parent) must retire within 3 years, so, unlike my brothers, he won't be able to put me through university..(He has refused to let anyone of us work and study, as long as he's capable of providing assistance)..Now as you can see, he's going to have to retire soon, so I'm going to have to work, study, and I'm also required to help him and my mother find a place to stay and retire in, so as you can see, its going to be quite difficult. Right now, I'm considered a resident in Dallas, Texas. I don't think, however, I'll be studying here, and if I go out of state, I'll be paying a heck of a lot more money. What I'd like to do, is over the next two years, get my license in that state, (whichever it is), and possibly some property, in order to be considered a resident. If I'm a resident of that state, the tuition fee is reduced, and life is easier..
Finally, the least of my worries is my wonder as to which career I should choose. Its a tough decision, but I don't want to rush it. I understand that my decision could change quickly, and thats why I'm trying to study as many careers as I can at an early stage, so I know what they're all about.
Again, thank you all for your comments, and Jon and Jamie, I greatly appreciate your advice.
don't know about the USAF but in the RAF right now there is big demand for Air Traffic Controllers, they even put you through university to train you. Royal Engineers are always in demand. Asi said i don't know much about the US armed forces.
it's probably hard choosing a job from a few guys online in a forum, but i'm gonna try anyway.
i've just got my first job in london working for a web design company. the web is interesting at the moment because of the variation - i can be using different coding languages one minute, animating the next and tomorrow doing some graphics. depending on where and what position you take up the week can be very interesting, perhaps drinks with clients or out in a foreign country gathering material. if you know the right people it can be very rewarding, fortunately i do know the right people and have seen contracts pass for £90k/yr - so i know where i'm trying to go!
what is also exciting is the potential. forseeing upcoming technologies is intriguing. at the moment there are new things such as perl or xml that could 'revolutionise' the way we use the internet. what about web 2.0 (whatever that is) or chips inside your head...
anyway - many of us will be working in jobs 20yrs from now that don't currently exist, just make sure if you have the talent use it and find something to enjoy.
You should move to the usa, and try for either an engineering job for the usaf, or else maybe be a pilot for the coast Guard Or air force.