I recently bought the Just Flight RAF Tornado add-on which came with a "re-paint kit".
These are the PSD files that can be edited. Unfortunately, I can't exactly fathom what to do with them or how to install them.
All I'm really after is a black Tornado. I've looked around for downloads and what not, but can't find any.
Does anyone happen to have one available for download that I don't know about?
Thanks in advance.
Graham.
All I can suggest Graham is that you have a little read here.
Most if not all payware aircraft come with some sort of paintkit or templates, seemingly PSD in most cases.
The doc. I'm linking you to doesn't exactly deal with FS repaints, but you'll get an idea what it's all about.
Confused? ... Join the club

Thanks 'hook.
It's a pain. The repaint PSD they give you is not plain (it's got some tiger stripes and text on it) which makes editing it a complete faff.
Plus I wouldn't know what to export it as even if I could edit the blasted thing. I'm assuming a bitmap though.
And there's no tutorial with the program.
Is it so hard to get a black Tornado? Haha.
Problem is, anyone else doing a repaint for you must own the aircraft.
The alternative of course is you do it yourself. You'll need some sort of a half decent graphics editor.
There are a number of good tutorials available, you'll just have to decide which one suits you best.
Check out the Painters Learning Center, you'll find some tutorials as well.
I wish you luck


That is indeed, the problem I'm finding.
I'm a photographer and do a bit of design work on the side so I have Photoshop CS2.
I'll have to check out that link properly. Thanks very much

I can see this isn't going to be easy though. Haha.
Well since you own Photoshop I assume you know at least the rudimentaries of how to use it. That means you're half way there already.
The good thing here is that most of the more recent tutorials were written with Photoshop in mind including the ones at the POSKY Paint Forums.
well you have cs2 and of course there just isn't a better program to make a repaint in.
you mention there are stripes? well i trust they're on a seperate layer you can either turn off or select all, delete then re-fill with paint. don't go for white - it looks crap, use something slightly off either with a brown or blue tinge

check out the tutorials on using DXTBmp and repainting - it's not hard:
- open bitmap
- export to photoshop
- paste new image over (copy merged to get all layers)
- save
- import to DXTBmp
- finish
The images I'm working with (resized) are...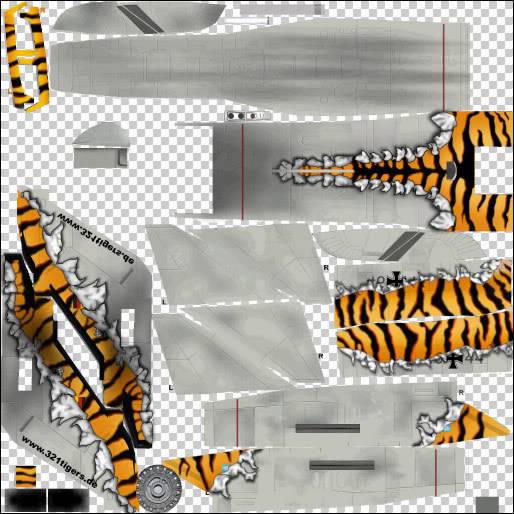 and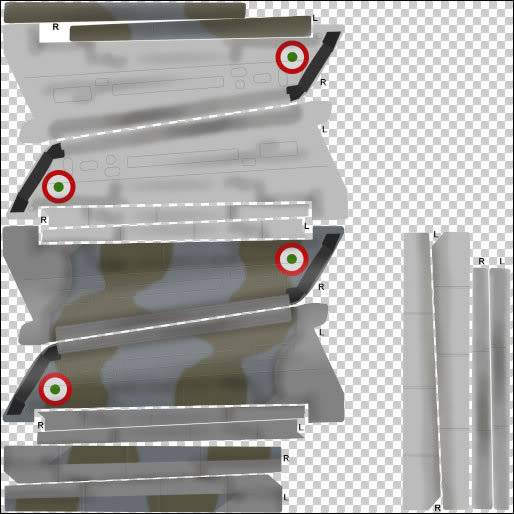 I've got rid of the stripes (which were on a separate layer) I think I'll be using a dark grey/nearly black. The only downside with that is that I don't know if it'll make it look bad because there'd be no panel lines.
Oh and the camo on the wings are the same layer...but I might just select all and paint over it.
I also don't know what to do with the PSD (whether I have to put each of the wing and fuselage bits in their own file etc) so I'll have to check out that DXTBmp thing. Thanks.
I'll have a read of the POSKY/DXT tutorials and see what I can come up with.
Thanks for all the help chaps