I joined Fly Away within 24 hrs of buying Sim FS2004, almost a week now! The membership date is off a little but I joined before my first post as a guest. One reason I joined is how well the site is organized.
Now as I log time I have been looking to expand my area of travel (along with expanding my aircraft collection in my hanger). I just flew into Darrington Municipal Airport (1S2) Washington State, in a Cessna172SP. And landed on runway 10. I have been looking for places to practice my landings and Darrington is a good one. Darrington is located in a valley in the foothills of Washington State. Some people who do not know better would call them mountains.
I have found this series: Douerty's Difficult and Dangerous Approaches. There are at lease 47 of them with 10 airports apiece. I have found 3 of them but have not unzipped any yet as I am still having problems landing. (I blame it all on my game pad!! Try landing using your thumb '😳' ). Maybe, I will get a Yoke and pedals in a month or three or four... My mother told me of an airport she landed at once, shear cliff one side of the runway and drop off on the other. It was in Unalaska … somewhere I will have to try and find it.
My question is what is your favorite tough airport to land or take off at?


Last edited by Seideric on Wed Aug 25, 2004 8:45 pm, edited 1 time in total
Ok,
This airport was posted before you came. Lets see how you get out of it and with what aircraft.
Have a happy flight
Zacapu (MXA9) Mexico.
Traveling on business for many years (long ago) to the Seattle area I saw the proximity of KSEA and KBFI and do most of my touch and go with them now and occasionally throw in KRNT.

🙂 Aloha Seideric, Just a comment that if you get a cheap stick(around $15) till you get the way more expensive yoke and pedals your flying would improve by about 100% over that gamepad.

Ric
😀 Welcome
Get a stick as Riclo says there are cheap (I would get a stick before yolk and pedals)
Glad you've found DD&DA Some good and some

But hey they are free and you go to places you never would otherwise, plus they are easy to install
Here is a site which I have been using for years ➡
Loads of fun stuff there plus links to add on scenery for the airports featured


Enjoy

Hmm RadarMan, I think the key word was Tough not Disastrous.
Made it our once in a Cessna 172sp out of maybe 10 - 15 times trying. I do not think a Cessna can clime straight out of there.
Do not even tell me you got your DC3 in and out.

If you have a link to your Favorite DC3 I would like to try it but not on the MXA9 field. The link in the What is your favorite aircraft did not work.
Aloha Riclo! 😀 I have an old MS Sidewinder 3d pro that I tried to get hooked up but my system does not see it. I remember about 8 years ago when I got it I had to find some 3rd party patch for it. I tried the new MS drivers but this system still does not see it. Used find hardware, rebooting refresh, etc. To ease my blood pressure I set it aside for a while (Week) I will try to find the old patch I used.
Thanks Tom I will check it out.
I did get my PC-12 out of MXA9 4 times in a row tried both runways without any problems ('

'). And landed twice out of two attemps but the first landing was very rough had to replace the nose gear. Love my PC-12 Bush plane (paint job it has), also I do not doubt the PC-21 could make it out as easy. I hate landing blind though. I will try the PC-21 once I get the gauges fixed.
I guess the "free lunch" is over, they took it down but they do have others. Click on "downloads" on the left and it's take you to the DC3's.
I know it's a tough one to get out of, I used the default aerobatic aircraft in the menu, if I remember right I had to go around once, that was after trying 4 or 5 other aircraft including my DC3.

About hooking up the Sidewinder, see if this helps.

Ok, made two good take offs from SESM Rio Amazonas, Ecuador, one each direction. SESM is a bit harder to fly out of than MXA9 but you have more room. It was too late to try and get set up for a landing.
The Sidwinder 3D Pro is about 10 years old. It is designed for a 66 MHZ, 5 volt system. I have a 100 Mhz system 3.3 volt system. I downloaded the MS 3.02 game controller and the patch MS has it states it "May Solve". Well, it did not. I did find that old 1995 disk that I got it to work with when it did not work with the drivers if first came with. As a last ditch effortI will install that old driver again and then I will put the patch over that to see if she will hold water. This will be the last try to fix the SW 3D Pro. Then I may use it for skeet practice or shelve it.
Thanks for the DC3 link RadarMan.

SESM, tonight's frustration

, thanks!
I didn't know the stick was that old, I seriously doubt that it will work, they usually discontinue drivers for them but you don't have anything to loose, a stick is much more fun than the keyboard.

PULL.... BOOOM
The hard part is getting my wife to stand in front of me to throw the Sidewinder 3d Pro into the air so I can shoot it with a shotgun. The next was that she is not very strong and she is short and that the SW 3D Pro did not get much height so she had to hit the deck fast and hard. But my aim was true and the SW 3DS Pro flew 20 yards back and in a few pieces. Then I woke... it was only a dream, Dang.
Today I walked out the door with a Saitek Cyborge Rumble for $37.99. Is it any good '

' maybe after I get used to it, I have been relearning how to land with it, not that I was much good before.
Hmm RadarMan do you know why I could land in MXA9 on my first try? Because that is my normal approch to an airport. '

'
Sorry, RadarMan, give the Pilatus PC-12 a try on SESM.
Ok back on topic LOL
Copalis Beach State Airport, this is taken directly from the wa.gov site below.
http://www.wsdot.wa.gov/aviation/Airports/Copalis.htm
Located at the mouth of the Copalis River, Copalis is a unique airport. It is the only known beach airport in the United States, and is the only stretch of ocean beach in Washington where landing is legal. The runway is the 4500 foot stretch of ocean beach from the Copalis River on the south to the rocks a mile north. The clam digging is excellent, and resting or watching the great Pacific Ocean from here is fantastic. You can surf, fish, hunt for glass fishing balls, or find interesting pieces of driftwood. No camping is allowed at the airport.
Since the runway is the beach itself, there are some things to watch out for. First, land only on the damp sand; the dry sand is very, very soft and dangerous. The airport is generally unusable at high tide since the runway is under water. The available parking area will also be under water, so remaining overnight can cause definite problems to an aircraft. Usage is very high during periods of low tides. As many as 75 aircraft have been reported as being parked there at one time. Ground vehicle and pedestrian access is legal, so the area can be extremely congested. Since the ocean washes the runway twice a day, debris and driftwood are possible. Overflight is essential to inspect for pedestrians, vehicles, animals, and debris. Remember, people on the ground can not hear the airplane with the power off, so be ready to go around. The airport is generally open year round.
Good to hear that you have a stick, I hope it has a twist handle that's the greatest part of having one.
I'll try Copalis later or tonight, I have to find a new aircraft, I love flying different ones, beach huh...DC3 wide wheel base, sand...


Your not supposed to land at MXA9, your supposed to take off.
SESM, I did it with only one 180° turn in this aircraft.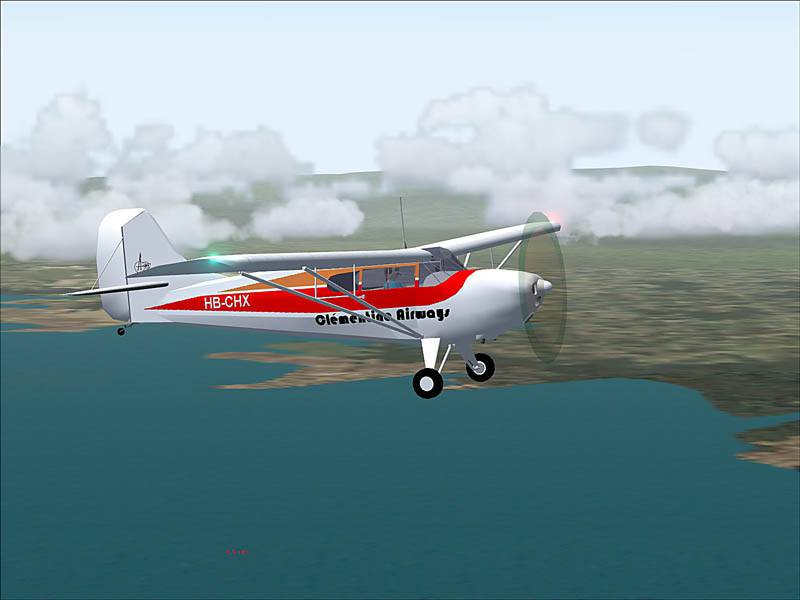 Nice! I am trying the Copalis beach tonight, just my Goose and me lol.
I got my Goose out of SESM and MXA9, then landed at the nearby airport... I forgot thqat my Goose does not have a nose gear but is a tail dragger, first time landing it on land... and there was such a greeeat river near by too... did not crash but after I landed I ended tail up remember no nose gear. Luckily my Props are so far off the ground that they did not get damaged.
The AOPA web site had a mention of Orlando Executive AP and something about reading the fine print before taking off toward the city... That is next after the Copalis beach.
Let me know how you did. Hey did you ever try the Darrington Mut. AP WA.? I came in from the east down low through the valleys. Fun not too hard but makes you think.
Yeah the stick... hmm well it is a Saitek Cyborg rumble force, and it is a 3D stick. But I do not like the nontentioned movement. It moves about .25" forward and back and side to side. So the Rumble can make you drift off course or change your altitude. It drifts to the left a little but that could becaused by the engine torqe. Also it seams to me that it respond to a left Bank sooner than it does to a right bank. (Sooner as in when moving the stick to the left or right). Checked out the X45 but did not like how it fit my hand, or the pinky triger. But it was tighter.
It took me about 5 minutes to get out of SESM in my dinky Cessna!

Cool! 😎
But can it make it out of MXA9? '

'
I tried it in a Cessna but swiched to the PC-12 and Goose to make it.
SABA is the AP ID code but they use it for the Island name too although I do not think it is. Or maybe it is not the airports name.
Saba's airport is famous for being the world's smallest commercial airstrip (approx. 400m in length) about 1300 feet. Never heard of it before.
Easy take off just keep it short 😀, just watch the landing... I found a place I am going to practice at!! All those islands!! Very nice can't wait until MegaScenery makes a caribbean area.
I think that FS2004 might not match the actual airport due to some discriptions I have read.
Still fun!
Can't wait to try that!
Nearly managed a straight-in landing at SESM, without any turns, but just fell short of runway. Think you can park a heavy down there? 😛
Do not know, I have not graduated to jets yet.
Landed on the USS Kitty Hawk CN-63 outside of San Francisco with my P-12, tight landing!! Would be nice if throwing the throttle back on the joystick would throw the prop into reverse. But both times landed just before the 6 in the 63.
SABA is good practice for CN-63
Also made a few trips up and down on Loch Ness.... no sightings.
Have you tried the settings with your joy stick? You should be able to configure it to reverse (well you can with jets)