At dispersal RAF West Malling a pilot suffers from boredom - send for the medics!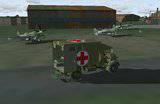 The Austin K2 ambulance can be found here:-
Nice detailed addition.Gives more realism to WWII atmosphere.Very nice shot ❗ ❗ ❗
Indeed, a very nice addition there verygom.
Nice shot 😎
Wish it was larger it too dark to clearly see the aircraft.
Thanks! Picked up the BMW as well 🙂)