i cant seem to get the textures transfered to the aircraft in fsx, i d/loaded the easyjet file followed the readme but i cant find it
You downloaded it from where? Buckingham Palace?
You're obviously not asking for help.
i got it from this site..... i just dont have any luck with texures...
It's got nothing to do with luck and you know it. If you seriously want those textures, get them from avsim so they're easy for all of us to access.
The problems with add-on textures are always messed up .cfg entries and this situation will not change for as long as we are humans.
Those mistakes can be easily rectified if and only if the one who does the troubleshooting has easy access to the download.
I think I've finally found a way to explain how this works:
Imagine, you've got a Sunday roast in front of you. Meat, vegetables, pasta, gravy and what not all neat and nicely stacked on a plate.
Obviously it's easy to find what you're looking for while you're eating.
Once you're sated and it's time to clean up, you carry the plate with the leftovers on it to the trash can or to the pet alligator enclosure.
EASY!!
Now the same scenario without a plate 😳
Meat, potatos, gravy and everything else is on the floor instead. You're eating off the floor, your knees hurting, you can't find the damn peas and so it goes.
You're finally done eating and now the real fun starts

You have to clean up the mess!!
I'll leave the rest to your imagination

The little anecdote above is comparable to an endeavor of downloading some vague file off some vague , dusty library without staff -- and then trying to find out what went wrong.
Gee... do I hope this makes sense

JarJarBinks wrote:

i cant seem to get the textures transfered to the aircraft in fsx, i d/loaded the easyjet file followed the readme but i cant find it
You should know by now that the downloads from this site are not of the best - to check -I also downloaded from this site and couldn't get it to register in FSX either.
The legitimate file is on Avsim - in the search box key Easyjet and search in FSX texture/modifications etc there is only one for the default 737-800 (which you omitted to tell me in your query - doesn't make things any easier) especially when I can't afford a roast to muck about with!! The Avsim d/l works
The file has obviously been poached from Avsim by someone as there is common mention of 'readmee.txt With the French language common to both examples!
Here it is -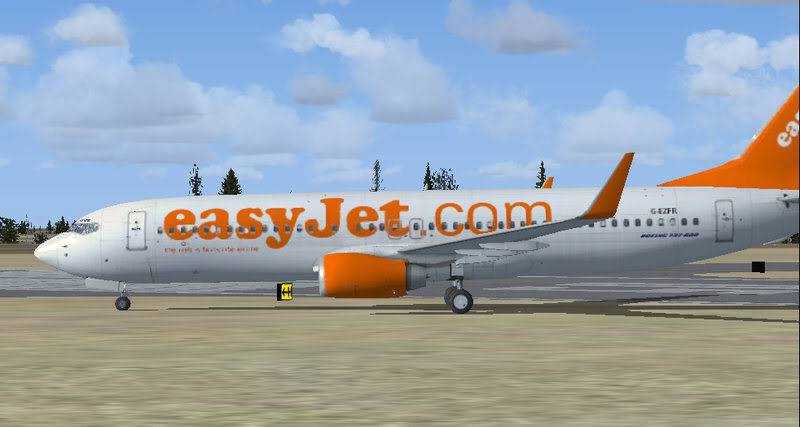 The aircraft.cfg file is also corrupt in this site download -
[fltsim.6]
title=Boeing 737-800 Easyjet
sim=Boeing737-800
model=
panel=
sound=
texture=EZY
kb_checklists=Boeing737-800_check
kb_reference=Boeing737-800_ref
atc_id=N737T
atc_airline=
atc_flight_number=
ui_manufacturer="Boeing"
ui_type="737-800"
ui_variation="Easyjet"
ui_typerole="Commercial Airline"
ui_createdby="Microsoft Corporation"
This is a change from FS9 cfg files.
Note the Inverted Commas/quotes - these are not in the file download from this site but are in the Avsim download. I actually didn't find any roasts, pasta or eating of the floor mentioned in either download.
Hope this helps you in your disappointment - if you download the true file from Avsim, I will give you all the help you need - but sorry no cooked meal 😂
I love where this is heading. Please keep it in the open domain so we can all learn from it 😂
What did you have to eat for Thnaksgiving?