Hello everyone, im starting a virtual airline called Fly Earth virtual, and i need a painter. Here is the plane should look like-

if anyone's interested, post in this post that you are, and ill PM you if i want you to be my painter. thanks!
PS-i need the C182, Beech Baron 58, Learjet 45, Boeing 737-400, Boeing 747-400, ALL DEFAULT painted
robbier
Sorry if i am being offensive or rude to anyone, but is anyone interested in being my painter?
I would but I would not be able to do the quality you wanted and I can't panit all planes, I don't have photoshop, sorry
i will go into paintshop pro and make a picture of what i think you want.
heres variation 1

and heres my variation, variation 2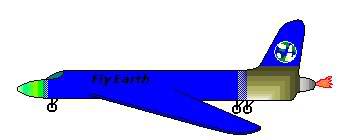 sfrr@charter.net is my e-mail if you want more variations.
Thanks for the offer, guest, but actually I have already found a painter and the repaints are being done. Thank you very much, though.
can i join fly earth? i would love to be in a VA club
e-mail me at sfrr@charter.net
to join just go to our website at www.flyearthva.com and click join, and read the pilot manual first. I replaced the fly earth signature of mine with happy new year, but the fly earth one will be back shortly.
happy to have you