If this has been posted before, I apologise but Ultimate Traffic is due for release in the UK on 24th September. I've searched a few web sites for prices and the cheapest I can find is £24.99 from GamePlay...£5.00 off RRP with free P&P.
Anyone find it cheaper ❓ ❓ ❓ ❓ ❓
This isn't an add for GamePlay....just the cheapest I can find. 😀
👍 Good post!
I paid $29.95 here for it plus shipping, how does that translate into £. Whatever it is get it, you'll find that the sim comes to life.

Yep Yep...I agree!
I did the download and burned it onto a cd. Well worth the $$$
😂 Dont hold your breath, this date has moved more times than the SP2 patch release
I posted a link which gave a release date of June 2004 😳 and its still not been released ❗ ➡
https://forum.flyawaysimulation.com/forum/topic/967/my-new-ultimate-traffic-arrived/
I got fed up of waiting and went to Traffic2004 👍

Thats not to say I will not try it,when it do'es finally arrive on the shelves..................

Your right TTT



Been moved to 1st October release now.
I'm using ProjectAI and SKJ at the moment but want UT....BIG TIME ❗

I wonder why the delay? Is it a copywrite thing ❓
Hey, those who swear by this sold me and I downloaded it, but cannot get it working despite many attempts / reinstalls / deleting the traffic.bgl, then rebuilding. What am I doing wrong? Can someone post how they got it going? The site is no help...or direct me to a how-to site? Thnx, habu
Just shout

He is our UT expert
Habu,
Follow the "wizards" directions. That's all I did. I've never been one for reading directions.
After loading make certain that you run "compile" and set your traffic for 100% or it'll look normal. Make sure that you checked or left checked the continents that you wanted the traffic at.
You should have two new icons on your desktop, run them both, the search for new downloads first.
Take a short (10 minute touch and go) return to your main airport and there should be at peak hours a dozen aircraft waiting to take off.
It takes them a few minutes to taxi to their position, I tried first at default KSEA.

Thnx Radarman ! I guess I did do it right, but was expecting more. But I do like it ! Anything that makes it more real !!! If you set realism so it doesn't detect a crash, you can drive right thru those idiots that are between you and the runway..Hee Hee ! rob
Habu (Rob),
I was wondering if you got it to work. You are after all the first person I spoke to at this site and wouldn't want to lose track of you.
If you have it up to 100% after a few minutes it does come to life, big time.
I have it set so I don't hit them either, I have some great screenshots.
I like to go around from KSEA for about 10 minutes and then come back in the wrong way, heading into oncoming traffic.
What a kick, if you handle it right you can miss them by a few feet.
Good, good it's working for you!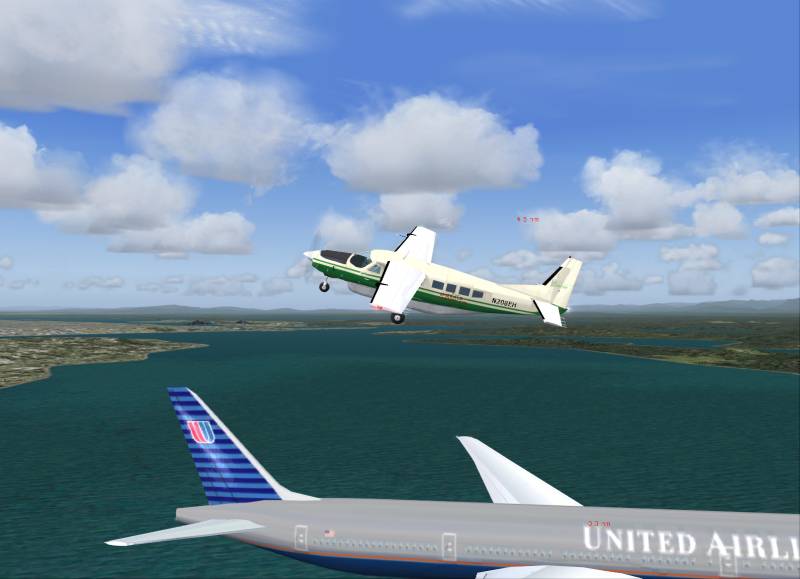 Nice shot, radarman. I too have done this but didn't think about a screen shot ! Thnx, rob
Take some screen shots, they're fun to look at later on. You're so busy trying not to hit him that you don't appreciate how close you came.

Still showing as a October 1st release.
Quick question about UT

I think I remember reading that it has it's own AFCAD set up.....does this mean that any AFCADs I may have added or indeed spent hours doing myself will be overwritten ❓ ❓ ❓ ❓
sylvan,
Yes it overwrites all the AFCAD's that are in the major airports because it's own scheduled aircraft have to have a place to park.
They have to be ready to taxi according to schedule.
I changed one once at KBFI and had two aircraft forming an "X" across each other.
One of the other members has had them pass through buildings.
What you can do is back up theirs put yours in and see how they work.
Maybe if you provide more parking spaces it'll work, tough to say. They do have a schedule and keep to it or else the disappear or go around.

Thanks Radar.
So when I get UT on my system and open AFCAD2 it'll show the map of UTs AFCAD? If this is the case surly, if I don't delete any gates, I'll be able to switch around gate sizes, add gates and so on (just for realism) ❓
The only reason I ask is that I've spent/spending hours getting my local airport sorted out as the default just wasn't real enough.
Have you found that UTs small/medium/heavy gate positioning at the airports you know are good or bad.




Pull out you hand made ones before installing then swap (and save) after the installation. You can see if it looks good and you are happy with them.
It all depends on how much you crank up the traffic, I have it at 100% so the airports are loaded with aircraft and the skies are very busy.
Don't expect too much the first ten minutes then the traffic comes to life.

OK its now been released in the UK 😀 😀
I'm off to go and get it
Thanks Radar I'll have a play with it and tell you how I go on
🍻
I know that you'll enjoy it as much as I do.
If you like it very busy like I do, sacrifice some of the scenery and clouds sliders to make up for the small loss in FPS.