Can someone explain to me what Overclocking is, what does it do?
I will try to explain it but I think it is CRJCaptain who knows all of the details. It is where you go into the processor and adjust it to go beyond the factory specs. It is not a good Idea to attemt it unless you are a professional because you can break your procesor.
No, I don't know all the details but thanks 737Flier.
Over clocking(OC) is a way to push a processor or graphics card beyond the factory settings to increase performance. It's not for the novice and involves settings on your motherboard. It can give added performance but it can also fry your computer and/or make your system unstable if you push it too far. It makes the component you're dealing with run hotter than normal requiring extra cooling. If you are dead set to OC, I would bring it to a computer professional that has experience in OC. If you want to learn, get a old computer that you don't mind destroying and practice and learn before trying it on an expensive machine. Read up on the techniques of OC in computer tech manuals or information on the web.
➡ http://en.wikipedia.org/wiki/Over_clocking
Im pretty much the resident OC whore here on the forums. I have OCd every system that I have built. I had a pretty impressive OC of my 7600GTKO, but decided to reduce it back to the already factory overclocked settings (Factory overclocked 7600GT)
That video of the Duron is very old, and the only reason the CPU blew up like that is because he removed the heatsink which instantly raised the temps of the core to nearly double. The reaction was the pop.
Overclocking can be very safe, but it can also be very damaging. I have personally never destroyed a component due to overclocking, but thats due to the fact that I monitor my systems actively and ALWAYS ALWAYS ALWAYS benchmark/stabalize the system via Orthos...
OCing your Processor requires that the Memory be overclocked as well. This is usually what holds back a decent overlock, not the CPU but the memory. If the memory cant handle the frequency, it wont transmit info therefor the motherboard cannot post... when this happens, all you get is a black screen when you turn on the PC, usually followed by some strange beeps... this is when people think they destroyed something, but usually a simple clearing of the CMOS is all that is needed.
Overclock at your own risk.... sounding like a broken record, I will post my system specs, just so you can see that for a cheap amount, you can run some serious numbers... and for giggles, I spend less on my entire system, than it costs for those knuckle-heads to run SLI 8800GTXs and STILL get 50-80fps in FSX.... wrap your mind around that!!
Processor: .........E6300 Core2Duo 1.86ghz overclocked to 3.43ghz Orthos Stable
Motherboard: .....Gigabyte 965P-DS3 v3.3
Memory: ............Patriot 2x1gb PC2-6400 800mhz overclocked to 1000mhz
Cooling: .............Alienware Liquid Cooling System
Video:................ Nvidia 7600GT-KO @ factory speeds 580mhz Core / 1.5ghz Memory 256mb
Sound: ...............Creative Labs Audigy 2 SE
Power: ...............650w Silverstone PSU
Storage: .............160gig x 2 Baracuda's SATA2
Case: ..................ntec 900 with (3) 120mm Intake (1) 120mm Exhaust (1) 200mm ehaust
Performance:
Rig Images: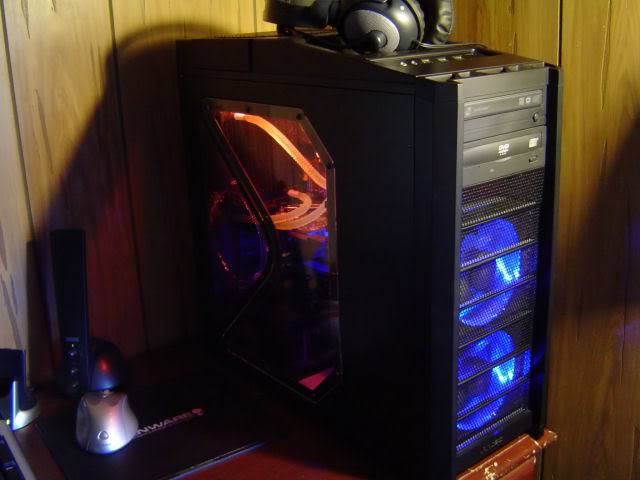 Glad you're here JLangevin, I'll step back now and let an expert that knows much more about overclocking than I, take over.

Hehe, the whole reason I ever got into overclocking was to make up for the lack of funds to buy a faster processor. Once I saw the results, I always set out to get the most from the least...
Now that Core2Duos are so cheap, I will probably get the E6600 next.
Very informative post JLangevin, you've managed to dispell some deep-rooted fears. This:
JLangevin wrote:

Overclock at your own risk....
must be one of the most common paranoias propagated for the "benefit" of the AOL crowd.
Nobody would expect you to write a full blown tut on overclocking I'm sure, but a few basic guidelines would be greatly appreciated.
I know there's Google, but in the past I've ended up in dingy 'Overclocking Dens' where noobs are frowned upon and ridiculed.
If you find the time to post a link to a more relaxed overclockers' hangout, please do so.
Just hope you don't try to OC a new processor as soon as you get it....you'll do more damage faster than breaking the processor in normally. Some motherboards allows you to OC straight from the Bios, others you actually have to set jumpers to increase the MHz.
For instance, my default setting is 200MHz. I increase the settings by one and restart the computer until the computer fails to start up. Then I (personally) crank the MHz down by two. Once the CPU has been OC'd gradually and ran for a while, you can push it a little further. Once you get used to overclocking, then you might want to try benchmarking to see how your system stack up with others.
Thanks everyone. I don't think I will be messing with my system....
At least I know now.
TailHook - Id be glad to write a little overclocking guide, I will cover the basics, but one thing that will make it a little difficult would be the fact that every manufacturer uses a different version and bios brand, which has different options, but I will do the best that I can. I get home from my trip today and will do that.
GrundamWZero - I will also address some issues I see with your post, and something that you did incorrectly.
what's that green coil? liquid coolant ?
Yes, the green hose is liquid cooling system. The hose is actually white, the coolant is green. As with any serious overclock, extra cooling capacity is certainly needed.
Tailhook - here you go! Go ahead and read this and submit any questions you have on this thread
processor: .........E6300 Core2Duo 1.86ghz overclocked to 3.43ghz Orthos Stable
that's quite a boost !
JLangevin wrote:

Tailhook - here you go! Go ahead and read this and submit any questions you have on this thread
Thanks a million JLangevin. I'll put your tut to good use on my present rig once I've got my new one. Re the info of the individual BIOS - that should be included in the mobo's manual or hopefully at the site of the manufacturer.
It should be, tell me what mobo you are going with and I can tell you the amount of overclocking capability you will have... if you are going Intel LGA775, I would go with the gigabyte P965-DS3, or Nvidia 680i chipsets.
My current mobo is the Asus A8N-SLI Deluxe -- bought during a momentary lapse of reason.
But I think you're referring to the future. Haven't done any research/made any choices yet as I wish to retain the little sanity I've managed to hang on to. I'm pretty sure though that I'll opt for an AMD based system again.
Another few months down the road I'll be setting out on my "quest" and you can be sure that I'll be consulting you for approval.
Thanks for your efforts 😀
That is certainly your choice, however Intel has proven to be better performers and better overclockers than AMD... and keep this in mind, AMD does not have nearly the thermal protection that Intel does... Intel will shut down BEFORE Thermal bake or damage has occured, however, by the time AMD shuts down, small amounts of damage has already happened... Just about any overclocking source will tell you that if you are going to overclock, or get ANY real performance, Intel is the way to go.
Ok, I'll certainly keep that in mind and will do some thorough research when the time comes.
Googling for "thermal protection" has lead me to the dreaded tech-talking geek hangouts. My gut feeling had been that it had to do with heat dissipation which could be achieved with the right kind of fans positioned appropriately. I guess I'll have to look at it more closely.