I feel like i just took my first step into a larger world.... for one day.... I set MS FS2004 aside... in favor of the real thing.
Ok so it was not a TIE fighter, nor a virtual Tomcat... nor a virtual Airbus 300... but the flight was the first time I have ever manned the controls of a real plane... all those years of flight sims must have paid off... the CFI (chief flight instructor) let me take control and allowed me to do a touch and go at a nearby airport. Here is the picture story: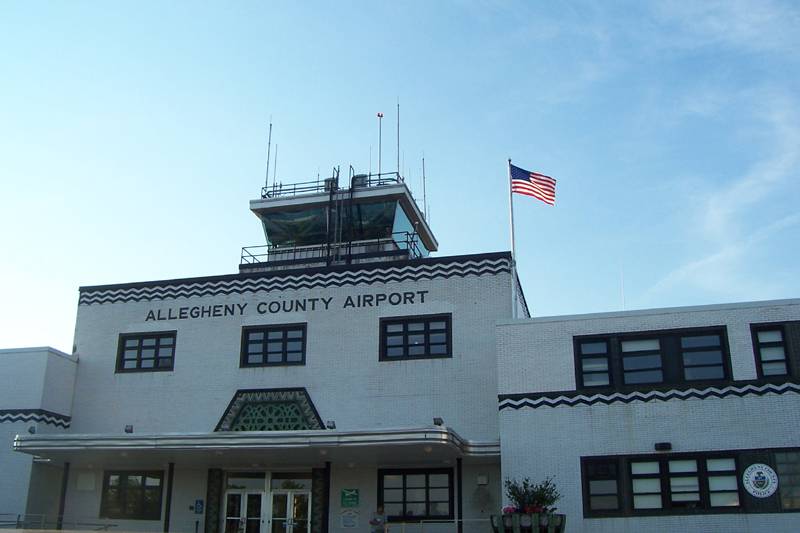 Allegheny Airport... south east of downtown Pittsburgh. The scene of the flight.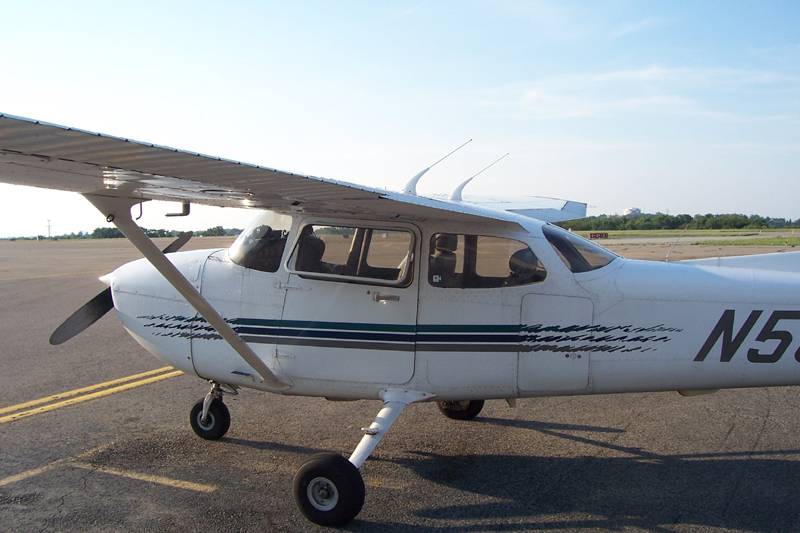 She may not look like much kid but she's got it where it counts...
So my son was with me... and he got to wear his own little headphones...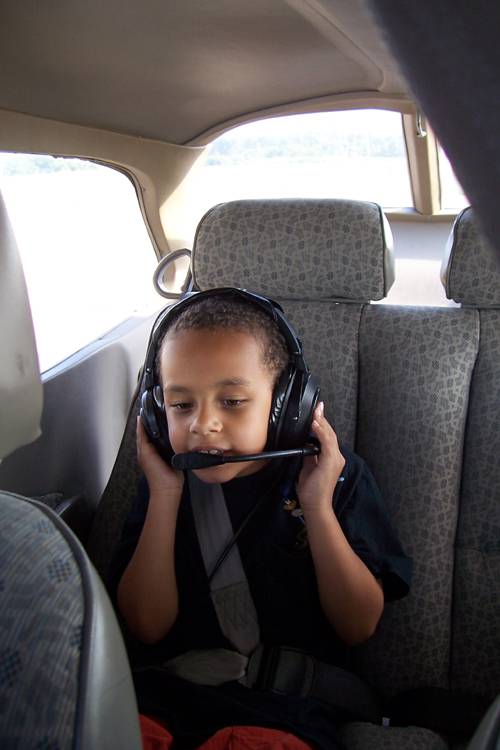 CFI says oh he'll be out cold in about ten minutes... it always happens to kids... YEAH RIGHT!!! Not my kid! lol.
CLEAR PROP!!!!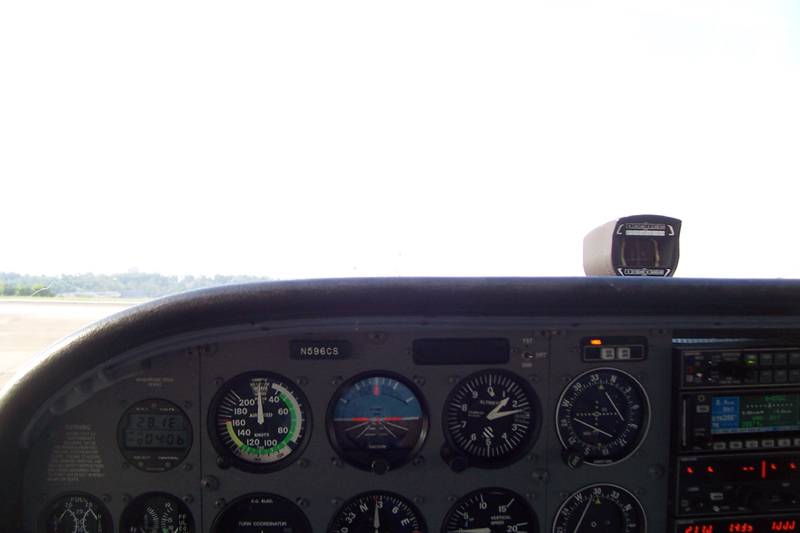 Now at this point CFI is in charge from the right seat... so he leads us down taxiway Alpha...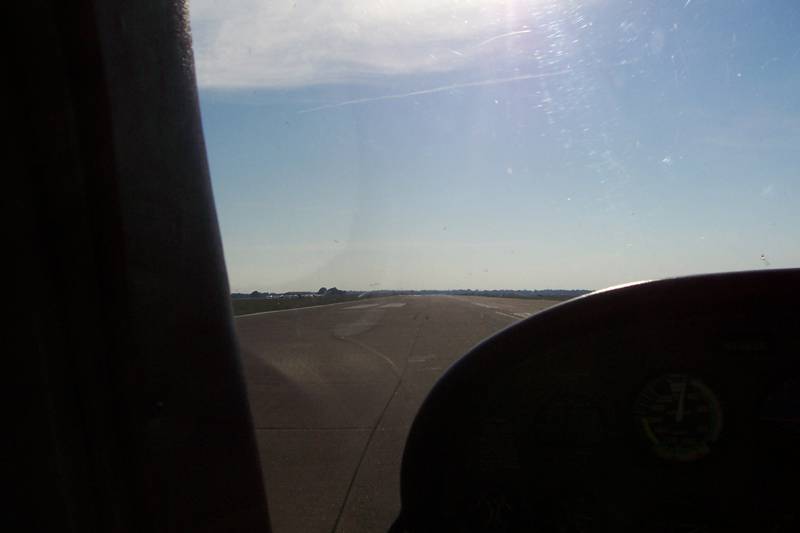 Clear for takeoff... let's open this bad boy up!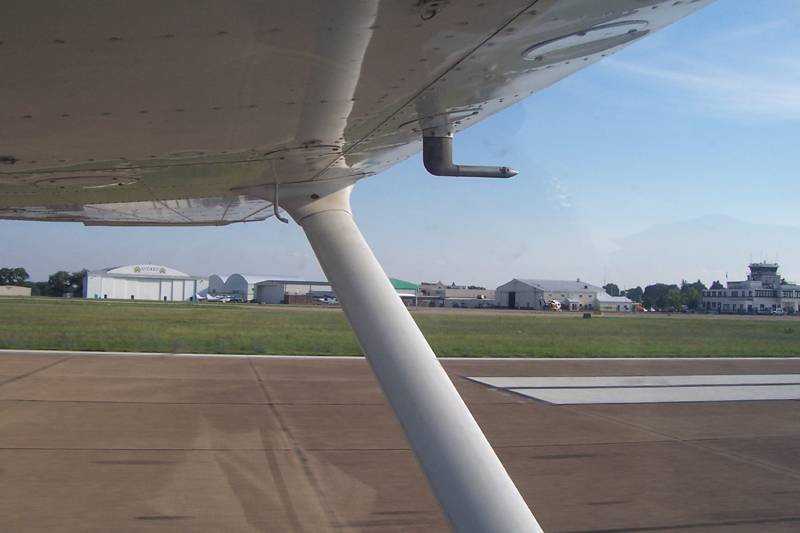 Rotate to liftoff... and away we gooooooo.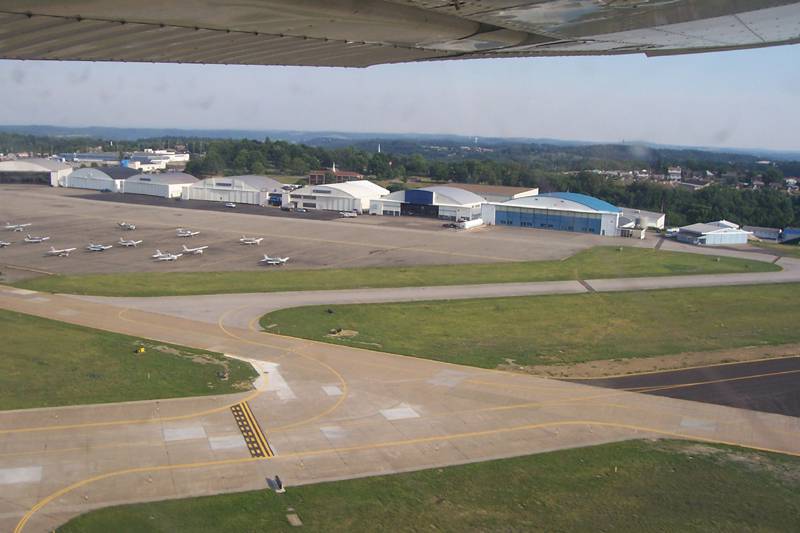 So CFI says to me... ok the first half of the flight I will let you do some sightseeing... so we're gonna change heading and fly over downtown Pittsburgh.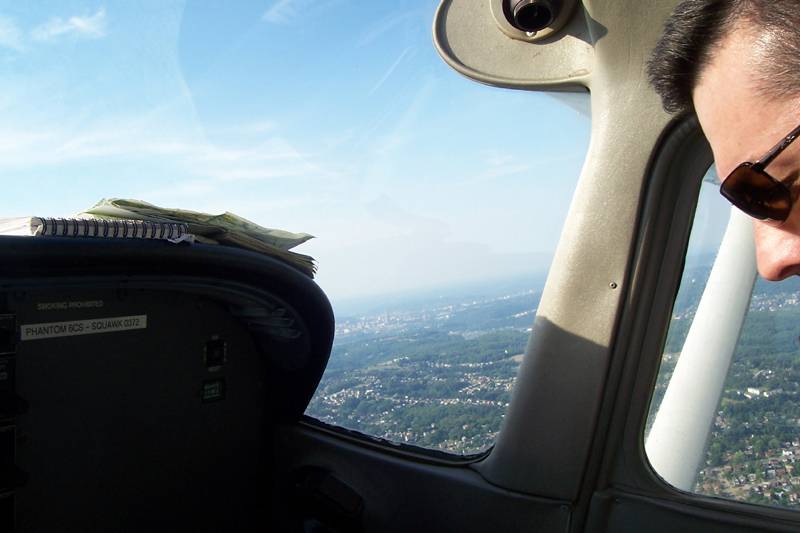 At this point I am like... cool... I feel like a Japanese tourist in Disney World here...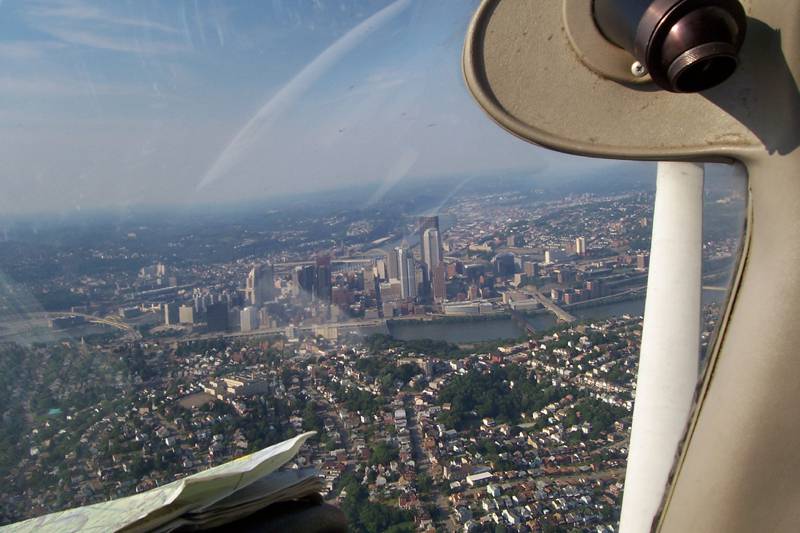 As we pass over Heinz Field we make the turn north up the Allegheny River (one of the three rivers of Pittsburgh for those keeping score... the Ohio and the Monongahela are the other two)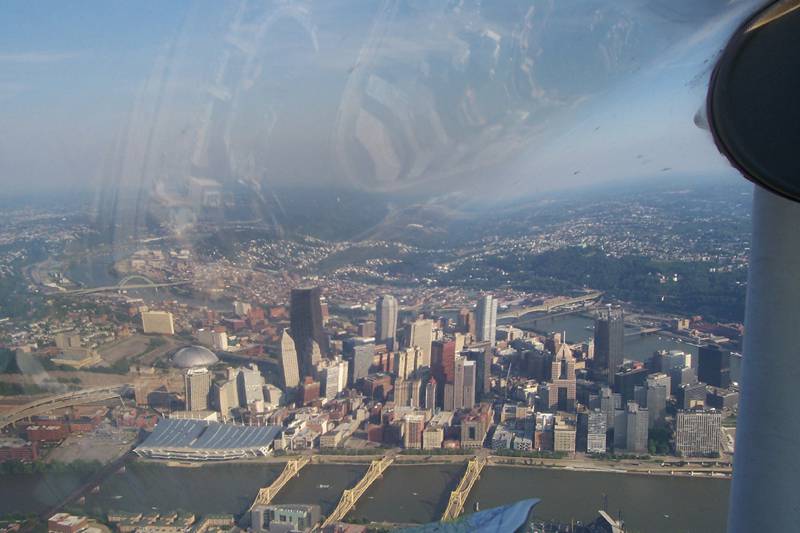 A few more miles north and he changes us to a southerly heading... so much for sightseeing i figure... not that there is much to see in Pittsburgh anyways...
Except the Mon... and like some industrial stuff...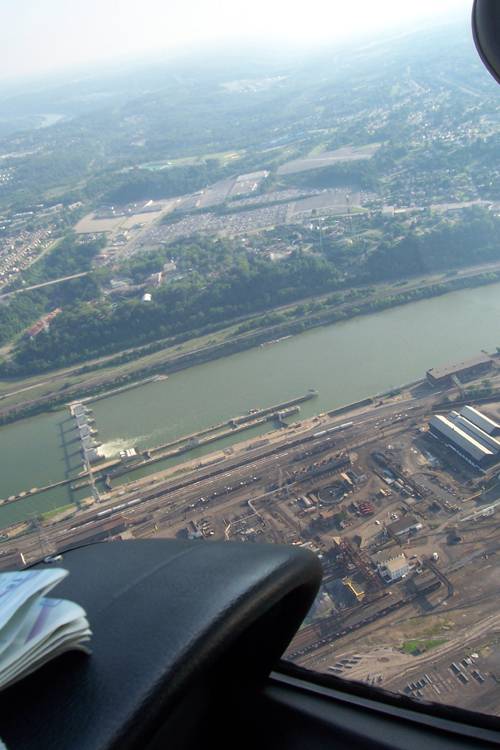 oh yeah did I mention the Mon? There's like homestead or somewhere... I think.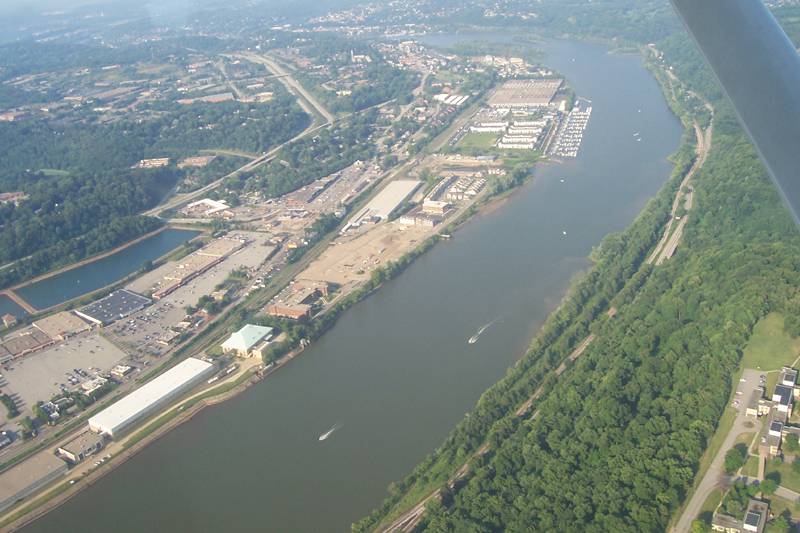 So now at this point CFI is like... well now comes the fun part... hold the yoke... and he sits back. I'm like... uhhh OK! So now it's my plane.
First on the agenda.... he says ok take us on a heading to east.... vroooooom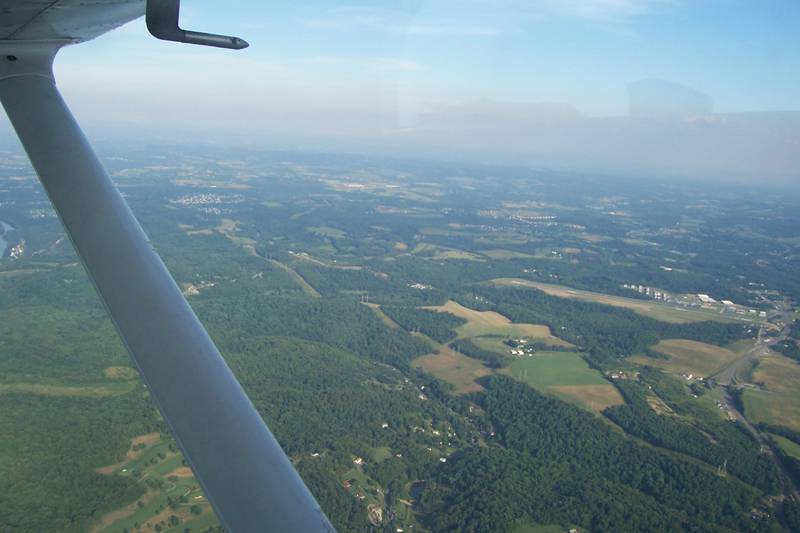 Good job he says.... so I tell him about my flight sim experience, and me flying with my dad as a kid and me wanting to do this for like the rest of my life...
I even tried to find my house.... it's umm somewhere down there...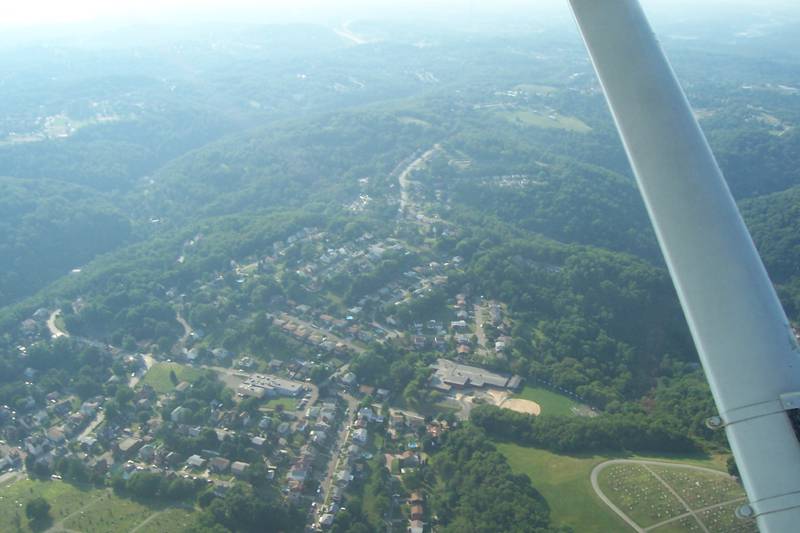 so after a few minutes of me practicing my banking and slow flight (with help of course) CFI says ok let's try some touch and gos at Ross Traver airstrip... I go... umm OK! You trust me to land this thing eh?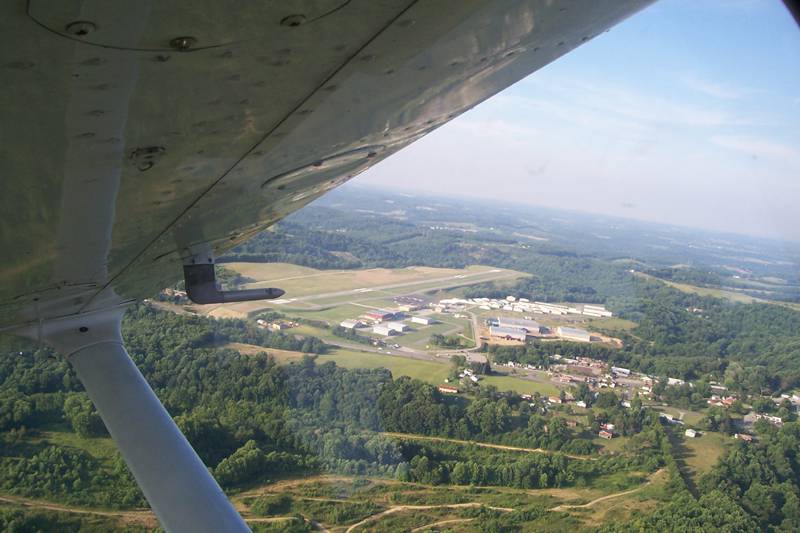 Now bear in mind I am snapping pix as well... so he turns us around to set up touch and go number one... gives me the walkthru on how to do it and then closes in on final.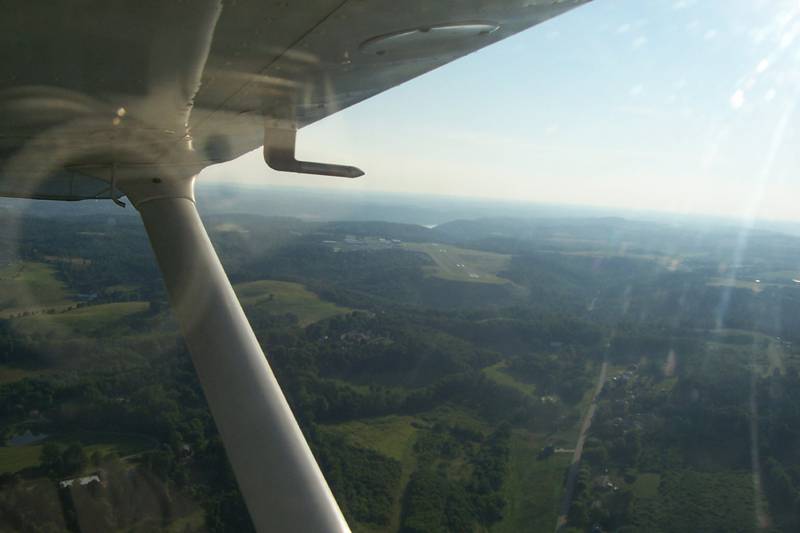 First touch and go is flawless... this is how it should be done... my turn. Ummm... OK!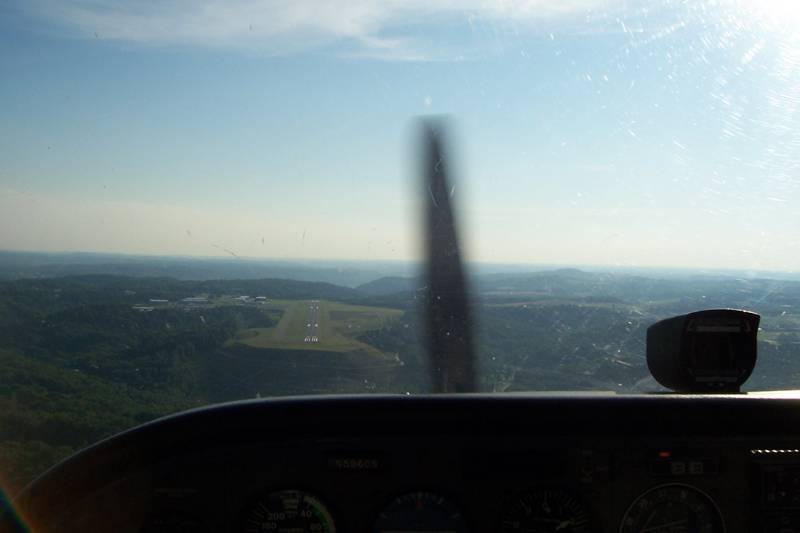 So i take the plane around and come in... he idles the throttle and talks me down... CHIRP.... landed a little off the centerline, but good enough... he pulls the throttle out and i bring the bird back to 2500 feet.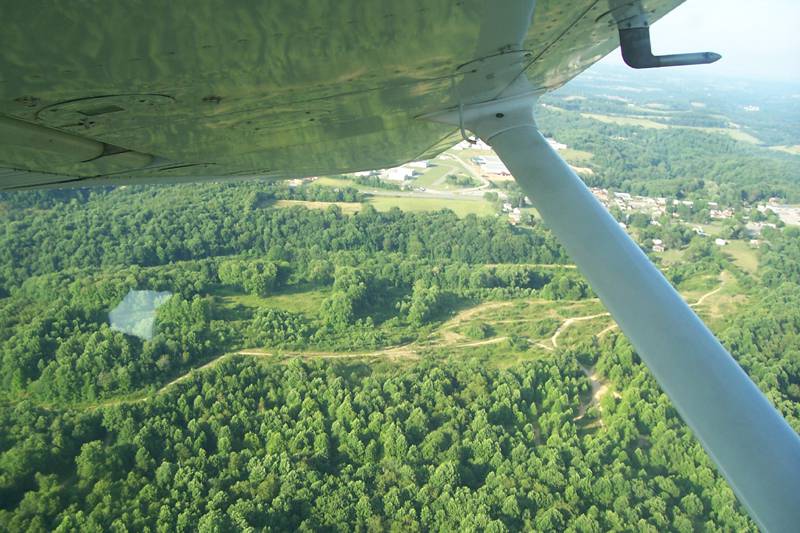 He pretty much has me fly the thing all the way back as he did his logs and checked the GPS... talked to me about how to use the GPS and how to use landmarks for navigation... in particular the city skyline and the rivers...
At this point I have him take over for a second... it is time for the ever popular Drew self photo!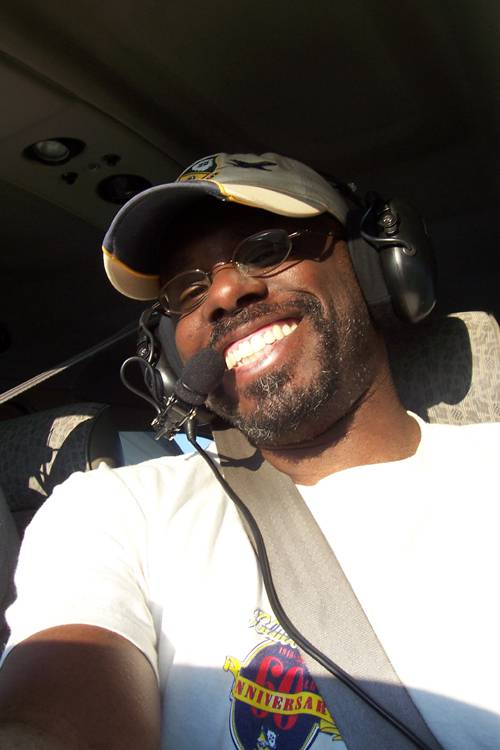 He about died laughing... I told him i always do this... everywhere I go i have to take one self portrait! With the comedy out of the way we set up for final approach on runway 28.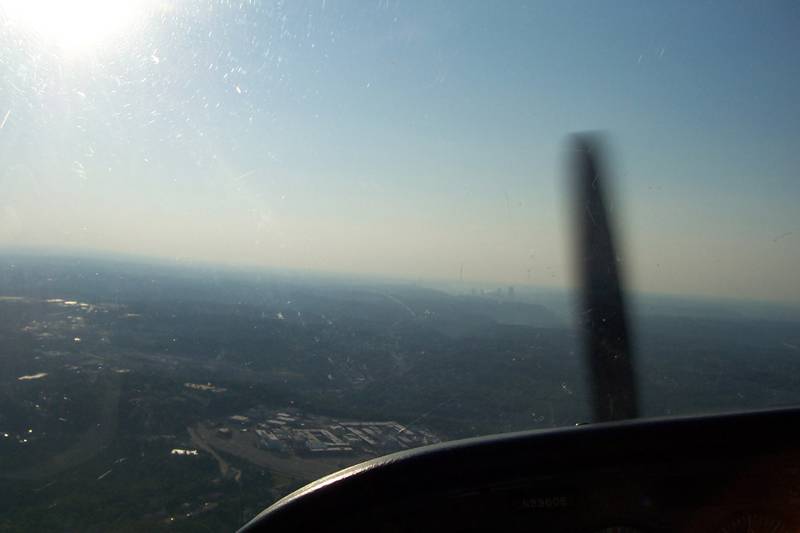 He goes over again the landing procedure... makes the call... and I bring the Cessna 152 down for a one bump landing lol. Figures my touch and go was better than the actual landing... but hey... beginners luck!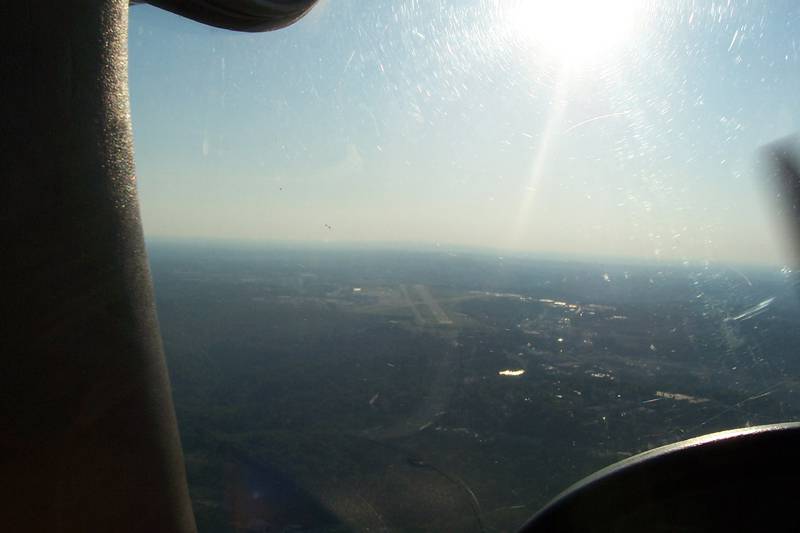 Another happy landing!
So my son... he gets out after we have parked and he stands up on the tarmac and shouts "THAT WAS TOTALLY WICKED!!!!!"
I dunno who enjoyed the flight more lol.
So I have decided... I am gonna need to take lessons and get my certifications. Now that I know I can do this... it's time to make it official!
WOOT!
Great shots, extraordinary story and way to go Belgeode! 👏 👏 👏

lol thanks VF!!! This is only the beginning!
Congratulations!
Thanks for sharing that with us.
I wonder who had a better time you or your son.

OMG we were both grinning like cheshire cats the entire drive home lol....
congrats bro glad you can do that now. Good luck in the future.
Wow amazing glad you had fun everyone has to experiance that one time in their life great job and happy flying


Amazing!....glad it all went well. 😎
I would love to give that a go sometime!
Was all the practice in FS any real help to you?
Even though this post is old, FS flight dynamics are nothing like a real plane. The first time I flew a plane was at 10. But i was with another pilot and wasn't allowed to land or take-off. Flew for about 10 minutes. But that was when i was back down-under
One of the things I noticed is that the rl cessna is very forgiving... you would almost have to force yourself to mess something up!
Right now I am still getting my money together for lessons... but rest assured I will have at least my private license by next summer.
Congratulations, looked like you had a great time.
Grats on the flight! You said in your pictures that was a 152? Never seen a 152 with a backseat before! (Probably a 172?

)
Great flight! Good thing you made it down safely with your son in the back 🙂 Now i can tell my mom, HEY FLIGHT SIM WILL HELP ME IN REAL LIFE if she tells me to get off my computer 😉
Great pics Bel, could'nt have picked a better day to fly by the looks of it, now you've gone and made me all jealous! Nice job of flying that aircraft by the way! 😀
yeah 172 is what i meant. Oops.
Belgeode,
There is a flight school at the airport 5 minutes form my house. I am saving up for lessons as well. Your pictures have further motivated me!