Just by chance on July 3rd my son told me there was an old bomber down at the airport. Since we had a large wild fire nearby, I just figured it was a fire fighting bomber which is cool in its own right. But he said it didn't look like a fire fighter.
So my wife and I went down for a look.... and this is what we saw!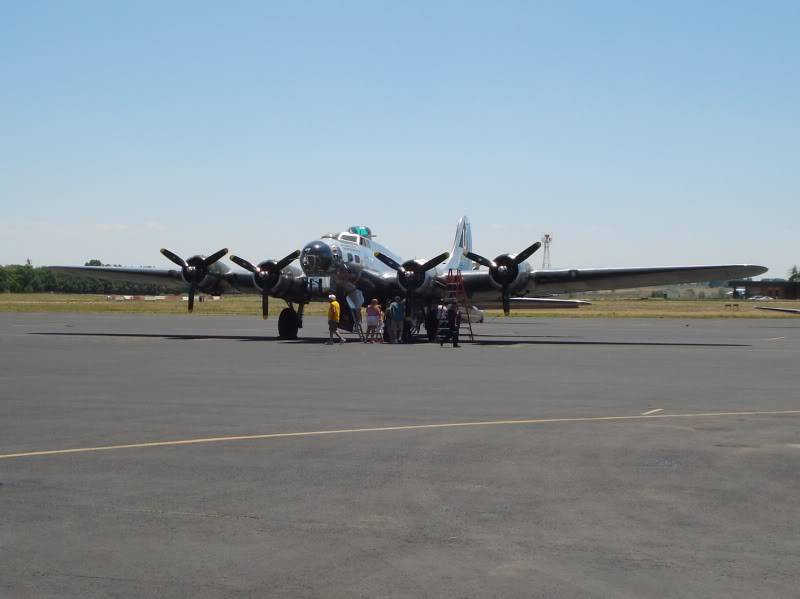 I know this is a sim forum but since the B17 is one of my favorite sim rides so far, I was speechless to see one in person. She was beautiful. We paid $5 each to get to go through. Its much smaller inside than I thought.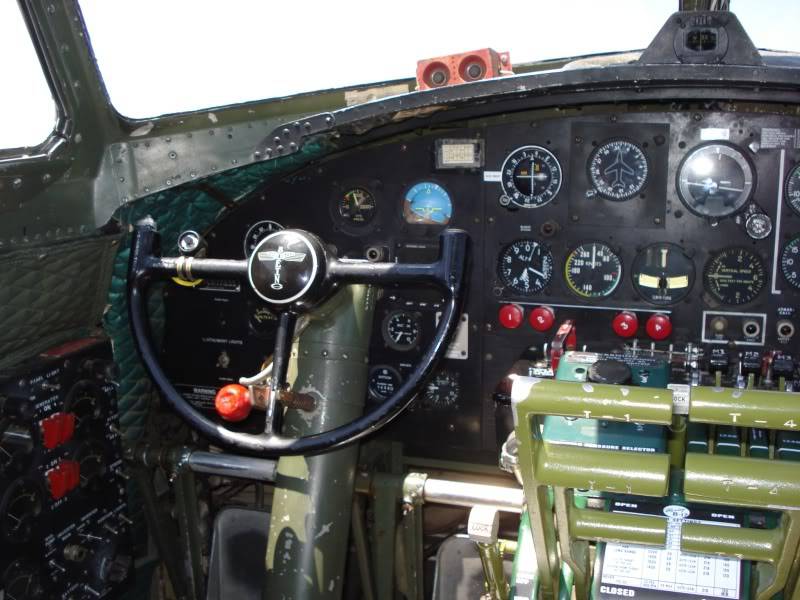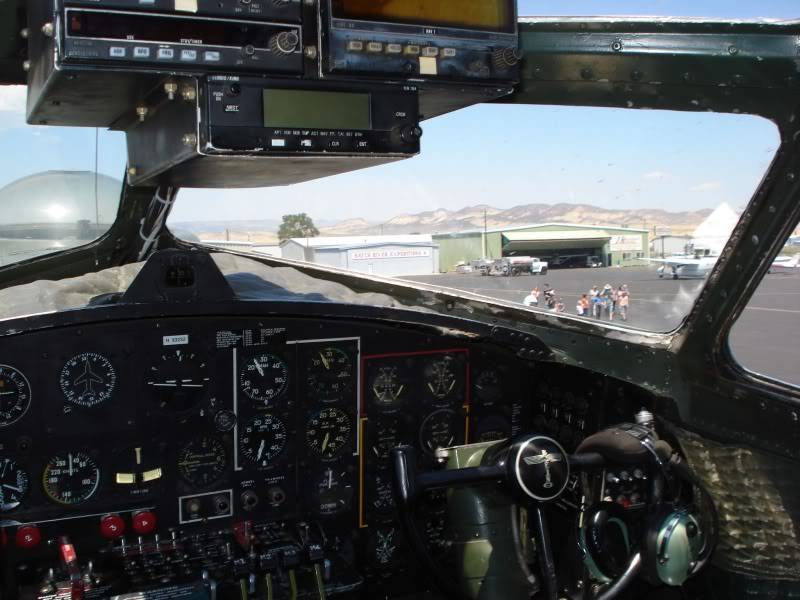 I walked around and around her and took a boat load of pictures. Here's just a few.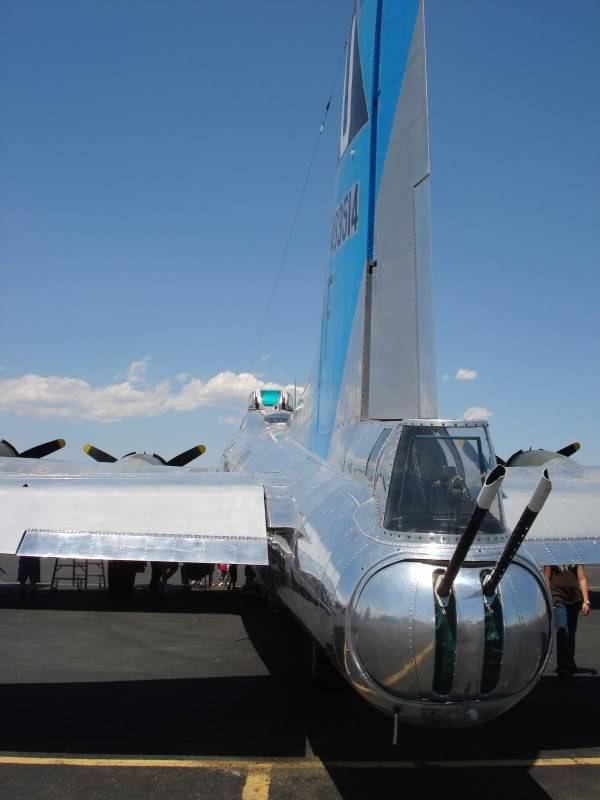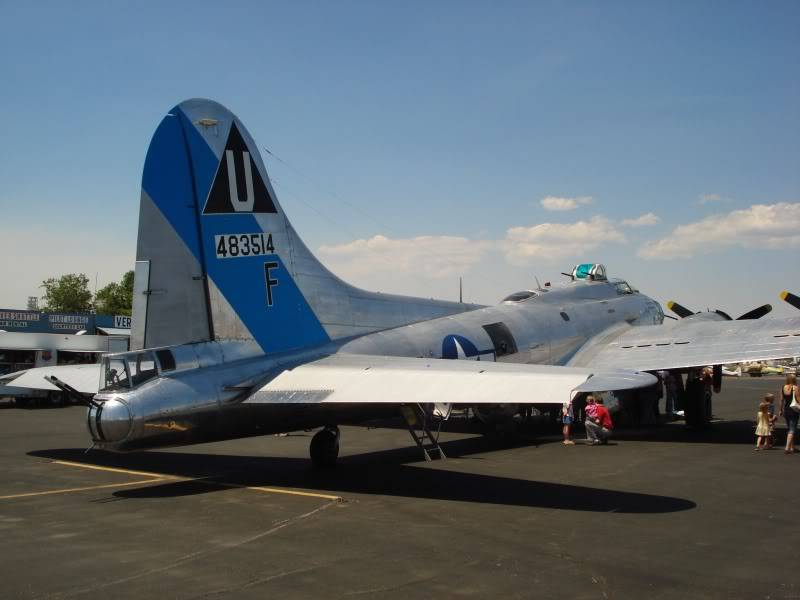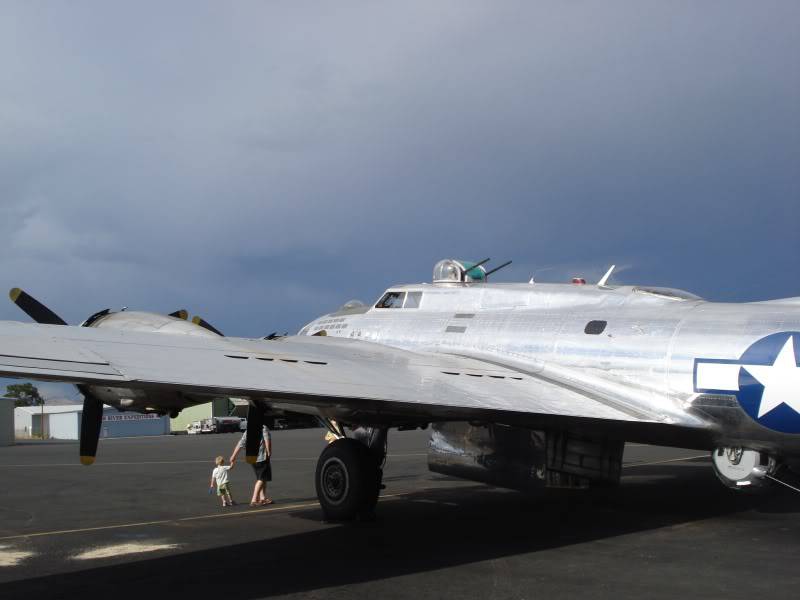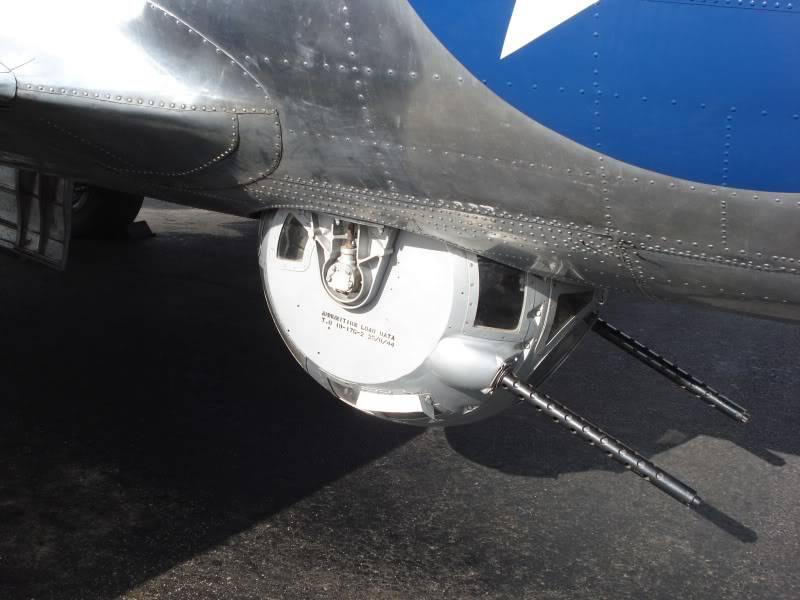 Actually, I went back two days later with my other son... so that is why the weather in several of the pictures is different.
On the 4th of July, we have a parade down Main Street. One of the highlights of my year is when jet fighters (used to be F-18's or 16's.. you'd think I'd know huh)... usually 4 of them fly down Main Street, then make a turn out over the area east of town and then fly back up Main Street.
(I just found the following link with a movie of it... grainy but you get the idea - its from last year).
I was particularly excited this year because the fighters at our nearest airbase are F-22's and I was anxious to see them. And I did... I think.... I am not sure and for the reason that follows, I've not even spent any time zooming in on my photos to see if they were 22's or not. I don't think they had two tails. Sigh.
Right behind them was something new this year. A KC-135 Tanker. That was cool.
They all flew down Main... then a few minutes later... back up... right over our heads.
Then I resigned myself to having to sit through the rest of the parade, which actually isn't all that bad.
After about 10 minutes, I heard a sound, the likes of which will usually have me jumping from my chair at the computer to run outside to see if I can get a glimpse of some older prop aircraft. This rumble was one I'd never heard before and I knew even before turning that it had to be the B-17 from the day before.
It was!
She flew up and down and around and over Main Street and the surrounding neighborhoods for a good 15 or 20 minutes. What a thrill to watch her bank through her approach turn and head toward us!
I took several movies with my little camera and for me they captured the experience quite well. If I was smarter (or just had more time), I'd learn how to put one on youtube... and maybe I might in time. But lacking that here is a picture that I compiled to show the fly over. I do wish I could share the sound of her going over. It was sweeeeet!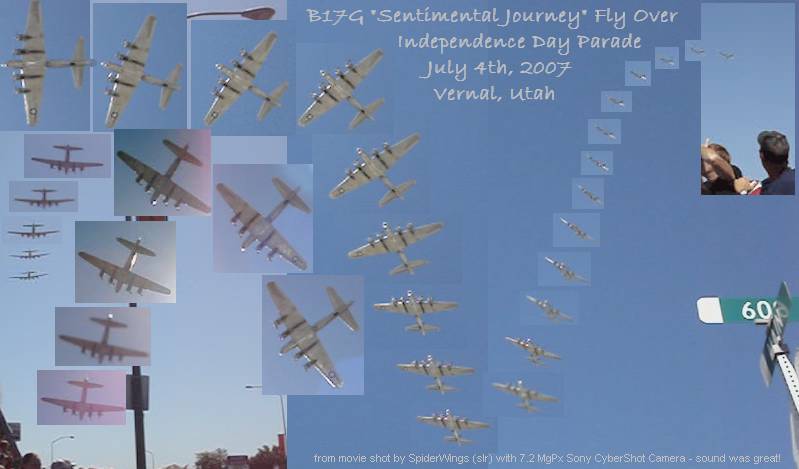 And here is a link I found today that shows some better photos of her.
I hope you'll enjoy hearing of this fun sighting.[/url]
holy smokes it looks beautiful. That is awesome.l
Beautiful shots Spider you lucky man 😀 , that must've been a great experience, not many people get to see a B-17 let alone get to go in one ❤️ .
woa you live vernal, i used to live in West Bountiful north of Salt Lake.
but i moved here to south ga and there is a pair of old vintage bombers B-24 and a B17 that came through one year and you could pay 500$ for a flight around my area in either of them but it was a little expensive money was tight then but it was still an experiace because with the bombers flew a P-38 and P-51.
i took many pics. i dont remember the name of the B17 but the B-24`s name was "The Dragon And Its Tail" which looked like a green dragon and its tail merged into a nude woman. it was the authentic bombers im not making any of this upbut you shared your experience and i thought id share mine.... i got to walk through the cabins of both bombers i walked throught both bomb bays with real bombs but the explosives were drilled out so they were no threat they didnt let us go past the cockpit into the nose of either A/C where the navigational equipment was the 50. Calibers were original the were on the plane as well as the ammo belt but the pulled the firing pins out and drained the powerd so the could not be threating. but yes those are chances of a lifetime and when you get a chance TAKE IT!
when the vintage airraft flew out of town to go to the next (keep in mind this is a traveling museum) they flew over my house and i then knew that that must have been close to what it sounded like to hear them during the war (the P-51, P-38, B-24 and B17). the were loud and deep sounding i heard them for at least 10 minutes just because its quiet here and they are so loud. ill never forget that experience
Thanks guys. Yes Welsh it was a truly sweet experience. JarJar, don't you miss the mountains? I hear what you are saying about the sound of those vintage aircraft. I wish I could share that with you all... of it flying overhead in the parade. Its awesome that you got to see a P-38, P-51, B-24, and B-17. I've seen a P-51... there's a retired airline pilot in Heber City that has one and he brought it here to an air show a few years back. Soooo sweet.
Okay... I figured out how to put a video on youtube... now if you like you can hear and see the movement of what I've shown above.
Nice shot Spider 😀 , now i want to see some more 🙄 .
Thanks Welsh. Thats the best of several short clips. He flew over a bunch of times though. Maybe I will make a composite movie from all the other clips... or not. I've already got my hands full here. But I have to admit its kinda fun having even a 19 second movie on line. 😛
Also... keep in mind thats from a Sony Cyber Shot whose primary function is still shots. I'm actually quite impressed with it for a video recorder since I've never had a real one.
yeah i miss the mountains spiderwings every summer my dad and i go up to Meir Lake and Yellowstone we also used to live in Evenston Wyo. i miss the winters up there its hot down here and believe it or not but this morning my mom woke me up she was going to work and as she was leave firetrucks went screaming by our house (keep in mind i live way out in the boonies turns out dry heat lightning from the storm last night sparked a fire and with no rain for almost a month its dry. but anyway to make a long story short the fire was near our property we own a 60-65 acre farm ouside of a little town and the fire was near the edge but never touched our farm but yes i miss the mountains and wish i was back home.
when we go up to yellowstone we stop in Jacksonhole for a few days and go trout fishing on a river the my family has fished on for generations and its just absolutly fun and its when im out there i feel as though life is perfect but anyway there is a river the runs into the snake river called the hoback i wont tell you where exactly (family secret) but its great for fishing.
funny thing "haha" this moring wasnt the first time i was on the edge of a forest fire. few years ago i was camping with my parents and off in the distant mountains you could see smoke well 3 days later the smoke was a forest fire right on our campgrounds backdoor we evacuated and fortunalty and later and the would have cut us off at one of the bends in the road.
but anyway....
I know the feeling JarJar. I used to fight fires for the National Park Service when I was young.
Okay folks... my little video is okay... good for me because I saw it like that... but at youtube I've been watching some other GREAT B-17 video. Here are several I recommend most highly. Enjoy. I did!

(wasn't going to put this one because its from the movie but its a fun watch)
And this one is the very same plane that we went through and saw. But this video is at another, earlier location.

Another of the same bird.. one week earlier in Utah... good look at her.

This is again the same plane... with an EXCELLENT commentary about the aircraft and a bunch of GREAT INFORMATION.

and there's more... have a look.
Sorry if I'm rehashing old ground for some of you. But for the others... this is some good B-17 stuff!