During my delay waiting for tomorrow's flight back to Newark, I thought that I made a side flight and show you 2 screenshots.
These shots are China Southwest Airlines Boeing 757 (part of the Traffic 2005 Flyable AI Aircraft) flying through the Himalayas from Chengdu to a city in Nepal whose name is very hard to spell, pronounce, and begins with the letter "K".
Enjoy!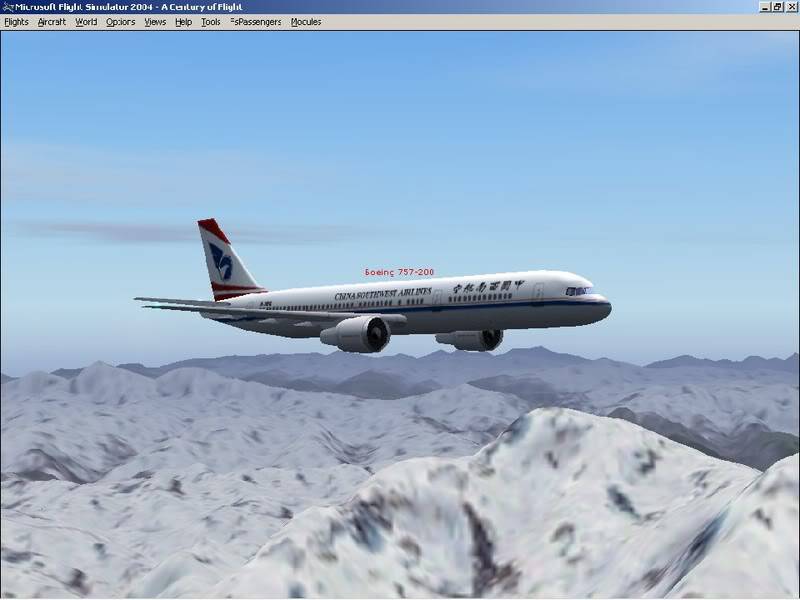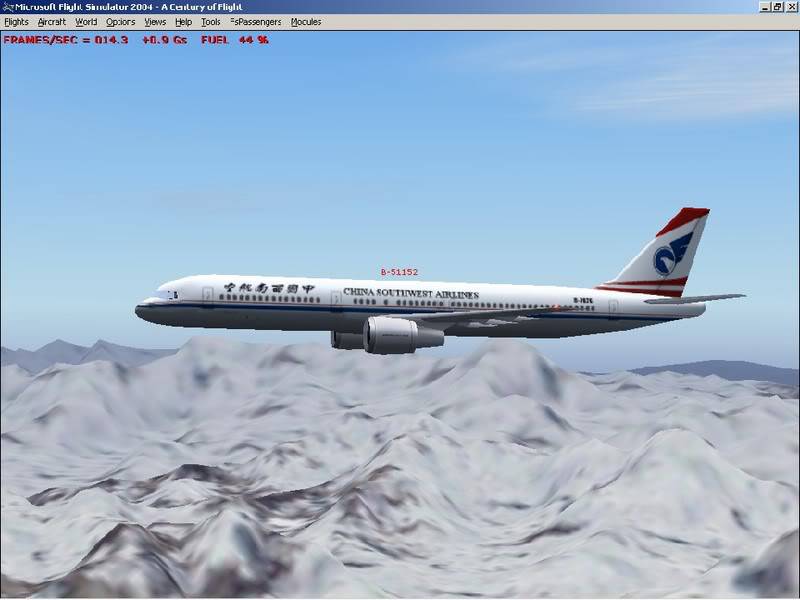 There's also a flightsim video that I found on Youtube about this airline, which inspired me to take a few screenshots of these. It's long, but trust me, you'll love it! Enjoy!
Very nice shots Kevin!

sweet pix there... I have not made it to the far east yet.
Is this the same KevinTsai from flight around the world 5? Shots are getting better all the time!

Welshflyer wrote:

Is this the same KevinTsai from flight around the world 5? Shots are getting better all the time!
Yep, these are my shots! I use 2005's flyable aircraft tool to fly any AI aircraft.
You know, Traffic 2005's AI Traffic has pretty good textures and it also loads up right away if mipmaps are taken away from the aircraft.
Luckily, I have a program called "DXTbmp" that do the job for me.
Unlike other downloaded aircraft I have in my flightsim, 2005's AI paints are simple and have just 2 bmp files in 1 texture folder whereas other aircraft texture folders have like 10 to 100 maybe of bmp files.
In my opinion, the more bmp files in 1 aircraft texture folder you have, the more chances there won't be any textures on one aircraft.
I think this is because I have a 16mb graphics card.
I think I could make 2005's Flyable Aircraft my favorite if I can tweak aircraft.cfg files to perform most realisticly as possible. I think it's possible to do that.
The only downside to these Flyable Aircraft is that you don't get spoilers or reverse thrust showing up. You only notice and hear these effects.
The only part that moves on 2005's AI is the flaps.
At least it gives me good textures!
Oh yeah, I almost forgot to mention: The cockpit panels on each 2005's Flyable Aircraft matches as close as possible to the default aircraft panel. Say for example, a 757 would have the default 737 panel and so on.
Come to think of it, I'm starting to like the 757 a lot. It's my favorite narrow-body aircraft.
Nice work Kevin, quite good for AI

Nice shots Kevin. That video at youtube is pretty good also thanks for pointing us to it.