Hi guys,
I'm in a terrible mess! I guess my aircraft views are corrupted. The problem is even when my aircraft is parked I cant see anythin out of the cockpit. The panels coverup more than 3/4th of the screen and has turned slightly translucent. I can see the ground through the panel. Its more like a Virtual Cockpit full screen view with the instruments. This applies to every aircraft I select. I really did not do anythin wrong in the past few days except trying out multiplayer options!
How do I reset all my panels and views to default? And wot exactly caused this problem? So that I dont committ mistakes next time.
Quick help would be appreciated.
Cheers
What is the last add-on you used and are you using SP1, if so how long have you used it.

I've been using SP1 since the last 1 month and after a complete reinstall of FSX i had installed it. Everythin seemed to work fine then. No addons installed in the last 2 weeks.
I play on it everyday...trust me this has suddenly turned out of nowhere.
Do you think, I gotta uninstall and reinstall FSX again?
I fink you should just reinstall but remember you can only install flight simulator x five times after that you need to use the crack
If you don't mind doing It, a complete uninstall would be perfect, don't forget to clean the registry.
Defrag after you uninstall it and after you install it.
Be sure it flies before you add SP1.
SP2 to fix some errors will be out maybe the end of this month.

Do you think I should post the screen shots so that u could have a look at it once. Uninstall and reinstall is quite simple but I gotta add tons of addons, which is pretty time consuming!!!
Please let me know how do I post the screen shots? I've never done it before. It could be just an elementary problem.
This is how to post sceenshots.
https://forum.flyawaysimulation.com/forum/topic/11288/guide-to-upload-our-pics/
Yes It would be a good idea if we can see the problem.

Hi RM,
Coundn't understand a thing about the uploading business!! I'm not able to get the link somehow after upload.
Any other way I could share it with you? Of course I could mail them to u if you share your id!!
Cheers
Take a screenshot.
Size it 800X600.
Open a free account at www.photobucket.com
Upload it to them.
The link will be in the bottom window of the screenshot in the album.
Just post that forum link. It's look like this [img]your screenshot here[/img]

Hey RM,
Managed to upload them. Here are 2 screenshots. The first one is when i'm parked at the gates. You can seethrough the panels anlo watch out for my point of view outside the cockpit. I feel like cruising at FL35!!!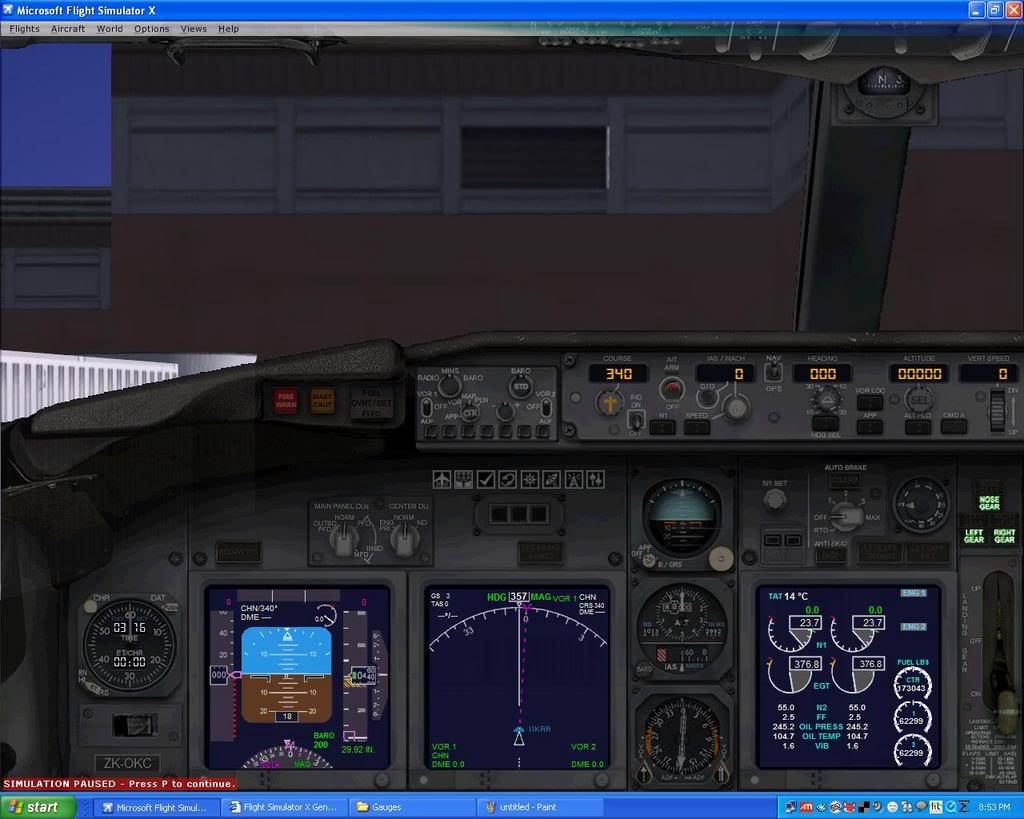 The second screenshot is when I'm taxiing. I can see the progressive taxi through the cockpit panels. Again my POV is a problem.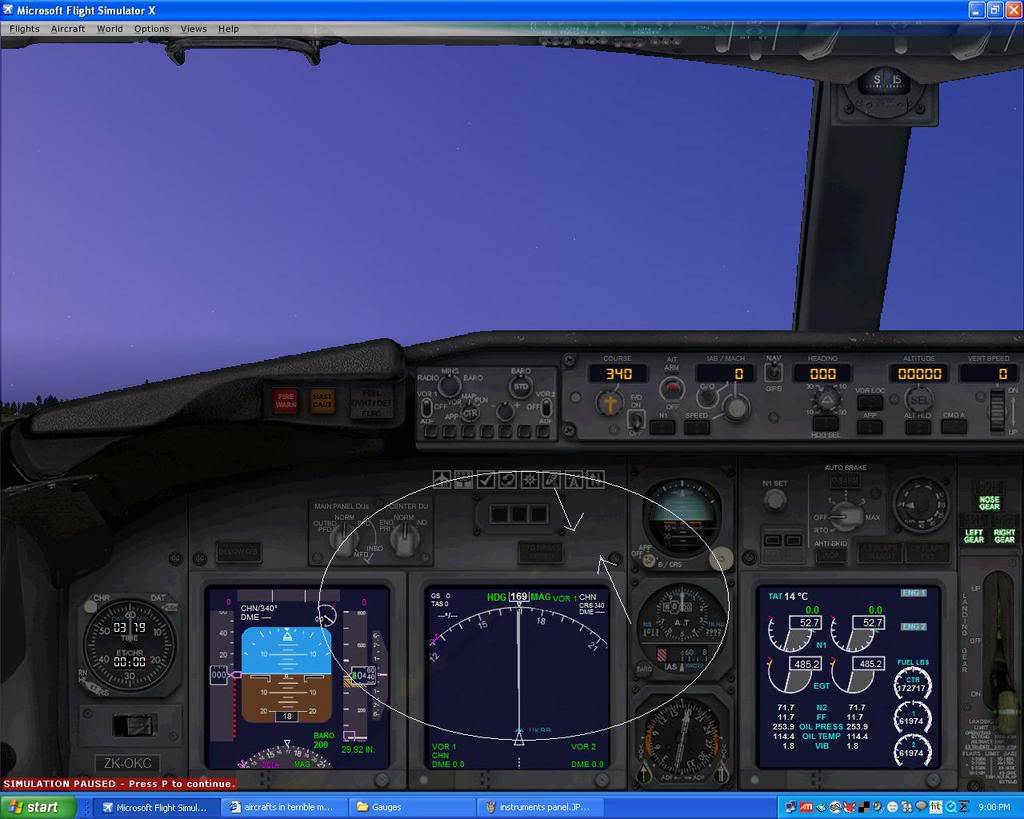 Kindly suggest what should be done.
Cheers
Raise the cockpit seat. Shift+Enter keys.
Download and print this out.
https://flyawaysimulation.com/downloads/files/1333/fsx-controls-keyboard-commands/

well RM shift+enter doesn't help because it only moves the eye point up and shift+backspace moves the eye point down! I've tried this out. Anythin else u remember which really raises the seat??
I really dont understand how could I committ such a mistake which screwed the panels of all aircrafts in one go!?!?
If nothin strikes u let me know I will have to uninstall/reinstall
Well even before u could respond...let me post somethin which I've never seen before! Well lets say within the cockpit view I squeeze my panel to the bottom of my screen, ideally after a point i should start seeing a black strip above my panels. This is because the FSX renders only half the screen in cockpit view.
Now look at this screenshot, no matter how much I squeeze it the background rendered space is just like VC point of view. I guess thats why I'm havin this problem.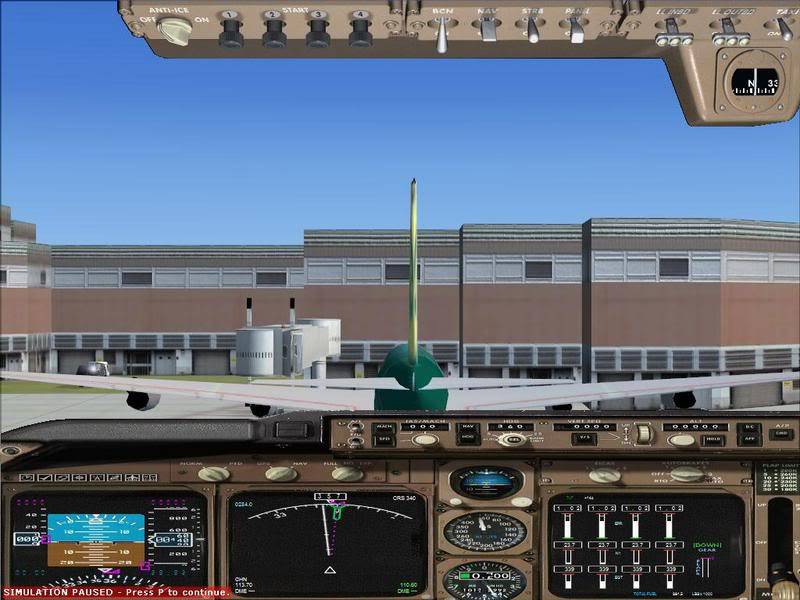 Any way I could repoistion the background?
Strange.
It also looks as if your using a widecreen monitor (I do too 24").
The gauges looked stretched.
Have you tried another resolution or flown in window mode.

This has been deliberately squeezed by me. Wanted to show you the sudden increase in the rendered area. I always use windows mode otherwise! My rendered area looks like VC though I'm using Cocpit view.
Try changing the resolution.
That's something I haven't seen before.
If you do decide to reinstall try repair first.
If that screws it up it won't matter.
Don't forget to defrag before and after you install FSX.
Clean the registry also.
Maybe someone else will know, let us know how you are doing.

Will let you know soon, BTW how do ya clean the registry?
If you've never done it by hand before...don't.
Use this on novice mode.
It's a 30 day demo, I have the full version and run it at least once a week.

Rm,
Actually just about to do the repair work, wanted to ask you what happens to my traffic after repair. Does it function normally? Or the xml.dll files wich are modified by mytraffic are over written by FSX repair?
I mean what does it repair actually?
It should repair only errors in FSX and not affect anything else.
That's the best case scenario, worst case...you reinstall because it screwed up.

Sorry RM, no way out of this mess I'm in have to reinstall.
Bummer!
Just be sure you get rid of all of it. clean out the entire mess.

Job Done but after installation of certain addon aircrafts(the series which are not there in FSX default like boeing 737-600) when i go to load that aircraft FSX pops up a warning message saying "737-600.gau is not recognised do you still want to run this software"? This is some kind of a security warning. Should I say yes or no?
Why this exactly happens? I'll post you the screenshot next time it springs up.
Cheers
Wot did u mean?
It was perfectly ok before reinstall!
You can say yes or do a search and delete it.
I get that with some aircraft also, it's because of old gauges.

Do I have to delete all such aircrafts which have such a problem? I guess these are the aircrafts compatible with both 2004 and FSX.
RM, one more issue, I just couldn't remember what was my target frame rate before uninstall. Any way I could determine the best FPS for my machine..?
Intel Core2 Duo on 845 Chipset
2 GB DDR2 667mhz RAM
Ati Radeon 256 mb card
All on Windows XP Home Edition/SP2
Any Clue. I've locked it to 30 anyway!!
Cheers!!!
I wasn't clear, sorry.
Delete that one gauge not the aircraft, or just say OK.
I keep mine at 20FPS and get a nice smooth flight.
30 is fine if you enjoy that.

Hey RM
There it comes again. Is there any harm if I trust this software?I mean in case I use this software does it modify gauges of all planes in its class or only this one?
Why does this happen exctly? Could anybody revert who has this aircraft on FSX. Its called westjet Boeing 737-600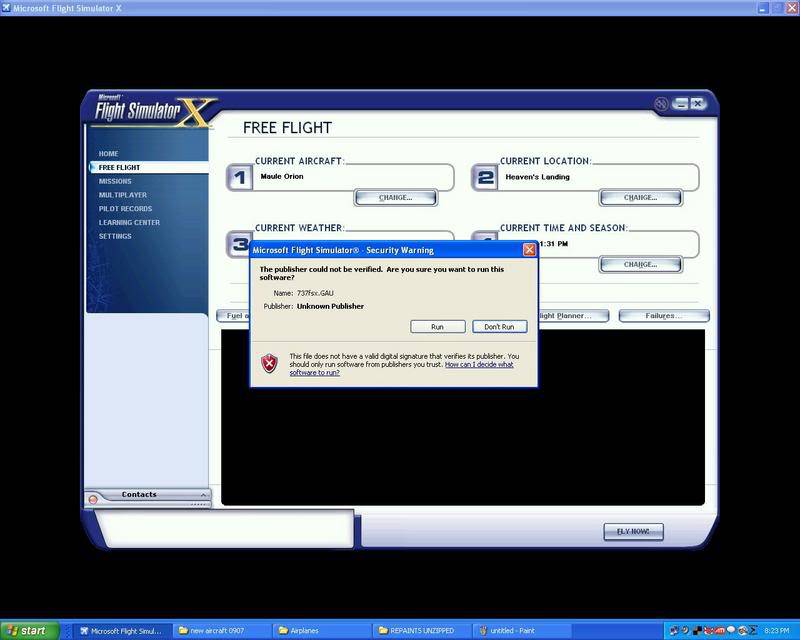 Just say OK.
No harm in using it, I do all the time.