I have uploaded (fictional) Keltic textures for the default B737-400, I made it simple, I just changed the colour plus added a Keltic deisign on the tail plus a font for the airline name.
I thought it would be nice to add as another AI airline or fly it yourself.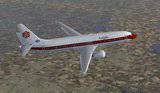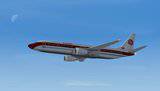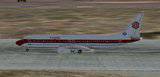 File is on AVSIM, type my name: colin reece if you want it.
Col.
Really nice repaint 😀 😀
Why don't you make those pics bigger it saves clicking the pic to see the repaint.
On photobucket copy the IMG link and it will show bigger
Here's a suggestion Col.... can you try that in green and gold? I think that would look awesome! I don't have anything against red, but Keltic conjures up images of Ireland to me. Though I spell it with a C instead of a K.
Hi,
Yes I could try it in green, to be honest I never thought of that. I have seen "Keltic" spelt both ways, ie with a C & K, the reason I did it with a K was because there is a football team called Celtic and I didn't want to relate to soccer.
I did look at Wilkpedia for Celt and it appears there is a lot of controversy about the subject, any way I decided to make the airline Scottish, no offence intended to any of the other country that has C/Keltic origins.
Col.
Nice repaint Col! Looking foreward to the green and gold version. 🙂