I've been playing around with the Alpha Shorts Belfast, this is fictional cargo airline, I'm wondering if there will be any interest in it as it is an old bird plus a payware.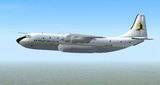 Col.
nice the only thing i can say is add a little more texture to it its a little plain not to be mean or anything

To be honest, I really like this and a nice change that the aircraft is not an AI plane

Nice Job Col

Thanks for the comments,
@ Bran, don't forget it's a freighter, a lot of these type of aircraft are not lavishly painted unlike the big company names, I thought to add more but I didn't want it to look like a pax model, plus it is an old RAF aircraft.
Col.