Hey i know this may be a stupid question and 1 you may not wanner speak about but....
Have you or will you made a Bucket List.
Bucket List = A list you have made of things you wish to do before you kick the bucket.
I was watching that new film ''The Bucket List'' and i was finking about making a Buket list of my own.
maybe 50 things or more add more, as i go on in life and complete them before the day....
Im only 16 & 17 in march and maybe in 50 or 60 years i may complete these's things.
The Bucket List film: http://www.imdb.com/title/tt0825232/
Tell me what you fink and even if you made one whats on it?
That did look like a good film and I also have some things I do before I kick the bucket.
That does look like an interesting movie with a cast like Freeman and the original 'Whacko Jacko' in it.
Bucket List? Never thought about it but - not a bad idea though...
Well, one thing I must do before I kick it is compose a marriage proposal that includes the words: "promise you won't sing on our wedding night" 🤔
➡
Courtesy of cheezyflyer
Tailhook wrote:

Well, one thing I must do before I kick it is compose a marriage proposal that includes the words: "promise you won't sing on our wedding night" 🤔
😂 😂 😂 Very Funny 😂 😂 😂
I got things like Fly a real plane (Any plane) and get my private licence and drive a mustang and run in the London Marathon ect........
Seems like I am almost done with morris bucketlist. Almsot got my private pilot - love flying cant wait til I get it. Never drove a mustang though would love to. Somethings on mine would be a commercial and air force pilot. Fly everyone one of my fav planes. And just have cars and boats ga lore. 24 boat and car garage would be nice for me.
emerald_flag wrote:

i would like to drive in a formula 1 race care

that would be sick even though i dont really follow the car world
I don't aswell i don't reallt like watching F1 but i would love to drive a F1 car & a Mustange.
A Mustange is my fav car it has been since i was younge and i would love to drive one and hear it rev up.
the car morgan freeman drove in the greenscreen was not just a mustang. it was a shelby. BIG difference. trust me, i had a 68 mustang, it was built up pretty nice with progressive rate springs in the front, 1 degree negative wedge kit, poly-graphite bushings, extra thick swaybars, 289 with competiton cam, 302 heads, edlebrock manifold and carb, headers, and custom bent exhaust. did all the work myself, including the interior and glass. i have a pic of it, not in it's finished state, but partway there. i ended up selling the car for a dirt cheap when i got tired of wrenching on it. tomorrow i'll try to dig it out and scan it for ya's.
a comment on the movie. i liked it but i think some folks miss the point. the reason they needed a bucket list was because they lived most of their life without an appreciation for it. they found themselves watching their "end credits" and wondering where the fun part was. having come VERY CLOSE to dying myself just a few years ago, i can tell you it's better to live right now cause you might not have a later. oh, and just like the movie, all the fun pales in comparison to loving with all your heart.
hm very good point cheezy and would love to see that car even if it is in the half way state. Mind if I ask how did you aslmost die?
an un detected blood clot destroyed my small intestine. the resulting gangrene and the loss of my digestive system really was a hard hit.
i went from being totally healthy to very nearly dead without any warning. i'm only alive through a miracle from God. the fuller story is on my blog.
oh, and here is the mustang, the pic was taken back in '93 when i still lived in delaware. i wrecked and rebuilt the car 5 times before i got tired of it.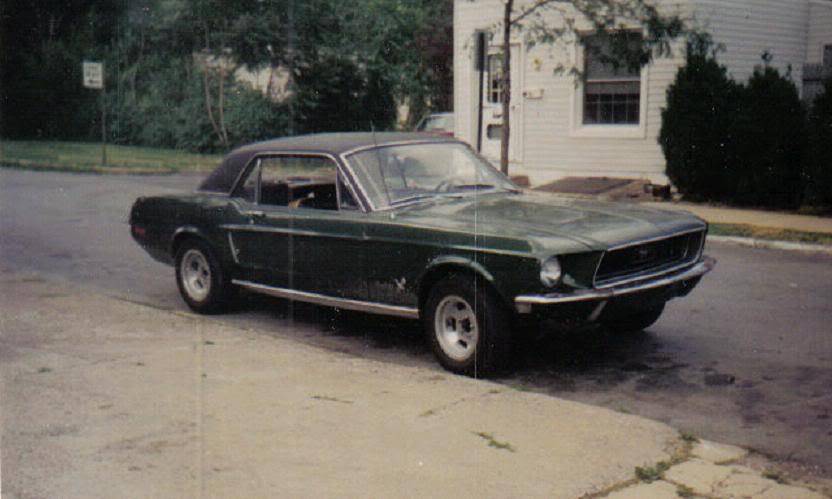 I would so love to drive that car.
when i finished it the first time, it would corner like it was on rails as long as the road was dry. however, the ride quality was just like what you might feel if you were riding a piece of plywood nailed to a metal roller skate. i drove the heck out of that car for about 5 years, and then one day i bought one of these (but not this actual one)