(copy pasted from my post on the USAirways Virtual forums!)
Well, even though the trip to Jacksonville was fraught with emotions and disappointment... at least the flights were good... So here goes my recounting of the trip... be advised... this is going to be a LONG one!!! I am dividing it into sections based on the flights.
April 4... time... way too early for Drew to be up... scene- KPIT.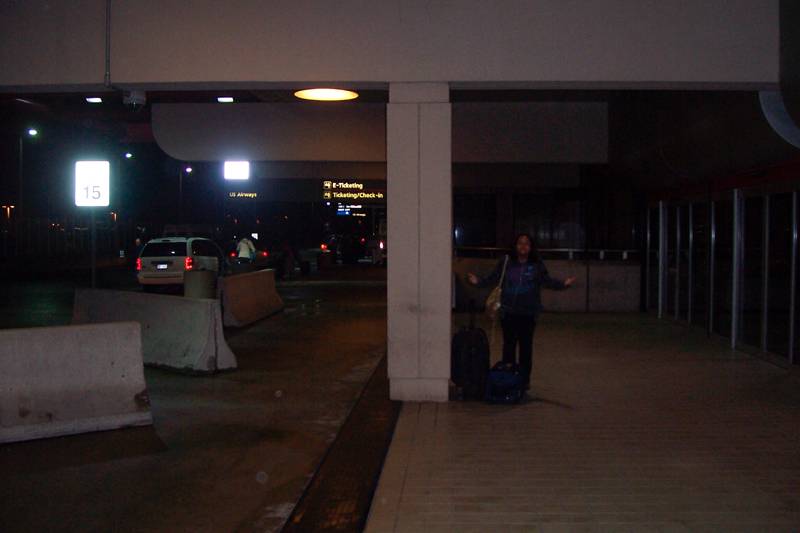 The taxi dropped Lolo and I off at the airport with plenty of time for me to grab a quick smoke, and take some rather random pix. You have to realize at this time of the morning (6ish) my brain is not yet operational... Not to mention I had to put up with the cabbie's political rant on why the republicans are evil.... yawn...
And they ask me why I am apolitical...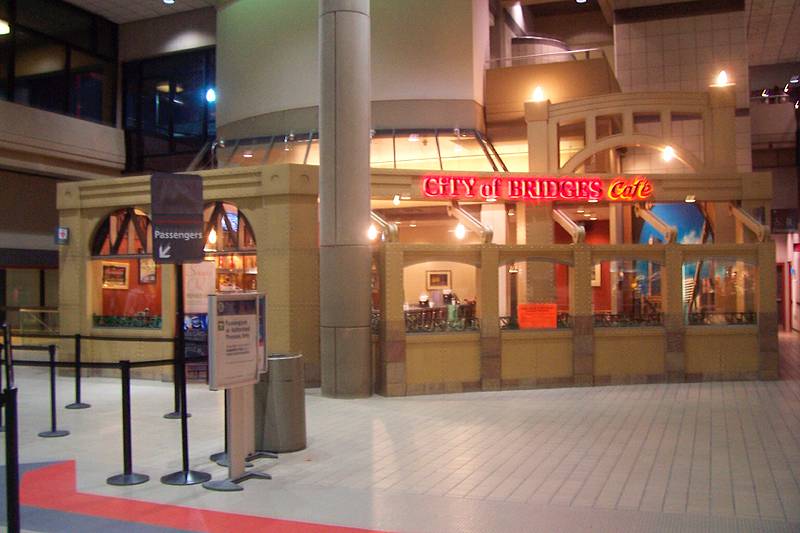 For those of you who read the March Destinations magazine, I wrote about the City of Bridges cafe... well here it is. Now you know what it looks like. Located right outside security, it is a great place to eat before moving onwards.... seeing as my stomach had not yet woken up... I took a pass this time.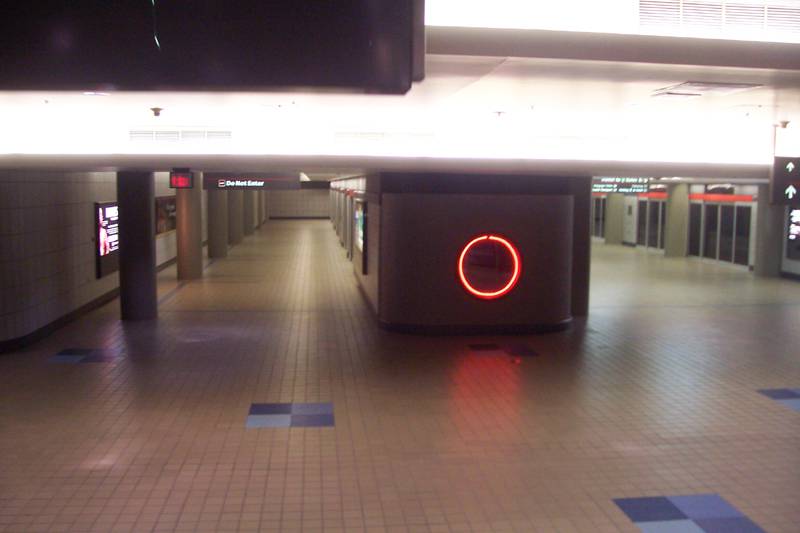 The tram between the two terminals... as expected... empty... not many people flying today. This tram takes people from the X (Airside terminal) to the E (landside terminal)... and vice versa.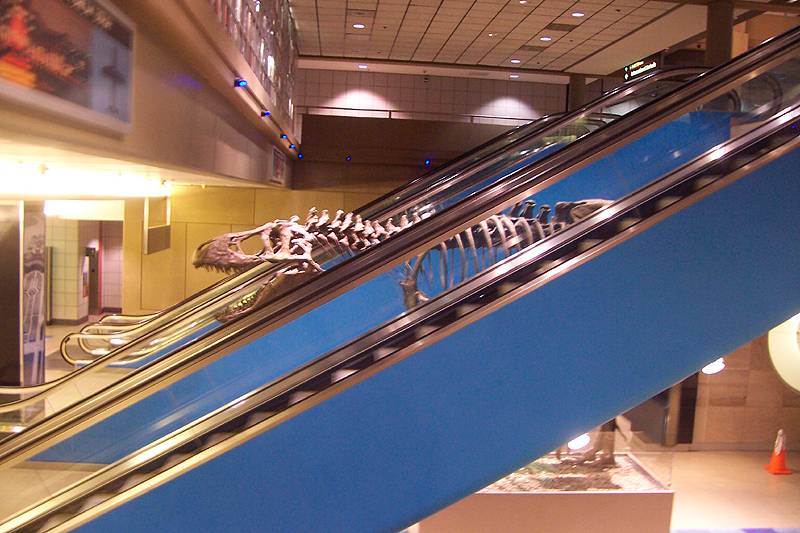 And of course on your way up the escalator to the gates... you are greeted by old Rex here.... gonna munch on them nummy nummy feet.... Few things are unique to Pittsburgh, one is Rex, and the other is at the top of the escalator, two mannequins... one of George Washington... who I guess passed through here some time ago. The other is Franco Harris... who is famous for catching a pass... the immaculate reception to be precise... The two stand guard above Rex, and remind travellers, not only are you in a place with history, but you are in Steeler country!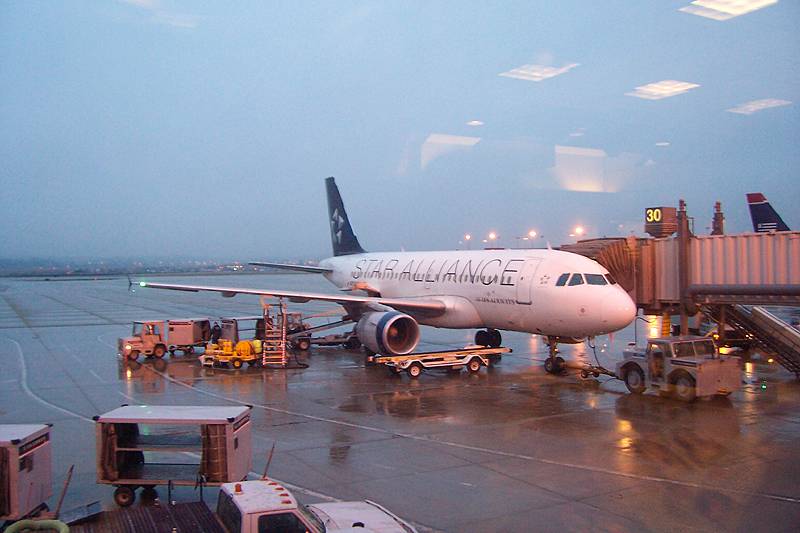 Nope... not our plane... but surprised to see it here so early in the morning! Usually the Star Alliance A319 is here in the afternoon and gone just as quickly!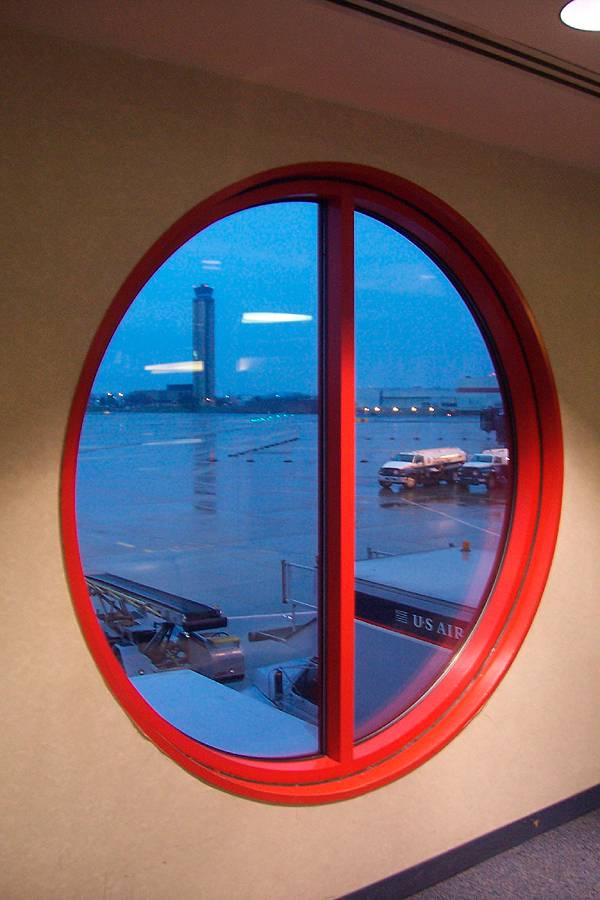 Now this is what I call art... it took me forever to line up this shot but I think I did a good job considering the lighting or lack thereof outside... As I was looking around the airport (since we were an hour early and our 321 had not yet arrived), I could not help but marvel at how close Jaxan from Mach 1 Designs got in his rendition of this airport! Awesome job... if you have not yet downloaded, go to the KPIT forums now and click the link in the forum.
One thing that saddened me is since US Air pulled out half the flights from KPIT, they blocked off a good portion of both concourses A and B... makes the airport look much smaller...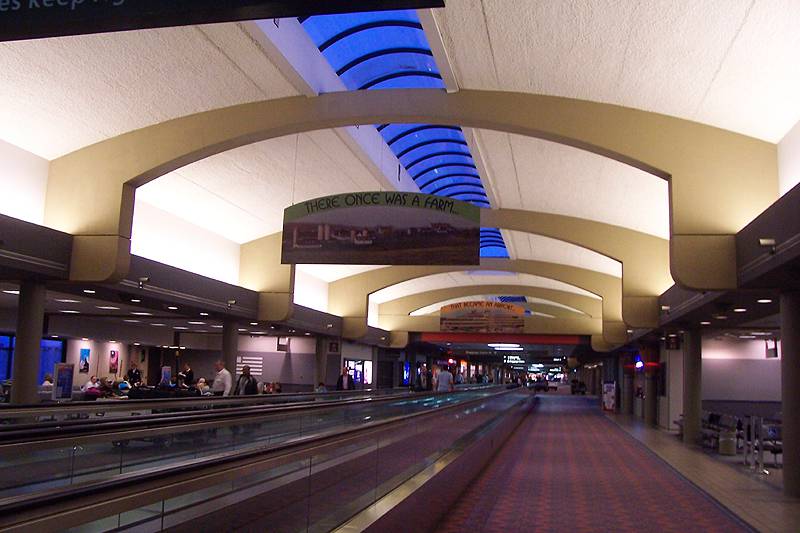 It really is a world class airport though... I took some time to stop at Samuel Adams restaurant... which seems to be a staple in most airports... and I grabbed some breakfast... might as well... only thing I am gonna have on the plane is pretzels.... ugh. By the way, in case you were wondering, the signs say "There once was a farm" "That became an airport"...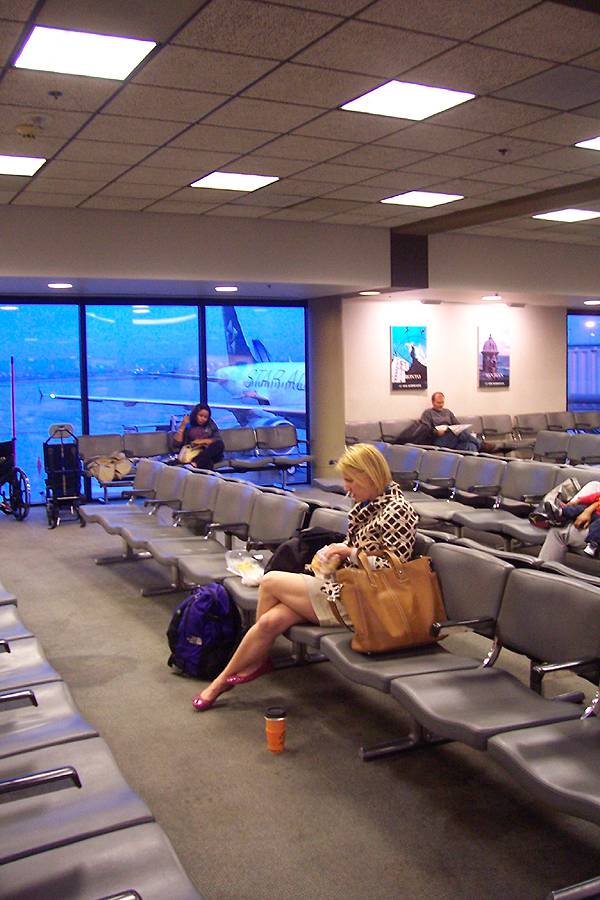 Belly somewhat full, I went back to my daughter who was patiently waiting at the gate a few yards from the restaurant... listening to her iPod. Of course I just happened to get some eye candy as well.... sorry I got a thing for older women haha.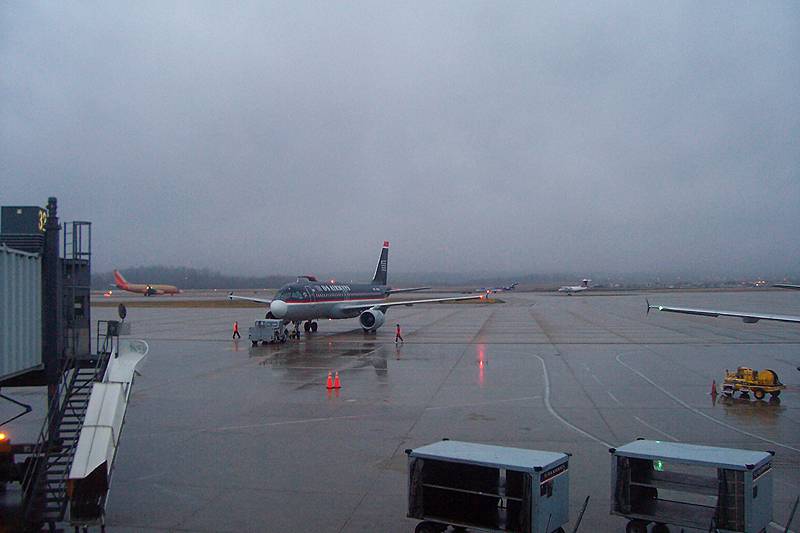 By time I got back to my seat, the 319 that was there was just pushing back... so now we have oooooohhhh... 30 minutes before the 321 we are taking to Clt shows up. I wonder if it will be the new or old livery... I hope new... since my latest story that was what I flew.
30 minutes later.... no such luck.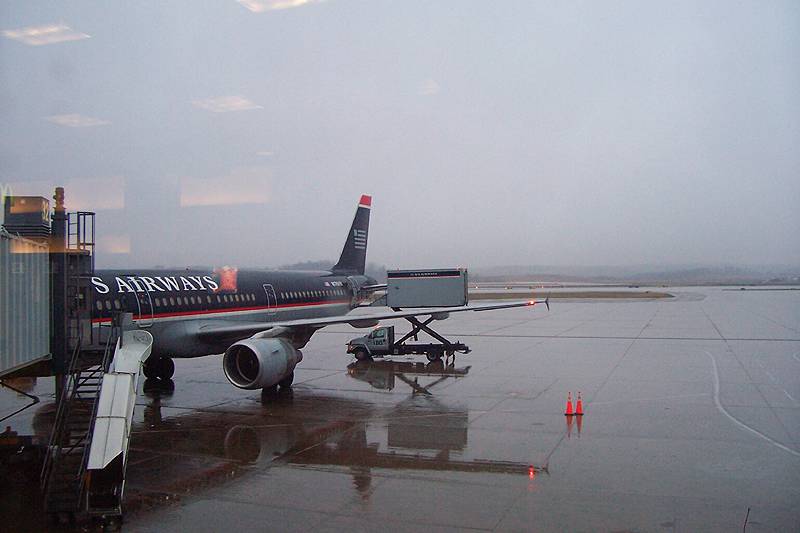 Oh well... as long as there is no duct tape on the wings, I won't complain too much. I have never been on an A321 anyway... All the same... she has clean lines... should be a nice flight...
I go back to my planespotting... figure I got another 15 minutes before we board.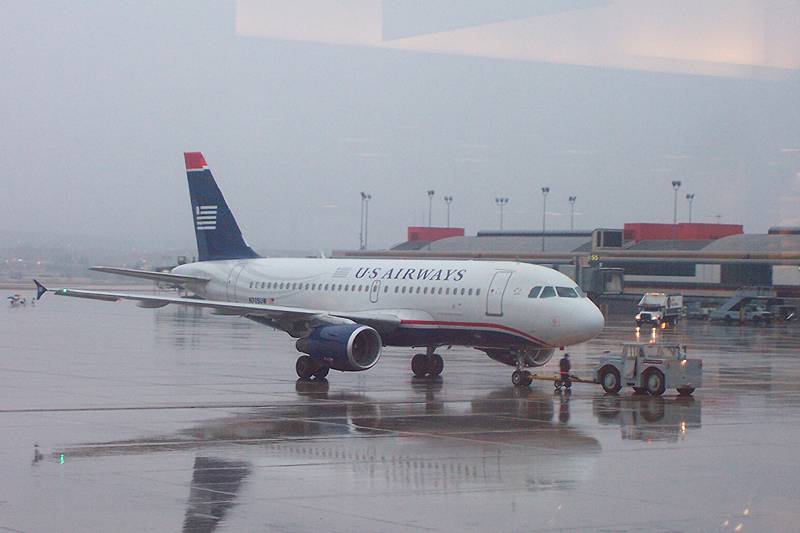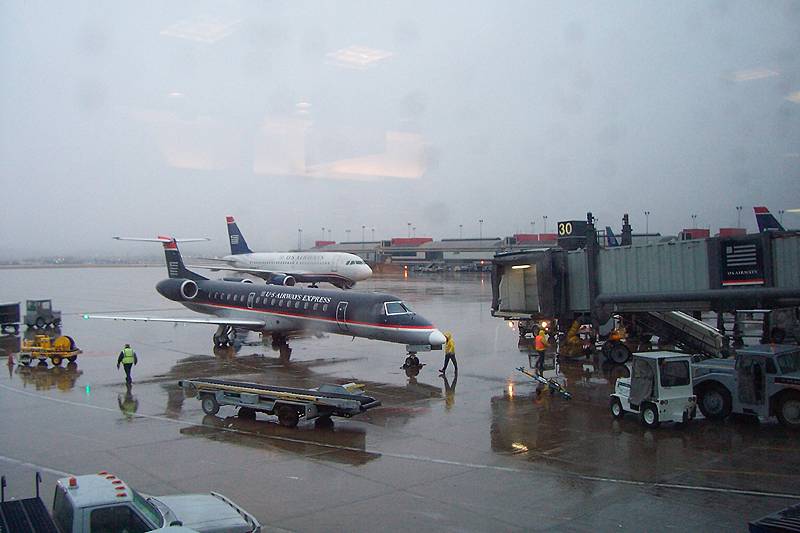 Hmmmm... I gotta fly in one of those lil suckers on the way back... Never been in one of them either. I bet that will be a fun flight. I can only hope the weather is not like it is here in KPIT.... which by the way, is pretty much average for us.
To live here... you gotta like grey.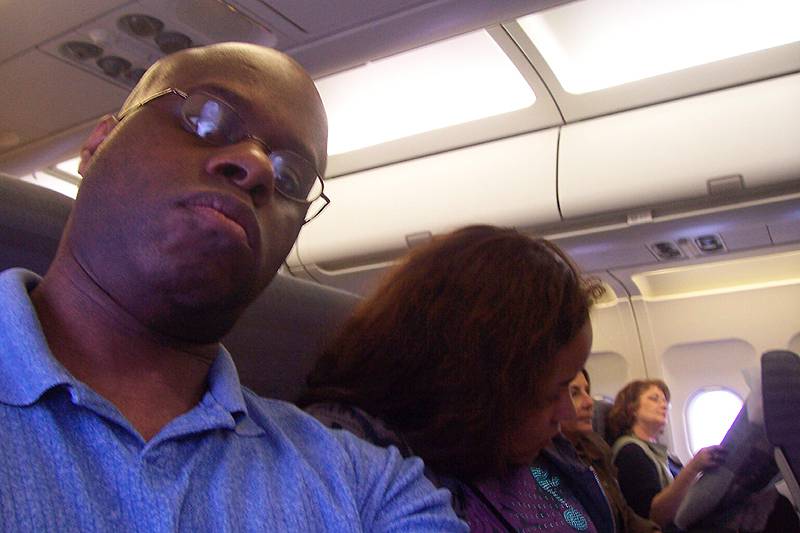 The time has come, and yours truly is ready for the first of four flights! As you can see, I shaved for the occasion... I figure if I am going down south, I may as well get my southern look going... Of course Lolo could care less... she has her iPod and her fashion magazines... She says I am such a geek... hey I cannot help that I love airplanes... what she seems to forget is when she was a toddler, every sunday afternooon she and I would sit out by runway 9L at KFLL watching the planes come in and go out.
Kids..... sigh...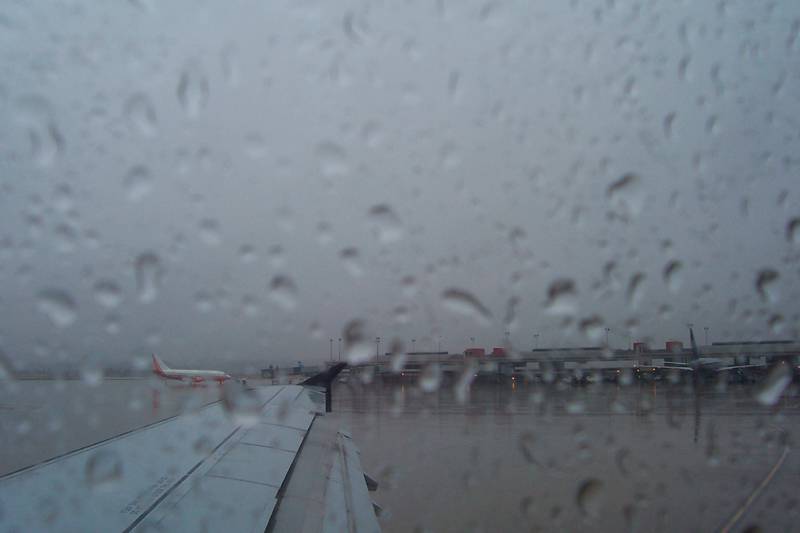 Ok, I know this pic kinda sucks... but for the life of me I could not figure out what company owned that 737 parked at the gate over there... No airline markings... must be a business jet. Oh well... in a few seconds I could not see it anymore anyway... as we boogied to the threshold of 10C... we got priority clearance over the two Embraers waiting to go.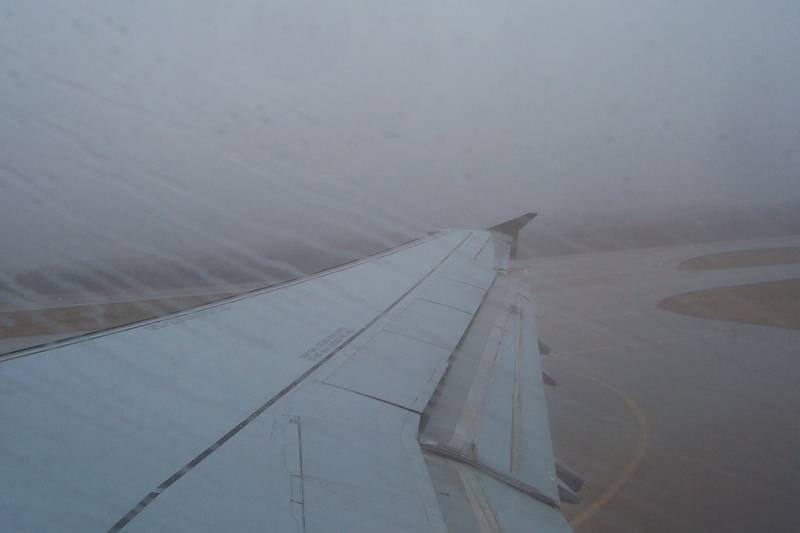 And with rain making hyperspace like streaks on the windows... we opened up full throttle, and rotated outa rainy Pittsburgh...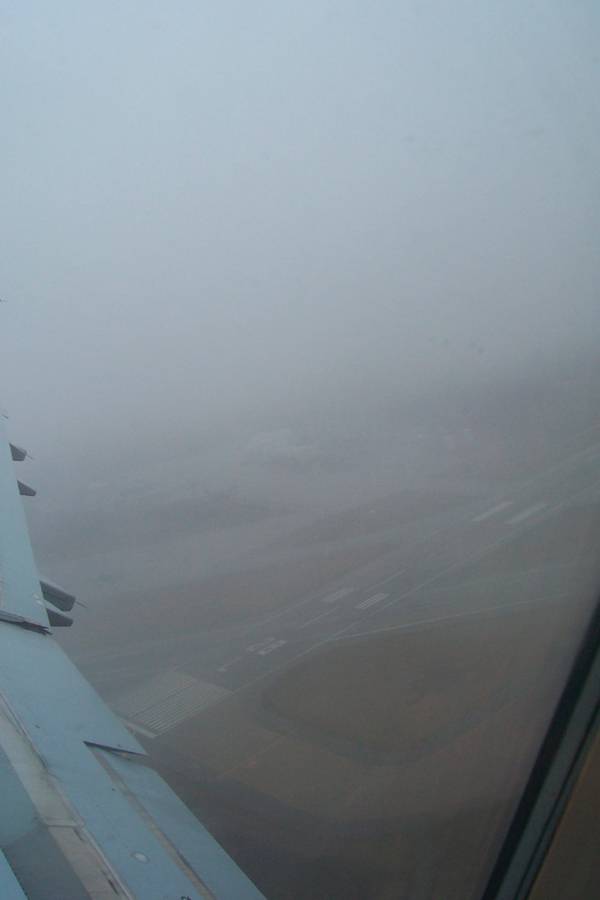 There you see a glimpse of 28L... before we get consumed by clouds...
Now one thing you must know about Pittsburgh (which is true about a lot of northern areas)... if it is cloudy... to the point of rain or snow... you can bet your sweet biboopie that it will be cloudy from just above ground to at least FL200... Well... the clouds did not disappoint... I could see nothing but grey until we were over West Virginia...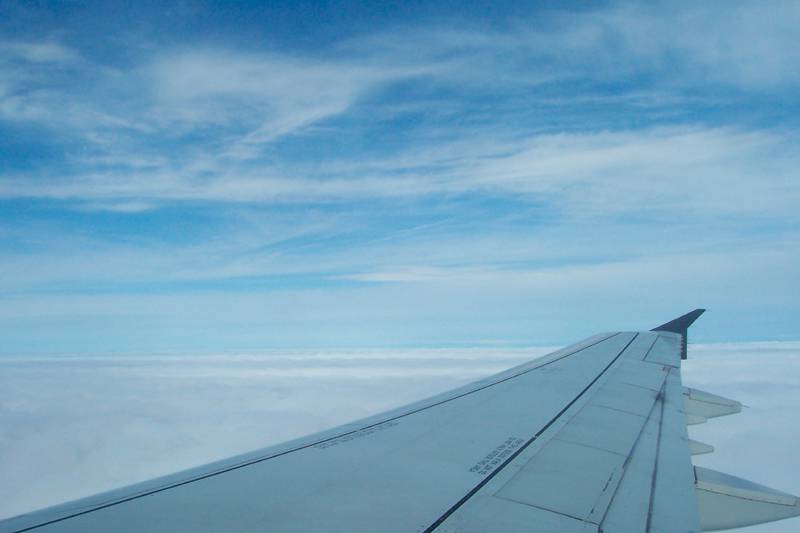 Like I always say... no matter how crappy the world is, it is always sunny at 30,000 feet.
So now comes the fun part... service... at this time I got myself one Heineken... might as well have something to start the day off right. By time I finished my brew, we were out of the white curtain, and finally starting to see terra firma below.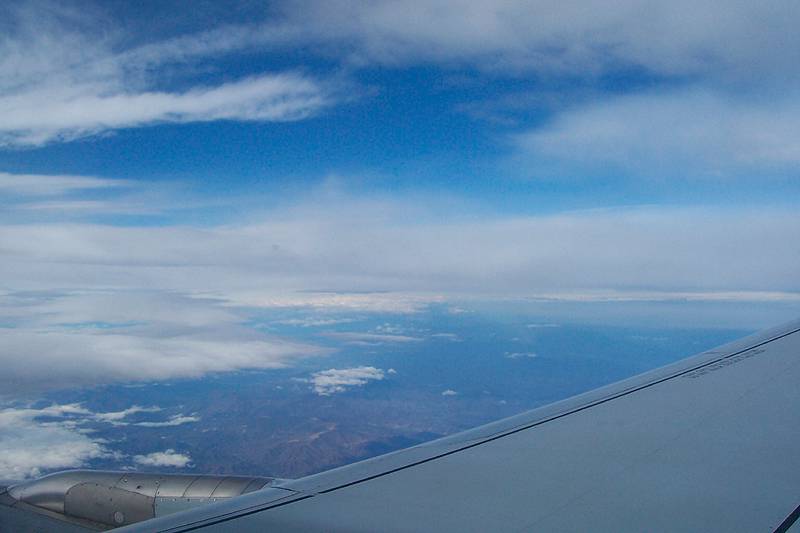 Judging from the tapering mountains, I guessed we were probably over northern North Carolina... I must have guessed right because not even a few moments after I could feel us starting our descent... The Captain announced we are going to come down on 36L, BUT we may have to make a last minute change to 18R depending on the tower.... hmmm... must mean it is windy down there...
I enjoyed the last little bits of sunshine as we slowly crept down to cloud layer... then the drab grey.... I can hear the flaps going down... and the gear... but I cannot see them.... I thought I saw a tree there... Crap we are that low? There better be a runway up ahead...
then...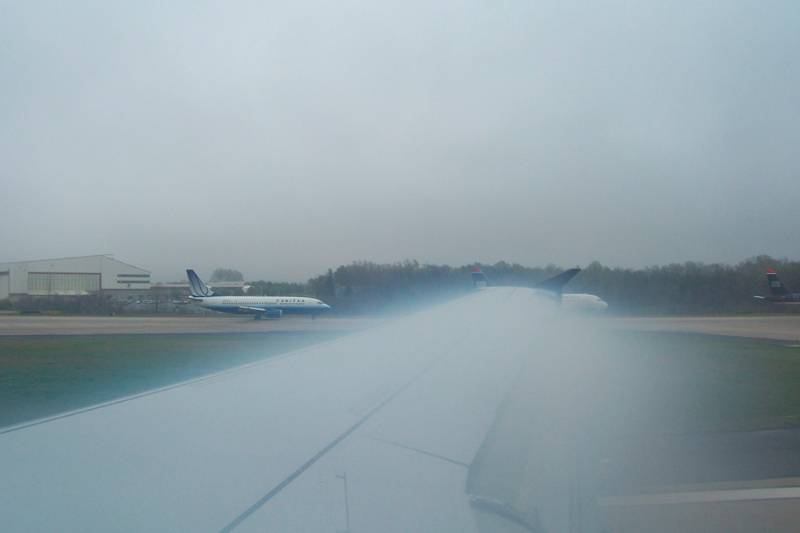 WHOA!!! Where did this airport come from?
Ummm... welcome to Charlotte?
Well now, time for the long haul from C terminal to B terminal.... didn't I just do this a few months ago??? sheesh.
(end of part one)


Last edited by Drew B (belgeode) on Tue Apr 15, 2008 5:46 am, edited 2 times in total
Part two.... time... sometime in the mid morning... scene... KCLT
So I am standing on the people mover... my feet are killing me after walking the full length of concourse C, and Lolo will not shut up about wanting a damn starbucks. Just when I am about to snap... I take a look to the left... wait... am I dreaming, can that be what I think it is???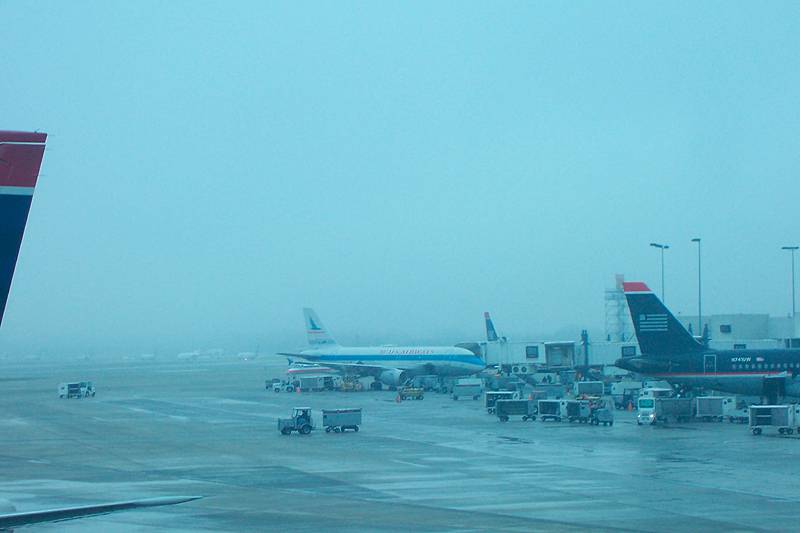 OMG IT IS!!!! THE PIEDMONT PLANE!!!! And judging from its position, I would say it is pretty close to where we have to go! If only I could be so lucky as to have this as my flight to JAX!!!
The universe opened up and said, ask and ye shall receive...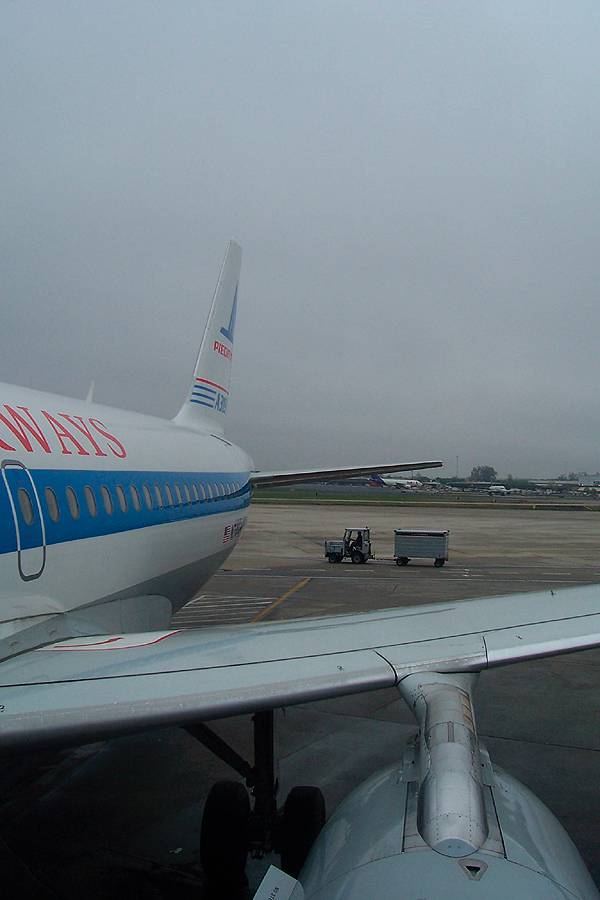 After another beer in the restaurant, and Lolo's starbucks way too expensive iced coffee crap, I started gushing like a schoolboy to every US Airways employee who would listen! OMG I can't believe it! I have never been in the Piedmont plane before...
They must have thought I was nuts.... dude... it's just another plane, it's the same inside as all the other US Airways. As a matter of fact, the flight attendant saw me taking pix of the plane from the jetway and was like what are you doing?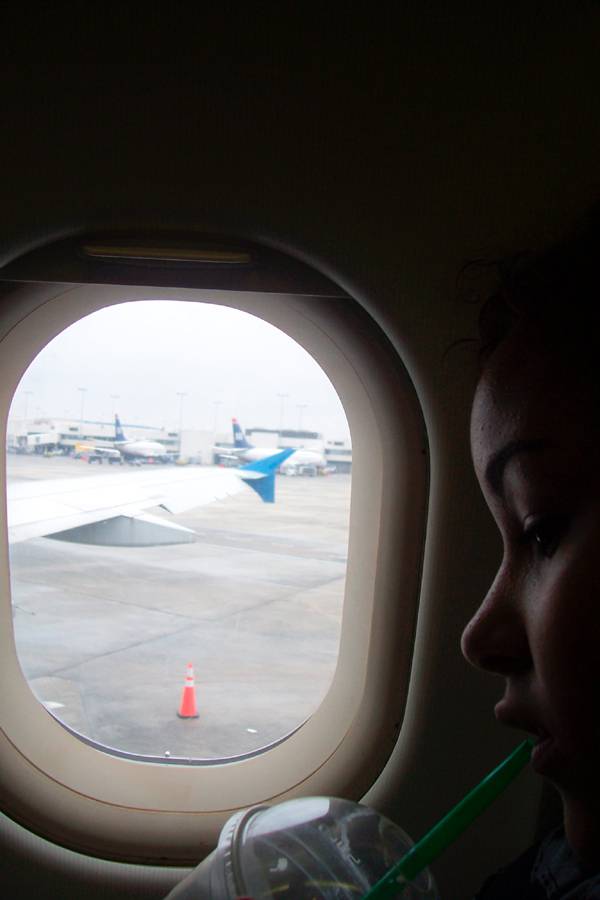 I started to explain about USAirwaysva.com, and Airliners.net... but I figured she was not in the mood for it, and the line was starting to pile up, so I headed to my seat.... except for one thing... LOLO is in my seat!!!! Dammit girl!
I tried, threatening... bribing... complimenting... making deals... nothing. She would not move from the window seat. Fine I said... but I am taking pix... so you better not complain when I lean over you every five minutes!
But daaaaad!!!! I don't wanna hear it! There is a reason why I sit in the window seat!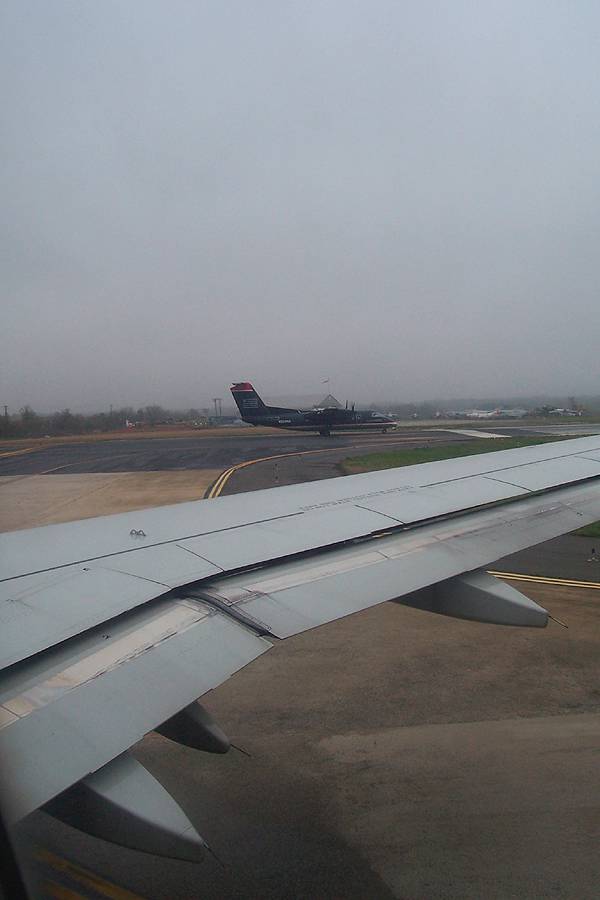 The downside to having your bighead daughter in the way, is most of my pix did not come out... not to mention the PSA plane landed and I missed it thanks to big head the cat... as I call her. All I had to show for it was this lousy Dash 8...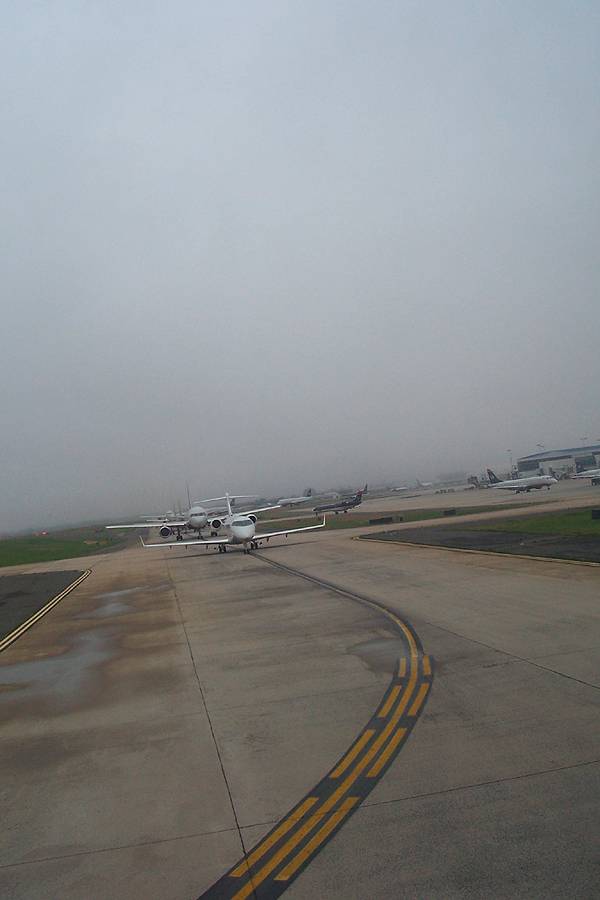 And a pretty good view of some serious traffic jam. Now there's a conga line I am glad I am at the front of!!!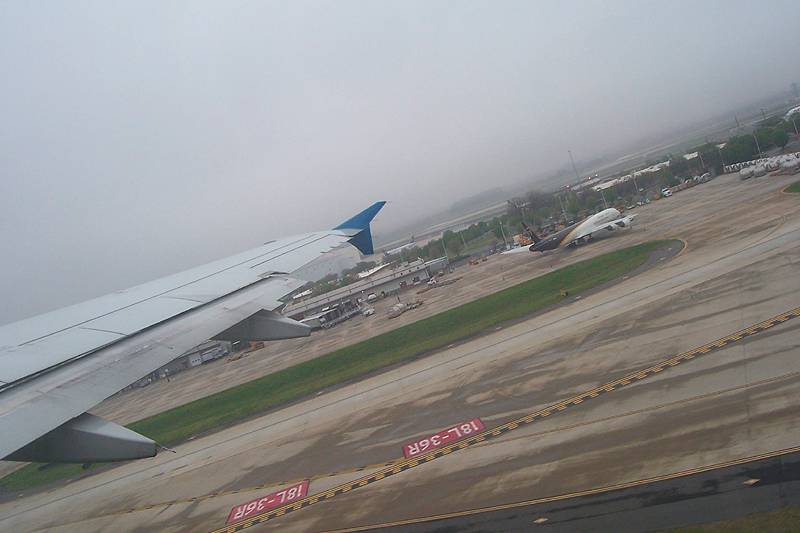 Now remember I said we landed on 36L... well wouldn't you know it, not long after... between our walking from term C to B, the winds changed... and with it, our takeoff runway.... there we go, off of 18L, at least we are headed in the right direction to start with.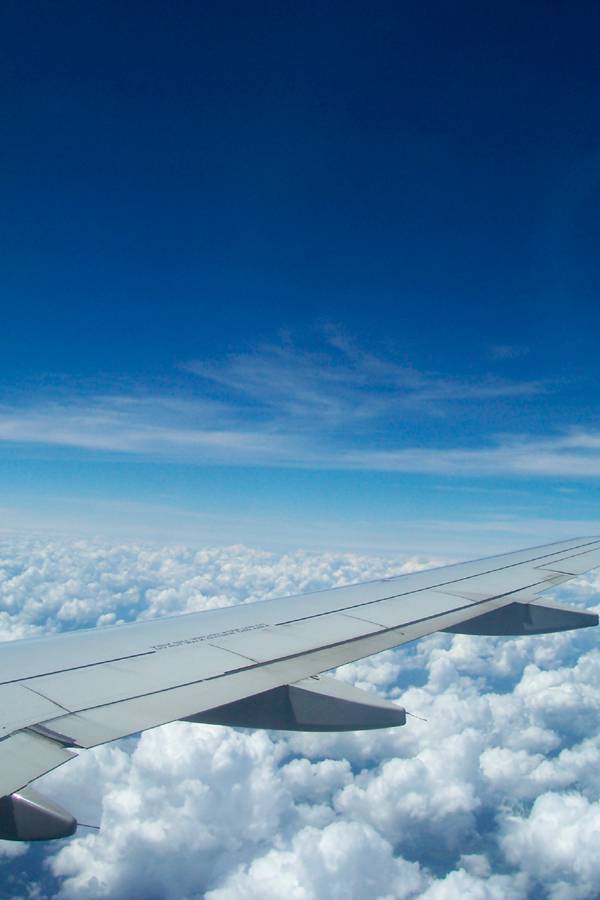 Not sure who was piloting this sucker, but someone needs to give him remedial training... every few minutes... we're pulling negative Gs... It's as if he had never heard of a step climb... I swear we went up then down then up again. By time we reached cruise altitude, I was about ready for another beer.... better make that TWO.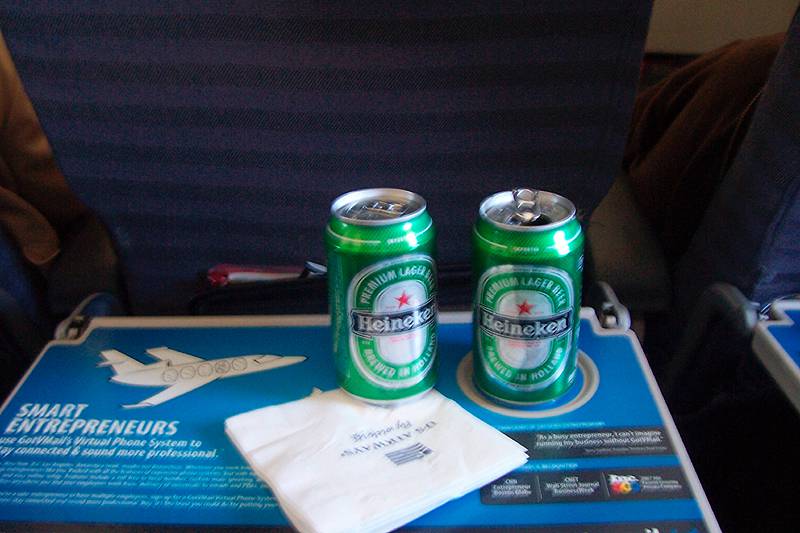 Now I am gonna offer a word of advice to you fellow travellers... if possible try to get a seat near the front. Why? Cause as soon as they had given me my beer, and moved to seat 19A... the announcement came that we were descending to our destination!!! Everyone behind me got shafted on drinks, and I barely had enough time to finish ONE of my Heineys before we lined up for approach. I quickly stuffed the other one in my cargo pants pocket.... afterall it's not like I have to go through security when we land.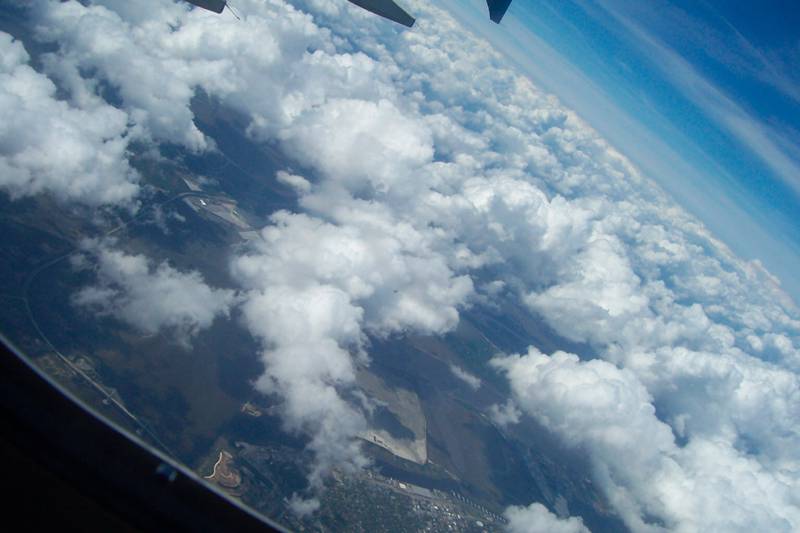 One thing that never ceases to amaze me... Southern clouds look SO MUCH different than Northern clouds!!!
You laugh, but I am serious... look at the previous pix! Northern clouds = solid sheet of grey usually... southern clouds... look like cotton. I guess it is appropriate.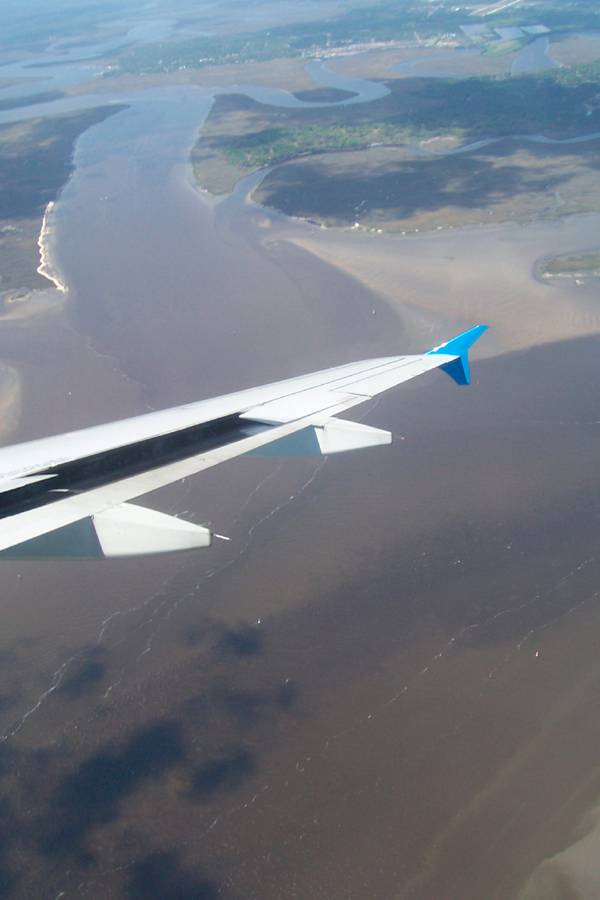 Ahh the St. Mary's river... gateway to Florida... if ever there was a sign that we are here, that is it. I had to remind myself I am not going home to Ft Lauderdale this time... instead I am going to JAX... which in my opinion barely even classifies as an airport... but oh well... if they can have a football team, I guess we can fly in there too.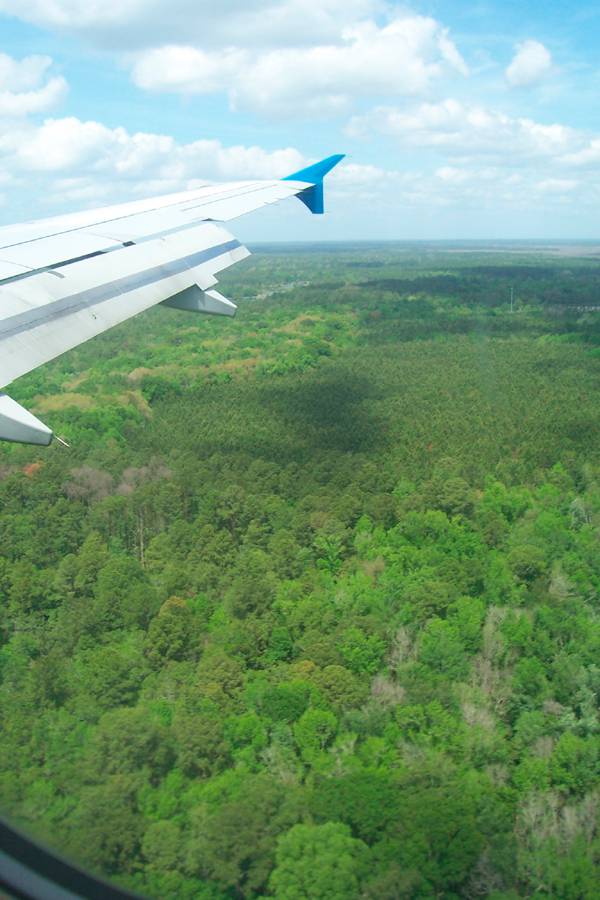 Once again, we come down low... except this time NOT slow... I swear this pilot must have been in a hurry or something... he did not put out flaps till we were about 5 miles from the runway!!! Rwy 25 btw... in case you are keeping track.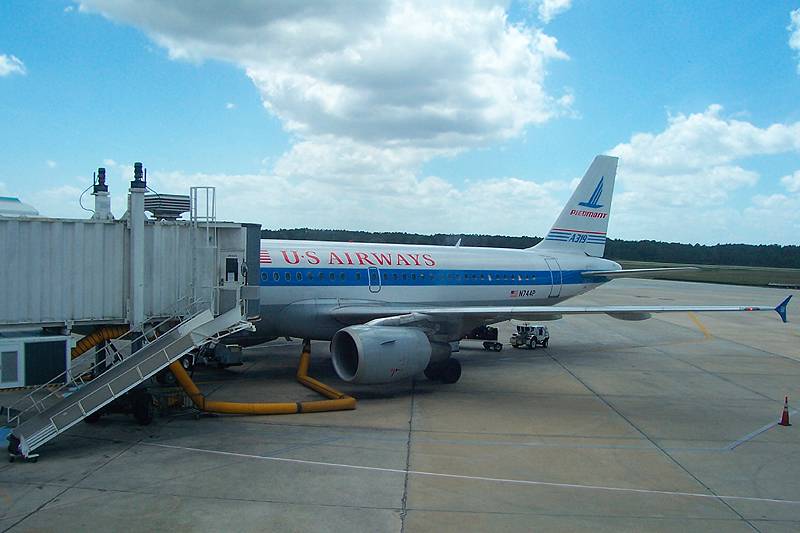 Before too long, the ride was over... and good old N744P, the Piedmont Pacemaker was at her gate, sipping on gas and oil.... And our task, was just beginning... we had to find this lady who had come to pick us up and take us to the state attorney's office... and I needed to take a wicked pee!
(end of part 2)
Part 3... April 12... time... sometime when the sun is hot.
After an exhausting and disappointing week... one thing I asked for was a trip to the beach. I needed to be in the ocean to recharge my batteries... so we made that our next to last stop before Jess dropped me off at the airport. Lolo had decided she was going to stay with Jess another week, so I would be flying solo for the ride back... well at least I would have my window seat back.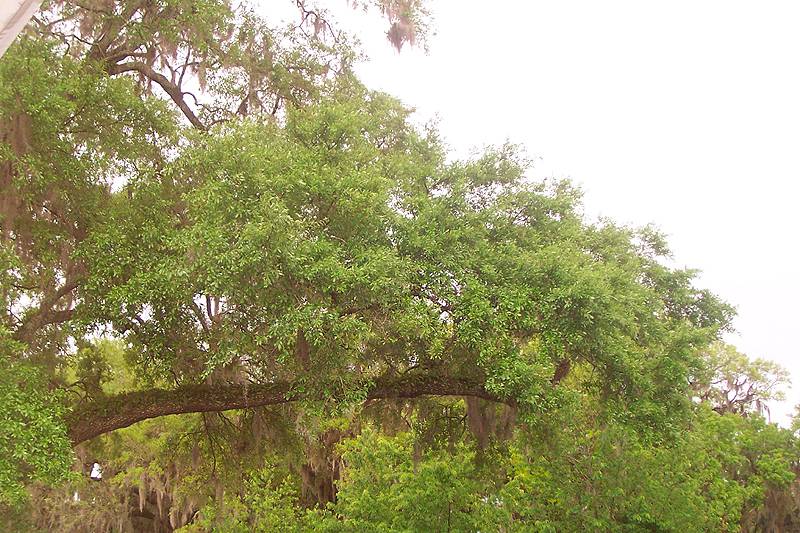 This by the way is what a live oak tree looks like... also the name of the town we were in for the week.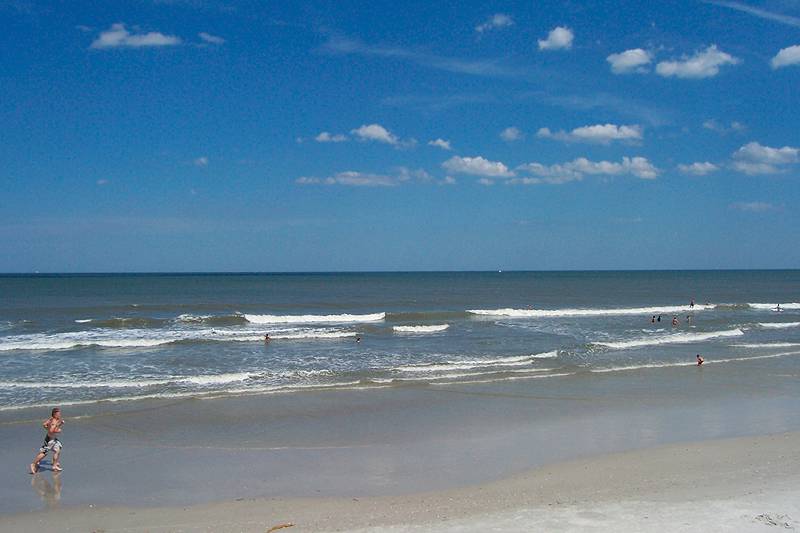 And this made the whole trip worthwhile... Jacksonville beach. I cannot tell you how much I enjoy the beach, and this one has a unique charm all its own... it's not as crowded as Miami, yet not as secluded as the Keys... but it still has its own appeal, and apparently surfers love it!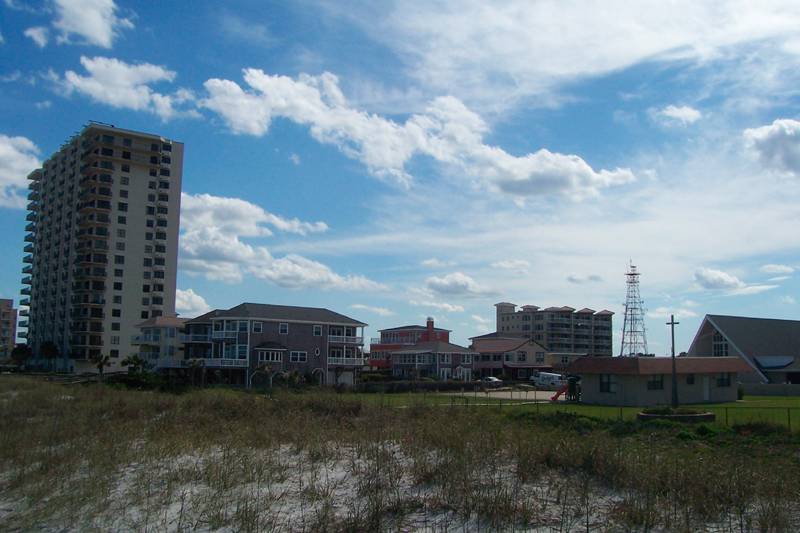 Would I ever live here? doubtful... Something about being on a beach during hurricane season does not sit well with me at all... not to mention the prophecy of 2012, when Florida is supposed to sink... kinda like that movie "The Day After Tomorrow"... of course I am no Nostradamus... but just in case, I live in Pittsburgh, elevation 1220 ft. above sealevel.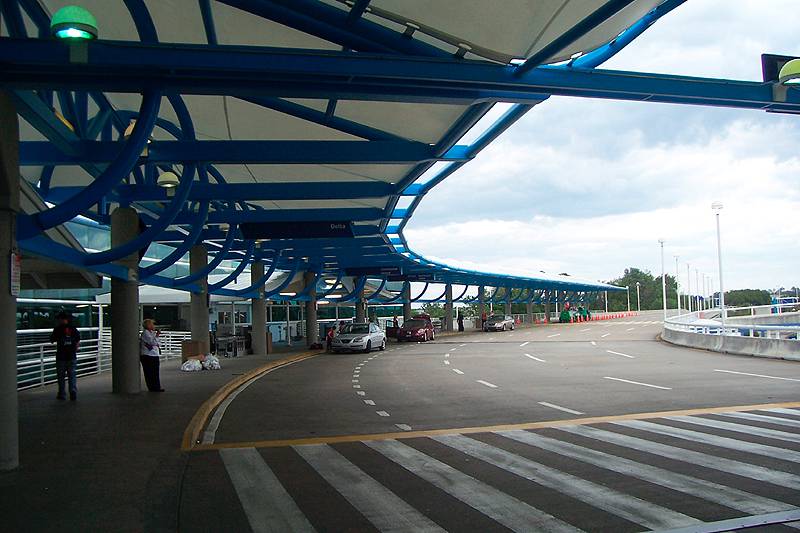 After a relaxing afternoon getting sand in every crevace of my body, it was time to bid a tearful goodbye to Jess, Lolo, and Jess' sister and brother, and their kids. It was time for me to head back to good old Steel town, and get back to work on Monday... I looked forward to the US Air flights, and already planned out my stop in CLT's great restaurants and bars. I would have almost a two hour layover... plenty of time to make new friends and drink some brews....
Except for one minor detail.....
We regret to inform you that US Airways flight 2698 to CLT has been CANCELLED!!!!
NOOOOOOOOOOOOOOOOOOOOOOOOOOOOOOOOOOOOOOOOOOOOO!
NOW WHAT!!!!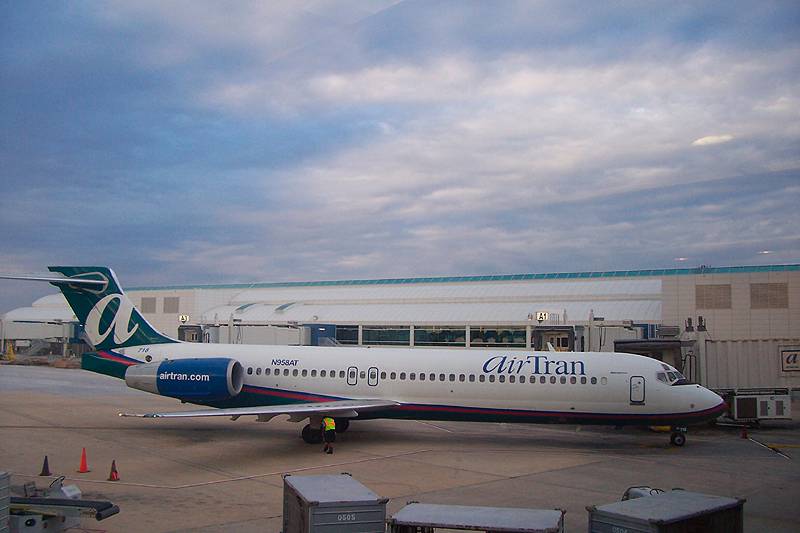 Ghetto airlines.... oh lawd... well any port in a storm I guess... Of course this means instead of going through Charlotte, I get to go through Atlanta... yay.... ugh. At least the flights are free.
The rest of the airport was pretty much a ghost town!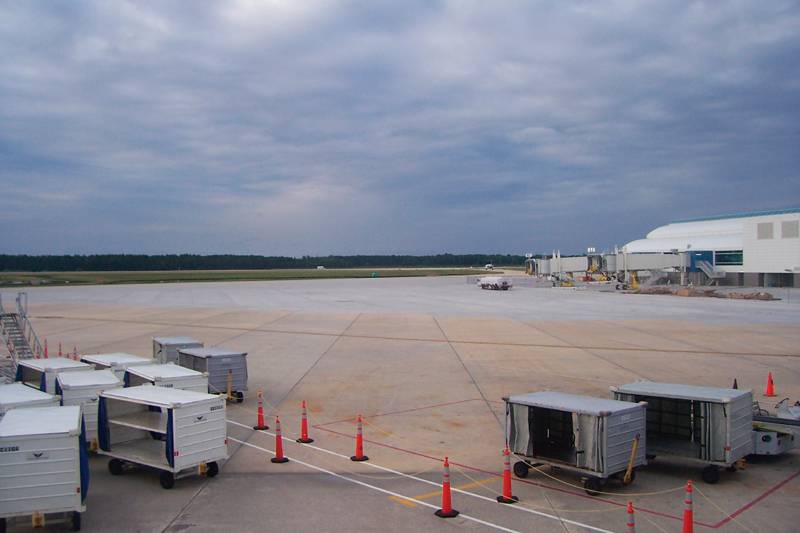 I could swear I saw a tumbleweed going by there... I figure since my NEW flight is leaving an hour later than the original flight, I better head to Samuel Adams Jax, and grab a brew...
I did not make out too bad, this one lady there was lamenting her woes... she said her flight was cancelled (also US Airways to DCA), and she had to be in DC by 1 PM Sunday... or she loses money or something like that.
Sorry bout your luck there toots... maybe you can ask Ghetto Airlines if they will fly you up there?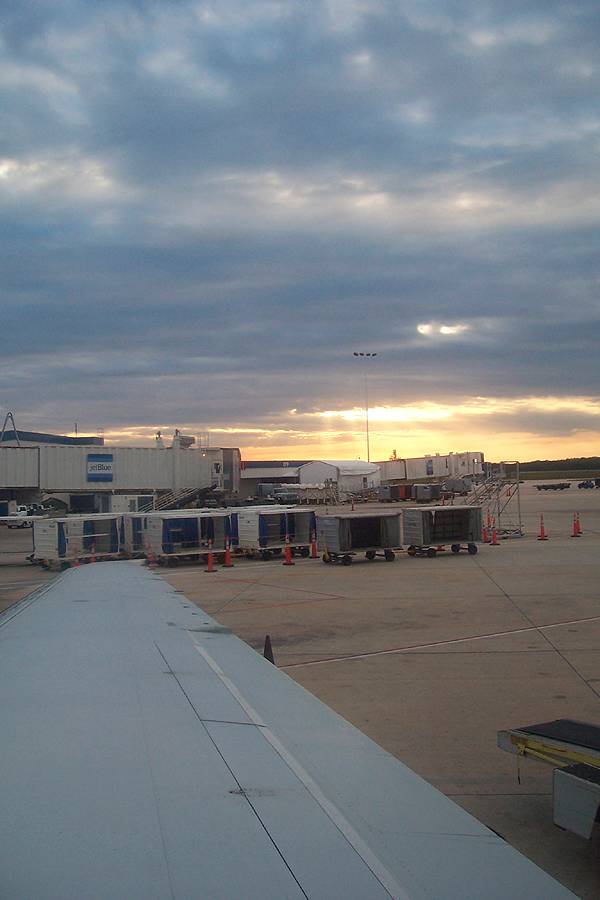 I left the weeping willow at the bar, and headed to my new seat.
Now I am usually the first to rag on Air Tran, but you know what... I was surprised when I got on board. First off, I was in an exit row... automatic extra leg room... and I had the whole row to myself... BONUS! The plane itself actually looked a lil neater than the US Airways a week earlier... AND... they have headsets with XM sattelite radio!!! PRAISE JAH!!! I be listening to reggae de whole way to Pixburg mon!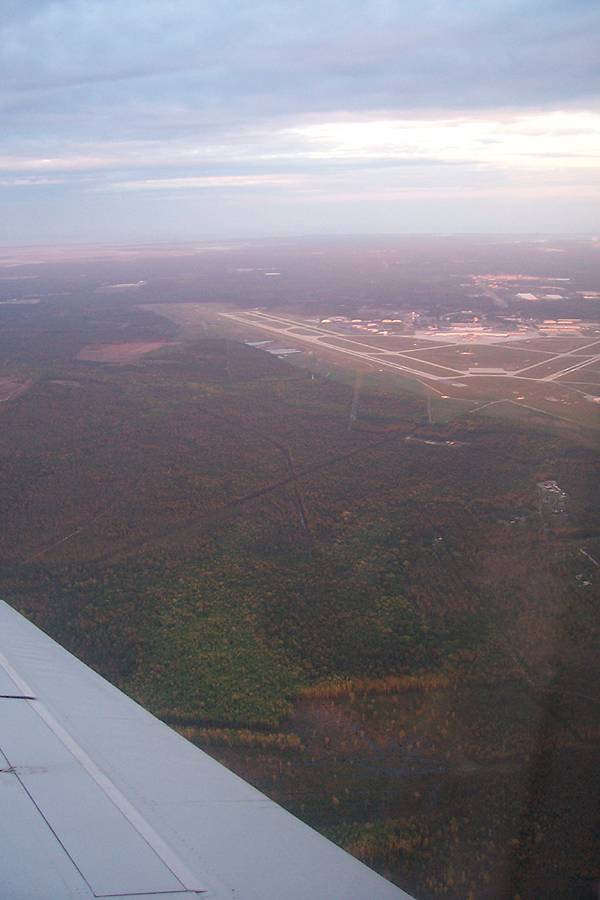 With a half wave good bye and a half flipping the bird to Florida, I left Jax behind, and settled in for some good old Bob Marley....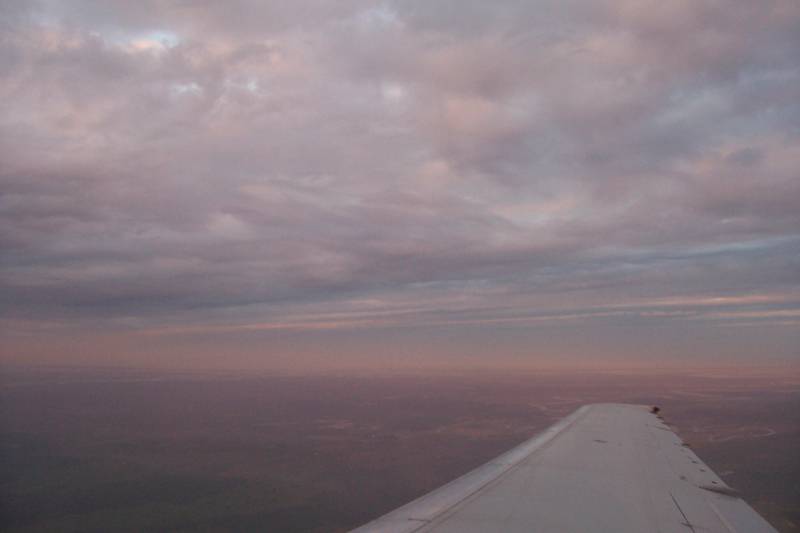 One good thing about the flight was there was plenty of opportunity for me to get some good sunset shots... even if I was on the wrong side of the plane.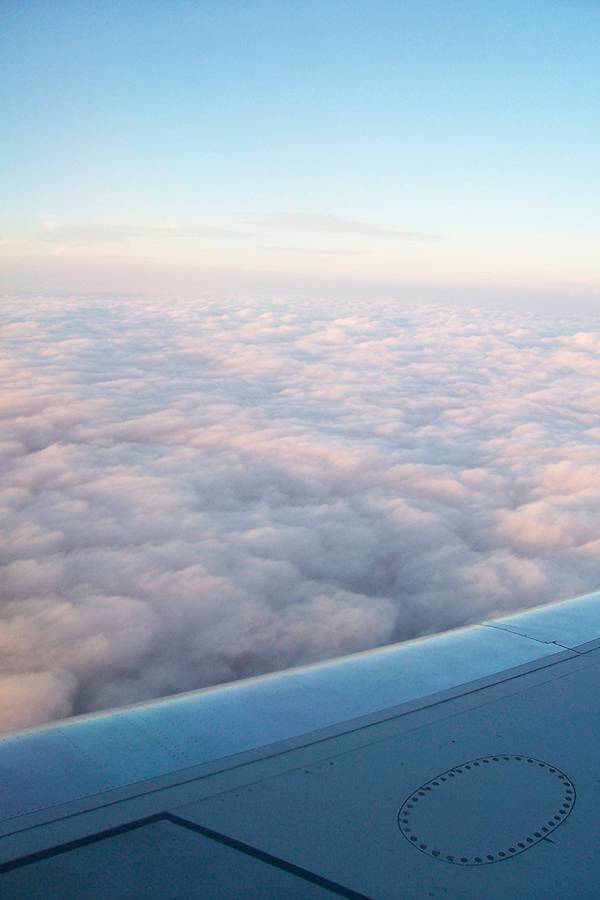 And once again... the sheet of while below heralded the end of the southern cotton clouds, and the beginning of the northern cloud drapery...
Another Heineken later, I was in the zone, ready to get some awesome sunset shots of the world as we came into Atlanta.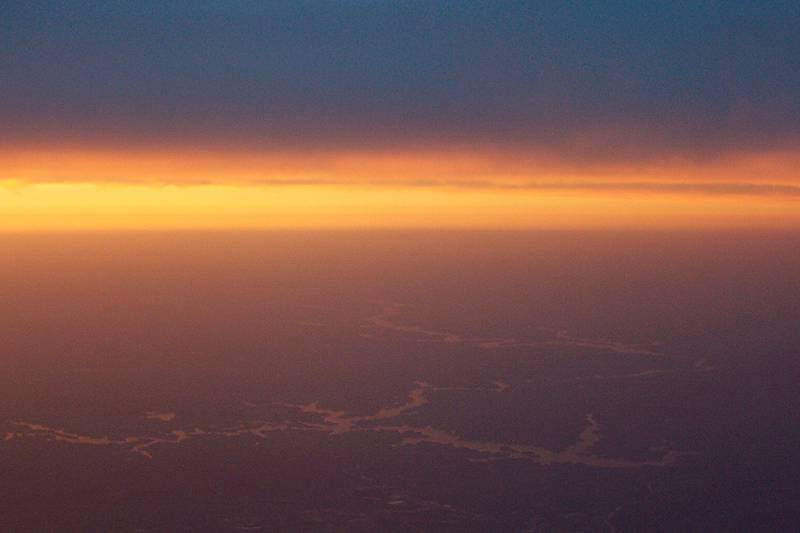 This shot is so surreal... some lake outside of atlanta on our way down... took me three tries to get it.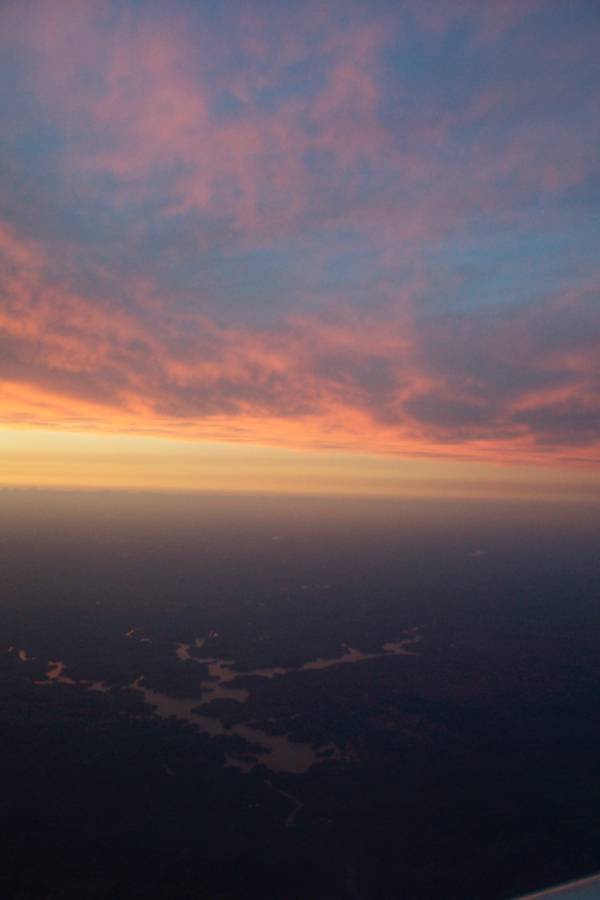 And then there was this one a little closer... hmm if I keep this up, I may be able to send some of these to webshots. of course I had a problem... it was getting dark, and my camera is none too fond of dark pictures... not to mention I cannot keep my hands straight enough on the plane to get a decent shot... so my last good picture before dusk was this one below...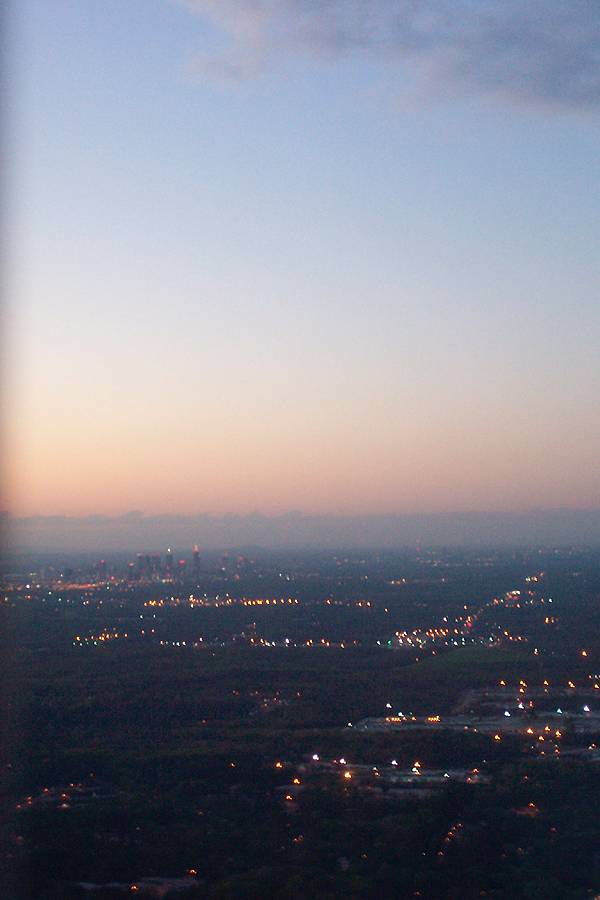 Downtown Atlanta...
You cannot tell by the picture but we were off to the races... there were two other planes coming in on Atlanta's parallel runways, and as I looked behind it looked like the conga line had spilled over to our approach. For a moment I wondered if the tower was going to tell us to go around, but then it dawned on me... unlike Flight Simulator... these people know what they are doing!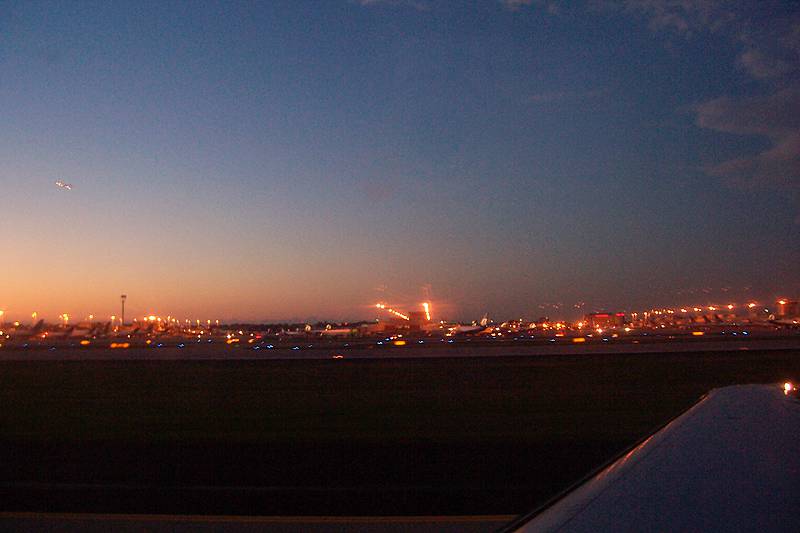 In no time, we were down on 27R.
Now comes the fun part... my connection to KPIT did not leave till 11:05PM... it was only 8:20PM when we landed.
Only one thing for it... time to explore terminal C.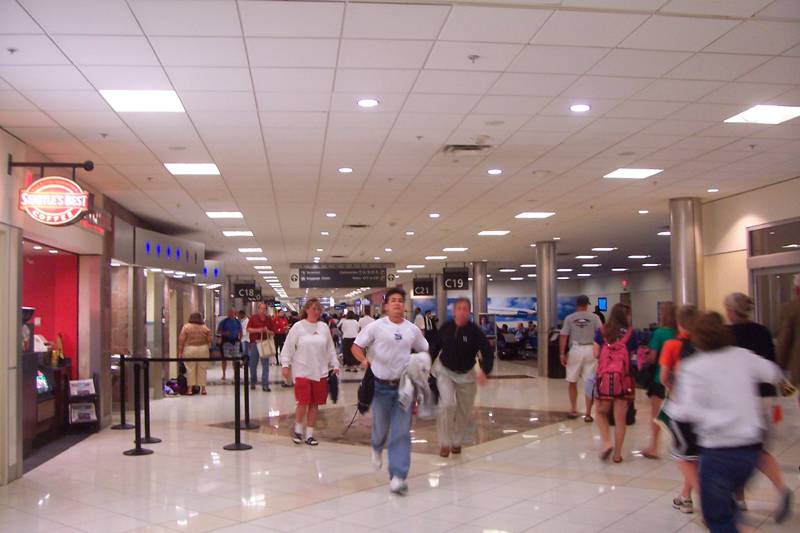 Now I forgot to mention that my brand new cell phone which I bought knowing I would be travelling decided it was going to stop working when I got to JAX... apparently cricket does not service any area south of Georgia... so here I am in ATL... with no way to tell Jess that I had to change flights since US Air cancelled on me...
Lucky for me, ATL had pay computers.... $3.50 later I had an email sent to her letting her know my change of plans.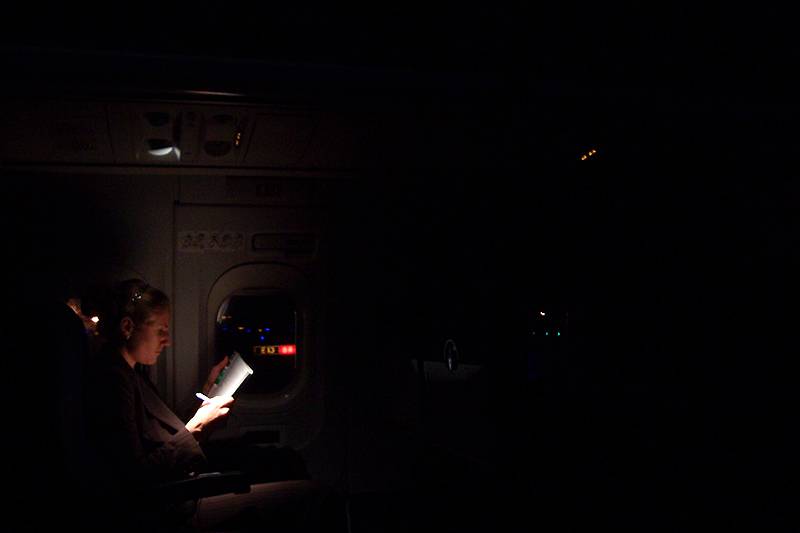 The last flight was dark, to say the least... but quiet. This lady across from me kept looking at me and smiling the whole time, so I figured I would take a picture of her as we awaited the active runway (26L I believe). Not quite sure what she was doing... she kept circling phrases in her magazine. I figured she was either an editor, or she was looking for a secret message from God in there.
A few minutes later, we were airborne... and wouldn't you know it, NONE of my night shots of Atlanta came out even remotely decent.... so I resigned myself to the fact that I will not get any good night pix, and waited for us to hit cruise altitude before ordering my last two heinekens of the night.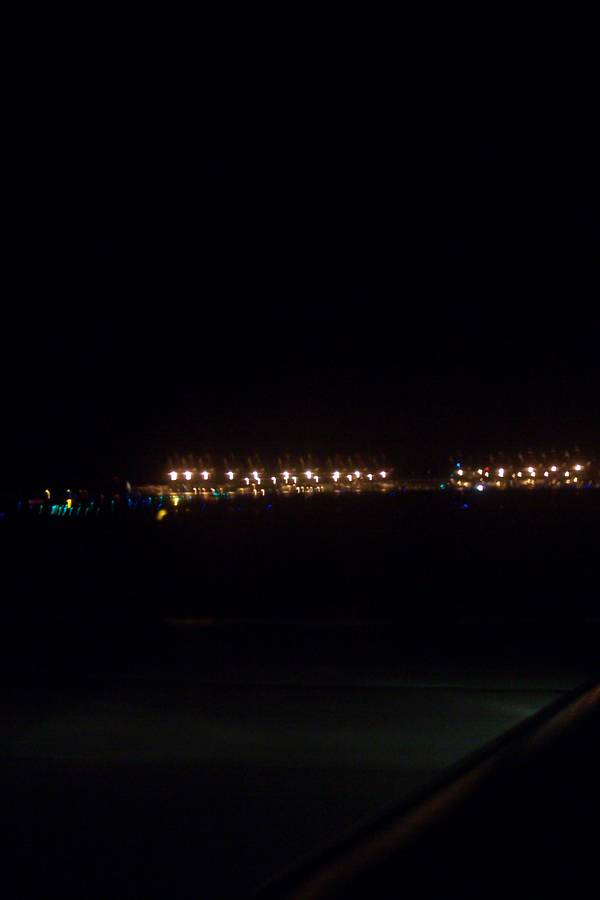 Maybe it was the frustration and lack of sleep the past week... or the several heinekens, but I fell asleep to the sounds of Jamaica... and woke up just as we touched down on 28L in KPIT.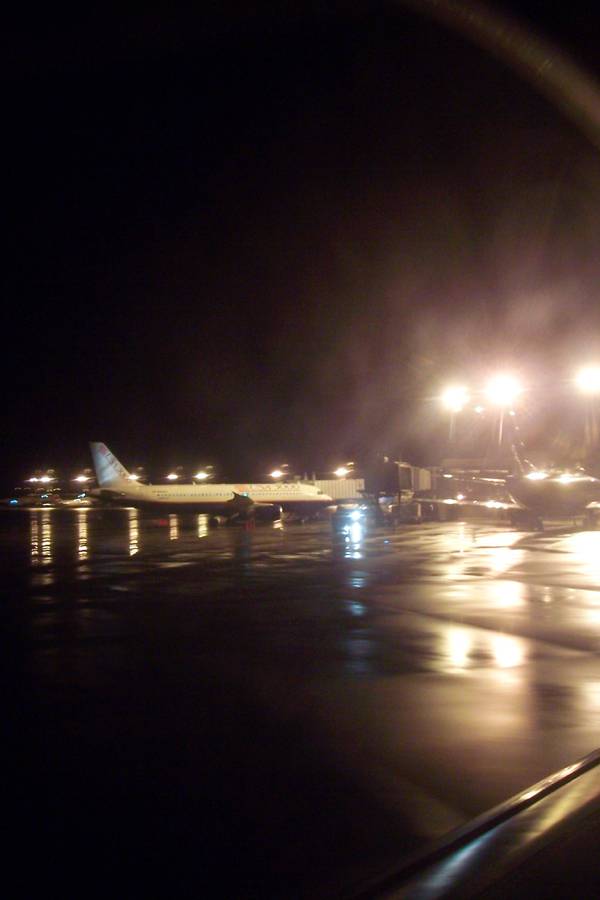 Just like that... as we pulled up to the C terminal, into Air Tran's designated spot, the reality hit me... I am home... I am alone... I have to go to work on Monday.... ugh.
I could not even call this trip a vacation, as I had to take an UNPAID leave of absence to do it, and for what... to be let down by a justice system that believes a 31 year old pedophile over a 12 year old girl with nothing but love in her heart.
Make no bones about it people, my trip was not a happy one...
But if nothing else... at least I had some good flights.
And by the way.... I took today off of work...
Nice pictures, interesting story. Lol, Ghetto airlines? 😞 I'm now a part of usairwaysva.com to be off-topic.
Yeah I saw you there Duncan... I am management there so I see everyone who comes in.
Awesome set of pics, really good......Almost as good as FS9 😳 he he 😂
i like the pics and the story and even made one of your pics my backround for my comp. also i am too part of us air ways virtual

lol my name is "john mayhem" < that isnt my real name
also isnt start alliance affiliated with lufthansa?
AirTran, Ghetto? I should hit you. I Loooove AirTran, of course it's probably the fact that the Boeing 717 is my favorite airliner. 😂
AirTran isn't all that bad!
On the other hand, it looks like you had a good time and thanks for all of the pictures!
Flyboy92
Awesome story and awesome pics. You went to where I am from Atlanta. Love the airport there although I have to get there 2 or 3 hours before flight because its so busy 😞. Anyway airtran sometimes can be a good airline but I can tell ya some stories on why I wont be flying with them anytime soon though.


Last edited by bawls327 on Tue Apr 15, 2008 10:58 am, edited 1 time in total
Flyboy92 wrote:

AirTran, Ghetto? I should hit you. I Loooove AirTran, of course it's probably the fact that the Boeing 717 is my favorite airliner. 😂

AirTran isn't all that bad!

On the other hand, it looks like you had a good time and thanks for all of the pictures!

Flyboy92
hahahaha I thought I made it clear in my story that they actually won me over! Any airline that has XM satellite radio with real reggae music on it... is good by me. Besides... they took me home where US Air just cancelled on me.
acepilot32 wrote:

i like the pics and the story and even made one of your pics my backround for my comp. also i am too part of us air ways virtual lol my name is "john mayhem" < that isnt my real name

also isnt start alliance affiliated with lufthansa?
YES... Lufthansa is a part of the Star alliance... as are a lot of airlines from around the world.
Really good pics mate, thanks for posting
Thanks for sharing your trip! 👍
Amazing set of pics bel, i really enjoyed them, it's just a shame you were let down by the legal system!
Great report Bel! Southwest is the airline you had a hard time recognizing! 😀
Doesn't look like a southwest plane... at all... nor is it parked at terminal A where the others are. this one was on the end of Term C, which is where the smaller airlines like USA 3000 park.
There was no writing at all on this plane... just white and orange.
yes but if you look at a southwest plane next to it it would except for the white. Honestly look at a southwest plane and look at this one and tell me you dont see a difference. Only difference I see is no blue.
It does'nt half look like the old Hooters Livery to me but without the "Hooters" written on it!
That is why i think it was a private plane. Nothing adds up. If it were a special southwest livery it would have been parked at gates A1-3 and I would not have seen it. I got a closer look at it when it was coming in, but did not take a pic till I was on the 321. It was leaving when we were too... it was only there about 15-20 minutes... not enough time for a full turnaround in my opinion were it a regular commercial airline.
Original Taken by Bell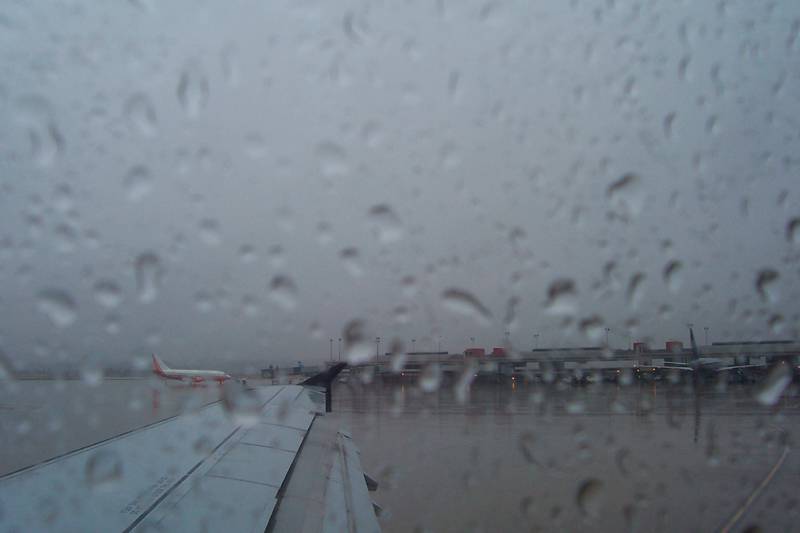 That is Hooters Air, I saw a lot of this airline before they went bankrupt out at Greater Rockford. Compare the Lines on his shot to the lines on this shot. The same, just missing the HOOTERS and the owl.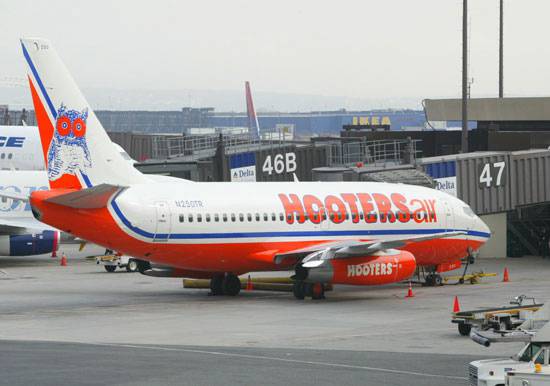 Case Closed
Flyboy92
No, I think its a really washed up Southwest trying to get a paint job.
When you guys were talkin about hooters airlines, I didnt expect to see an owl on the side of the tail... 🙄
Yeah looks possible to me... so someone must have bought it out for their own private use then.
warlord40 wrote:

When you guys were talkin about hooters airlines, I didnt expect to see an owl on the side of the tail... 🙄
😳 😂 😂 😂 😂 😂 😂 😂 😂 😂
737-200 are still active? ❓