Part 3... April 12... time... sometime when the sun is hot.
After an exhausting and disappointing week... one thing I asked for was a trip to the beach. I needed to be in the ocean to recharge my batteries... so we made that our next to last stop before Jess dropped me off at the airport. Lolo had decided she was going to stay with Jess another week, so I would be flying solo for the ride back... well at least I would have my window seat back.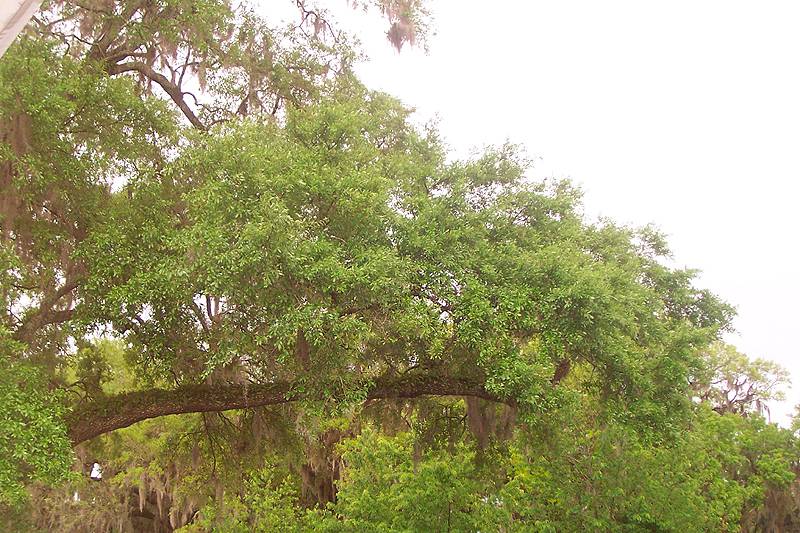 This by the way is what a live oak tree looks like... also the name of the town we were in for the week.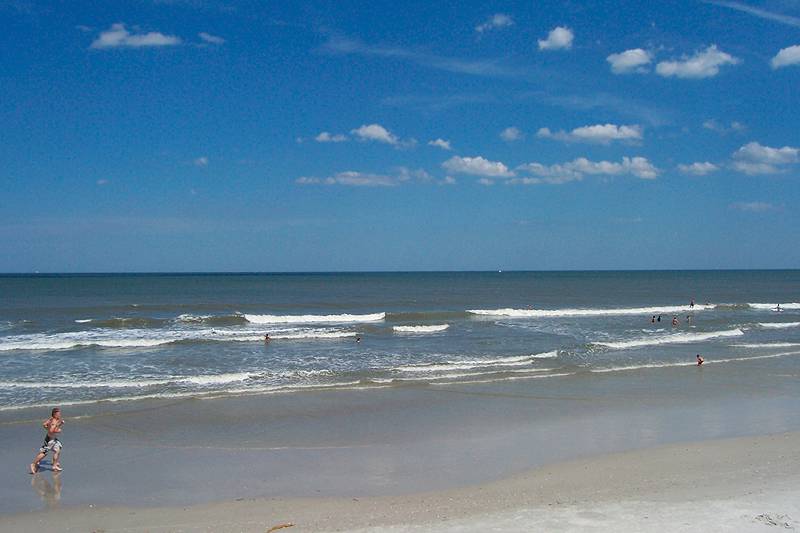 And this made the whole trip worthwhile... Jacksonville beach. I cannot tell you how much I enjoy the beach, and this one has a unique charm all its own... it's not as crowded as Miami, yet not as secluded as the Keys... but it still has its own appeal, and apparently surfers love it!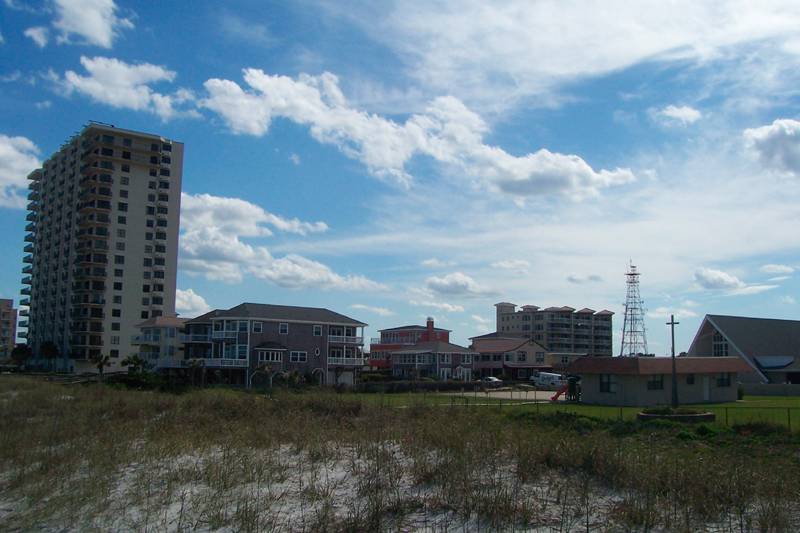 Would I ever live here? doubtful... Something about being on a beach during hurricane season does not sit well with me at all... not to mention the prophecy of 2012, when Florida is supposed to sink... kinda like that movie "The Day After Tomorrow"... of course I am no Nostradamus... but just in case, I live in Pittsburgh, elevation 1220 ft. above sealevel.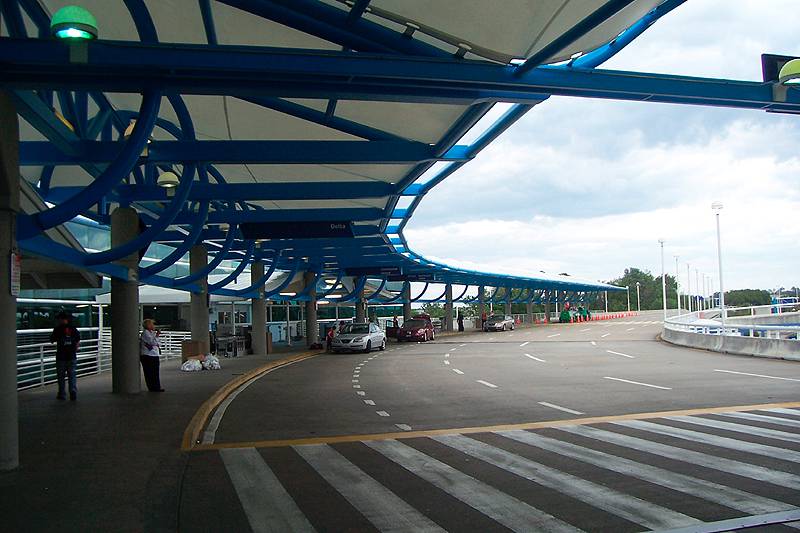 After a relaxing afternoon getting sand in every crevace of my body, it was time to bid a tearful goodbye to Jess, Lolo, and Jess' sister and brother, and their kids. It was time for me to head back to good old Steel town, and get back to work on Monday... I looked forward to the US Air flights, and already planned out my stop in CLT's great restaurants and bars. I would have almost a two hour layover... plenty of time to make new friends and drink some brews....
Except for one minor detail.....
We regret to inform you that US Airways flight 2698 to CLT has been CANCELLED!!!!
NOOOOOOOOOOOOOOOOOOOOOOOOOOOOOOOOOOOOOOOOOOOOO!
NOW WHAT!!!!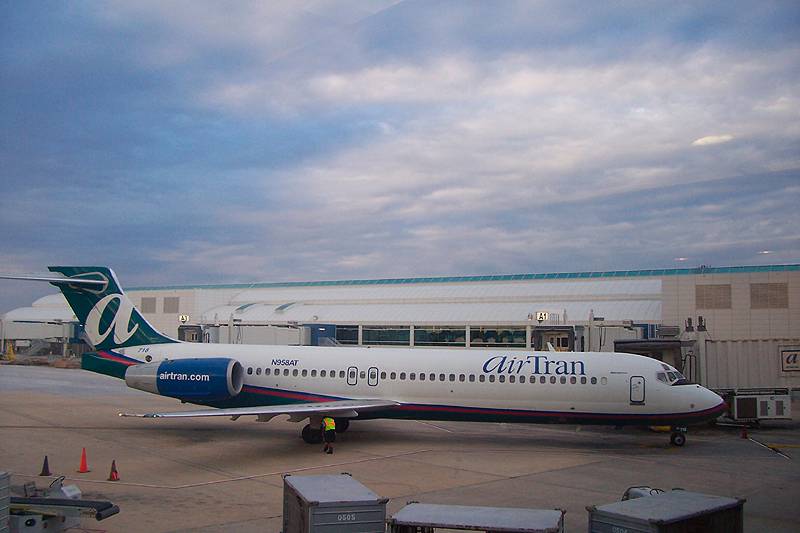 Ghetto airlines.... oh lawd... well any port in a storm I guess... Of course this means instead of going through Charlotte, I get to go through Atlanta... yay.... ugh. At least the flights are free.
The rest of the airport was pretty much a ghost town!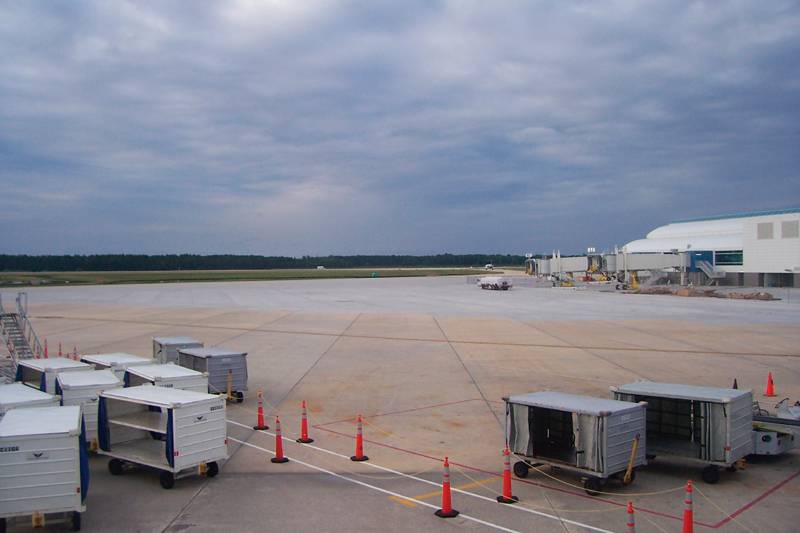 I could swear I saw a tumbleweed going by there... I figure since my NEW flight is leaving an hour later than the original flight, I better head to Samuel Adams Jax, and grab a brew...
I did not make out too bad, this one lady there was lamenting her woes... she said her flight was cancelled (also US Airways to DCA), and she had to be in DC by 1 PM Sunday... or she loses money or something like that.
Sorry bout your luck there toots... maybe you can ask Ghetto Airlines if they will fly you up there?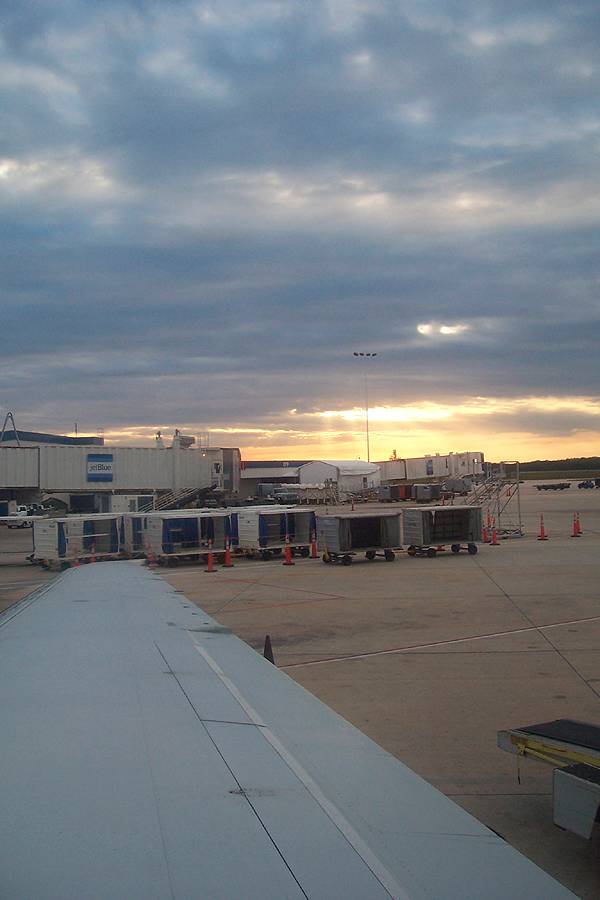 I left the weeping willow at the bar, and headed to my new seat.
Now I am usually the first to rag on Air Tran, but you know what... I was surprised when I got on board. First off, I was in an exit row... automatic extra leg room... and I had the whole row to myself... BONUS! The plane itself actually looked a lil neater than the US Airways a week earlier... AND... they have headsets with XM sattelite radio!!! PRAISE JAH!!! I be listening to reggae de whole way to Pixburg mon!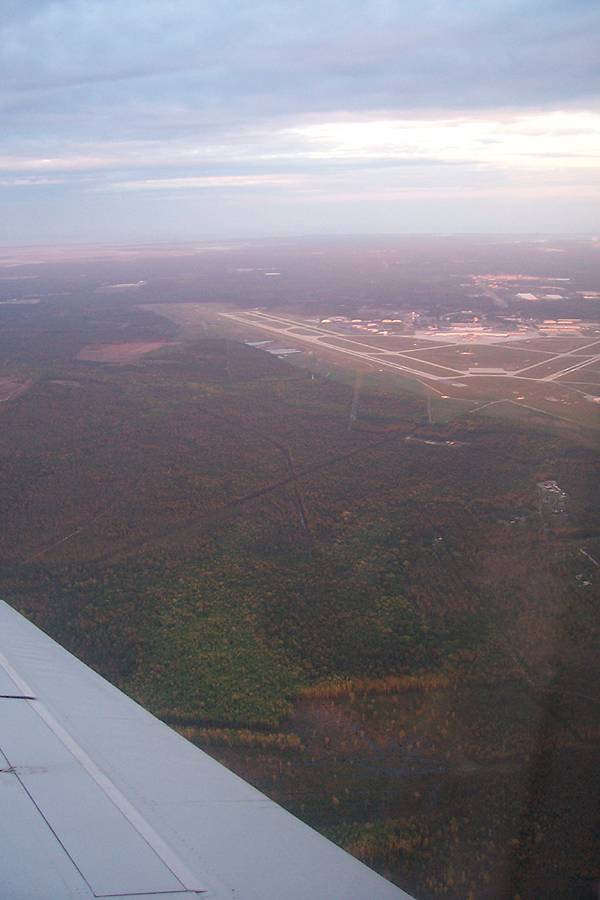 With a half wave good bye and a half flipping the bird to Florida, I left Jax behind, and settled in for some good old Bob Marley....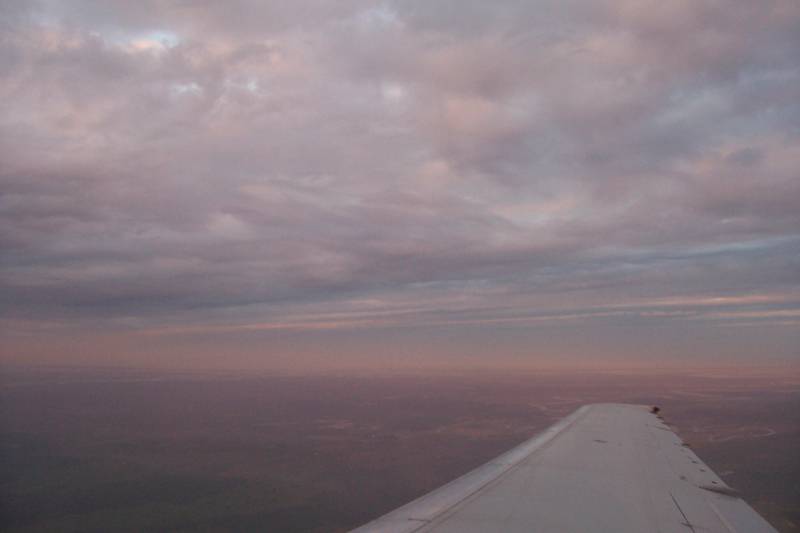 One good thing about the flight was there was plenty of opportunity for me to get some good sunset shots... even if I was on the wrong side of the plane.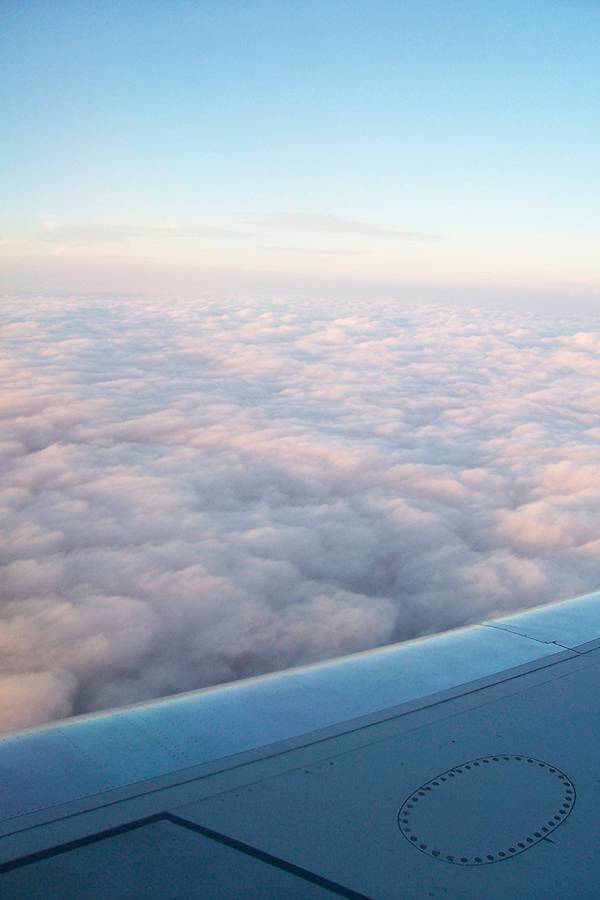 And once again... the sheet of while below heralded the end of the southern cotton clouds, and the beginning of the northern cloud drapery...
Another Heineken later, I was in the zone, ready to get some awesome sunset shots of the world as we came into Atlanta.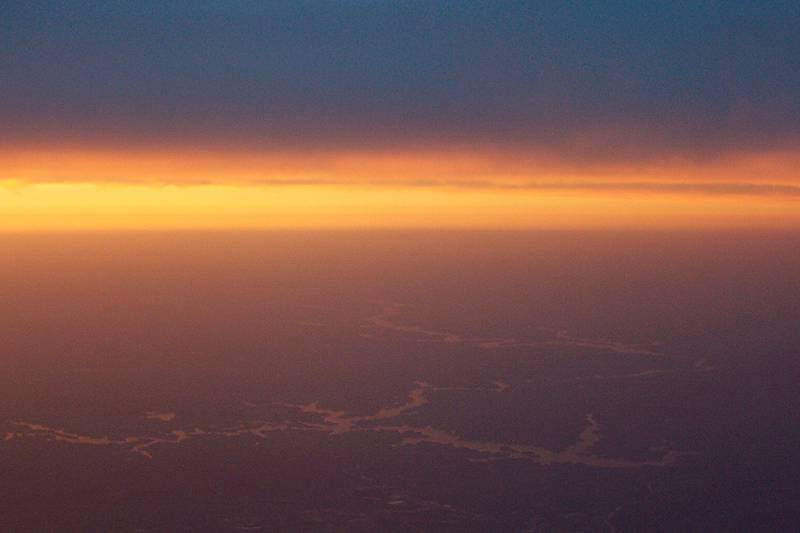 This shot is so surreal... some lake outside of atlanta on our way down... took me three tries to get it.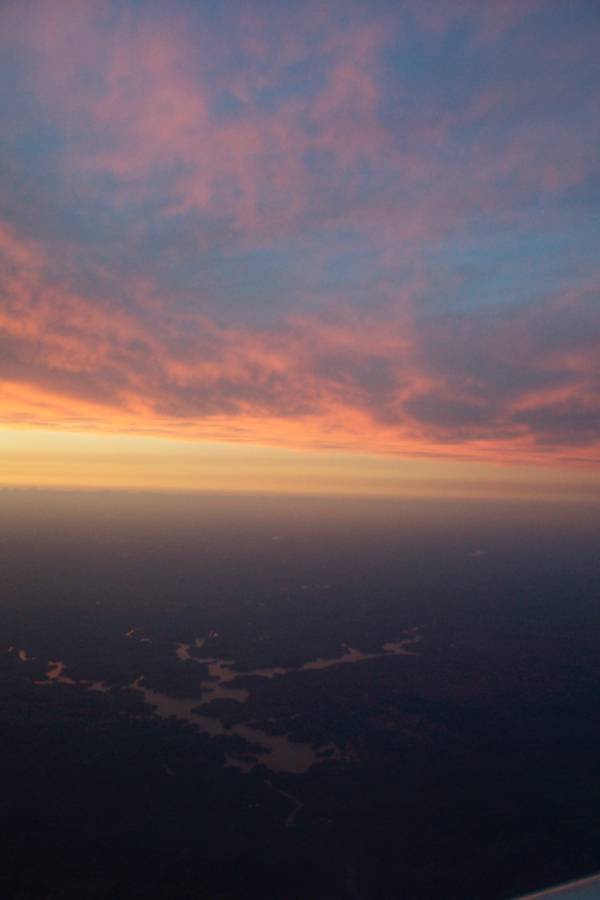 And then there was this one a little closer... hmm if I keep this up, I may be able to send some of these to webshots. of course I had a problem... it was getting dark, and my camera is none too fond of dark pictures... not to mention I cannot keep my hands straight enough on the plane to get a decent shot... so my last good picture before dusk was this one below...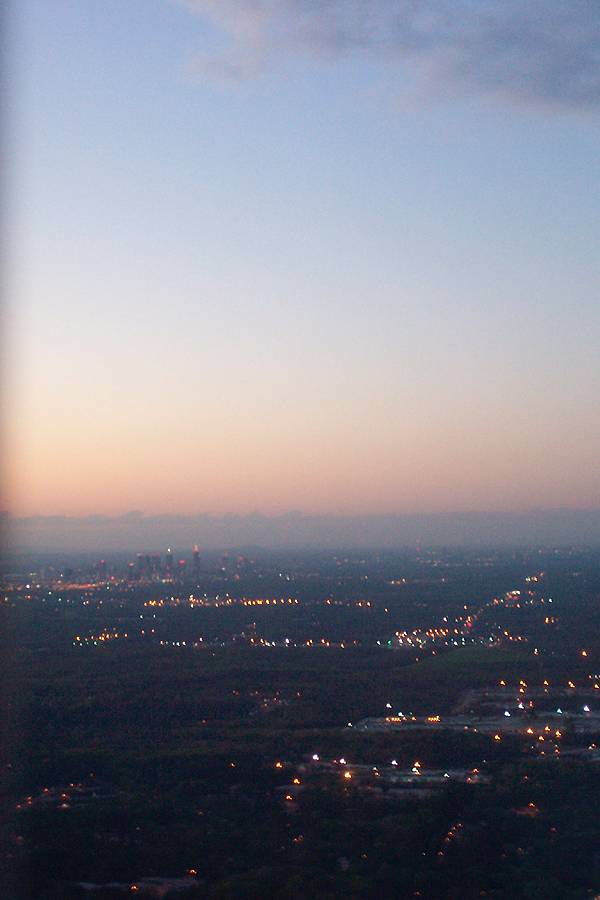 Downtown Atlanta...
You cannot tell by the picture but we were off to the races... there were two other planes coming in on Atlanta's parallel runways, and as I looked behind it looked like the conga line had spilled over to our approach. For a moment I wondered if the tower was going to tell us to go around, but then it dawned on me... unlike Flight Simulator... these people know what they are doing!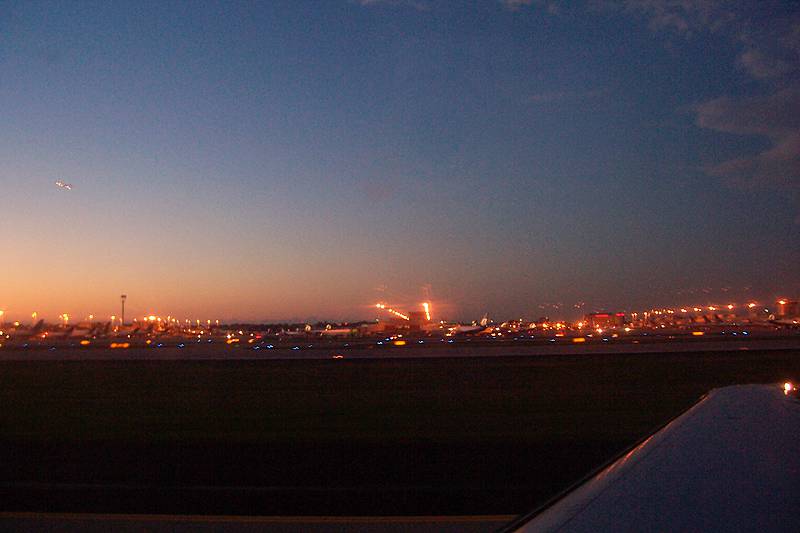 In no time, we were down on 27R.
Now comes the fun part... my connection to KPIT did not leave till 11:05PM... it was only 8:20PM when we landed.
Only one thing for it... time to explore terminal C.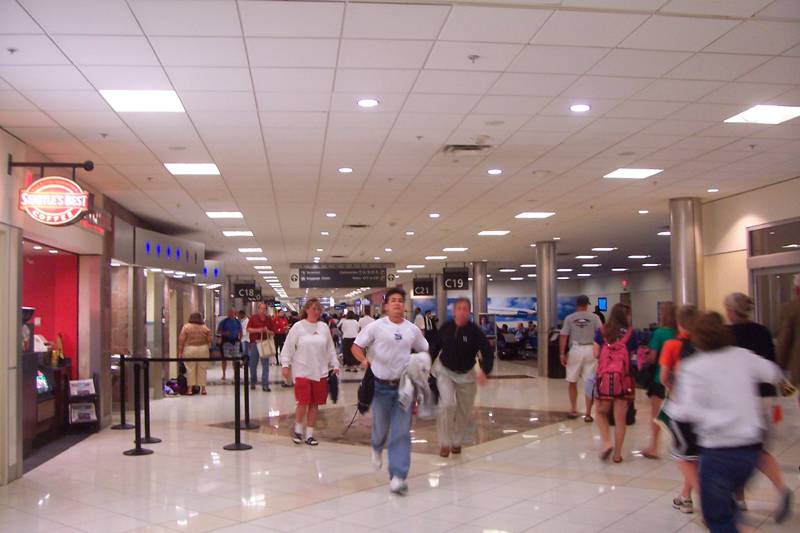 Now I forgot to mention that my brand new cell phone which I bought knowing I would be travelling decided it was going to stop working when I got to JAX... apparently cricket does not service any area south of Georgia... so here I am in ATL... with no way to tell Jess that I had to change flights since US Air cancelled on me...
Lucky for me, ATL had pay computers.... $3.50 later I had an email sent to her letting her know my change of plans.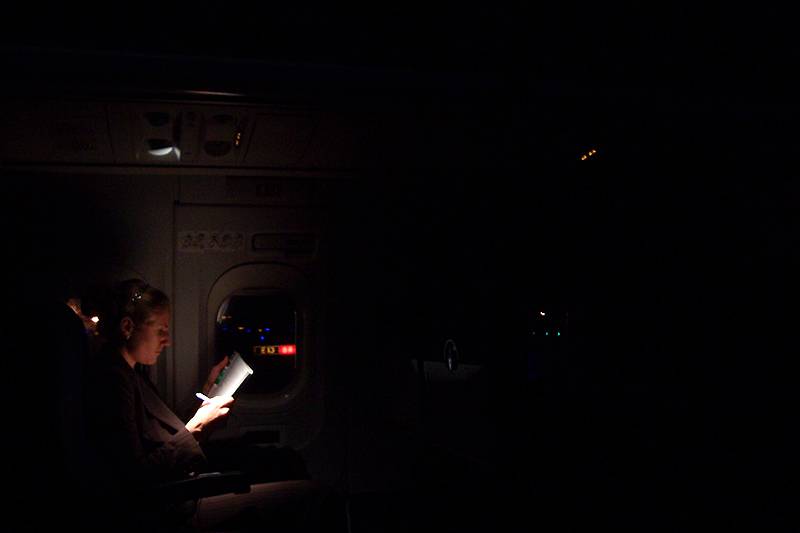 The last flight was dark, to say the least... but quiet. This lady across from me kept looking at me and smiling the whole time, so I figured I would take a picture of her as we awaited the active runway (26L I believe). Not quite sure what she was doing... she kept circling phrases in her magazine. I figured she was either an editor, or she was looking for a secret message from God in there.
A few minutes later, we were airborne... and wouldn't you know it, NONE of my night shots of Atlanta came out even remotely decent.... so I resigned myself to the fact that I will not get any good night pix, and waited for us to hit cruise altitude before ordering my last two heinekens of the night.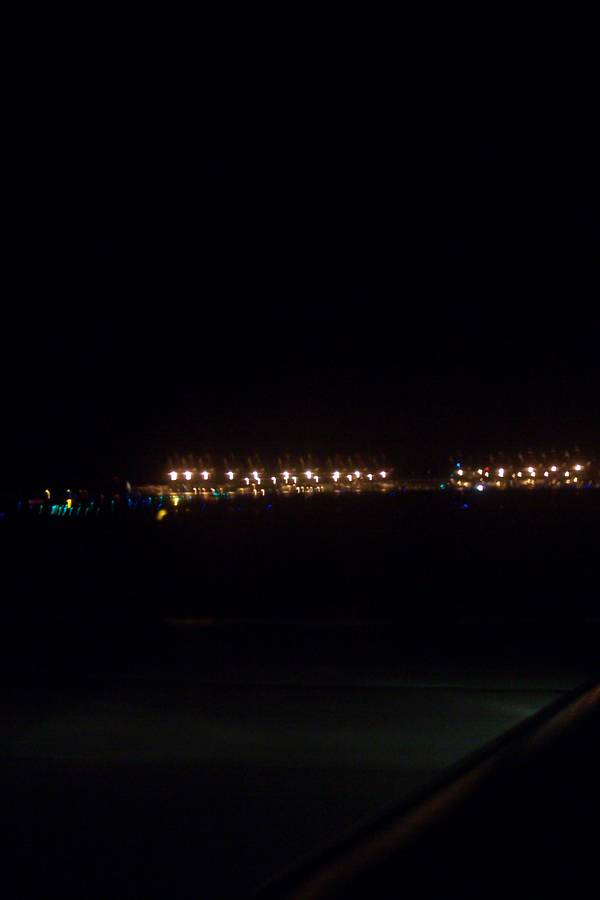 Maybe it was the frustration and lack of sleep the past week... or the several heinekens, but I fell asleep to the sounds of Jamaica... and woke up just as we touched down on 28L in KPIT.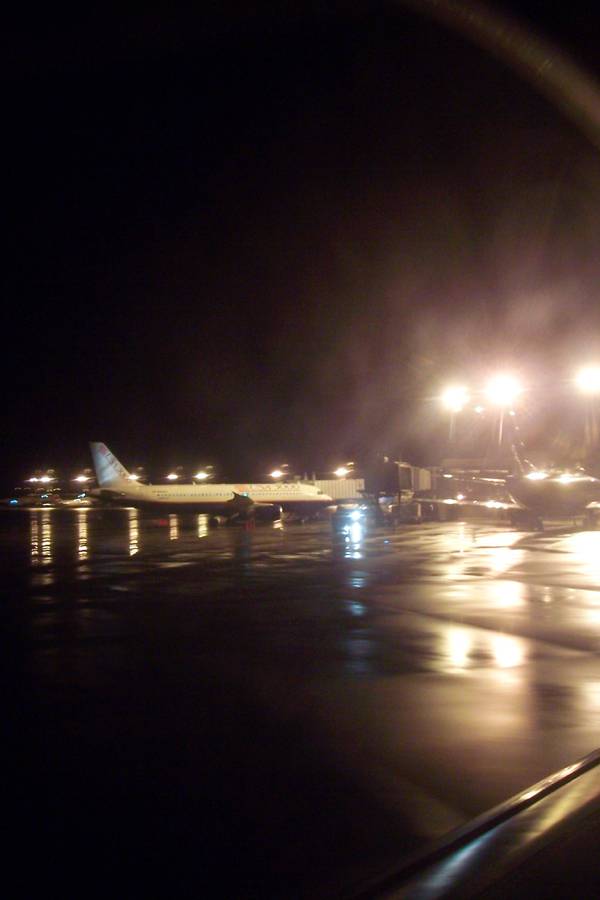 Just like that... as we pulled up to the C terminal, into Air Tran's designated spot, the reality hit me... I am home... I am alone... I have to go to work on Monday.... ugh.
I could not even call this trip a vacation, as I had to take an UNPAID leave of absence to do it, and for what... to be let down by a justice system that believes a 31 year old pedophile over a 12 year old girl with nothing but love in her heart.
Make no bones about it people, my trip was not a happy one...
But if nothing else... at least I had some good flights.
And by the way.... I took today off of work...