The Theme for May is Dangerous Approaches
Refer to this link please


http://www.simtours.net/difficultapproaches.php
RULES
1. Only Minor edits allowed, Sharpening, Cropping.
2. Post only 1 shot. If you post more than one, I will use the first one you posted.
3. Play fair
4. No whining

Thanks
Flyboy92
How and where do you submit?
Just post your picture of a dangerous approach right in this thread.
Flyboy92
I refered to the link and it said approaches in fs2004 and fsx but you posted in fs2004 so I am guessing just fs2004 pics?
If its for FSX as well....I'm in!
Pic removed......sheesh!


Last edited by mustangpilot on Mon May 05, 2008 5:02 pm, edited 2 times in total
I think that one is a pretty stupid pilot error lol. Or if for some reason the atc just gave that aircraft clearance to take off right over you I wouldnt call it a difficult approach.



Last edited by mustangpilot on Mon May 05, 2008 6:32 pm, edited 1 time in total
Yup....
any approach is dangerous if you do not follow proper instructions.
Yea but the thread is non pilot error dangerous approaches.



Last edited by mustangpilot on Mon May 05, 2008 6:32 pm, edited 1 time in total
I'm sorry mustangpilot but i'd much rather prefer if your shot was of a dangerous approach, not just a pilot error. Please refer to the link i posted for a whole list of approaches.
Thanks
Flyboy92
how do you add a pic to the post?
mustangpilot wrote:

Why are you taking things so seriously? it's just a pic from a simulator.

This is all just a game, a bit of fun!!!

anyhoo the title says "The Theme for May is Dangerous Approaches "

I would call that pretty damn dangerous!
I am taking things seriously because flyboy made the thread and the rules. Some people dont read the rules 100% and it leads to this and even though you thought it was a dangerous approach it wasnt is the point I am getting at.
Apollogy Pm sent


Last edited by mustangpilot on Thu May 08, 2008 7:35 am, edited 1 time in total
ahh i see you increased your aa it looks good

Sorry, its a god damn beautiful pic, but i hate how it dont show whats happening in the approach
My entry has been withdrawn as this has turned into a question and answer thread!


Last edited by Welshflyer on Wed May 07, 2008 12:28 am, edited 1 time in total
very nice emerald!
what graphics card do u have
i have GeForce 8600GT
nice, this is off topic but u know for metro, what 757 do u use? im curious to know

ok thanks, wondering aswell what dash 8? lol
never heard of them, thanks might get some aircraft from there, and i hope to get a 8800 soon like u

This question and answer session should have gone to pm's and not stayed in the screenshot comp thread, it makes a farce of the whole thing, if you want things to work here gents lets make it professional and let the screenshot thread be just that ,not a question and answer session, there are plenty of other headers here for that! I have withdrawn my entry for this reason!
Sorry Flyboy92!


Last edited by Welshflyer on Wed May 07, 2008 1:03 am, edited 1 time in total
De Havilland C-7 Caribou on approach to Lukla(Nepal)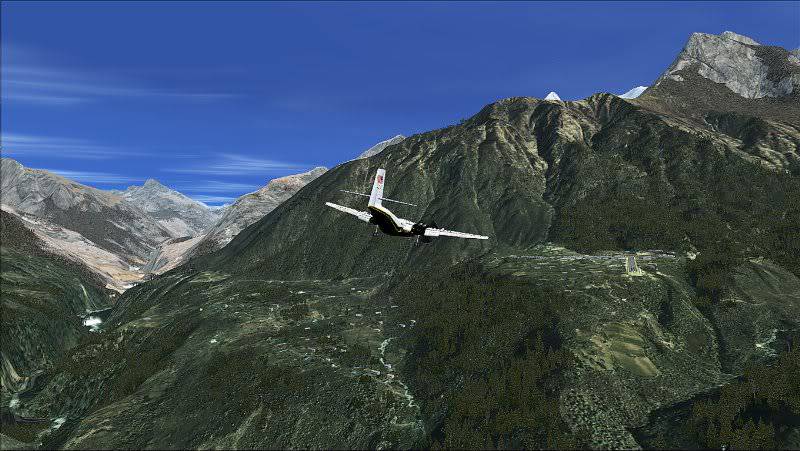 Now THAT is the first dangerous approach I have seen so far... that gets my vote when the time comes.
warlord40 wrote:

De Havilland C-7 Caribou on approach to Lukla(Nepal)
BLOODY HELL!!!
Thats awesome!!!!

much better!!! that looks pretty dangerous to me!
Hell yeah Em!!! thats way better! Tell ya what... I wouldn't want to be paying much rent in one of those apartment blocks!
heres mine, i just love kai tak so i did that


Last edited by drwhoere on Tue May 20, 2008 5:44 pm, edited 1 time in total
Well after flying more hairy approaches than my nerves can handle I decided on something I stumbled upon in the mountains of Pakistan. Gilgit airport (OPGT). Hard to get just one pic that sums up a tough approach but here's my attempt. The C-130 is just about the biggest plane you can get into there safely. You can just make out the airfield through the weather which came in all too quickly. Both approach and departure head straight at mountains - what were they thinking!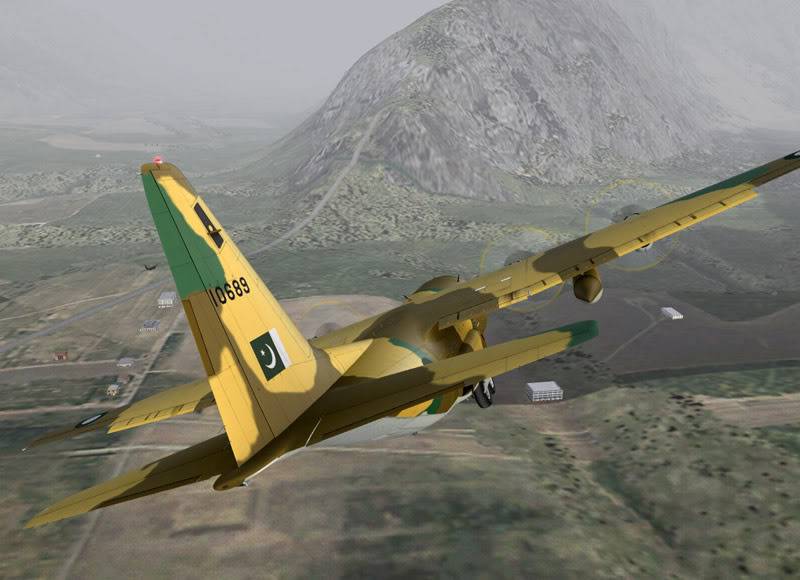 I was scared out of my wits here because I couldn't see, and my flaps and tail hook were stuck! The net didn't catch me, and I was killed!!!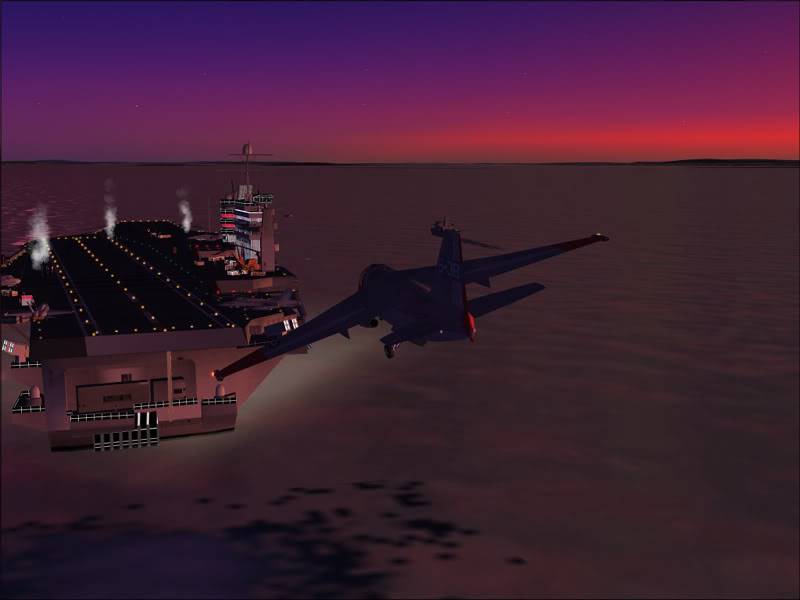 Oh.....the humanity!!!!!
Art
nice shot! 1 question how u get the carrier and that?
Hi drwhoere,
You will find it here.

Later ...Art
This comp's going to be hard to decide, alot of really good shots

Horrible Weather approach to SABA. Rainy, windy, damp, and very foggy day out.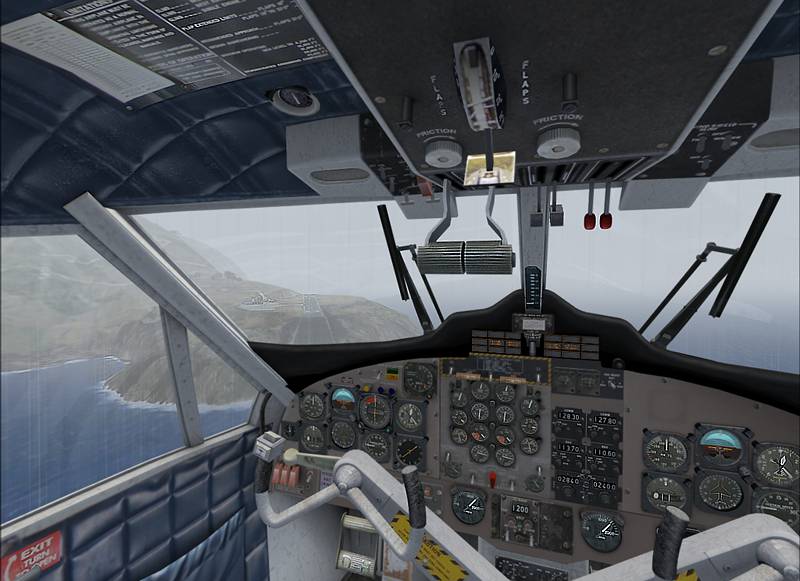 wanted to change my shot still VHHX and BA 747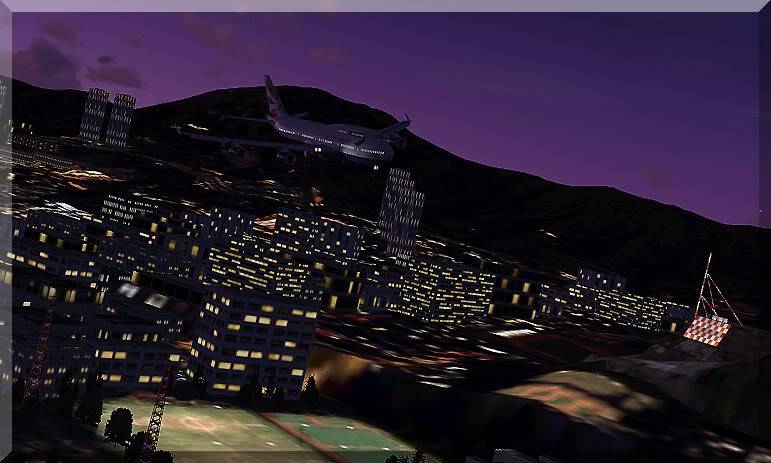 Changed my entry...Queenstown, New Zealand
its.
its.
How do I describe it?
GONE
Good Lord! What the devil happened? Sorry guys.....I will re-post soonest.
This?..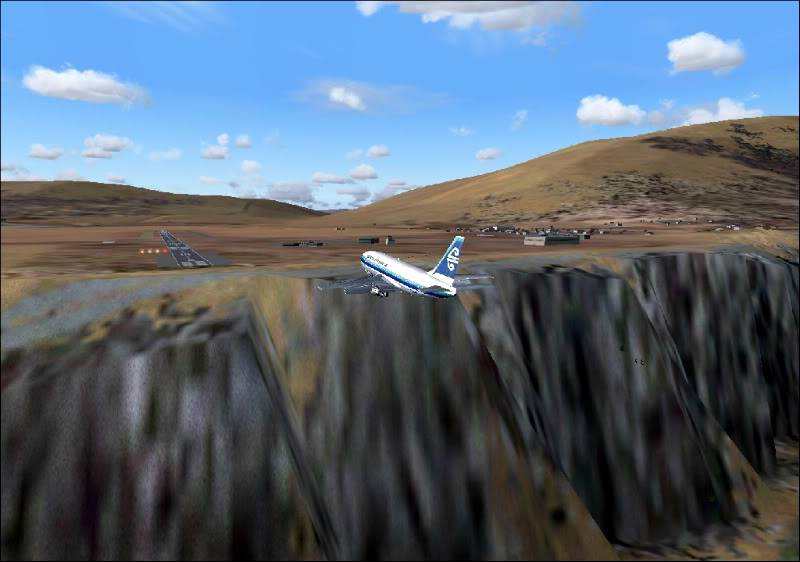 Here it is AGAIN! I gotta get that brain/eye/hand/finger thing under control!
Queenstown, New Zealand.
Yo had better not come up short!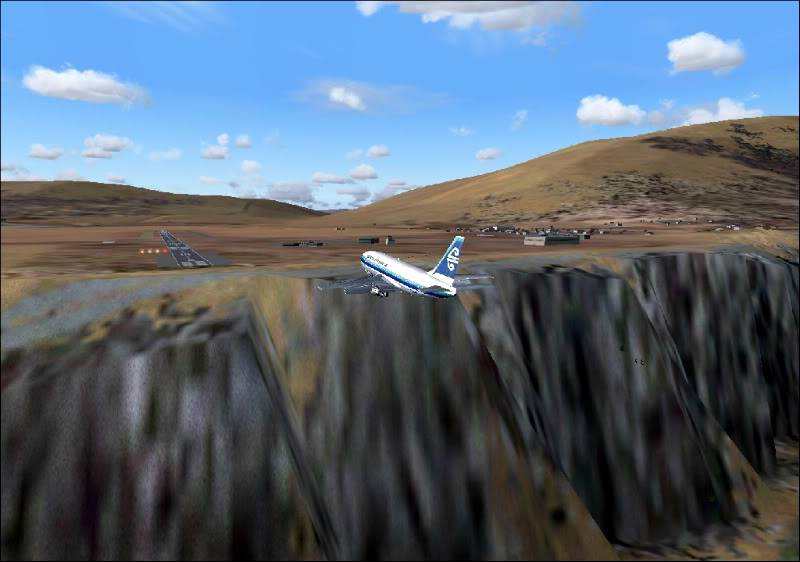 Scenery is unrealistic, but sure dangerous!
Keep it down to one shot there Waj, Flyboy might use your fist pic
I'll work on th scenery. Thanks Cheeks.