I apologize in advance if this thread causes people's computers to crash. I had over 200 pictures today and whittled it down to 50... Now without further ado:
BAD PUPPY PRODUCTIONS proudly presents...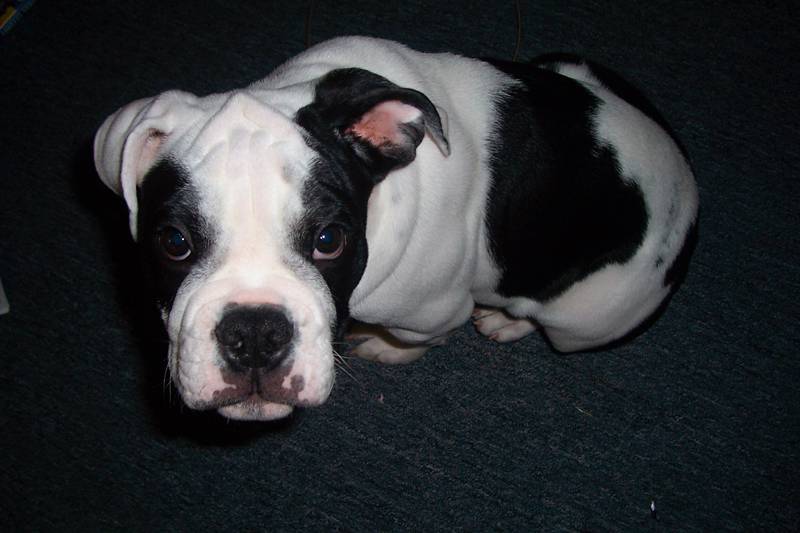 The Wings over Pittsburgh Airshow for 2008 (May 10, 200😎 featuring for the first time ever, the Canadian Air Force Snowbirds!!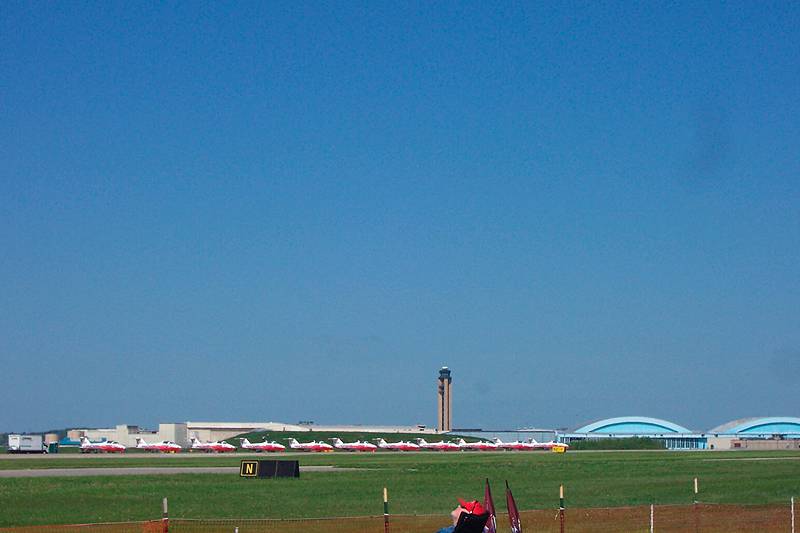 So the morning started dreary... the usual Pittsburgh weather... but in a twist of good luck, by the time we made it to KPIT, the weather had cleared!!!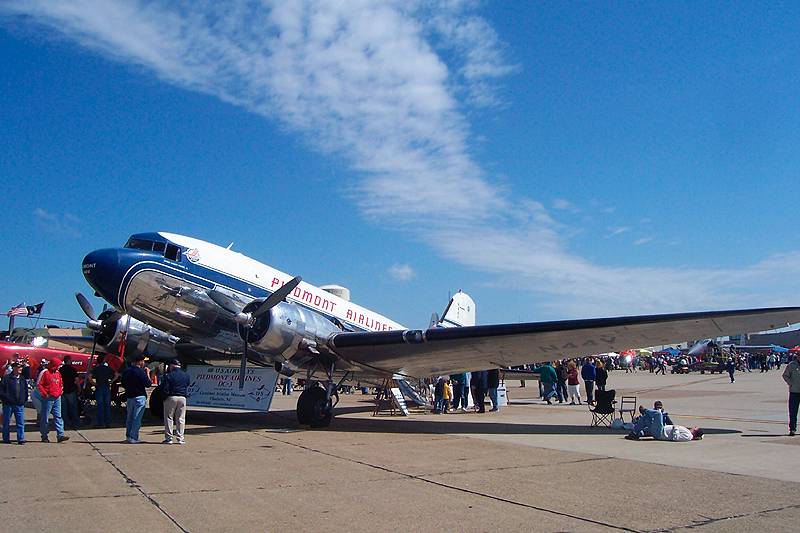 Something caught my eye as we got in, and lo and behold... an authentic Piedmont DC-3! Talk about a date with history here... this baby was in MINT condition, and the pilots gladly talked about the history of the bird.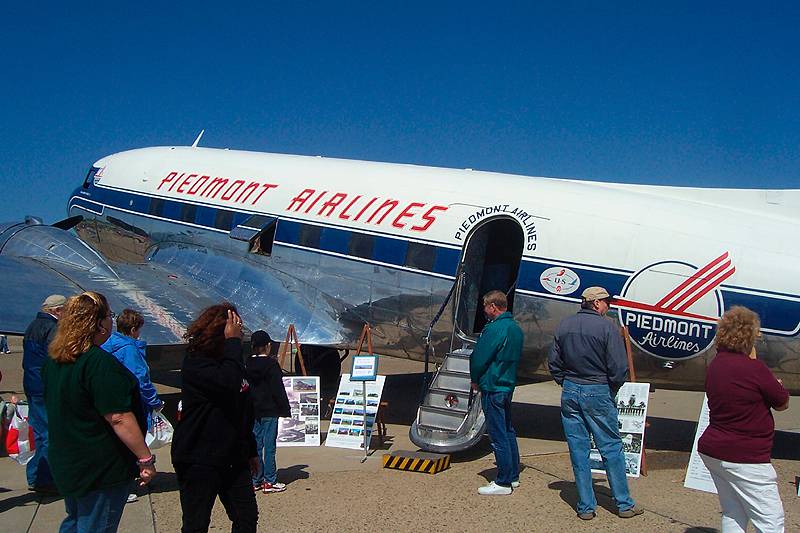 One of the pilots actually flew this aircraft back in the day for a living, and apparently the organization in North Carolina saved this plane from the chopping block, and today they pass on the history of US Airways and Piedmont. It almost brought a tear to my eye!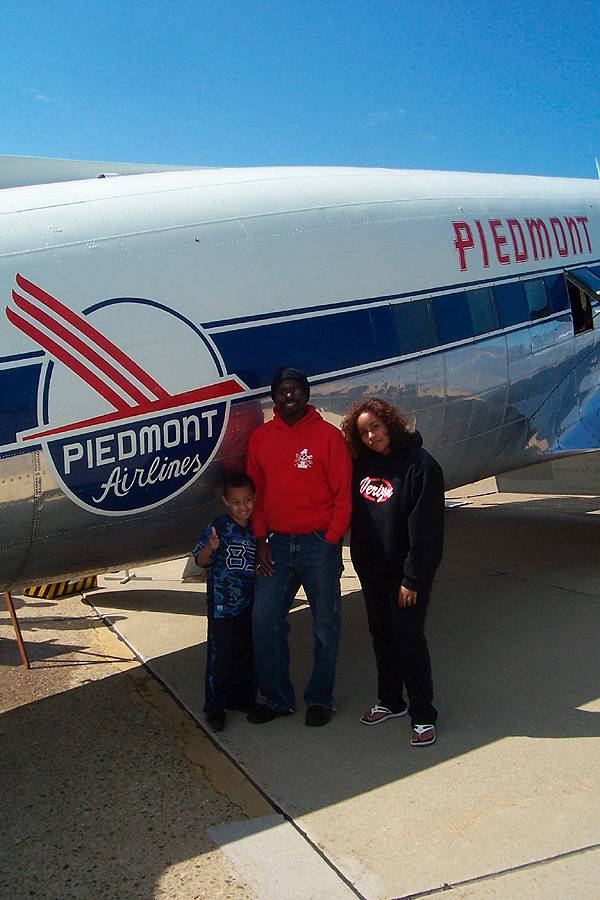 "Bug" (my son) approved... Lolo was not so impressed...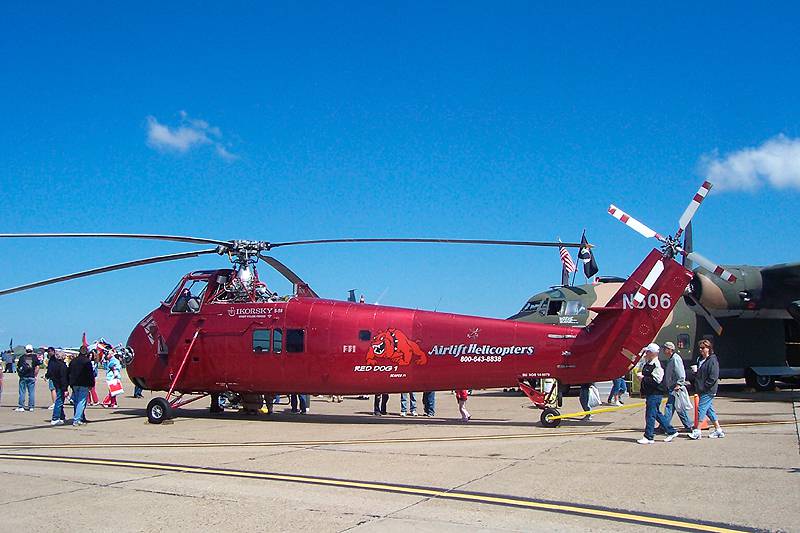 Shortly after the Piedmont, I discovered this little beauty sitting there. Quite possibly the ugliest helicopter in existence, but it had SO much charm to it. The Sikorsky S-58 was a workhorse in Nam... now a flying legend with a interesting coincidence for me...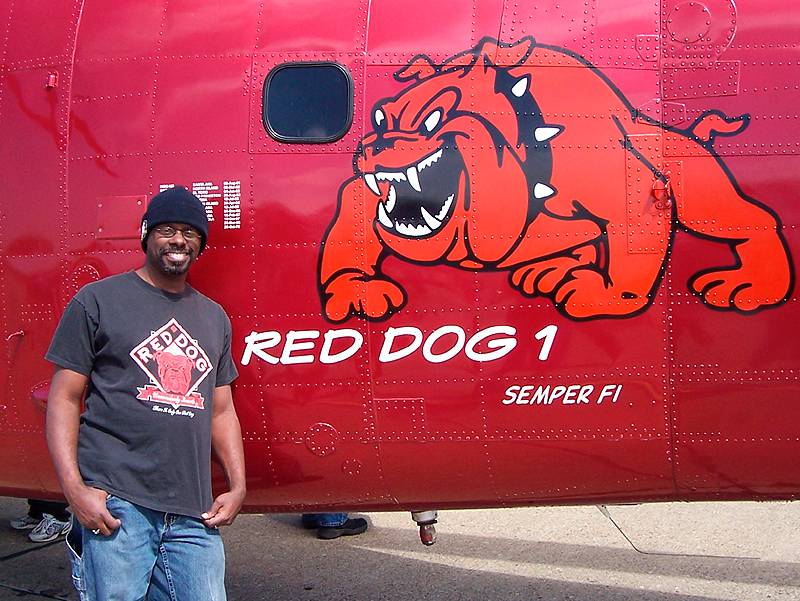 I just HAPPENED to be wearing a RED DOG shirt hahahaha. Seeing as the temps were warming I gave my hoodie to Bug.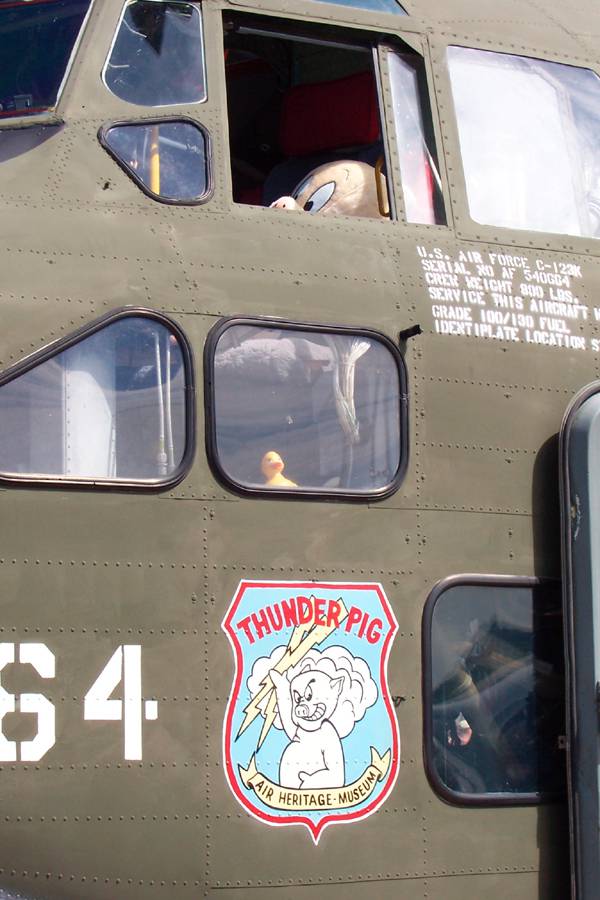 And then there was the "Thunderpig".. C 123 provider with Porky Pig as pilot and Rubber Ducky as Copilot. As you can see, ducky is quite the camera hog... Porky was a lil shy...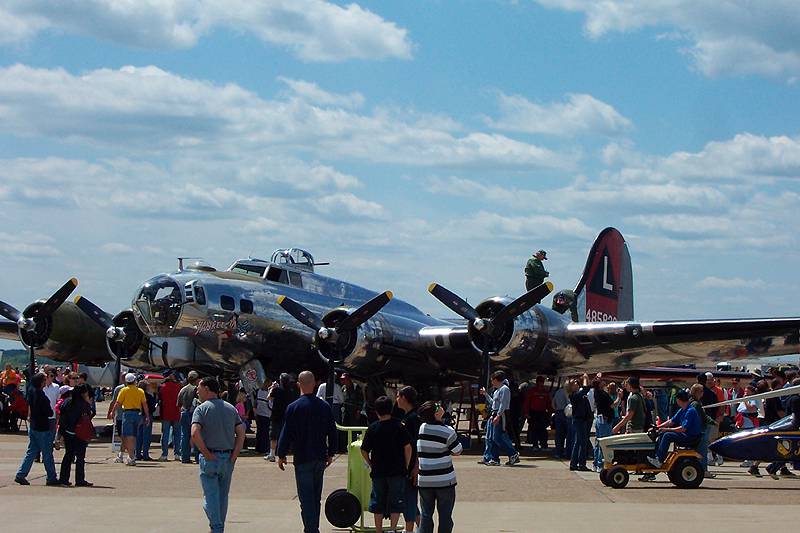 This B-17 brought tears to my eyes... my grandfather was with the RAF in WWII, and his work with the fledgeling radar system helped pave the way for our big attack on Germany. Even though he never flew in an aircraft like this, just being around something he was around every day is sobering.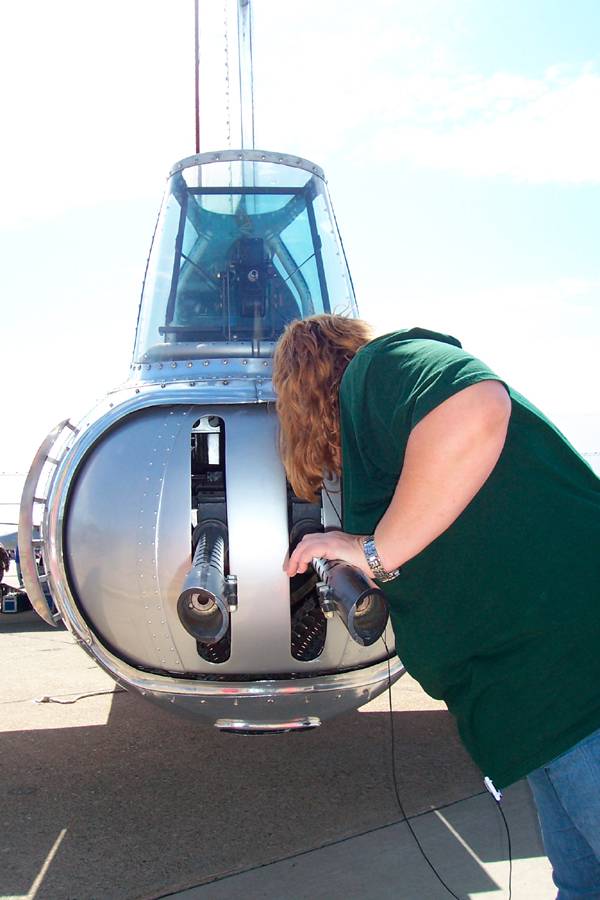 Never look down the barrel of a gun... especially a 50 caliber pair of them. Apparently Jess did not get the memo.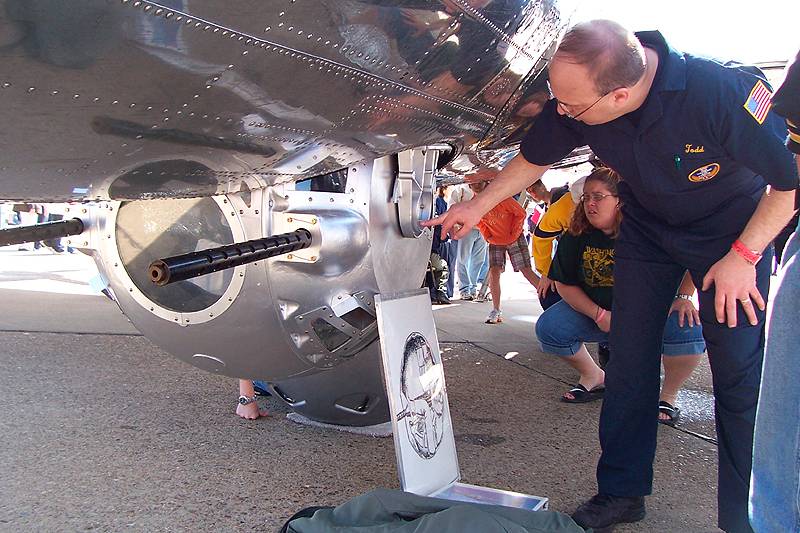 Jess gets a lesson on life in a ball turret. How people actually FIT in this thing is beyond me! I call it the "b*tch seat", cause you would have to have drawn the shortest straw to get that position for hours on end.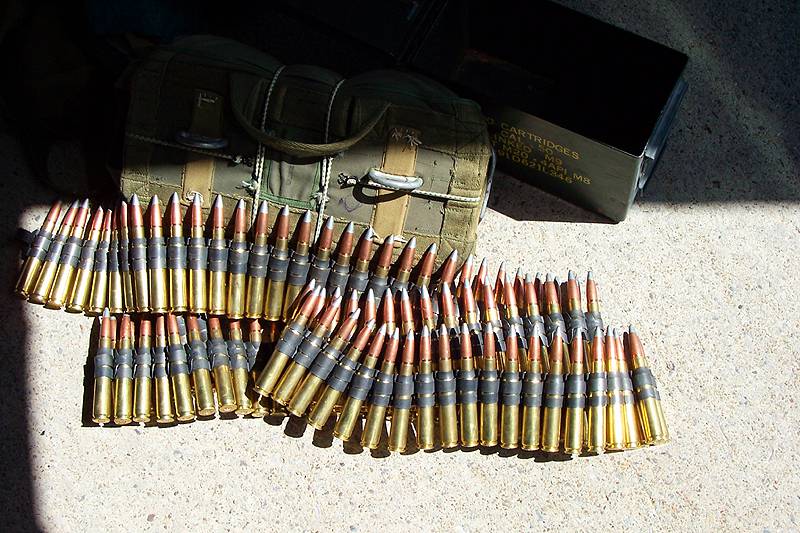 And the tools of the trade... 50 cal ammo... still live after all these years.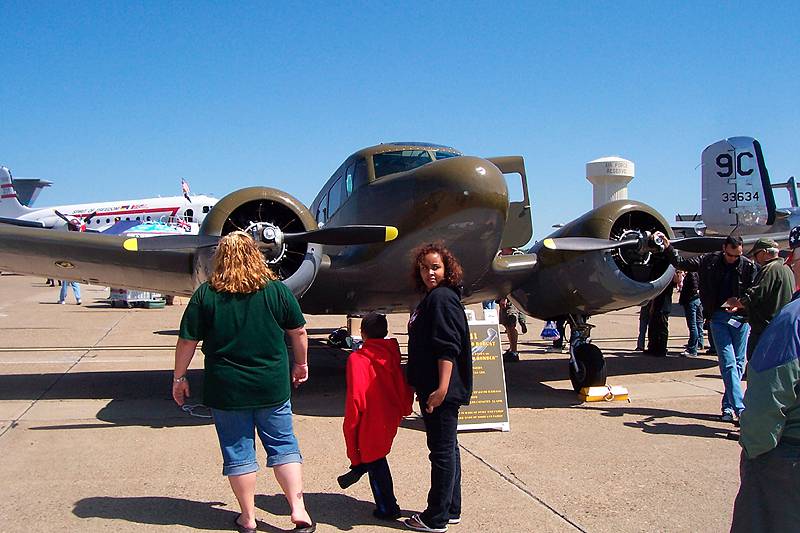 For some reason everyone was fascinated by the "Bamboo Bomber"... everyone that is except Lolo... who saw a cute air force guy.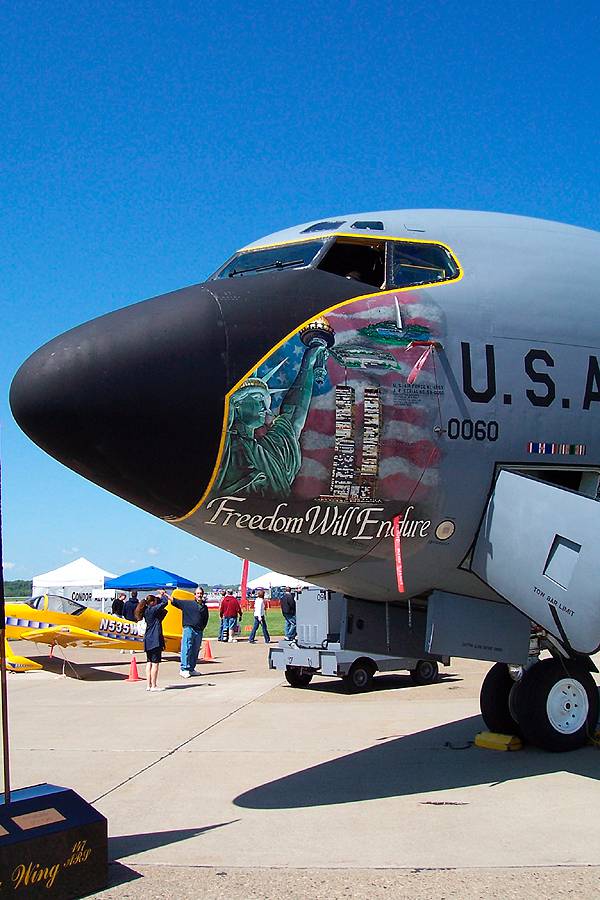 Now this is a work of art. Based right here at KPIT, the KC-135 wing 171st Refueling Wing shows off their flagship aircraft. If there is ANY doubt as to where this plane is based... the next picture will clear that all up.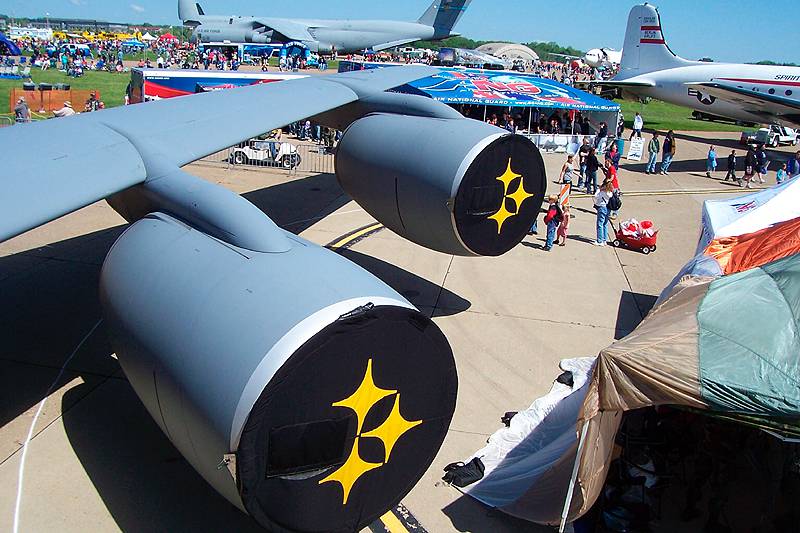 I bet their gas is cheaper than the local stations around KPIT...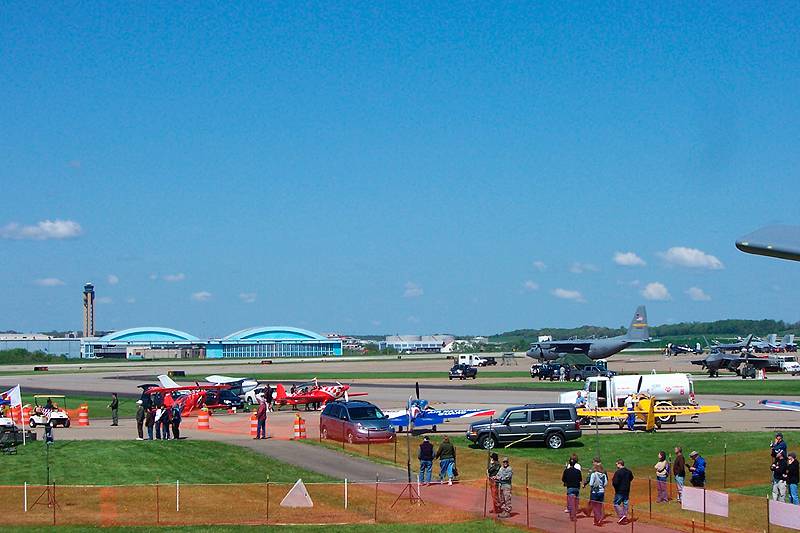 On the right side of the US Air hangars, in the corner of the picture you can see one of the stars of today's airshow... the F-22 Raptor. More to come...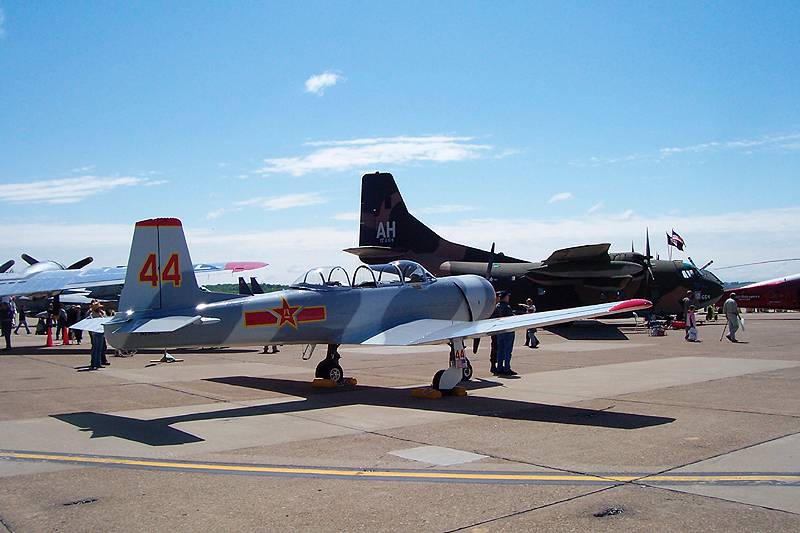 Now I gotta confess I have no idea what Russian plane this is... I wanna say a YAK something... or a MiG something... but I honestly did not pay attention... sorry... nice colors though!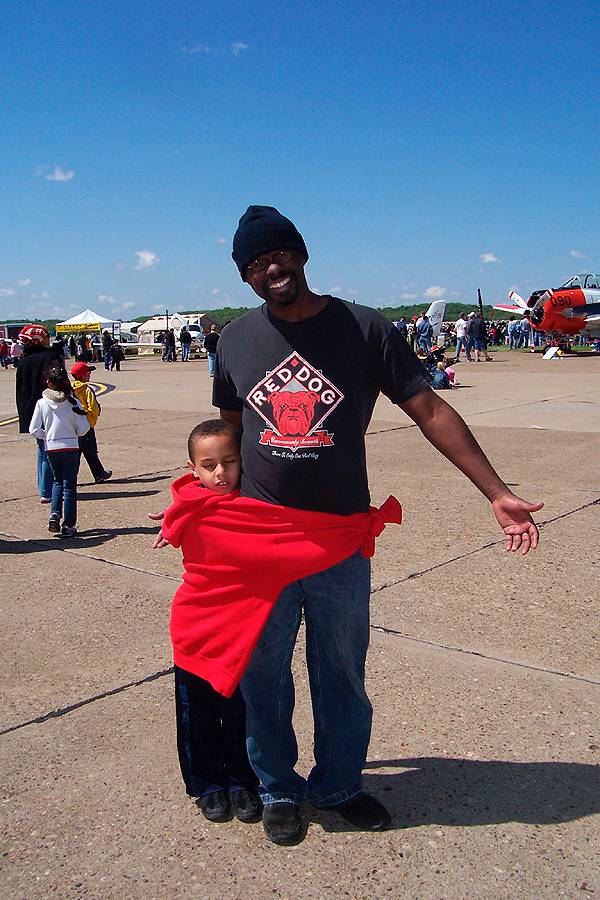 Jess' idea of a joke... A surefire way to keep Bug from getting separated from us... at my expense.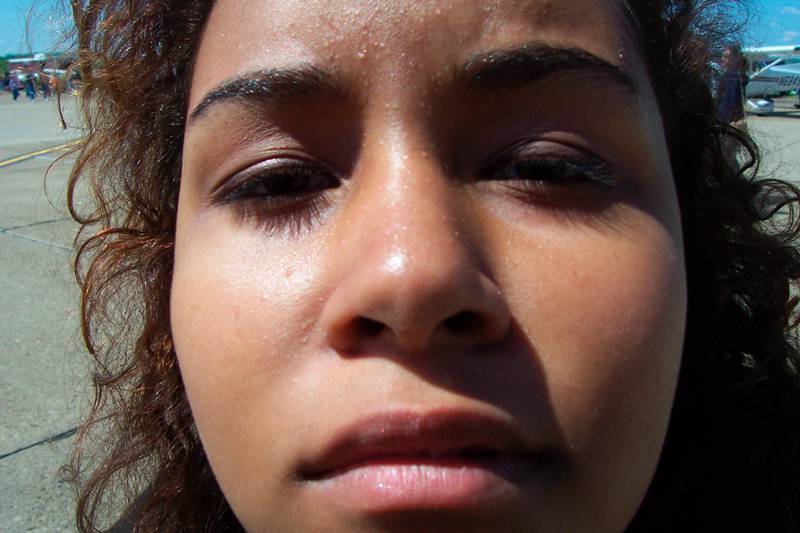 Big head the cat... aka Lolo... Miss "i'm bored, can we go home? Who wants to look at a bunch of silly planes. OOH! LOOK AT THAT ARMY DUDE... HE'S CUTE!!!!
I slapped her. Keep it down hormone girl...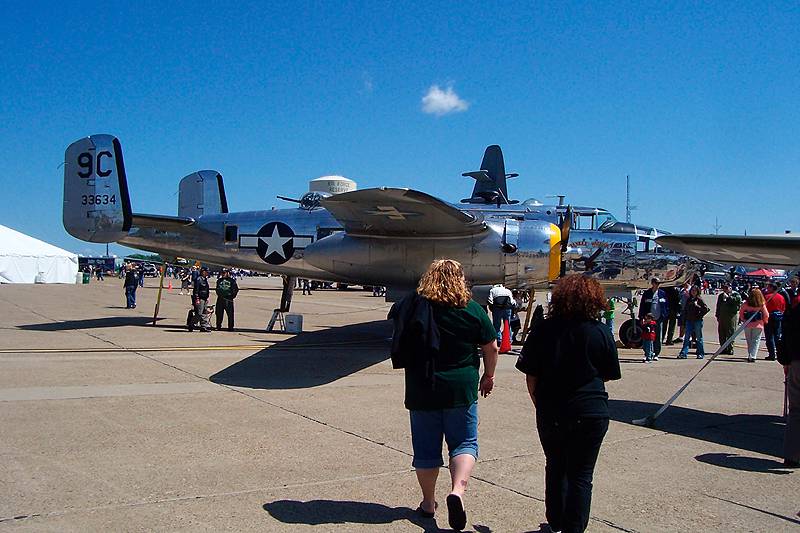 B-25 Mitchell I believe... mean looking aircraft even today...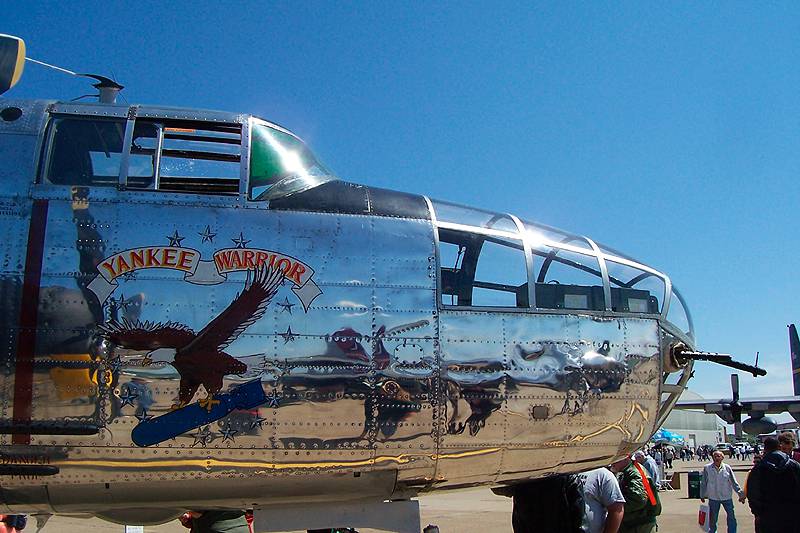 I would give anything for a ride in that sucker though... or if I could travel through time, I can only imagine how exciting it would have been to be in the front gun turret of this guy, shooting down the enemy.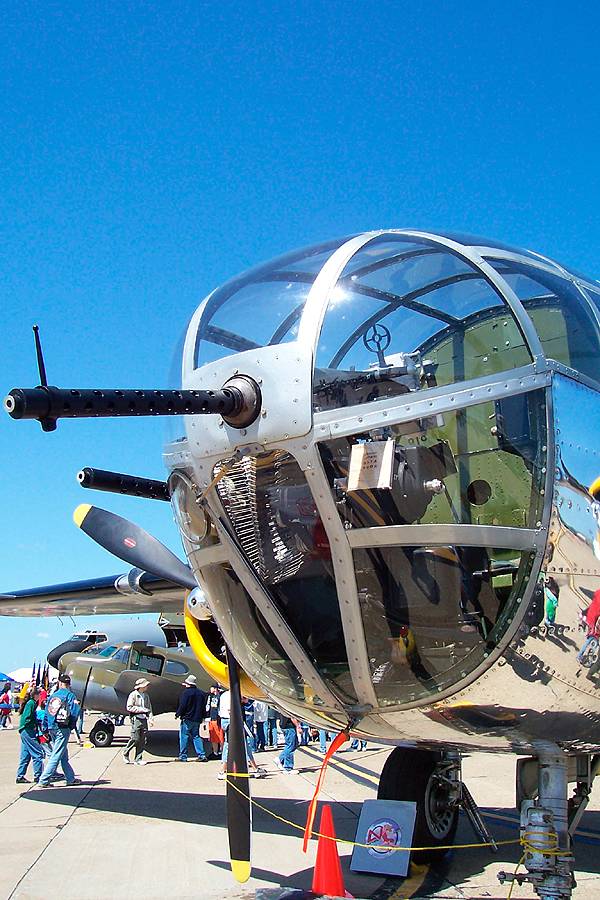 Make no bones about it... this baby means BUSINESS!!!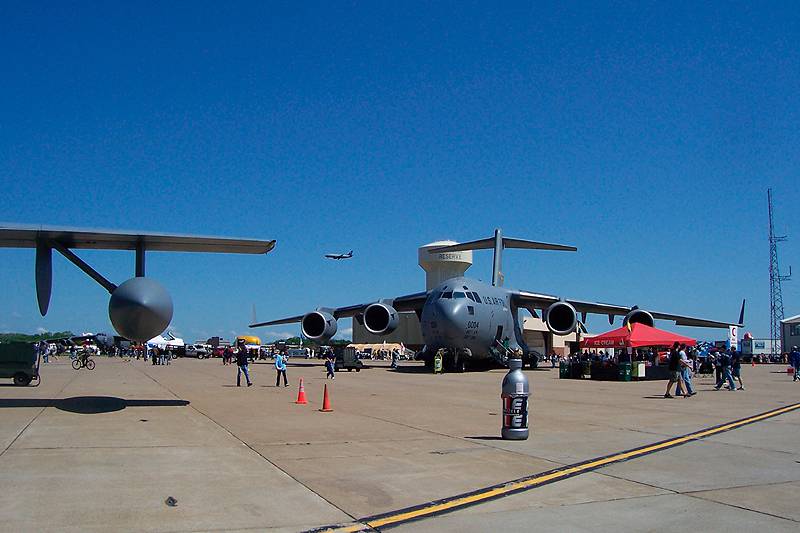 One of my favorite cargo aircraft... the C-17. Last year I was graced with being able to sit in the cockpit of it, this year I opted out, but still mesmerized by its charm.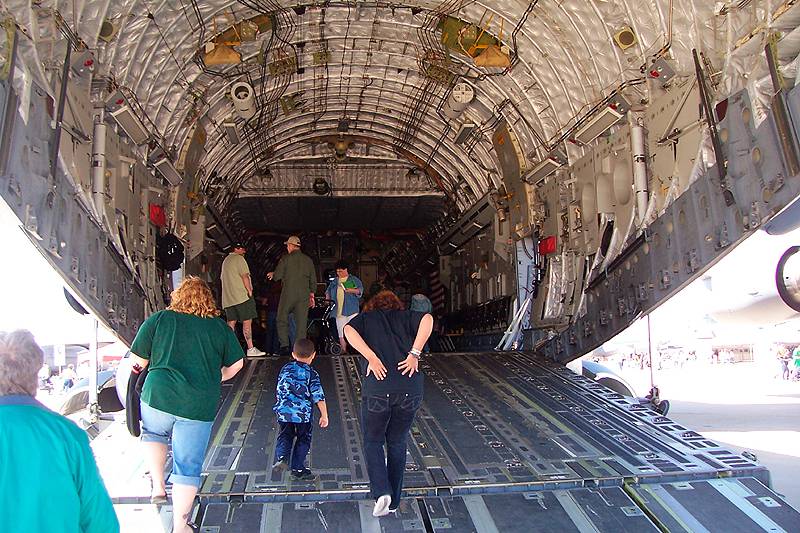 Old lady Lolo going in the aft end...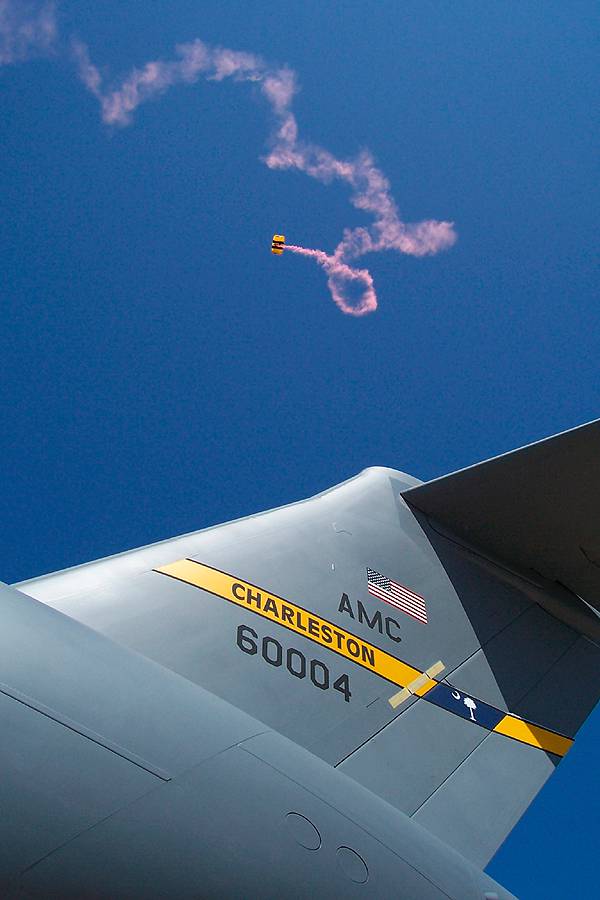 Around this time the airshow officially began, with both the Canadian and American national anthems, and the Army Golden Knights parachuting down with the flags in tow.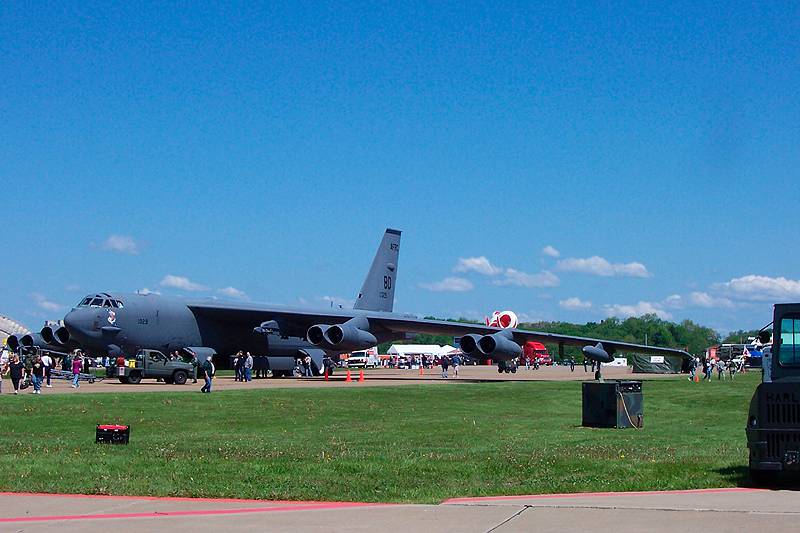 After the salute to our two nations, it was Buff time... B-52 baby... still going strong after all these years.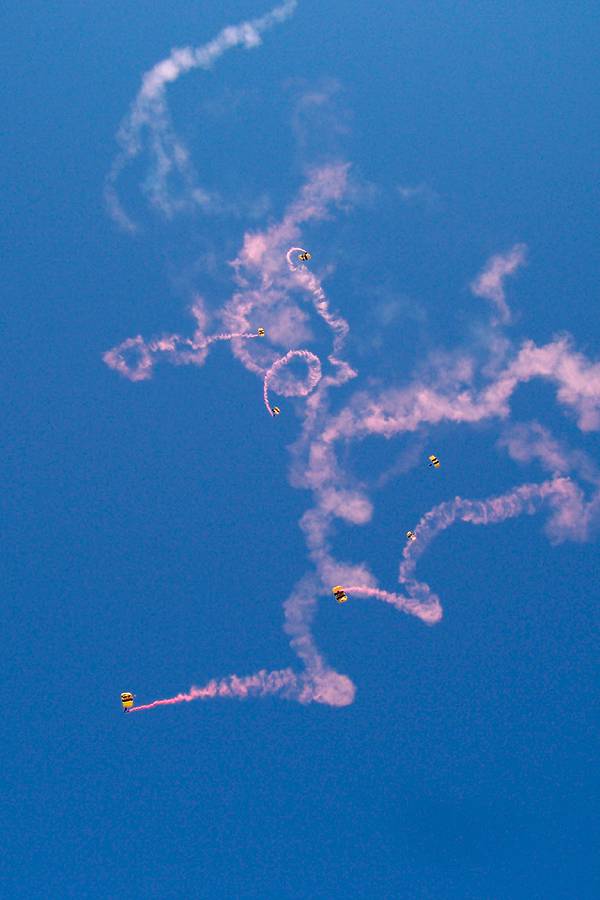 Meanwhile the rest of the Golden Knights were coming down to terra firma doing their aerial ballet.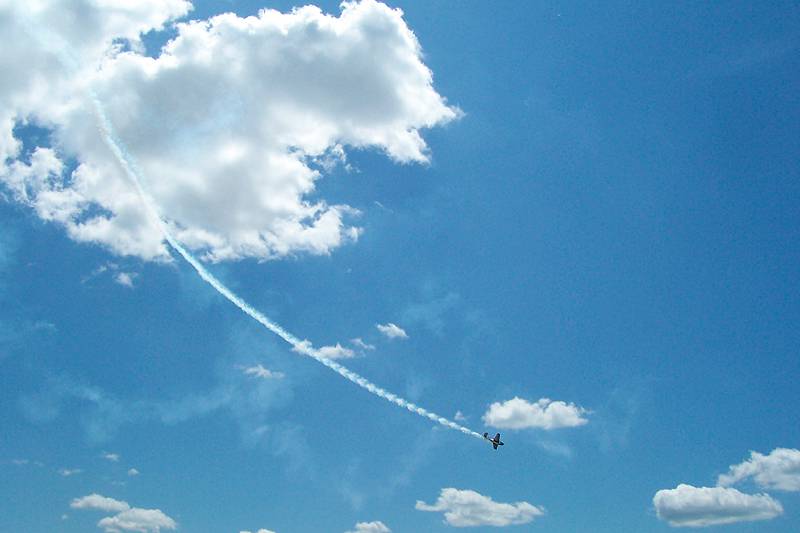 Once they were finished, aviatrix and flying legend Julie Clark in her Chevron T-34 Mentor wowed the crowd in a heartstopping show set to the song "God Bless the USA".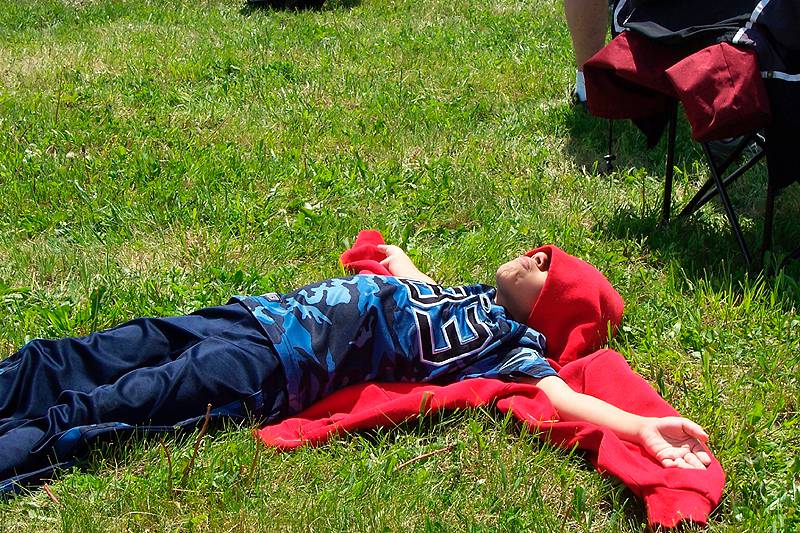 By this time Bug was so overwhelmed by the sheer awesomeness of the aircraft and crashed out for a few minutes.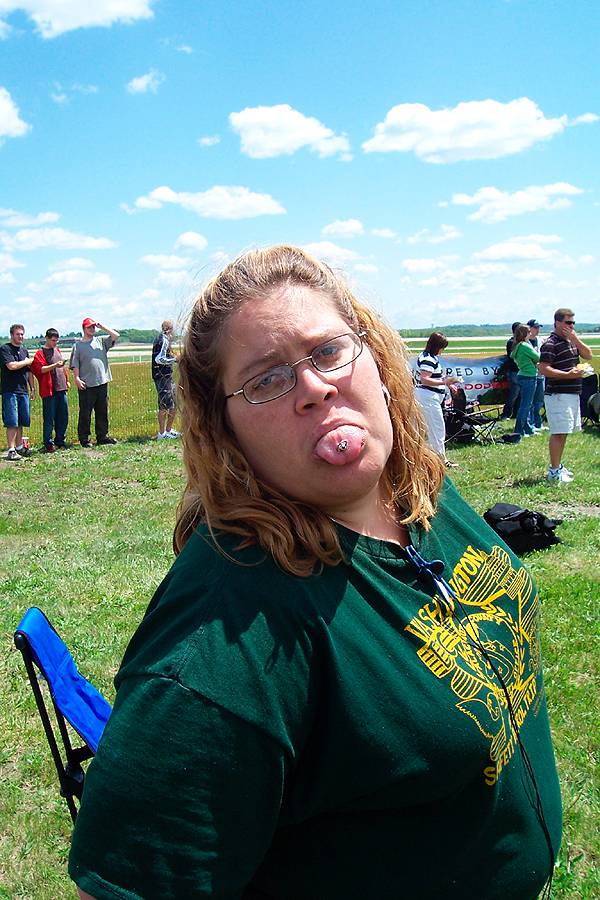 Jess however showed her true feelings to anything that does not have a jet engine strapped to the back of it.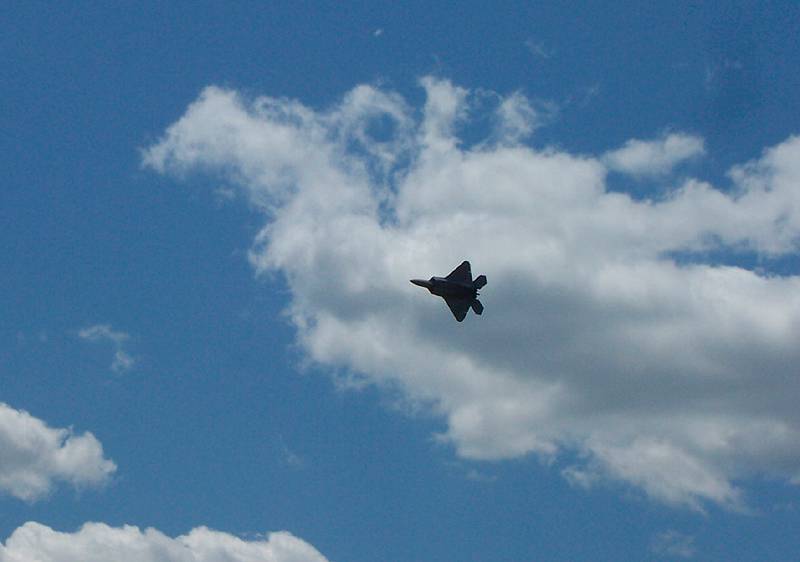 This however made her day. The F-22 Raptor. This is the first time any of us have ever seen one in PIT, so we had a REAL treat. I was amazed and shocked at the sheer power and amazing maneuverability this jet has. At one point it literally HUNG in the air vertically!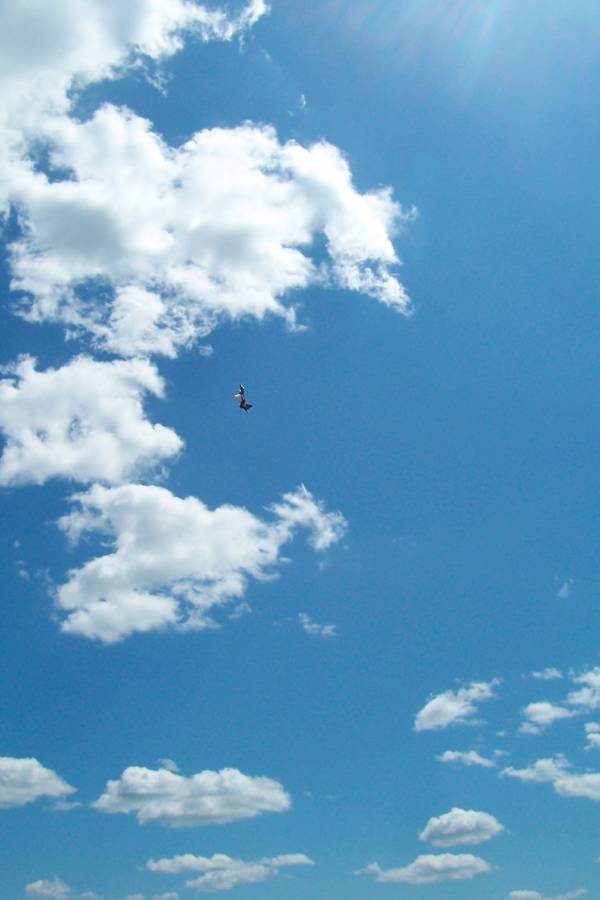 It stayed there for about a minute... letting off a thunder unmatched by any other aircraft, before kicking in the high gear and tearing off into the blue!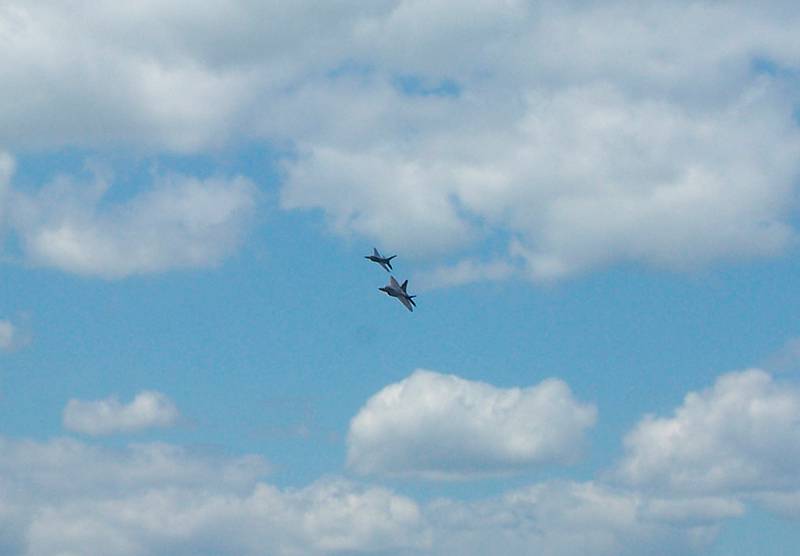 A little later, the Raptor was joined by its predecessor, the F-16 Falcon, in what they call a heritage flight. The two high performance planes were the show stealers, and at that point I was like, there is NO WAY this show could even POSSIBLY get any better now!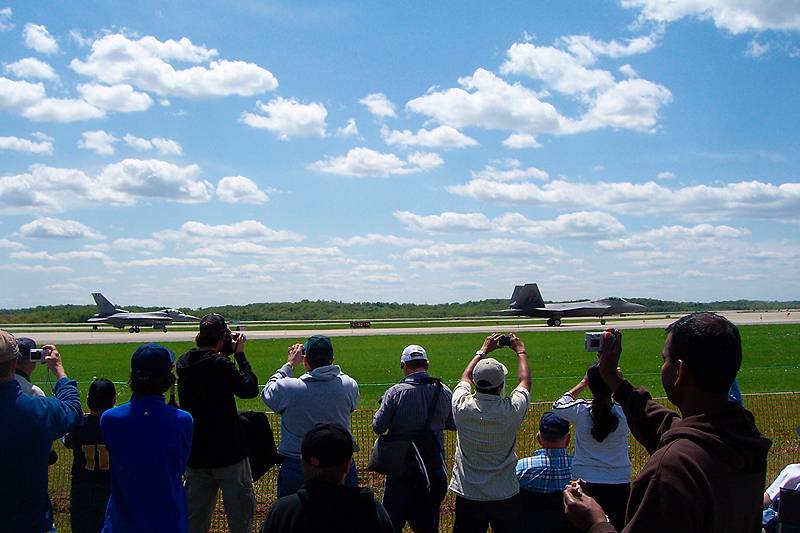 Even as they landed and taxied past us, I was still in awe of them. WOW... Truly the highlight of the day!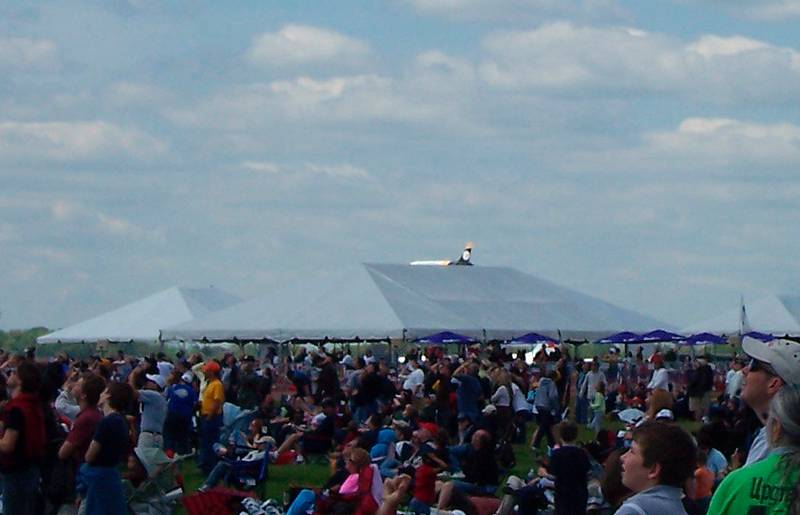 I WAS WRONG!!!! Lolo tapped me on the shoulder... DAD isn't that the plane you fly on the computer? I turned around to see NONE OTHER than US Airways N733UW- STEELER AIR!!!! You have got to be kidding me. I stood there with jaw DROPPED for the entire approach before it dawned on me to turn on the camera and catch it on short final... needless to say I was late.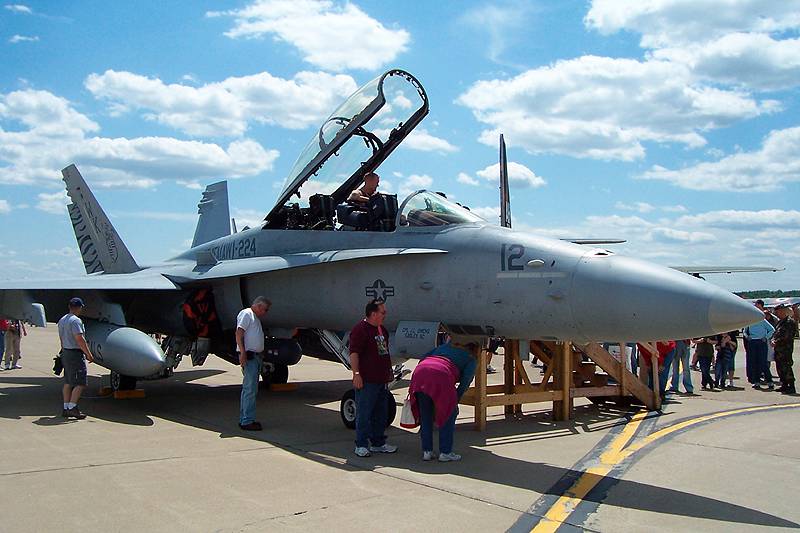 I was on a mission after that... to find a good vantage point to take pix of Steeler Air when it leaves... In my travels I came across these two F-18s from the "Bengals"... I found it ironic. Bengals in Steeler country.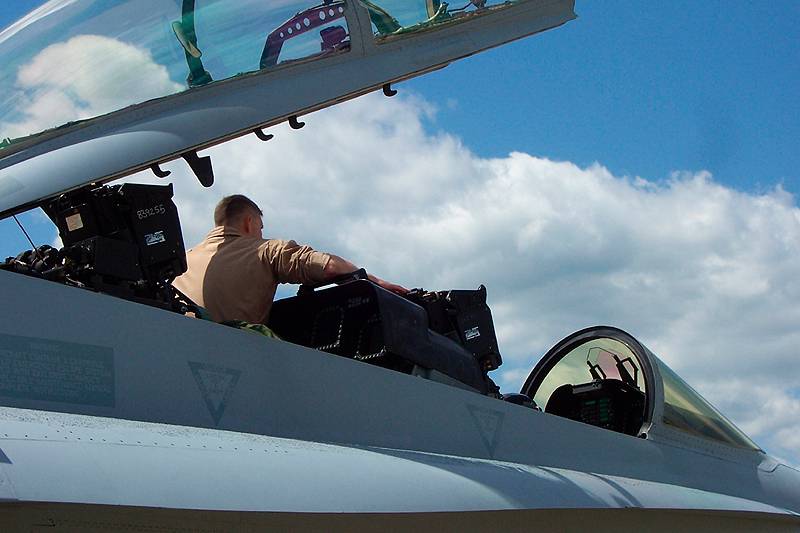 It's no tomcat, but the Superhornet seems to be a worthy replacement for what was my favorite of all fighters.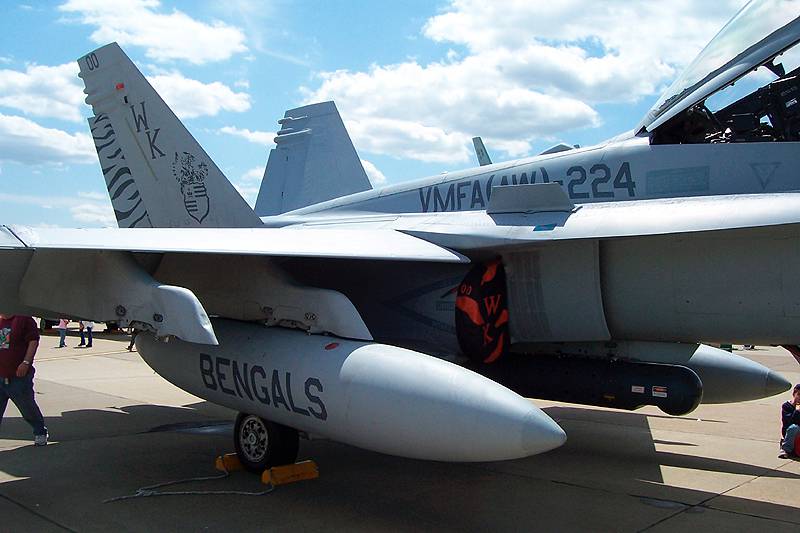 I wonder if these guys are from Cincinatti?
I did not ask... probably should have...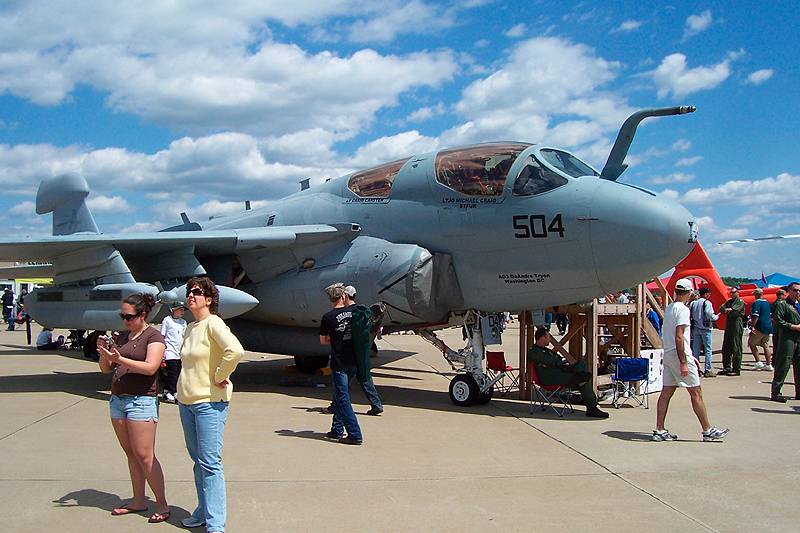 OK horndogs, stop looking at the girl. Look at the EA-6B Prowler!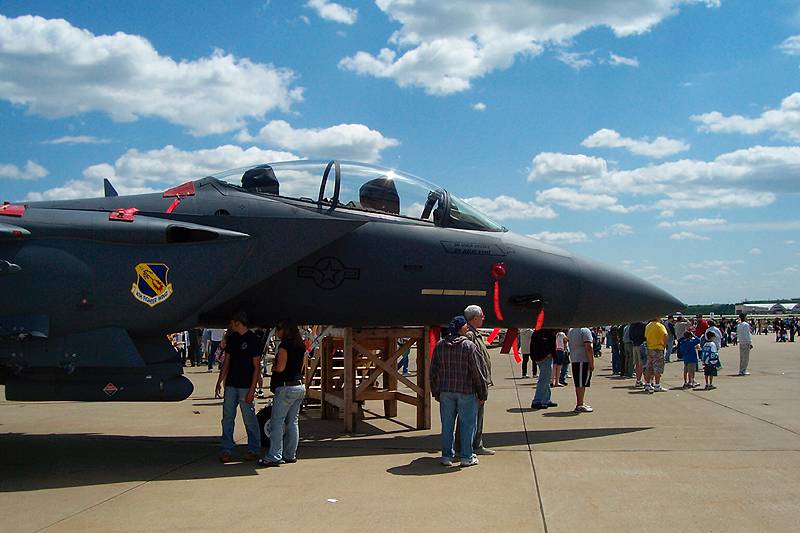 Still on my quest for a good vantage point, I ran across an F-15 Eagle... after seeing the F-22 in action, this baby seems a little underwhelming... though it still reminds me of Starscream, from Transformers fame...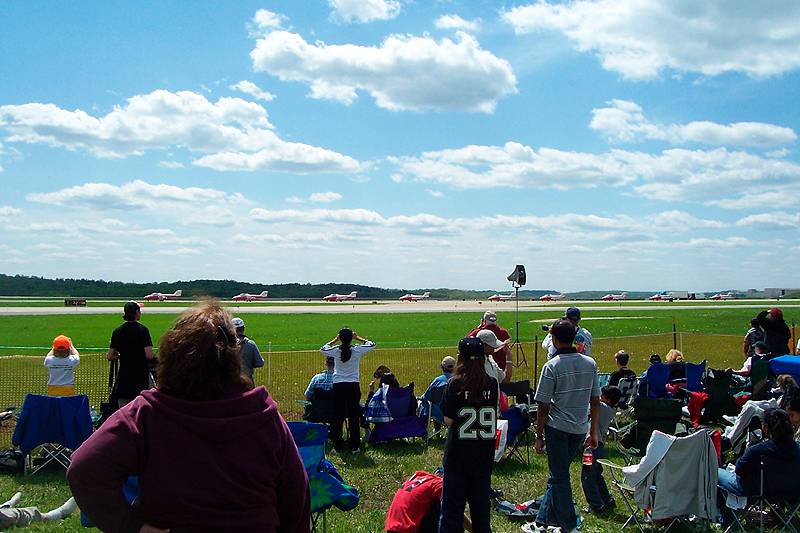 Almost an hour later... and unsuccessful at finding a spot to scope out Steeler Air, I went back to the family just in time for both the Snowbirds takeoff and the other star of the show, Sean D Tucker, and the Oracle biplane.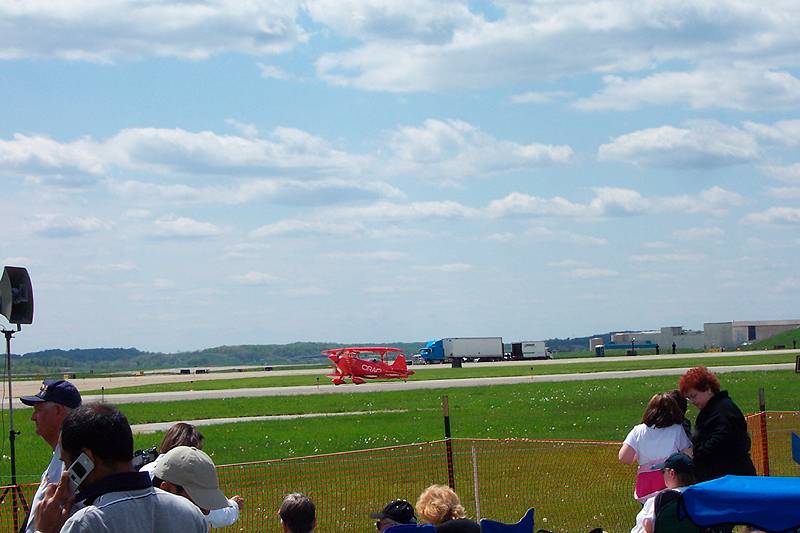 You wanna know who the best stunt pilot in the world is? THIS GUY... Sean Tucker is grace under fire in this thing... cutting ribbons merely 6 feet off the ground sideways, hanging by his prop, doing more rolls, and loops that would make the hardiest hornet pilot reach for the airsick bag.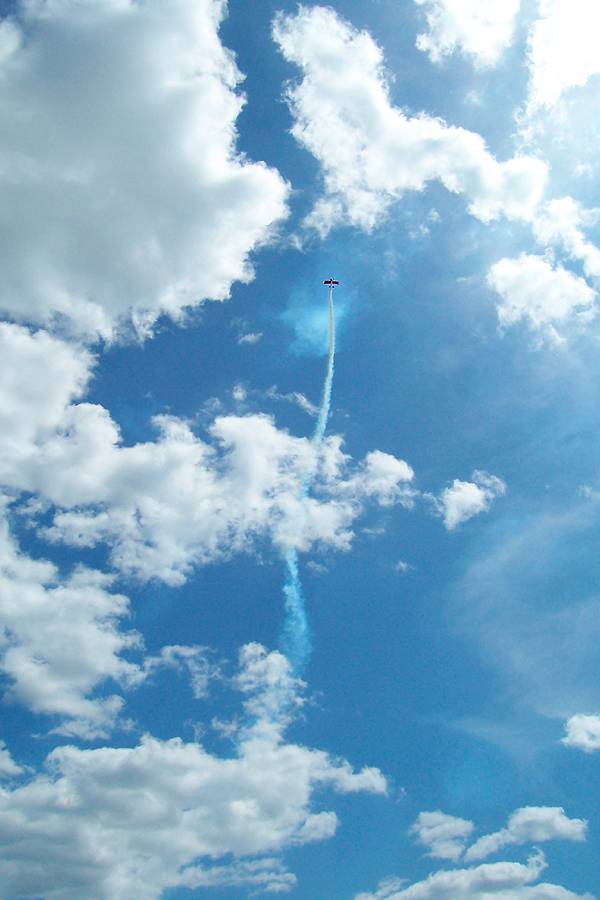 This guy regularly pulls 8 negative G's and up to 10 positive G's in the course of his intense 15 minute show! I gotta give him credit.. I'd have crashed by then...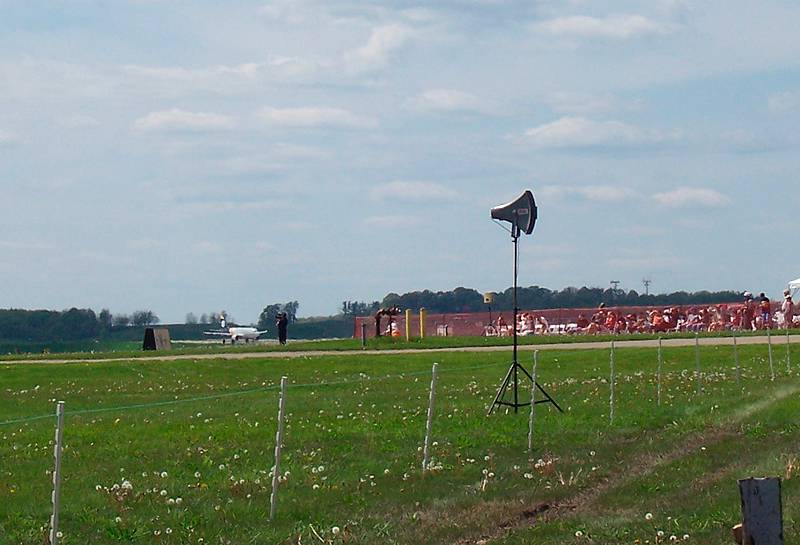 No sooner Sean landed, something caught my eye... STEELER AIR!!! I had no idea where it was going but I HAD to get a picture... I raced to the closest vantage point to runway 28R I could find (we were sitting by 28C), and snapped as many pictures as I could before people started complaining that they could not see the snowbirds coming in.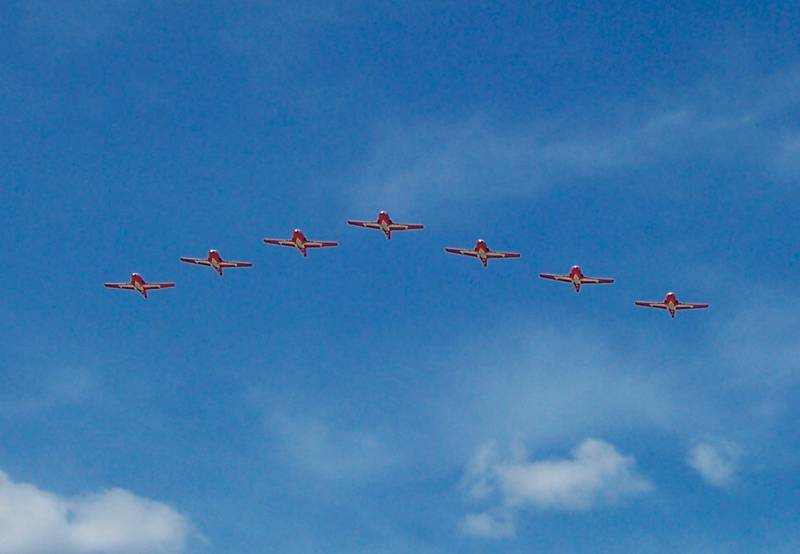 Oops, I had almost forgotten, I actually came here to see THEM.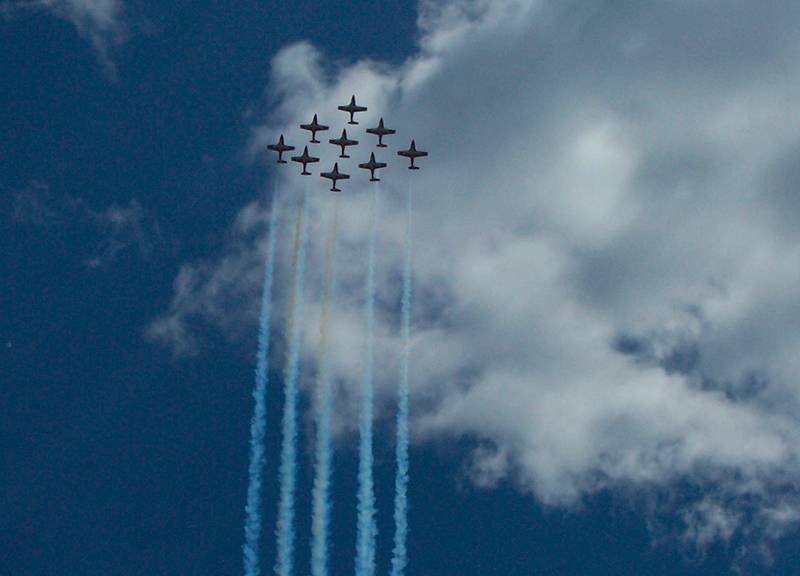 These guys are amazing... nine planes, 3 more then either the Blue Angels or the Thunderbirds, and their formations are even tighter!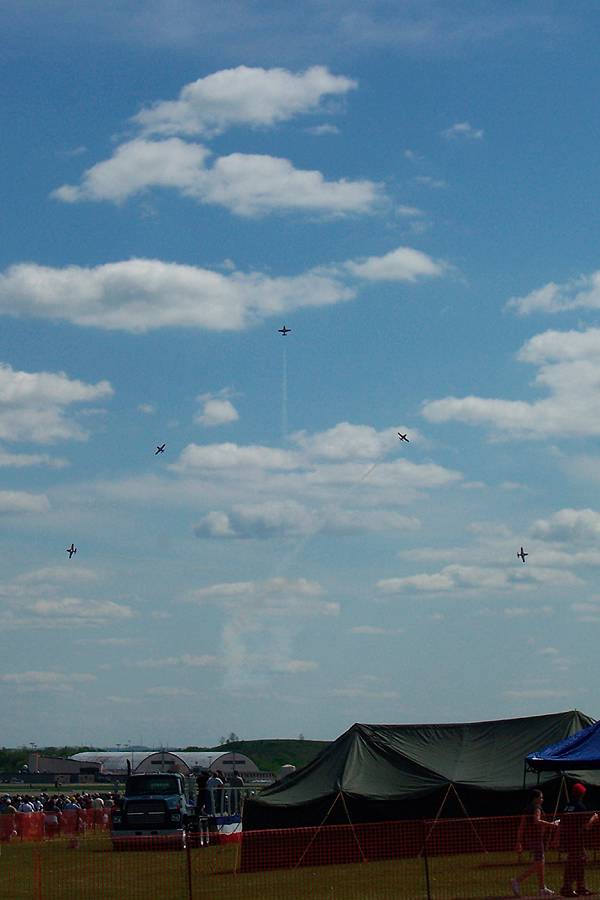 According to the announcer (yes he had a Canadian accent), they did 51 different moves and formations in their show, which lasted almost 45 minutes! Now this whole time Steeler Air was sitting at the threshold of 28R, waiting for clearance, but out of sight to me.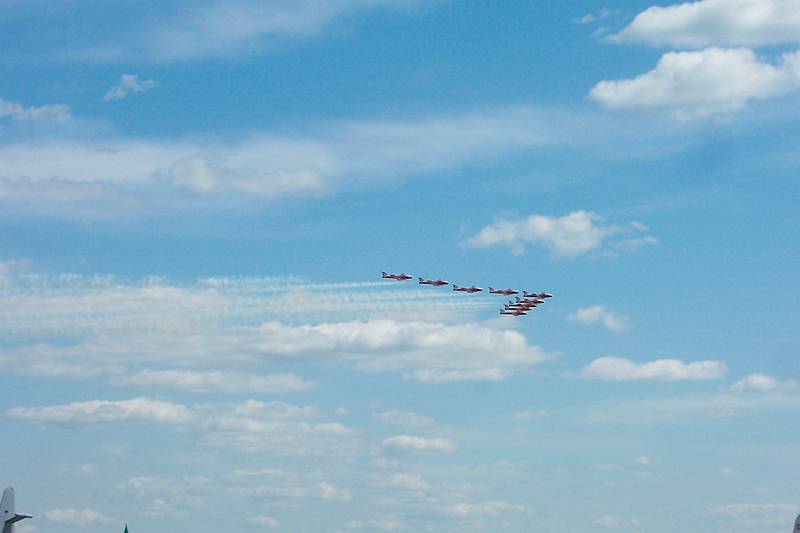 It was maddening... should I try to get to where I can see Steeler Air, or should I watch the Snowbirds... I KNEW as soon as they landed my dream airbus would be gone like a bat outa hell... late no less.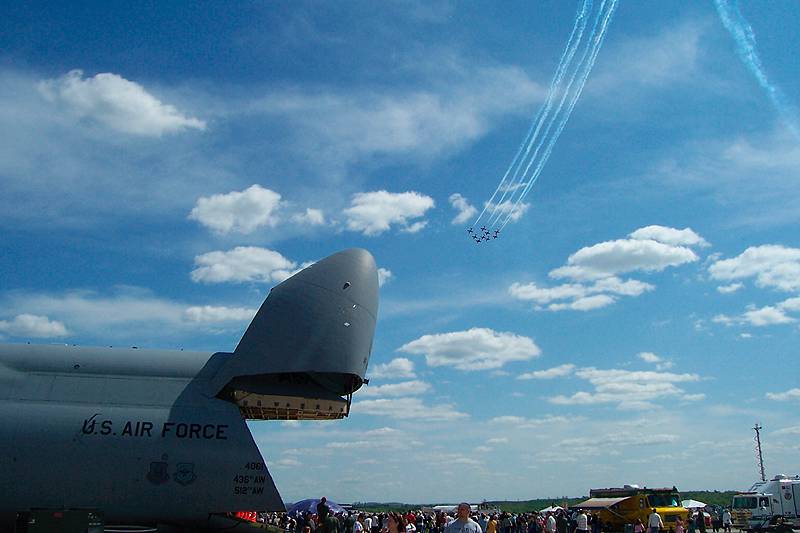 No sooner I thought it... it happened... the snowbirds finished up their awesome show... And a couple minutes later... a loud roar...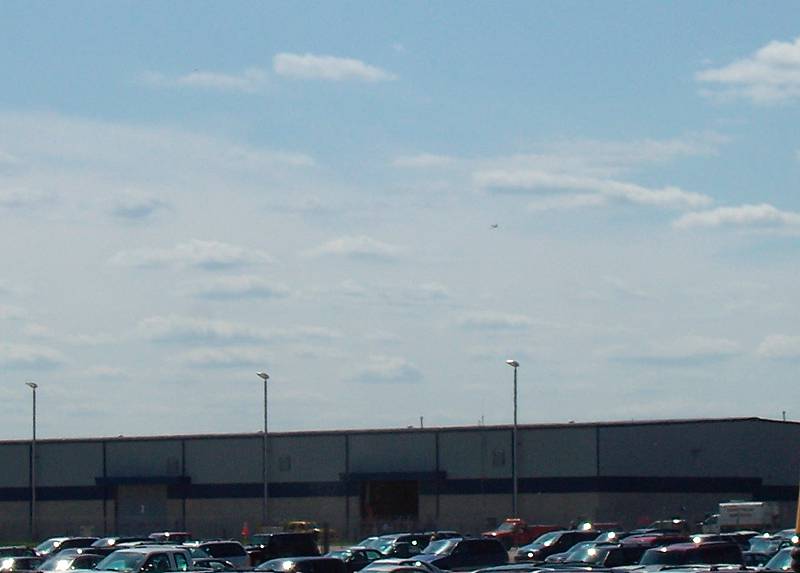 NOOOOOOOOOOOOOOOOOOOOOOOOOOO!!!!
I missed her! She's gone again!
Oh well... the airshow was spectacular... and back to the virtual Steeler Air for me, after being taunted and teased with a glimpse of the real thing.
I will catch you one day Steeler Air... mark my words... I will catch you!


Last edited by Drew B (belgeode) on Sun May 11, 2008 1:09 am, edited 1 time in total