as my old pc is still good and just needs a psu replacement i thought about juse building my own computer. i figured i could just by a new case and re use the hard drive and cd rom drives and salavage my graphics card. so all i would really need to buy is a new mobo psu and case and some new memory. so i would just like some input if anybody has any about this idea and if its a bright idea.
It's cheaper to build your own than to buy one and you get the best hardware not the type that the companies put it.
Be sure that the mobo supports the type of h/d that you now have.
You will also have to find the drivers for the optical drives and you need a new OS, you can't use the one you have now (MS won't let you).
This way you can have a much more powerful CPU.

well with the mobo im going to hold off for now. but atm im looking at this case
http://www.tigerdirect.com/applications/SearchTools/item-details.asp?EdpNo=1901962&csid=ITD&body=MAIN#detailspecs
its $25 with the savings and comes with a 450w psu. im just not sure if my mobo from my pavilion a630n will fit. im sure it will though i think atleast aha
Good luck with a $25 case and p/s.

yea i guess i get with what i pay for aha (and i had thoughts of the power supply just blowing up) but im trying to go for low cost as this is my first semi home built computer
how about this?
http://www.tigerdirect.com/applications/SearchTools/item-details.asp?EdpNo=3255391&CatId=1078
and this as a case
http://www.tigerdirect.com/applications/SearchTools/item-details.asp?EdpNo=4975128&Sku=Q131-3118
is that a better set up?
and is there anyway to fix this? the to metal fasteners on the left side have broken off and since then never found. is it a ig problem i should worry about or what?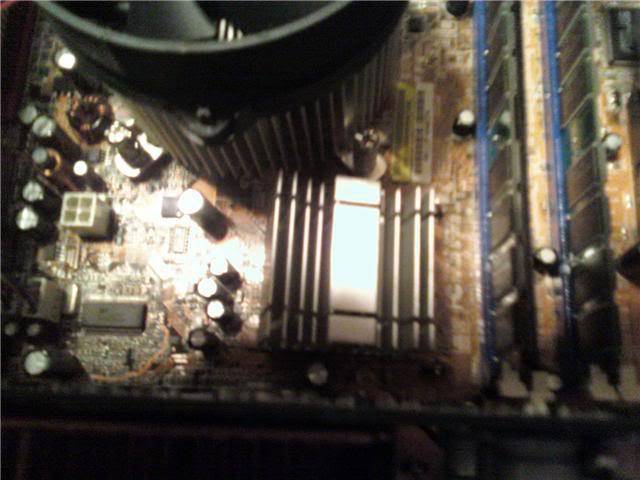 [/img]
A no major name is always a gamble.
Read the reviews low to high, you want to see how many people had the same problem with them when they were new.
The case should always be sealed like it was new, if not it changes the airflow and cooling isn't as good as it was designed for.
If you can close it and seal that side with duct tape then it will be like it was originally built.

okay i have found everything i *think*i should need to pull through.
i have found a clear acrylic case that houses a atx mobo and has 3 80mm fan located at the top side and rear.
i have looked into a 430w psu by thermaltake
a Asus M4N78 PRO Motherboard w/ AMD Athlon 64 X2 6000+ Processor (it was a bundle) and i have a 92mm thermal take cpu cooling fan (yes its the right socket)
and 2x1gb corsair memory.
i will be taking the 2 optical drives, graphics card, and memory reading slots and will be putting them into the new case.
as with the hard drive and the new mobo i have heard you need to reformat the hd and then once everything is installed in your new computer you must put a new os on it. so is this 100% true? if it is i can just salvage some things from my hd and then reformat it. no biggie.
Sounds good, good name p/s.
Depending on the OS I would go 4gig ram, if you go 64bit then all you want.
Good luck!

do you know if it is possible to get a genuine windows xp install disk?
Try tigerdirect, newegg or Amazon. ebay?

is there a way i can just do this without having to get a new copy of windows etc..? iv heard that you just have to go into your bios and enter a few things but idk if it is totally legit
No it isn't legit but it can be done.
http://www.tigerdirect.com/applications/SearchTools/item-details.asp?EdpNo=2552182&CatId=672
http://www.newegg.com/Product/Product.aspx?Item=N82E16832116511&cm_re=xp-_-32-116-511-_-Product
http://www.amazon.com/Microsoft-Windows-Home-System-Builders/dp/B000GWKNH2/ref=sr_1_10?ie=UTF8&s=software&qid=1259463592&sr=8-10

ok nvm turns out my brother gets a employee discount for windows 7
Great, get more ram. You'll need it.

ok now i just want to get everything triple checked. i already double checked it all aha.
heres the links to the mobo/processor set up
http://www.tigerdirect.com/applications/SearchTools/item-details.asp?EdpNo=5267730&CatId=2417
the cpu fan
http://www.tigerdirect.com/applications/searchtools/item-details.asp?EdpNo=2604150&
and the memory
http://www.newegg.com/Product/Product.aspx?Item=N82E16820145590
i just want to make sure those are all the correct parts and will work with a 430w psu. im planning on using just 1 hd and 2 optical drives.
I can't tell you if they are right for each other, you could call them and ask.
As for the p/s, check this link.
http://extreme.outervision.com/psucalculatorlite.jsp

ok heres the specs atm tell me what you think (im going or affordability and casual gaming).
NZXT M59 mid tower case
AMD Phenom 2 X3 720 2.8GHz processor
ASUS M4A785TD-V EVO motherboard
3GB DDR3 SDRAM 1333
PNY GeForce 7900GS Video card
360GB WD HD
ThermalTake purepower 500W PSU
over the years ill probably adding bits and pieces every year. so ill probably go from 3GB of ram to 8GB. and then eventually setup a dual video card setup.
okay one last thing well things.
1. At this point im now debating on whether to go with Ubuntu linux or WindowsXP, or Windows 7. the only downside to linux is im looking to play games on it. since there are ways to get around this its still out there. and windows well its windows.
2. Applying the thermal paste. i purchased some Dynex thermal paste(from bestbuy which i now know is not a true computer store) im just slightly worried on how to apply it. i have practiced applying it on my old computer but havent seemed to get it right just yet. i have heard o ways where you can just put a dab in the middle and let the heat sink do the work of spreading it or spreading it yourself with a card.
3. when i use a anti static wrist strap do i just attach it to the chassis to equalize the static electricity or whatever with the computer?
a reply would be of great help as its starting to come close to actually build it and im getting all of the minor technicalities out of the way.
1-W7, might as well be modern, if you buy 64bit you can add as much memory as you wish (within the capacity of the 500w p/s).
2-I never did it but I've read that using a credit card is a good way to go.
3-Just attach the alligator clip to the chassis and you'll be OK.

well the thing with windows 7 is that im pretty far out on my budget. However i do have a product key for windowsXP on my old computer that im sure still works i just dont have the actual disk so would there be anyway i could get a copy of windows xp from like microsoft support or am i kinda screwed here?
They will probably send you a copy ($20?) but I doubt that you will be able to use it on a new build since it's been used on an older machine first.
You can get a new copy at http://www.newegg.com/Product/ProductList.aspx?Submit=ENE&N=2060350368%201179212227&name=Home

i just finished building it and it works! im running ubuntu atm because i dont have w7 yet but im loving it! for some reason it feels alot better to build your own aha. only problem is that my I/O port didnt fit so ill have to find a way to fix that but oh well
It works but what can you do with it.
You can't use FSX???
Glad the machine is OK, nice job!

aha i wish i could just dont have windows. but hey i got a real bad problem. the sounds connectors(dont know hat there called) wont work i tried the front ports and the back ports but nothing works and sound is a big problem.
Ask at the Ubuntu forums, they need drivers that many manufacturers don't bother with.

okay so heres the deal. my brother bought me windows 7 with his student discount. now atm im downloading the iso image onto my desktop with ubuntu. however its an iso. so will i just burn this onto a disk and then boot my computer with it in?
Burn W7 as an ISO then use it as you would any new OS.
If it doesn't autoload go to the Linux equivalent of "My Computer" and double click the DVD drive icon.
I take it your going to have a dual boot or are you wiping out Linux.

my brother bought the student discount version however its an upgrade and i have a new computer so i did a clean install but the activation key didnt work. so i didnt enter one in and went along the installation then i looked around for a way to get around it and found a little trick people use. no it seems legit and its just a matter of changing the registry and what not so i did it and now my activation is fine but whats the legality of it? i mean i have older versions of windows just not on this machine so whats the problem?
hopefully this should be fine.
Not surprising that the key didn't work, that work-around was suggested (if I remember correctly) by MS when W7 came out.
Many of the downloaded versions didn't recognise their own keys.

phew thats a relief aha but now i get to put my computer to the test 🙂 games aha
okay i tried out fsx and it runs pretty smoothly with ultra high and loads fairly quick(i love fsx now aha) but every time i try to run it, it runs smooth but then i get these glitches every like few seconds to where it becomes unplayable. i tried updating my drivers so this should help it.
so i have run into a problem...
i bought tri channel memory when my board only supports dual channel so i cant use all three sticks together without having problems in games. so is there a way i can make it so 2 of the sticks will run in 1 channel and the other still be usable.
Maybe buy another stick but I would check with a tech forum or call the phone number Monday at www.crucial.com and ask to be sure.