FROM: Cirrus Air Human Resources Department
TO: Flying Public
WHEN: Website is Released
WHAT: Cirrus Air Announcement
SUBJECT: Airline opens its doors for Business
Hyde Park, IL - After countless months of development and reorganization, Cirrus Air announced on May 10th that as of May 21st the airline would once again take to the skies with new aircraft, destinations, site and organizational structure. "Through the efforts of countless people we have successfully reorganized our airline from fleet to our Pilot Operations Handbook, making Cirrus Air a more efficient and realistic airline", stated Jeremy Ballsmith Founder and CEO of Cirrus.
The improvements Cirrus has made in the past few months include a newly designed and reorganized website, implementation of phpvms system, addition of the Dash Q 400, introduction of over 10 new destinations including mainline services and a new regional service in the northeast based from Chicago Midway's Airport, and the reorganization of airline policy and procedure in our new Pilot Operations Handbook.
Dash Q 400 Introduced into service…
Cirrus Air has ordered 10 Dash Q 400 aircraft all assigned to regional routes throughout the northeast from Chicago Midway's airport. New destinations include Norfolk, Philadelphia, Cincinnati, Albany, Nashville, Detroit, Rochester and Toronto City Centre. Below is the livery design and screenshots of the new aircraft, due to be released within the month.

Please Note: Cirrus Air still operates a fleet of Airbus A320 and A319 aircraft along with the new Dash Q 400.
New Destinations…
Cirrus Air has added more than 13 new destinations throughout the US to its service. Major destinations include Burbank, San Diego, Tampa, Philadelphia, Norfolk, Toronto, Detroit, Nashville and many more! Below is an updated route map of both our mainline and regional services.
Mainline Service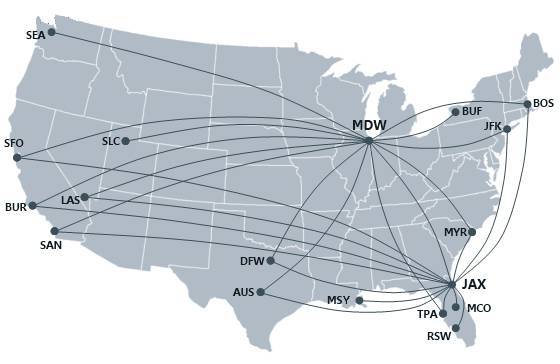 Regional Service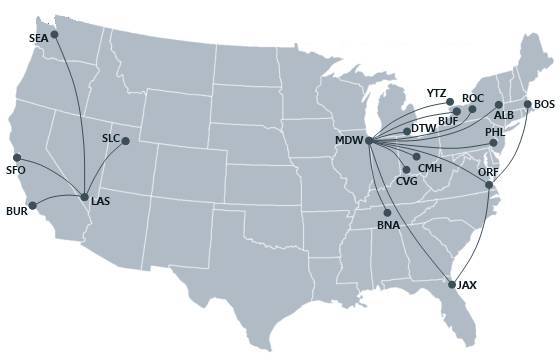 Organizational Reconstruction…
In an effort to make Cirrus Air a more appealing, professional and realistic virtual airline, Cirrus management has reorganized, added and removed many policies and regulations in our Pilot Operations Handbook for our pilots. Included is detailed information regarding employment, online flying, ranks, category of fleet, and corporate structure.
The Cirrus Management team now consists of a CEO, COO and Director of Human Resources. Currently we are collecting applications for those with experience interested in either the COO or Director of Human Resources Positions, see "Career Opportunities" below for details.
Cirrus Air has also created a new, "Open Door Policy" built to put our pilots in charge of airline development. We are interested in what our pilots want, think and what they wish for in their virtual airline, and we answer all wishes to the best of our abilities. This policy also allows pilots to create more of a one on one dialogue with all staff members.
Career Opportunities…
For those interested in a career at Cirrus Air, we have several positions that are available from management to line pilot positions. Below are the available positions, their descriptions and the way in which you can apply.

Chief Operations Officer
The Chief Operations Officer is directly responsible for the management of all departments within the airline. The COO is appointed by the CEO and is responsible for the day to day operations of the airline including schedules, fleet, destinations and public events. It is the responsibility of the COO to lead the airline in a manner befitting the airlines mission and overall goals. Responsibilities are outlined below.
1. Is responsible for managing all department heads including the Director of Human Resources.
2. Is responsible for developing the airlines schedules, destinations, routes and fleet.
3. In charge of organizing and developing all public events.
4. Working with the CEO to announce airline news and announcements.
5. In charge of the day to day operations of Cirrus Air.
Weekly time dedication: 10 Working Hours
How to Apply: Send resumes to hr@cirrusva.com
Director of Human Resources
The Director of Human Resources is responsible for the continued implementation of airline policy and regulation amongst pilots and staff. His/Her job is also to ensure that all members are contributing to Cirrus and meeting the requirements of membership. Below are the outlined job responsibilities.
1. Is responsible for maintaining order amongst members in the airline.
2. Is responsible for the issuance of pilot welcome, rejection, termination and status notifications and any other emails sent to members including news and announcements.
3. Is responsible for accepting, holding or rejecting new pilots into Cirrus Air.
4. Managing all Leave Of Absences as well as 30 day termination of new members.
5. Implementing pilot related achievements and progress.
6. Posting all Press Releases on news outlets and forums throughout the community.
Weekly time dedication: 10 Working Hours
How to Apply: Send resumes to hr@cirrusva.com

Line Pilots
There are two opportunities available in pilot openings; these are the Dash and Airbus categories. All members who apply with no prior experience or those who wish to work their way from the ground up, they are eligible for the Dash Category only. For those with more than 50 hours of verifiable past experience are eligible to apply for the Airbus Category. Below is a list of requirements for people who wish to apply as pilot at Cirrus Air.
1. Must be 13 years of age or older, Cirrus Air operates in accordance with COPPA Laws.
2. Must have a legal copy of Flight Simulator
3. Must be able to read, write, speak and fluently understand the English language.
4. Must be able to meet the activity requirement of 2 bids 2 PiReps monthly.
5. Must agree to the Terms of Use, and agree to the current POH.
How to Apply: Through our website (www.cirrusva.com)
Conclusion…
In conclusion we truly hope that you are impressed with the tremendous amount of progress we have made in an effort to reorganize and improve Cirrus Air as a whole. We invite you to visit our website at our new location at www.cirrusva.com and look forward to your contacting us in regards to your career at Cirrus Air!
Happy Landings,
Cirrus Air Human Resources Department
Plenty of information in this advertisement / introduction and that's what we want. However:
2. Must have a legal copy of Flight Simulator
You fail to mention which one. Some VAs nowadays cater for FSX only.
...and:
1. Must be 13 years of age...
3. Must be able to read, write, speak and fluently understand the English language.
Those two requirements together could rightly be classified as an oxymoron. Perhaps including "Absolutely NO texting" and "Capitalization and Punctuation are mandatory in written correspondence" would be more appropriate.
Besides those gripes of mine you appear to have worked hard and put a lot of thought into the presentation of Cirrus Air. I wish you and your staff the best of luck 😀
Well thanks for the clarification JB. I run both FS9 and FSX on my system but if I were to join a VA, I'd rather use FS9. One day when I finally am able to distinguish between the accelerator and the brakes (and am able to locate that elusive clutch), I WILL join a VA and Cirrus Air sounds like a good choice.
Here's another query which I'm sure many prospective pilots would like an answer to:
On the Cirrus Air homepage you list Vatsim as one of your affiliates. Does this mean that Vatsim is mandatory?
Not every flightsimmer wants to use Vatsim just as many simmers prefer FS9 over FSX.
Happy days 🍻
VATSIM Is NOT required by our pilots. It is suggested as a "better experience" but again not required. Truthfully I am not a VATSIM flying pilot, probably never will be because I get my ATC fix from real-world flying, but other pilots are and Cirrus would like to make flying online an option to them.
In regards to our affilliation, technically we are not. The requirements to become a VATSIM affilliate or "partner va" are steep and until we meet those requirements we will not be an official affilliate. However, I put their logo on the homepage just to show pilots that we will entertain VATSIM flying, hope for VATSIM flyers and look forward to the day we do become a official affilliate of VATSIM.
I look forward to the day you join our team!
Hope this answers your question.