SEOUL – Korean Air Virtual has announced that today is the official start of business operations. Coming from real world pilots and professional staff members, Korean Air Virtual strives to be one of the most unique Virtual Airlines in the industry. "We hope to make gains that allow us to soar with the best in the industry," says CEO Jonathan Lamb. "Planning has been an integral part of this virtual airline and we constantly strive to improve daily."
Korean Air Virtual (KAL) was founded in early 2011. Deciding that there was not a virtual airline that properly represented Korean Air, the project was agreed upon by all founding staff. Following the agreement to start working on the virtual airline, Korean Air Virtual was put through its paces. With dedication, a custom PHP/CSS website was formed and a custom ACARS program is currently being designed. Lots of hard work was done to bring this virtual airline to life.

"We feel that we have created a truly unique virtual airline that exemplifies what a VA should be; a stress free environment where each pilot can choose what, when, where, and how to fly," says Jonathan Lamb. "We strive to maintain a VA that is professional, relaxed, fun, and enjoyable, all at the same time."
Korean Air Virtual operates a wide variety of fleet aircraft. This includes the Airbus A300, A330-200, A330-300, Boeing 737-700, 737-800, 737-900, 747-400, 777-200 and the 777-300. Korean Air also has orders for the legendary Airbus A380-800, which will begin service in June of 2011, and the awe inspiring Boeing 787-8.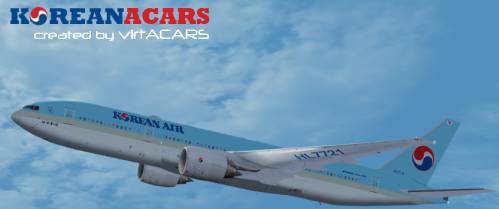 Korean Air Virtual offers many things that lots of other VA's do not. Perhaps one of their biggest assets is Korean ACARS, their fully custom built ACARS reporting system. This is a truly unique system that will change the face of pilot reports. Pilot can expect Korean ACARS to be released within two weeks. Korean Air Virtual boasts a fully modern fleet. Their freeware aircraft come fully fitted with real world sounds and panels. Korean Air Virtual also offers a virtual currency system. Rather than just accumulating virtual money, pilots will have the opportunity to spend the money they earn on many different things, such as codeshare bidding.
So what are you waiting for? Check us out at http://www.koreanva.org.
Stop by and look around. You just might like what you find!