Pakistan Int'l Airlines Simulations Virtual Ranked 2nd Worldwide & Monthly Report June 2012
So another month gets to an end. June 2012 has been noted to be the golden month for Pakistan International Airlines Simulation Virtual again. This month was a busy and 24/7 activity month for Pakistan international airlines simulation virtual.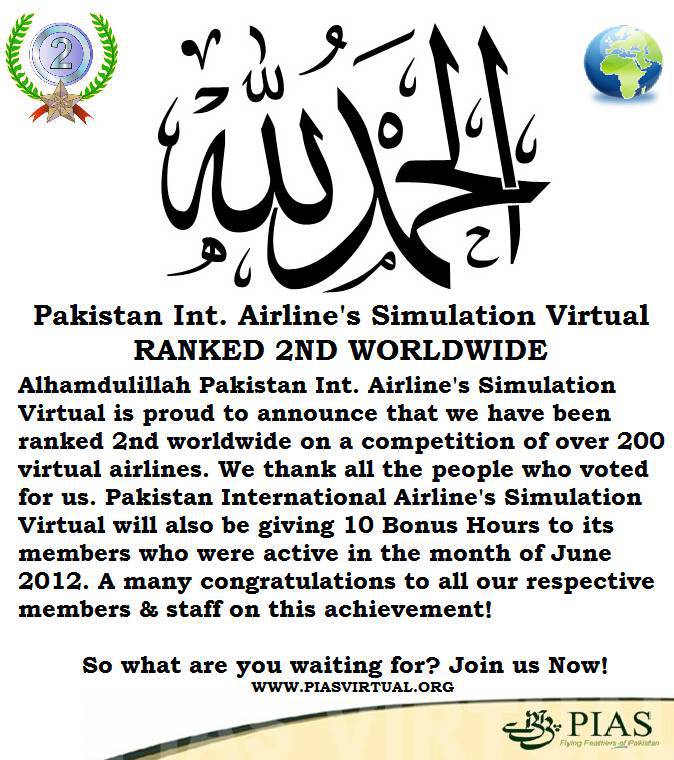 Most importantly, MashAllah by the Grace of Allah Pakistan International Airline's Simulation Virtual has been ranked 2nd Worldwide in a worldwide competion amongst over200 virtual airlines. We secured a total of 73 votes. We thank all who voted for us! For our members we are giving all our active members who were active in June 2012 10 Bonus Hours as a token of thanks!
We also remained in 110 - 120's position at VACentral. This month our members recorded a total of 40 PIREPs which is a great improvement as compared to the last months report Last month we had 36 PIREPs but this month we have received 4 more PIREPs. This month PIAS Virtual has received a total of 8 new pilots. Congratulations to all pilots and staff for achieving this.
For June 2012 the pilot of the month award like May 2012 again goes to Waqar Imran (PIA11037) who recorded the most hours (5 Hours) & miles flown (5449 Miles). this month. He has shown keen interest in the flying operations of PIAS Virtual and has hopefully enjoyed his virtual career with us. He has been awarded 50 bonus hours.
Earlier I informed you about Fahad Usmani who was the Director Corporate Planning at PIAS Virtual Staff but now he has been promoted to Director Human ResourceAdministration & Control as well as he is the Director Crew Training. He was promoted this month after his outstanding performance! I would like to appreciate his performance.
I would also like to introduce you to Danish Farid who has been kept as the Manager Flight Operations. Danish will be responsible for all the PIREPs filed throughout the month and give the report to the admin in the end of the month. Danish can be emailed at his official PIAS Virtual ID: danish@piasvirtual.org.
For this month we are having 2 ongoing events which are F1 Season Event which goes on till November 2012 and the second one is the Dubai Shopping Festival Virtual Flights 2012 which goes on till 14th July 2012. We had an event finished this month regarding "Pakistan vs Sri Lanka Cricket Flights 2012" for which the winner is Danish Farid. Danish Farid had the most number of virtual flights for the event and he has been awarded with payware scenery.
InshAllah PIAS Virtual shall start the hajj flights as well probably in Octobers end or November as per the schedule of PIA.
Our virtual airline community continues to grow as we are getting new members day by day and specially our staff dedication to PIAS is highly appreciated for which I am really grateful to them specially Fahad Usmani.
Keep up the good work members and staff and lets see what July 2012 brings.
Ahad Imran
Administration PIAS Virtual Pakistan
www.piasvirtual.org[/img]