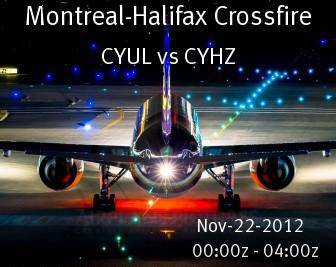 The Montreal FIR and Moncton FIR are poised for what will be an epic crossfire event between the Montreal Trudeau International Airport (CYUL) and the Halifax Stanfield International Airport (CYHZ).
As FIRs staff their respective airports from the ground up for this four hour event, all virtual airline & pilots are invited to pick their favourite departure airport (CYHZ or CYUL) and fly to the other.
Your pilot skill level doesn't matter! Your choice of aircraft is irrelevant! Your carrier of choice is up to you! Join the skies over Eastern Canada on the
VATSIM
network, challenge the skills of the controllers and score a point for your favourite departure airport!!
Hope you see you on November 22nd!
PREFERRED ROUTES
CYHZ-CYUL: CYHZ3 ARDEE MLT VLV OMBRE2
CYUL-CYHZ: TRUDO2 YJN RABIK Q975 ANTOV YZX CETTY FUNDY7