I just finished this one - I thought since having the Bush/Cheney campaign plane, we might need this one

Chris
Chris,
I have Adobe Photoshop 7.01, do you have a place that I can go to learn how to paint.
You are doing such a super job!

Thanks for your kind remarks, Radarman.
I taught myself to repaint. You also need DXTbmp from www.mnwright.btinternet.co.uk to convert the files
I really don't know how to explain it. If you'd like to repaint something, feel free to send it to me, and maybe I can give you some helpful advice.
Chris 😀
Thanks, with the (art) talent I don't have I may give it a go. I will contact you if I get far enough, thanks again.

Those are very cool indeed. I love the open source that FS9 gives us to work with. Like no other program!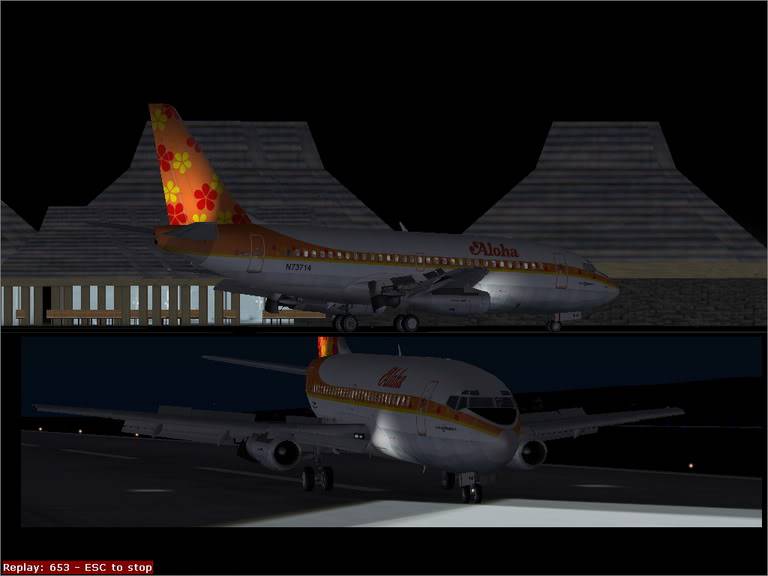 Split Screen landing w/ Active Camera.
Chris, you should ask if you can get your own forum here, where people can request repaints. I think you are doing a great job!
Thanks for your kind comments everyone! 😀
Fly Away Simulation has another painter!!
Chris, I love those repaints. They are awesome ❗
Hi Chris - been following your repaints with interest - one tip - when you take your screenshots - rather than with the sun/light overhead - set your time in the morning or afternoon then none of your repaint will be in shadow - will greatly enhance the look of your repaint.(You can do it when you have the shot on screen with Alt/world/time.
I also use F1View for getting angles of view - it's a boon for checking out your repaints.
Nevertheless your repaints are very good.
My latest repaint, for a friend - involving a color I don't like working with black is below -
Very nice repaint, Dave. Thanks for the advice on the screenshots.
Chris 🍻