Is this AMD Athlon 64 3800+ Newcastle 1GHz FSB Socket 939 Processor Model ADA3800AWBOX - Retail
Compatible with this
MSI K8N NEO2 PLATINUM Socket 939 NVIDIA nForce3 Ultra ATX AMD Motherboard - Retail
Also, will this mothboard run that Processor at it's maximum speed, or is it too weak?
I'm kind of in a bind, My Vid card is AGP, and there's not a lot of AGP Mobos
I would say, no problem FEM
With the introduction of the Socket-939 variant of the Athlon 64 recently, both VIA and NVIDIA have released updated chipsets for the new package. The nForce 3 Ultra shares many of the features found in the nForce 3 250GB, except now the HyperTransport speed has been bumped from 800MHz to 1GHz.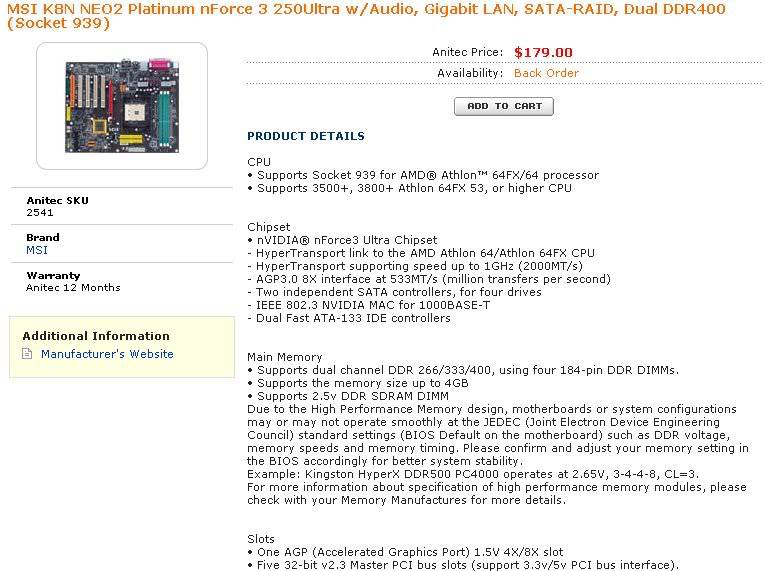 Yes that should work no problem.
Also, there is a TON of AGP motherboards. They just have to be nForce 3 if you are wanting a new type of motherboard, nForce 2 if a little older. nForce 4 are all PCI-express.
Sorry but this is off the topic.
Michael_H what Airline is that [The 737 picture] ❓
Hello JVD,
Here it is... 😀