Check this cool streaming video of a dc-9 using reverse to back from the gate!! 😀
Nice video 👍 . I like that side for videos, good collection 😀
I thought pilots were not aloud to do that.Cool vid
That's actually a surprisingly common thing for places like my home airport LGA. Planes like DC-9's, Fokkers, MD-80s, any of the ones with the engines mounted like that can actually pushback under their own power, and do pretty often to save time.
Elkinallen,
That was pretty good. But up till the time I saw the ground guide I was wondering how the pilot knew where to stop at. Good video.
Thanks
I didn't know pilots were aloud to do that. What about at a big airport like LAX. Would DC-9s do it there?
Seen this done many times in person. American Airlines F-100's especially. Everytime I see it executed it is cool to stop and watch a bit. This is what's called a 'Powerback' in the biz. Not a Pushback as indicated in the videos title line. -The flashing of the nose gear lights is the signal from the pilot that he has understood the marshalling agent's command to stop and as a response to the marshall's salute which you noticed occurs just before the flash. The salute is the FAA standard method of transferring command of the aircraft from the marshall to the pilot. I have worked for American since 1999 and have executed this many times. It is a very important job only assigned to senior people even though it looks fairly easy to do in terms of the ground crew responsibility. I am not a pilot but am a senior AA ramp agent at KAUS. Was a down station A&P for years but let go of that hassle years back. I could write a book on all that I have seen at the airport. Some you would believe and some you would not. The good, bad, ugly. -All true. Someday I might post on a few incidents that would probably interest many here who are so interested in aviation. As I say, if I ever do, prepare to believe the unbelieveable.
BTW, notice how the A/C marshall brought the aircraft forward before it started back? ..This is standard operating procedure. This video demonstrates a well executed powerback. In addition I can say that this is not a Douglas DC-9. This is an MD80, or 88. --It's plain to see.
-orlandogeorge
[quote="OrlandoGeorge"]In addition I can say that this is not a Douglas DC-9. This is an MD80, or 88. --It's plain to see.
quote]
Um, no. It is a DC-9.
edr1073, I was kinda wondering that too!!!?!?! Hmmm?
Weather or not a plane is allowed to do that depends on the : POH, airport manager, ops specs?GOM all that kinda stuff! You won't see wing mounted planes doing it!!! I think this is a 'no way' type of deal.
When I was in Norfolk Va waiting for a flight, I saw an Md-80 using reverse to back up. It blasted a baggage cart into another plane!!! 😳
That's kickass! I'm gonna have to try it in FS9 tonite
OrlandoGeorge wrote:

I could write a book on all that I have seen at the airport
I'm a member of a virtual airline and one of the other guys works at a London airport - the stories he's given us are great!
Would you consider writing something for us?
Dave
horrgakx,
First of all, looks like I was wrong about the MD-88 / DC9 issue. There are so many variants out now with this config. DC9 stretched body etc. There is even one called the DC-9-83 (MD-83) which confuses plane spotters even more as it is a DC9 that looks exactly like an MD-88. Only the nose cone gives its true identity away and upon further inspection and a check of ACARS I see that what is in this video we saw was indeed the DC-9. EX:Wichita based Ryan Int'l Airlines accepted its first MD-80 recently as the ex-Alaska Airlines DC-09-83. Ryan International McDonnall Douglas DC-9-83 (MD-83) N932AS * msn/49233/1203.
Yes, I can post on some of the odd events that I have witnessed at the airports where I have worked but it's hard to convey the situational awareness factor in writing here. Some things are as simple as simply pressurizing a 727 and leaving it to do some other work, only to go back and find that the door had later been secured, and therefore returning to a pressurized running aircraft that nobody can get into. -To the outer extreme of a runaway Delta B-727 that broke its mooring in high winds at KBDL and rolled across the ramp and crashed into a fence line taking out phone poles, street lamps and continuing on into a rent-a-car lot where it destroyed many new automobiles. -Ramp agents from all airlines were out there working together and running beside it trying to stop her. Throwing anything they possibly could behind the wheels and tires in an effort to get it stopped. All she did was to jump every object placed in her way as the winds were to strong. The B727 slammed tail first and was AOG for days. Delta wanted and got a full report including written and verbal statements from me and everybody else who had seen it. -There are many such occurances but all would require a more vivid/comprehensive description to get the feel for as most incidents occur as an unfortunate train of circumstantial error(s).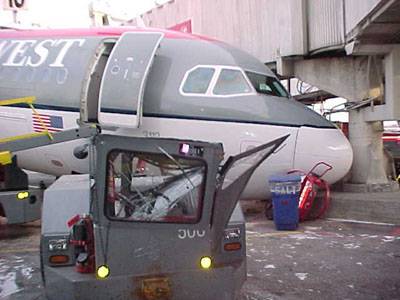 Toto. ...We're not in Kansas anymore.
Neat picture, and great story George!
Would maybe a larger plane like a 737 or A320 do that like in the movie?
Great, thanks for that!! Be welcome to post more 🙂
Mypilot, if you mean a 737 or a-320 doing a powerback, I'd guess that they MIGHT be able to, but they can't because of the great risk of sucking dust/ground crew/small children/puppies into the engines. They're so low to the ground.
mypilot wrote:

Would maybe a larger plane like a 737 or A320 do that like in the movie?
Hmmmm, i wonder...