Landing is sometime Good but mostly crashes in the Bombardier Lear Jet! Can not figure how to lower speed with Pitch! The instructors in the game are not a whole lot of help with their disgusting humor!!!! To slow speed should I pullback on stick and use which pitch ..up or down ... which is confusing to ... to go down you use the top part of the switch. I have been using the top part to lower my Altitude, pull back on stick to slow speed at the same time but finally approach I am at over 300kn. Thanks for helping a stupid newbie!!! Another ? .. I bought this game about 2 weeks ago .... do I need the F9 upgrade???
Tubeamp,
One of the deals with the Lear is that it spools down really slowly so when you pilot it you must take that well into account. I think you are on the right track with the ideas you have generally speaking. Somebody who flys the Lear mostly will pop up in here before to long to help you out.
BTW, what exactly do you mean by "do I need the F9 upgrade???"
Real pilots don't start with more complex aircraft, they start with simple planes like the Cessna 172, become proficient with that, earn there wings and build on that. Just like real pilots it is much easier to learn the basics of flight starting with the Cessna 172. Follow the lessons and learn to fly with it until you are good with it and progress from there.
I know jets are attractive to a lot of people but do it the old fashioned was and you will have a lot less trouble learning.
It is a DL in my folder I have not installed yet. Flight Simulator 9, see people talking about in here often ... not sure what it will do or if I even need it!! Thanks for the reply !!!!!
Yes, you can install the FS9 (FS2004) update. It will add some bridges and stuff like that.
Actually I have been flying a Caravan for two weeks, just getting in to something I always wanted to fly .. a Lear Jet!!! I am not a real pilot and don't plan on it. Just playing a game for now with a stupid question that I can't figure out in the flight lessons. I realize this is more than a game to most in here and will be for me when I learn a a tremendous amount of info. I have had lots of passenger time in the Cessna Caravan and love that plane .... Flew out of Walker Field in Grand Junction, Colorado to different Gas Well sites in the Rocky Mountains. Having to low fly the landing strip to scatter cattle or whatever before we landed. Their was always a 4-wheel drive Jeep waiting on us to take us the rest of the way. That was in 1980 - 1982 before the bottom dropped out of oil! What a Great job when they Fly you to work and back!!
tubeamp wrote:

I realize this is more than a game to most in here and will be for me when I learn a a tremendous amount of info.
I wasn't trying to be critical of you, just stating a fact. It much easier to learn the basics on a slower less complicated plane. Once you master those basics it is much easier to move up to a higher performance aircraft.
The nice thing about the sim is when you make a mistake no one gets hurt.🙂
It sounds like that was a nice experience in flying to work, not all that many people get to do that.
When I set up to land I set the throttle for the speed I want to fly at and then start trimming the nose up so that I don't have to keep a lot of back pressure on the stick. In my case I usually have it trimmed where the stick is neutral. I don't know what the over the fence speed (end of runway) is on the Lear but try to achieve that speed early enough to get everything setup for your landing. Controlling your rate of decent then becomes mostly a product of power. If you are coming in too low add a little power, too high decrease the power. Adding or decreasing power will pitch the nose up or down without any big changes in speed.
When you cross the end of the runway cut the throttle and as you get close to the surface of the runway bring the nose up enough to start scrubbing off speed. When all goes well you will touchdown near stalling speed and lightly on the main gear. Just let the nose then drop slowly to the runway.
With practice you should be able to grease it in.🙂
I knew were a Gentleman WarHawk ... everyone in here seems to be!!! Thanks for taken time out for the tips. I have been a member of many forums in the last 7 years and have never!! Seen one like this .... You guys are the Greatest and I will think a little more before I post!! Thanks a million!!
Yo Tubeamp,
Judging from the way you described your adventures in the Cessna Grand Caravan and all the scattering cattle...lol, it's obvious that you've got the bug for aviation and the passion for flying. That's all you really need to stand in good stead here at Fly Away. -You are a good dude. Keep on keeping on and all will be well ..because it already is. Welcome aboard bud. 🙂 -Soon you will be setting down the heavy iron smooth as a real-worlder.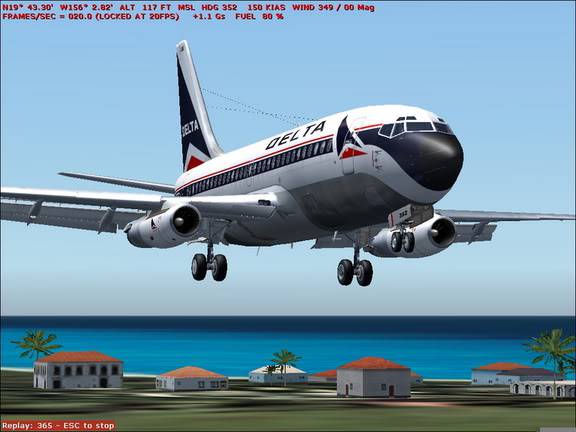 Easy does it, ...and .....touchdown!! 🙂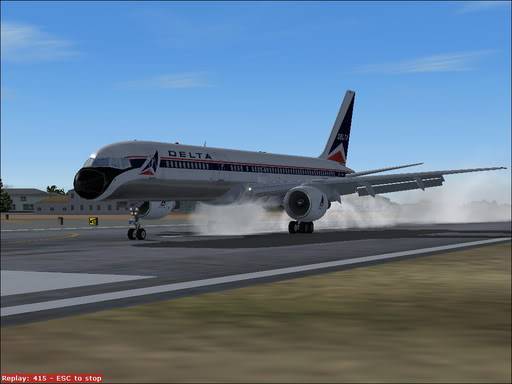 Last edited by George (OrlandoGeorge) on Mon Sep 19, 2005 6:25 am, edited 2 times in total
tubeamp wrote:

I knew were a Gentleman WarHawk ... everyone in here seems to be!!! Thanks for taken time out for the tips.
Just remember I don't fly jets, if the procedure is a little different on the Lear hopefully soneone who flys it will check in. That should be pretty basic for anything you fly, but with jets things happen a lot quicker.
That's why I hate the lear jet, there's no slowing that thing down!

And I'm not a rookie anymore (although by far not an expert). You *really* have to watch your rate of descent, keep the throttles nice and laid back and pitch, trim, pitch, trim. I don't think I've flown it in a year, might take another jab at it now though, when I'm a little better 😛
Hi Tubeamp and welcome. Like you I spent many happy ? years in the oil patch when it was really busy - mostly in the middle east but also as a "limey" 😎 in Texas and Oklahoma - did most of my flying in 'copters. Joined Fly Away a few weeks ago and wirh FS found it best to go through the flying lessons and start flying with the smaller aircraft. You'll get lots of help here - I can now lift and plant a 737 smoothly on the runway - twiddling all the (right) knobs etc as I go 😀
tubeamp wrote:

Thanks for taken time out for the tips.
One more tip that might help you. Most larger airports have at least one runway that uses a system of lights to help you maintain your approach on glide slope. Have you noticed two sets of lights to the left of the runway that are either both red, both white or one is red and one is white?
Both red means you are too low and both white mean you are too high, try and keep one white and one red as you are on your final approach and you are on the proper glide path.
I fly the default Lear Jet all the time, and the pieces of advice I can offer are these:
Use the autothrottle, and start to slow down before you start your descent. I use the autothrottle on take off to avoid going too fast, and use it continuously throughout the flight. For instance, if I'm flying at FL330 and Mach .81, I'll bring the A/T back to Mach .77 for the descent. At FL260, I'll switch over to IAS and bring it back to 270 KIAS. At 12,000 feet, I'll bring it down to about 240 KIAS, so that I'm below 250 KIAS when I go below 10,000 feet. Once I'm below 250 KIAS, I'll start deploying flaps, and bringing the A/T down in increments of 50 knots, with a goal of arriving at pattern altitude with full flaps and gear down at 140 KIAS. Once I'm leveled off at pattern altitude, I start controlling the throttle manually (usually N1 at about 55%), finally pulling it back to about 44% on the glide slope. I try to cross the threshold between 130 and 140 KIAs.
Start slowing down about 150 miles out, so you have plenty of time to descend without building up too much speed. If you allow enough time and distance, you can level off and lose some speed before you continue the descent.
Don't use the Autodeploy mode for the spoilers; they will cause the plane to jump back up off the runway.
Works for me.
Ed
That's what I am talking about !!! Thank each of you especially the two Guest !!!! I got her going now, even the 737.
Where in Texas did you work Guest ? I worked the Permian Basin, Odessa back to New Mexico also Laredo, TX. Spent a few years in Colorado, Wyoming, Utah. Mostly right here in Lovington, NM near Hobbs, NM. The oil field is booming again, lots of work around here.
I like the Props best but the LearJet gets gets me to my old spots a lot faster. I use it as a scenery ride, but geez that thing is a Rocket. Your right about a long approach ... something you absouluty must have patience for. I have Had a tremendous amount of Fun today!!!!!!!! Thanks Guys !!!! By the way, I have not mention this yet. Lovington is the birth place of Jimmy Franklin .... he was the same age as me. We went to High school together. He was the Greatest was he not?? I followed his air shows beginning in the 70's and have many pictures of him and his Waco. Maybe I can figure out a way you could see them .... Thanks again