I don't think I added Omega-Air Virtual Airlines http://www.omega-air.org to this sticky thread.
Omega-Air is an international 21st century super-set of the old Air America. We fly almost anything, anywhere.
We fly GA aircraft, commercial jets and turboprops, military cargo planes, helicopters and we ferry combat aircraft. (No combat flying) We have planes with our own livery, but also have a means of flying other liveries. In other words, you don't have to give up your favorite plane to fly with us.
We operate hubs in North and South America, Europe, Australia, Africa and the Indian Ocean. Pilots are not locked into flying out of an assigned hub. On weekends, we also allow our pilots to log time for training, test flights and even weekend sight seeing. We promise, you won't be bored.
Our site has an automated pilot report (pirep) and your flights are posted to your individual pilot log, as well as an overall mission board the shows our collective effort.
We have full-featured forums and screen shot galleries where we can discuss our activities as well a show them.
While we encourage online flying on Vatsim, we do not require it.
While we require only one pirep per month, it benefits everyone involved to be enthusiastic and fly more often. After all, it's fun.
You are invited to visit our site at the URL above.
If you have any questions, feel free to PM me or email me at ops<at>omega-air<dot>org
I look forward to seeing you at Omega-Air.
CrashGordon
CEO, Omega-Air Virtual airlines
MEAvirtual is a Virtual Airline who simulates the real world operations of the real world carrier MEA, we offer a wonderful website, forum, flight search and more.
MEAvirtual operates mainly on IVAO and VATSIM; as we encourage our pilots to do so. Our main hub is OLBA/BEY Beirut Int'l airport.
Hi, I am the Hub manager for Air Germany, an exiting VA without a real counterpart. We try to make the VA flightsimming as interesting as possible for our pilots and soon we will open a hub in the UK (as soon as our website is bilingual). At the moment we operate form EDDF and EDFH so if you are interested have a look...and don't worry, should you have problems with the HP just contact us and we will be happy to help you


Est.1998 http://easternairlinesvirtual.com/www/index.php
Eastern Virtual Airlines is
Celebrating eight years of service to the online flight simulator community!
Eastern Virtual first took to the air in 1998, and 8 years down the line in 2006 we are going from strength to strength continuing to improve our service, and move with the times to adapt and modernize.

While paying homage to one of the greatest airlines to grace the real world skies, Eastern Virtual are always taking the idea forwards, expanding the routes, opening new hubs and updating the fleet. In preparation for the anniversary a new livery was created, giving Eastern Virtual a new modern image, ready to carry the torch. The new livery was unveiled last month to much acclaim from Easterns peers.

"Our Employees both in the office and in the cockpit have made Eastern Virtual key players in the highly competitive virtual airline market," said George Lehning, Eastern Victuals President. "We are pleased to bring our great service to our members year after year."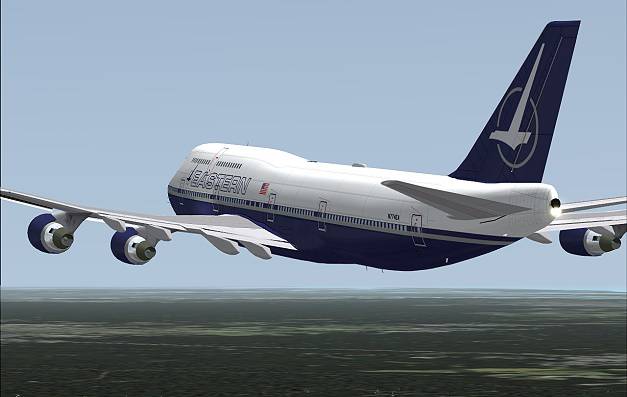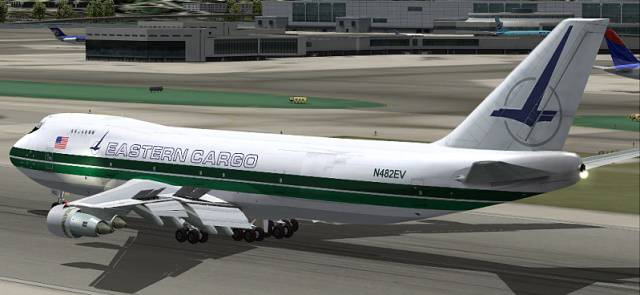 In the eight years we have been operating, our management staff have expanded and transformed the VA into it's present form, with over 300 pilots on our rosters and more joining daily. Our pilots ensure our forums are active, informative and humorous. We have real world pilots who are more than happy to answer any questions asked of them, alongside Flight Simulator veterans. At Eastern Virtual help is only a mouse click away!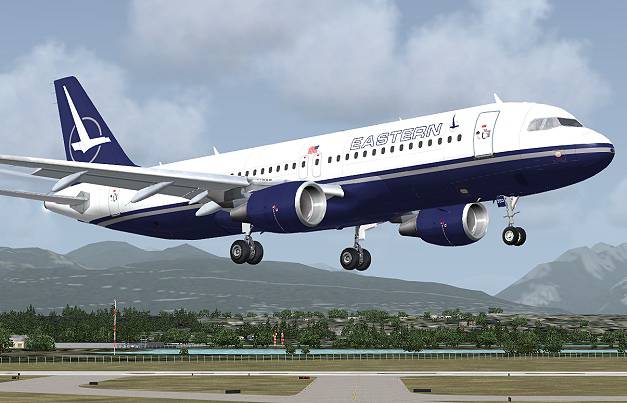 Eastern Virtual is currently operating from 11 hubs across North America and Europe to destinations all over the globe. With Eastern Virtual you can visit not only the busy international airports, but the small quiet regional fields – some you may never have heard of!
Our fleet comprises of classic aircraft such as the DC-3A, Lockheed L-1049G, Boeing 727 to the modern glass cockpit aircraft such as the Boeing 777 and the Airbus A340, and of course the evergreen 737 and 747.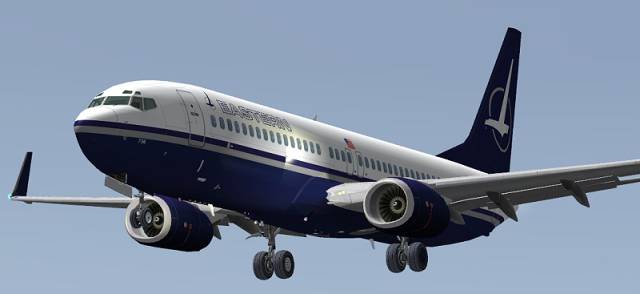 To further enhance the experience for our pilots we also support FS Passenger flight data uploads so you can share your flights with the other Eastern pilots, and show them all how well you treated the folk who paid for a ticket!
So if you are a pilot looking for an established, professional yet modern virtual airline to fly for, pay us a visit and have a look around our website. Eastern airlines are currently accepting pilots, which could be just the first step in a long, enjoyable stay with us. Many of our senior staff have worked their way up the ranks.
So as we celebrate our 8th year, come fly with us.
Eastern Virtual Airlines – the only way to fly! http://easternairlinesvirtual.com/www/index.php
All images and logos are Copyright © 1998-2006 Eastern Virtual Airlines. All Rights Reserved.
Posting a link that requires a login, doesn't make much sense.

Everyone opening the page that post is on is confronted with a login dialogue box.
Are you that computer illiterate, or just obnoxious?
CrashGordon
CEO, Omega-Air Virtual airlines
CrashGordon wrote:

Posting a link that requires a login, doesn't make much sense.

Everyone opening the page that post is on is confronted with a login dialogue box.

Are you that computer illiterate, or just obnoxious?
I think the point of the post was to asdvertise the VA and the video that plays does this quite well

Stop being a bully...relax

pilotwannabe wrote:

CrashGordon wrote:

Posting a link that requires a login, doesn't make much sense.

Everyone opening the page that post is on is confronted with a login dialogue box.

Are you that computer illiterate, or just obnoxious?

I think the point of the post was to asdvertise the VA and the video that plays does this quite well

Stop being a bully...relax
There was a post containing a link, possibly a screenshot, that required a password to be seen. It appears to have been removed, so the problem it caused is at an end. While it was here, every time you opened this page of the thread, the password box appeared, whether one was viewing the offending post, or not. While I believe the intent of this thread is to allow folks to advertise their VAs, I don't think the idea was to allow them to do so to the detriment of this site. I don't think I was being a bully for pointing out the problem. It isn't as if I questioned his pedigree, after all.

As for their site, I'm not sure that requiring a user name and password to view anything but the home page, is terribly practical, but the music in the video was very nice.
CrashGordon
CEO, Omega-Air Virtual airlines
please add to list. Thanks in advance.
Simulated Continental Airlines
Simulated Continental Airlines is a simulated Virtual Airline for Flight Simulator enthusiasts who are fans of the real world Continental Air Lines ©. These days Virtual Airline's are coming and going quicker than we all care to see. It is also obvious that we are not the only virtual portrayal of the real world COA. We believe in the fly whenever you want, wherever you want, whatever you want philosophy. SimCOA is a bit more laid back than most VA's. We are an extremely versatile VA, in that our pilots can make their employment with us as realistic as possible by flying real world routes on time in correct aircraft, or as laid back as they want by flying a Beech 1900 from their hometown airport to a remote strip in Alaska. Simulated Continental Airlines caters to all different types of virtual pilots. We proudly endorse flights flown on VATSIM, IVAO, FPI, and offline as well. Our staff is friendly and knowledgeable and strives to do whatever it takes to make your employment with us more enjoyable.
Why should you choose SimCOA.org?
* According to our real world counterpart, Continental Airlines© , Simulated Continental Airlines is the ONLY virtual portrayal of their airline to acquire permission from its legal department. Last week, our VA received permission and support from the Continental Airlines© Senior Attorney via certified mail and email. They even went as far as saying they were impressed with our site, and would support us in our endeavors.
* Stop by and visit our Crew Center. You'll be blown away by what it has to offer pilots before hitting the runway.The elaborate Weather Center is especially useful for your vital preflight needs. Have a stroll through the all new Flight Planning area and you'll never be left wondering how to get from point A to point B again! The Charts area will surely help you find your way around just about ANY airport in the world!
* Our Ventrilo voice server is constantly manned with knowledgeable staff members to assist with your needs, or to just have a chat. Our latest average is 9 pilots on at any given time.
* We have a cutting edge fleet standards department. All of our fleet is easily accessible. Each and every plane comes with a checklist, and numerous operating manuals. Every plane is a worry free, push of a button self installer. It includes the panel, livery, sounds, and aircraft. No more shuffling files and folders around for hours on end just to install a plane. All of our files have been tested countless times to ensure our pilots that they are the latest and greatest to be offered. Our staff checks for updates on a daily basis. In the coming days, the retro fleet will be completed, totaling our aircraft count to 58 different types of aircraft! Now thats variety!
* Filing PIREPS has never been more fun and easier. SimCOA.org uses a fully automated php system that has been hand crafted by our talented webmasters. Our pilots can file their PIREP via the web site or via the following other options. SimCOA is an FS ACARS/FS Log Supported VA, meaning your pireps can be filed with the click of a button and instantly sent to the site and recorded. We are also one of the VERY FEW VA's that is Certified by FS Passengers! Pilots that use this amazing program can automatically send PIREPS this way too with just a mere click of a button.
* Each hub page is loaded with a barrage if useful information. Our professional Domicile managers strive to keep these pages as informative as possible. While you're at it, check out the other hubs too! On the topic of hubs... its worthy to mention we have a Guam hub just as the real world Continental Air Lines © does. This hub provides nonstop service to many of the Micronesian Islands along with routes to Asia.
* Just as ARTCC's encourage our pilots to provide them feedback on their service, we at SimCOA.org like the same in return. Therefore, we have created an area for Air Traffic Controllers to leave feedback about our pilots! Pilots with good feedback are awarded with accommodation ribbons and items from our very own gift shop!
* Gift Shop? Yep, we have one! Check out the Simulated Continental Employee Store. Just another example of how Simulated Continental Airlines strives to be above the rest... Here you can buy everything from apparel to stickers, and more. Simulated Continental does not make any profit from this store...everything you see is priced at what the manufacturer will charge us.
* Our Events personnel is bar none some of the best around. We strive to keep our calendars updated and keep our pilots informed about what is coming up.
* Statistics! We got em'! Everything from who the top rated pilots are by hours and flights to what aircraft is flown the most... and much more when you become a member!
* Check out our pilots flying section! When you view it from the home page it lists all apilots that are members of SimCOA.org flying... even on other networks! Whats even neater is when you go to the "more details page" it displays a world map with a plotter for every flight and listing all information about the flight that is clicked on! Thanks to ATA Virtual for lending us a hand in this!
* Above all, we're a fun family of enthusiasts just like you. We would love nothing more than to have you at least stop by and pay us a visit. You'll find many more features not listed above about our VA that will make your stay with us nothing short of spectacular.[/b]
I really hate to bring this up, but may I inquire why the graphic and URL are "Bevarian" while the text in the site are the more conventional, "Bavarian"?
Oh dear, I'm going to get yelled at, again.

CrashGordon
CEO, Omega-Air Virtual airlines
yep!
I only realised that right after I did the site and email. I am fully aware that it is Bavaria but hey, i made a mistake.
lenin wrote:

yep!
I only realised that right after I did the site and email. I am fully aware that it is Bavaria but hey, i made a mistake.
I've probably made more. I've just gotten very good at covering them up.

I like the initiative of creating your own when you couldn't find one to fit your needs.

CrashGordon
CEO, Omega-Air Virtual airlines
thankyou!
now all i need are pilots!
That is the problem.

Don't despair if it is slow going.
CrashGordon
CEO, Omega-Air Virtual airlines
i'm not,
I started it this morning as a spur of the moment thing. I am up beat about it.

Introducing Air Newcastle, the virtual airline of choice for flights out of Newcastle Airport in the UK. We are just over two months old now and operate a single Airbus A320 and a fleet of four Boeing 737-800 aircraft to eleven European business and leisure destinations. Ticket prices are low yet we offer more comfort, more frills and more flexibility than any of our rivals and run a realistic operations platform for our pilots.
During Summer 2006 our aircraft will operate flights at least once daily to Amsterdam, Bergen, Brussels, Dublin, Ibiza, Jerez, Lisbon, London Gatwick, Marrakech, Palma and Prague from Newcastle Airport with more exciting destinations to follow as we receive more aircraft from our lesser during the summer.
We pride ourselves on being an easy organisation to be a part of, unlike many virtual airlines we don't enforce minimum flying criteria or a minimum number of sectors to be flown each week. All that we do ask is that you have fun and get our passengers to their destinations both safely and punctually. Our office has an open-door culture, our flight crews are welcome to provide suggestions for new routes and advice on our aircraft.

i need a painter for my virtual airline (-FLEX AIR-) please contact me if your a painter or know of a painter thank you.
E-Mail- lewisduncan93@hotmail.com
cancel that


Last edited by lenin on Sun Oct 01, 2006 9:28 am, edited 1 time in total
Does anyone know how to make your own paintjobs for fsx?
Unity Security Force is currently recruiting for FS2004 and FSX pilots for our 1/07 Wings course. Click the image below to visit our website.
What do you do in that USEC VA?
Hi,
First Choice Virtual are holding an event on Vatsim this saturday evening (24/03/07) departing Gatwick at 1900z. Anyone is welcome, whether part of the VA or not, feel free to join us on the ground at Gatwick by 1845z.
Hope to see you there - Route posted below.
First Choice Staff
Outbound
EGKK DCT BOGNA N615 BENBO UA56 DRAKE UA34 SITET UN859 SORAP UN859 BALAN UL152 MAKOX UN860 VLC DCT LEAL/0207
Inbound
LEAL DCT SOPET UN609 GIROM UN863 NTS UN867 KATHY DCT EGKK/0225
EastJet Virtual Airways opened for operation in March of 2007. We are based out of Washington, DC's Dulles International Airport (KIAD) and fly to many popular destinations in the United States, with our main focus spots placed in and around Florida.

We pledge to fly only new aircraft, "fresh from the factory." Our fleet's main flagship, the Boeing 737-700, boasts leadership in the commercial airliner industry on levels of comfort, efficiency, and technology. Our fleet consists completely of planes that both pilots and passengers alike can enjoy.

Our goal is to create a very professional, clean, friendly, and fun environment for people to create or enhance their virtual pilot careers in. The image we shoot for is that of a real-world low-cost "friendly" air carrier, such as AirTran or JetBlue. EastJet promises virtual pilots a unique experience that will enable them to grow with their virtual airline and fellow pilots. Based on realistic financial data and airline management, EastJet is setup much like a real airline, including ticket prices, pilot pay, expenditures, and revenue. We will expand only through our pilots' success.
Ryan Finn
Commercial Pilot
ASEL/AMEL/IA Rated
CFII-A
"Roads? Where we're going, we don't need roads."
Cougar Virtual is now recruiting
Cougar Virtual offers to provide members with the very best, point-to-point scheduled European routes and many continental, or 'long haul' flights, and offer a professional and realistic virtual airline and aircraft appealing to flight simulator enthusiasts all over Europe and the world, to achieve this we will develop our pilots with any training they require and establish a lasting friendship with our virtual flight crews.
Cougar Virtual currently has 3 operating bases throughout the UK, Bristol, Liverpool John Lennon and London Stansted; it is a truly European operation and will continue to grow with time and technology.
Cougar Virtual operate the Boeing 738, 752, 763ER and the Lockheed L1011-500 TriStar
Cougar Virtual pilots fly online via the 'International Virtual Aviation Organization' (IVAO) environment, to ensure realism and to get a sense of belonging to an airline; we also utilize the (FREE) Virtual Airline Financial System (VAFS) program for tracking our crews with it's live ACARs and automatic PiRep system.
Cougar Virtual is a new 'VA' and so is still growing into its full potential, over time we will be introducing more features for flight tracking, new routes and aircraft, and even divisions, but for now we ask you to bare with us and be patient, we promise you won't be disappointed with the finished product.
Cougar Virtual is not intended to represent any real world Company or organization; this is purely a virtual environment for Microsoft Flight Simulator users.
Cougar Virtual also provides a choice of 3 Tours over 87 different locations stretching from The United States to Hong Kong leaving you spoiled for choice. Boost your flight hours & Earn Company Awards
Want to find out more?
We are looking for new members with the following skill sets, if you have these and would like to get involved in an up and coming VA then let us know.
Model Painters




Website coders (php/MySql)




Graphics Designer
In addition to the above, if you feel you have something to offer and would be interested in joining a staff position, let us know.
Virtual FedEx. (the best one out there)
Can you please insert Concord Virtual Airlines (Concord Air)
Thanks
Fly Boeing Virtual
http://www.FlyBoeing.info
Also add Virtual Shanghai Airlines.
vsair.meebly.com