Last night there was a giant 800m high waterspout (Tornado on water) in the Hauraki Gulf, which borders the city of Auckland, New Zealand where I live. 😳
I could have seen it from my up-stairs windows if I had known it was happening but unfortuantly I was in my room playing flight simulator and I never knew it had even occured untill this morning when I saw the front page of the papers:
Twilight twister has Bays enthralled

07.02.06
By Elizabeth Binning and Derek Cheng

A dramatic waterspout over the Hauraki Gulf sent dozens of East Coast Bays residents racing for their cameras last night.

The waterspout appeared near the end of Tiritiri Matangi Island about 8pm.

Torbay resident Etienne Van Der Berg said he watched it develop until it dissipated 30 minutes later.

"It was at least 800m high, and as the sun was going down it was a beautiful pink colour. You could see the motion of the water below it.

"It was amazing. It moved over the water and back to the sea and then it dissipated."

A Mairangi Bay resident, who did not wish to be named, said the spout followed "a bit of weird weather all afternoon".

"It was right on dusk so all the sky was nice and red - a bit of a twilight twister, you might say.

"When I looked at it through some binoculars you could see it was stirring up quiet a bit of the ocean out there. It went on for about four or five minutes before it disappeared back into the clouds."

MetService lead forecaster Oliver Druce said a waterspout was basically a tornado over the water. When the funnel got close to the sea it sucked up water.

Mr Druce said waterspouts were not all that uncommon but they weren't often seen by so many people from their living rooms.

The spout would have been caused by a large number of thunderstorms in the area.

He said they were not as destructive as tornadoes.

"They don't pick up debris and cars and things but they do suck up water.

"They're much more harmless than tornadoes, but there's a chance they might catch a boat if you're unlucky."
The map below shows how close I was too it, about 3km away! My home is the red dot, and the area which it happened is marked by a blue dot: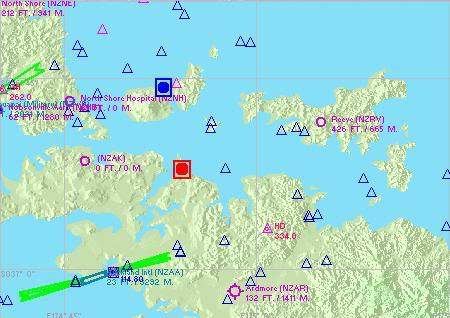 Does anyone know of any Water Spout addons for fs2004? I'd love to re-create it! LOL 😉