This is the quickest forum I know to get a dead-on answer to these questions. I am replacing my hard drive in a week, and I need to know what determines the size of hard drive one can install. I ask this because the last time I upgraded, I purchaced a 160GB HD, and my system only recognized 120GB of it. Back then I seem to recall that the motherboard or bio's made the difference, or was it the Operating System? I'm a little set back at figuring this out. As close as I can figure, I only need about 160GB's or a little les to handle FS2004 and all the other stuff I have in my system. Any thoughts?
Thanks,
Bill
As far as i know there is no limit to what Hard Drive size you can install, as this is just a storage area or imagine if you will, your local library full of books. The problem occurs if your librarian (your processor) takes a while to find the book (or programme ) you want.If she's old and decrepit it may take a while but if she's young and sexy it's a bit quicker. If you get my drift? 😀
As for your 160GB only registering 120GB, this is probably just giving you the free space after Windows and whatever else you have got installed!
Thanks....
After I porsted this, I did some searching and found that Windows XP only recognizes 127-137 GB's. They saay with a certien tweak as noted in MS help, you can expand this to only 144GB's. As per MS, if you have a large capacity HD, you must partition it. With your answer and MS info I will purchase only a 120GB HD, as this will fully take care of my needs. Thanks for the info. It really helped.
Bill
I don't know where your getting your information from but I have two 250 gig hard drives in Raid0 configuration in XP Media and it's recognised without a problem.

I went to Microsoft, Windows XP and searched Single Hard Drive Capacity. It stated the above concerning XP only recognizing 127 to 137GB, and detailed how to increase to a maximum of 144GB, and further stated partitioning the hard drive. Unless there is something I have missed, I do not know what is going on. I see many simmers discribe their systems as having 250GB capacity on a single hard drive, but they do not indicate if it is partitioned or not. The reason I would like a larger hard drive is to be able to store:
The operating system (Windows XP, Office 2007, three small games my wife likes to play, the usual utilities. FS2004, Abacus Panel, Edit Voice Pack, Corel Paint Shop Pro XI, and a few small Flight Simulator programs to enhance FS2004.
My current load is only 73GB of 137 per the system info.
After reading up on FS tips, I saw that a larger, faster hard drive would be beneficial.
Any ideas or recommendations?
Bill
I can't help but think that you read one of those cryptic Microsoft articles dealing with the file format of the hard drive.
By default the HD file format on an XP system should be NTFS, unless you or whoever built your system changed that.
One quick way to find out is by opening the Disk Defragmenter. In my case (I have a 200GB hard drive) it says:
File System: NTFS
Capacity: 186 GB
Free Space: 51.65 GB
%Free Space: 27%
Note the Capacity entry which has always been 186 GB despite me having a 200GB HD. In other words the Capacity remains constant, regardless of me adding or deleting files on my HD.
Even if you purchase your parts per mail order it can take time for the company to reply to your e-mail. I would simply ring up a computer-part store downtown and pretend I'm interested in a particular size HD they're selling and then... oh by the way Sir, I only have XP not Vista.
The guy on the other end will be very quick to clear up the mystery.
On the other hand, you could just make do with your current HD and buy an external HD instead. They are dirt cheap these days and using them is a breeze. I got a 500GB Western Digital a few months ago and can't remember how I managed without it.
All the programs you want to run will easily fit on your 120GB internal HD. All other files such as .zip for your sim or movies, pics and pretty much anything else can go onto your external HD.
i added a 200G maxtor drive to my dell, and it recognized all of it no problem. i use it as a storage drive and not a boot drive. all i did was install it and fire up the computer, it was easy can be.
I've got 3 HD's installed.
Windows XP 149Gb
FS9 153Gb
Music & Video 149Gb
Go into the Disk Management section. Like the screenshot below
Even if your HD doesn't show up in "My Computer" it will show up here. Right click on the Hard Drive you want. Click on Format select NTFS then click on OK. Once the formate has finished it should show the whole amount of HD space. I do have an article somewhere around amongst all my PC magazines. I'll have a look and see if I can find it.
Steve...looking at your screen, i take it you have one HD for XP, but do the other two neen the operating system installed into them?
If not, how does your other two access the system?
I hope I asked that correctly!
Thanks
Bill
The other two are slave drives... so as long as the computer knows to access the C drive for the OS, then it will treat the other two drives as extra storage.
By default the drive that you have the OS on is usually C drive.
In my case I have a large drive partitioned into 4 drives. so even though there is one physical device, the computer recognizes it as 4 distinct storage spaces... one of which is bootable (Has the OS in it)
Partitioning is the way to go if you want to maximize the space on your hard drive, all it does is trick the computer into thinking you got more than one smaller drive, instead of one large drive it cannot read all of. Instructions usually come with new hard drives.
No, like cheezyflier said, the operating system hardrive will just pick these up like ' an external hardrive ' even though they are internal. The operating system will more than likely attach to the new hard drive a few nessesary's like a recycler,pagefile space, and a backup restore point, but other than that, nothing.(edited: sorry belgeode...I was refering to the question before your post...but you beat me to it!)
No worries... I am sure Bill will get the idea.
I GOT IT! 😀
Thanks Guys, I have a new Motherboard, CPU, HD's (2), Graphics Card, Power SUpply (1000 watts) and DVD Burner coming in day after tomorrow.
I built this current one back in 2006 and upgraded a few things since starting Flight Simulator. I guess you could say it is a High End computer.
The new one will be "Echelons, God and Above". (hehehehehe)
It is all CLASSIFIED, until I superglue and duck tape it all together!
(I still won't put FSX back on!)
Thanks for the great help in understanding this issue.
Bill
Can I just add to that, I once had a PC with 2 drives, one had the OS as mentioned above and the other I used to store documents/files etc.
One day it happened, my main HD died on me and couldn't be repaired, luckily I had all the important stuff stored on the extra drive, phew!!!
All this of course was before CD/DVD writers were common, but it shows it pays to back up regularly, I have lots of disks now with all kinds of back-ups.
Col.
The old Government way of life. Pay a small amount for the item....and billions on keeping it safe!
Thanks
Bill
I am breathless at the depth and breadth of your knowledge and advice.! 👏
Col7777 wrote:

Can I just add to that, I once had a PC with 2 drives, one had the OS as mentioned above and the other I used to store documents/files etc.
One day it happened, my main HD died on me and couldn't be repaired, luckily I had all the important stuff stored on the extra drive, phew!!!

All this of course was before CD/DVD writers were common, but .....
Somehow...this seemed relevent😞It seems that you need some sort of boat licence just to turn it on!)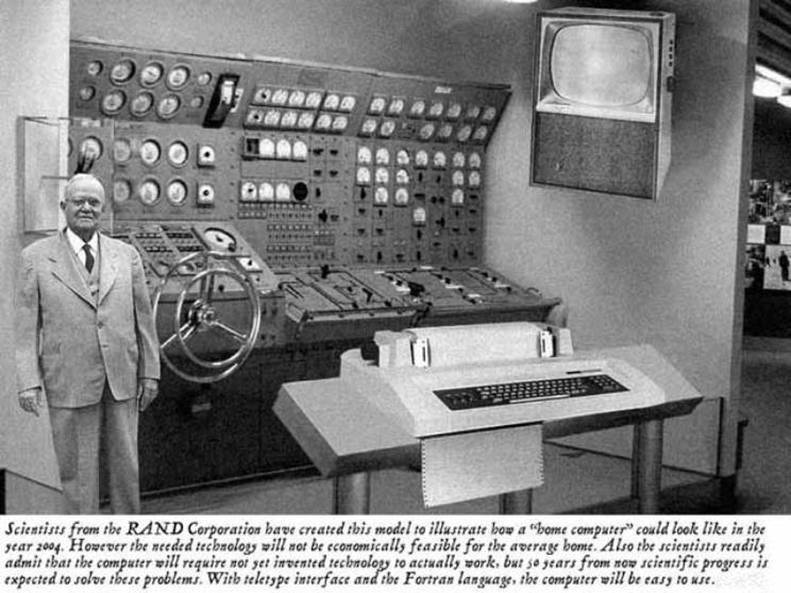 Last edited by Luke (warlord40) on Fri Feb 15, 2008 12:24 pm, edited 1 time in total
I'd say they were a little wrong there.....
funny how much they didn't know back then. i wonder how much we won't have known now, in 60 or 70 years? i won't be here to find out in that many years. i doubt i'll see 1/2 that.
Been a few days since my last comments and concerns about the HDD. I have since installed a new SATA II, 10K, 320 HDD and 2 mor GB's of RAM. This is on my old computer that I have used from day one. It has a P4 3.0 CPU. After upgrading, and reinstalling EVERYTHING, I find my FPS using default A/C and at Heathrow is up to 70-80 using the Ultra-High settings across the board. I did NOT use any traffic!
I guess ole Big Blue (the computers name) still has some umph in her after all!
I have, as stated above, finally collected ALL the parts for my new MSFS-Only computer. The Specs, which I will post when completed, have a preliminary WOW factor!
And finally....To all who have endured my past inquiries and requests for advice and assistance....THANK YOU SO VERY MUCH!