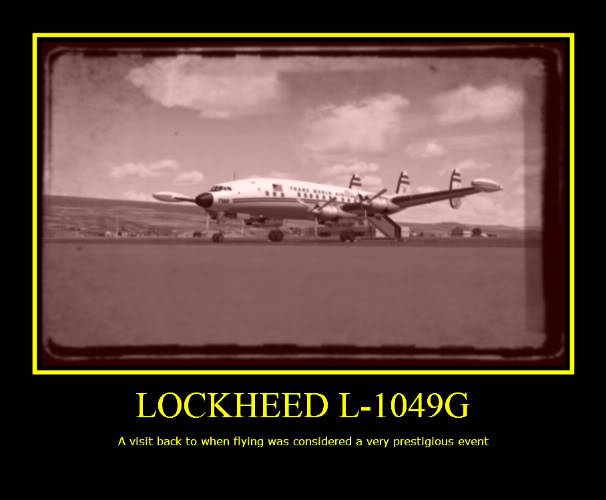 The Lockheed L-1049 Super Connie is back and more beautiful than ever. it's been 51 years since the last Connie rolled off the assembly line. She has proven to work well for both the airlines and various governments including the USAF.
Specifications (L-1049G Super Constellation)
Orthographically projected diagram of the Lockheed L-1049G Constellation.
Data from Great Aircraft of the World[25] and Quest for Performance[26]
General characteristics
* Crew: 5 flight crew, varying cabin crew
* Capacity: typically 62-95 passengers (109 in high-density configuration)
* Length: 116 ft 2 in (35.42 m)
* Wingspan: 126 ft 2 in (38.47 m)
* Height: 24 ft 9 in (7.54 m)
* Wing area: 1,654 ft² (153.7 m²)
* Empty weight: 79,700 lb (36,150 kg)
* Useful load: 65,300 lb (29,620 kg)
* Max takeoff weight: 137,500 lb (62,370kg)
* Powerplant: 4× Wright R-3350-DA3 Turbo Compound 18-cylinder supercharged radial engines, 3,250 hp (2,424 kW) each
Performance
* Maximum speed: 377 mph (327 kn, 607 km/h)
* Cruise speed: 340 mph (295 kn, 547 km/h) at 22,600 ft (6,890 m)
* Stall speed: 100 mph (87 kn, 160 km/h)
* Range: 5,400 mi (4,700 nmi, 8,700 km)
* Service ceiling: 24,000 ft (7,620 m)
* Rate of climb: 1,620 ft/min (8.23 m/s)
* Wing loading: 87.7 lb/ft² (428 kg/m²)
* Power/mass: 0.094 hp/lb (155 W/kg)
Instillation is pretty straight forward for both FS9 and FSX
For FS9 simply put the aircraft in the aircraft folder most likely located in C:\Program Files\Microsoft Games\FS9\aircraft, One thing that you must note is the original aircraft does not come with sound so you must create a new folder label it sound and add any sound you would like. (the update has a sound folder already made but it is using the default sounds) Effects go in effects gauges with gauges etc
For FSX most likely located in C:\Program Files\Microsoft Games\Microsoft Flight Simulator X place you aircraft in the "simobjects/aircraft" folder as for FS9 add sounds, effects with effects gauges with gauges etc. This is not an FSX model but works very well with some limitations
Limitations: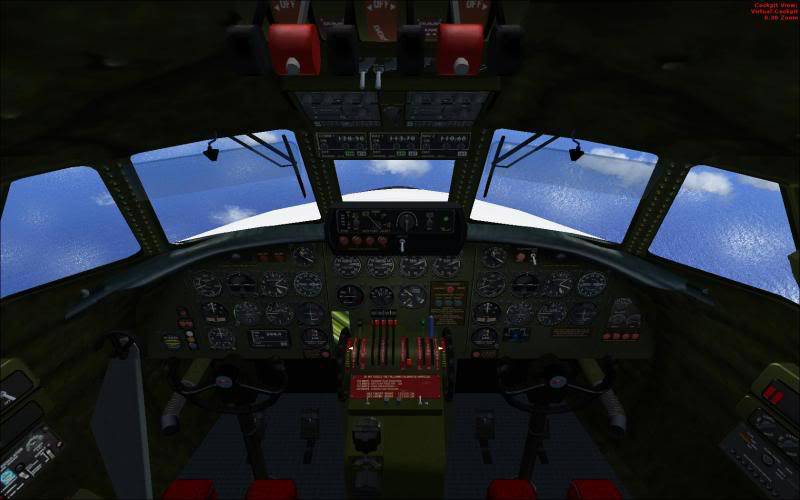 1. As you can see there is a very shiny metallic looking slap in the VC while playing FSX. This will sometimes display the simcons but more often than not will just display as a metallic looking slab. There is really no fix for this but it does not render performance like the next limitation does.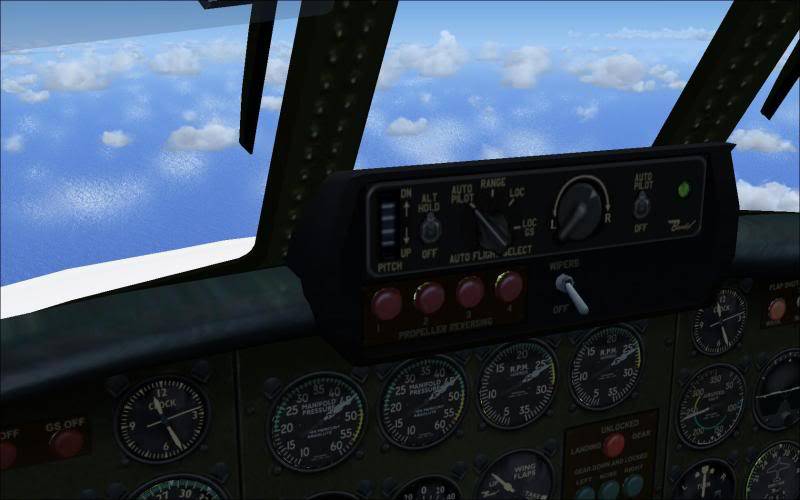 2. As you can see we have a rather simple autopilot which is OK for a free plane but it does have limitations in FSX. First off the plane refuses to fly an specific heading but once you reach cruise and an appropriate speed in which P-factor is no longer and issue the plane will remain very stable and stay it's course. However you can also see we have an altitude hold and that functions perfectly.
3. prop texture in FSX the Prop will either dissapeare or seem solid once rotating. There is a fix in the update in which you just drop the texture into the various livery folders and you get the desired effect.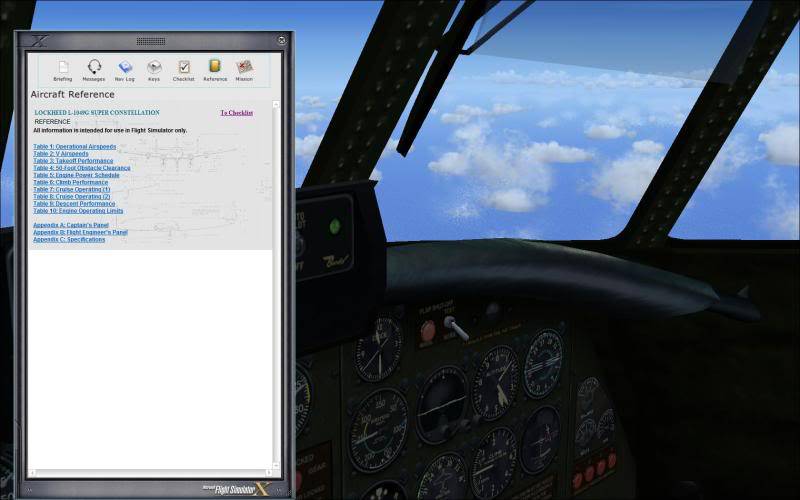 4. Reference This aircraft 9in addition to the checklist) has a reference sheet but in FSX it is of no use because the link that are provided are not clickable.
Details: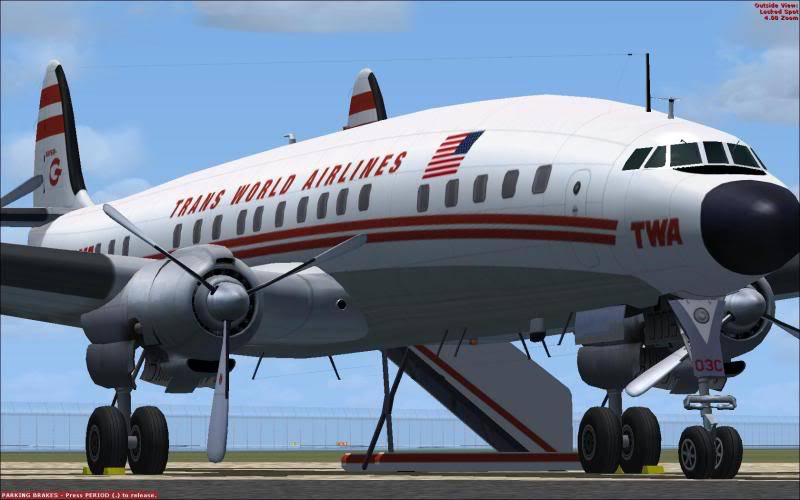 The beacon light actually extends beyond the fuselage a detail often not considered by most payware aircraft.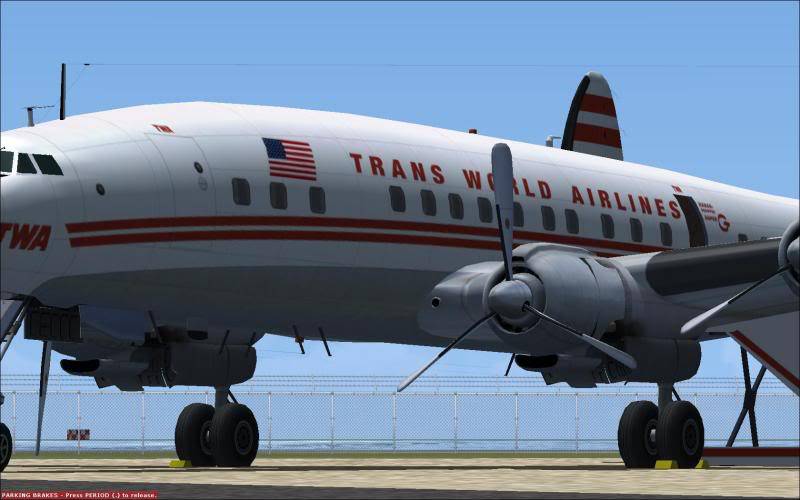 You can see that we also have wheel chocks once the parking bakes are on and the aircraft's engines are stopped. (not bad for a freeware aircraft)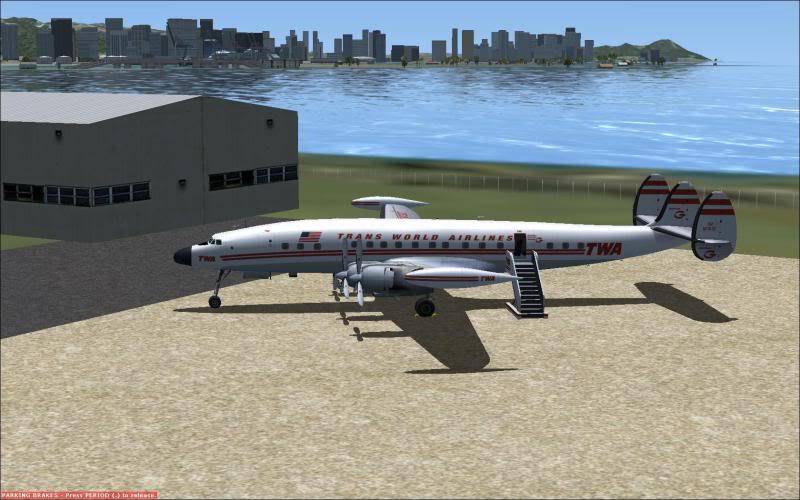 Since the Connie was made in a day where it was not uncommon the se airstairs it only seems fitting that this wonderful developer aded that feature this was our virtual passengers can get in and out of the aircraft.
Features:
Some really cool features include engine flames as was common on those powerful engines, animated window wipers and a sun shade for those easterly and westerly flights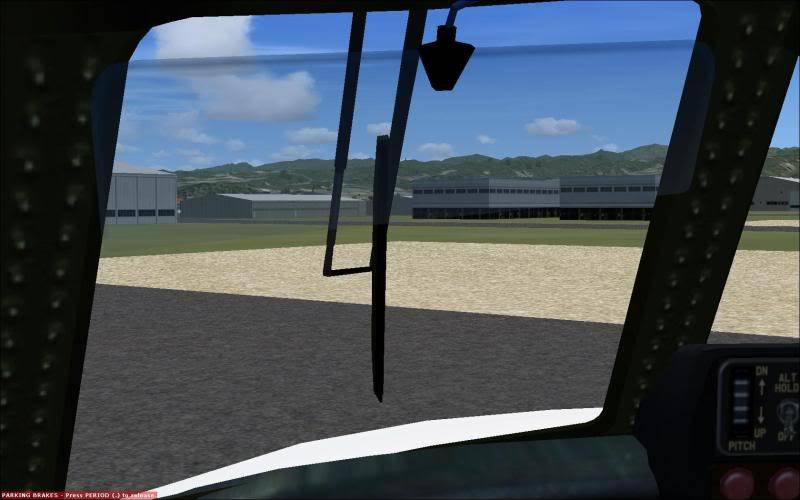 By simply clicking the wiper switch located just below the autopilot column in the VC the wiper will start moving (although they are not animated on the exterior and the interior 2D)
You can also bring down the sunshades by clicking on the captains main window in the front of the flight deck.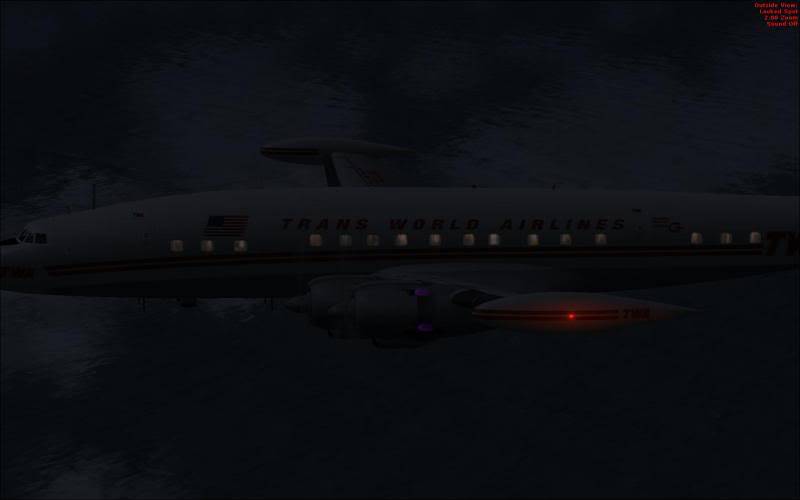 Engine flames are a very realistic feature. Once you are about 3/4's throttle in with full mixture you will see the flames appear
Engine failure- If you run the engine to hot, to full, or at high RPM you will experience engine failure, Monitor you FE panel which is also another very nice feature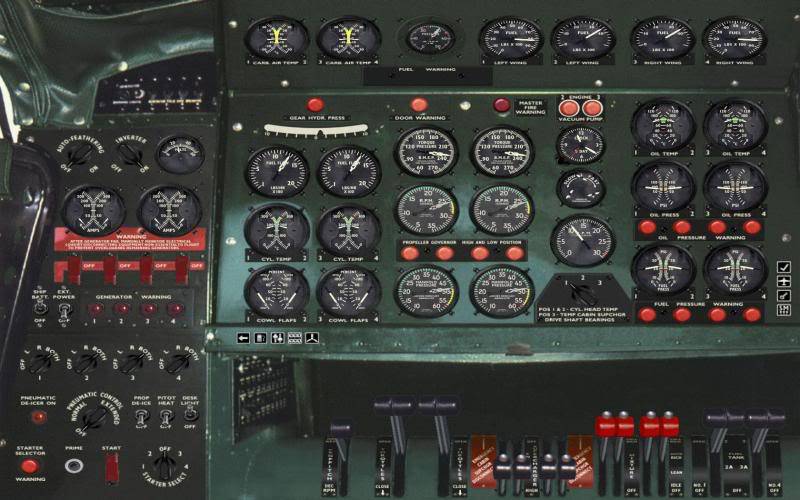 Automatic engine best performance setting. On the FE panel on the lower right hand corner you will see a simcon titled SM when you hit that the engines will be automatically set for best performance based on current environmental setting at various altitudes.
Gear fail- Expect a gear failure if you deploy at the top of the white arc on the airspeed indicator they will extend to about 75% and stop.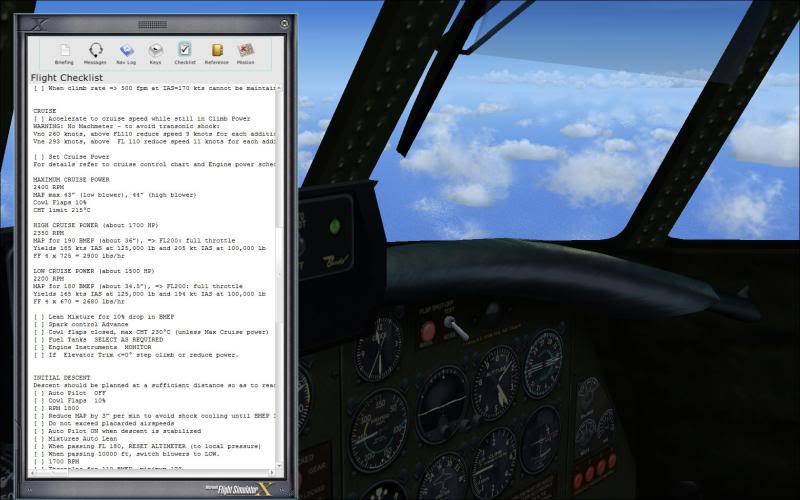 A checklist is often overlooked by most payware developers but this freeware aircraft comes with a very realistic and detailed checklist that must be followed or you can expect failure to occur.
Conclusion:
Simply put this aircraft is at very least stunning in all aspects. What amazes me the most is the fact that this is a FS9 native model but functions very, very well in FSX. Engine flames, automatic engine config, Wipers
I could go on and on, This developer has proven to be a great FS developer, They have left nothing and has captured every little detail. Most important this aircraft is FREE! In my opinion even for an FS( model this is the best darn Freeware aircraft available for both FS9 and FSX and an absolute must get.
Fly this plane and let it take you back to the glory days of aviation you will truley get a good sense of why it was considered such a wonderful event when you climb aboard and take control of this wonderful airplane.
Test Machine
Windows Vista Home Premium SP1
Processor AMD Athlon 64 X2 Dual core processor 5200+ 2.60GHz
Memory (RAM) 2.00 GB
System Type 32 bit operating system
Graphics card Nvidia Geforce GTS 250
Where to get it:
Search: l1049g.zip
Update- on the same page as the original model