how/ where do i get the flight management computer? none of my planes on fsx give me access or i dont know how to get to it. thanks for the help. mike
FMC.
See if that helps.

that teachesme how to use but i dont know how to access it on fsx.
This will put it in all your aircraft.
http://www.fs2000.org/index.php/downloads/doc_details/30766-fsx-fmc-by-honeywell

Glad to help.
If we can be of further assistance please ask.

now having issues installing. it says to copy to gauges which i have but i cant access when trying to fly. please help. thanks.mike
See if this helps.
http://www.fsx.co.za/showthread.php?t=2188

wont open. internet explorer cant display webpage.
Works for me with Firefox.
Here is just the first part.
Basic FMC Setup Guide
I don't know who would use this or who needs it, but I will write this anyway. It is a fairly basic guide to just tell you how to generally set up the FMC in a flight simulator. I am basing it off of the LDS 767, but I am pretty sure it will work fine with any aircraft. I am assuming you know how to enter information. If not, just leave a message and we will address that.
If you know how to fill out the FMC and see something that can be fixed or added, feel free to tell me and I will fix it. OK, on to the guide...
First, you need to enter the position into the FMC. To do this, open up the FMC. Press the "MENU" key and press the button next to "FMC". Then, press "POS INIT" in the lower right. Then you will be able to enter your aircraft's position where it says "IRS POS". You may be able to just copy and paste from the position on the top of the FMC screen, or just put it in manually (Shift+Z)
Second, press the "INIT REF" key. (The button; it is not on the screen.) Now, enter your cruise altitude into the "CRZ ALT" line. Here are some accepted numbers for, say, 35,000 feet: FL350, 350, 35000. Next enter your cost index in the line below. This will basically determine how economically-friendly your fuel consumption will be. Higher numbers mean a faster jet, lower means more fuel saved. A general number will be around 80, but can vary. Then enter your reserves. This is the amount of fuel that will be in reserve. Then enter your ZFW (zero fuel weight) if you have it at that time. If not, enter it when you have a chance. This will help determine your V-Speeds.
Now press the button next to "TAKEOFF" in the lower right of the screen. This will take you to the takeoff page. Enter your takeoff flaps. (in degrees) Now enter your CG TRIM (a percentage). You will not be able to enter this until you enter your ZFW. I am not sure how to get this without having FS2Crew, so someone may be able to help me edit this. Next to the percentage a number will come up that you will need to set the trim. Set your trim to this number.
When that is finished, press the ROUTE key, either on-screen or below the screen. Enter your flight number. If you have one, enter the CO ROUTE. This is if you have a saved plan. An example entry would be CYYCCYVR. If not, you will have to manually enter your waypoints. To do this...
Press the "NEXT PAGE" function key (on the FMC, not in the screen). You will see two columns, one VIA and the other TO. You enter your route here from your flight plan. Enter the jetway you are using in the VIA column when necessary. (ex. probably not the first entry in your FMC.) You will then enter your waypoint in the TO column. Fill this out until you have completed the entire plan. Press the "ACTIVATE" button and then the now-lighted execute key. This will finish the setup of the FMC and then you are good to go.
You may also set up SIDs/STARS in the FMC, if you have them. They will be in the DEP ARR function key.

i understand that part but how do i get to the fmc to be able to put all the info in? i cant get to it. i put it in the gauges file. is this correct? when i turn on fsx, what key do i hit to access the fmc? once i can get to it, i will need to play with it and figure it out that way but i cant even get to it. thanks
Try these.
http://www.captainsim.org/yabb2/YaBB.pl?num=1220997876
http://www.flightsim.com/vbfs/content.php?2028-How-ToProgram-The-FMC

thanks for the links. i dont have a cdu button to push to get to fmc. i have the basic planes that came with fsx. do i need to change them? thanks for the patience with me.
OK, I don't think that the default aircraft can be outfitted with FMC.
Try this one.
http://www.avsim.com/pages/0309/iFly/747.htm

thanks for the help.ill let you know how it goes.thanks again. mike
Good luck with this one, it has a big manual to study.

got the plane downloaded and working. wow it is a whole lot different than the default fsx planes. i am unable to find the manual to read and learn. do you know where i can find it? thanks again
This is from the link above.
You have it with the download.
************************************
Installation and Documentation:
Installation is nice and simple. Simply install it like any other program. Extract all files to your desktop (if its in a .zip file) and double click the setup.exe folder. If it asks you to minimize during install, click on OK. (you can alternatively start the setup straight away from the .zip file as long as you don't close anything). Then wait until it finishes its preparation to install.
Click 'NEXT' on the next window to start the installation. Now click on whatever you like to install. 'Typical' is normally chosen and click on NEXT Then click on Install to begin the installation of the aircraft. After the install finishes, click on the 'Finish' Button.
Once installed, you should be able to access the Aircraft from with FS. You can also find a little icon on the Start Menu saying IFLY where you can find the Manuals for the aircraft and the uninstall option.
All this comes with a 324 Page Operations Manual and a 7 page Procedures Introduction.

you need to add it to your panel.cfg for the particular plane you want it in
usually you will replace your existing eicas . so when you want to open the FMC you would go to the views tab, instruments, eicas
here is mine!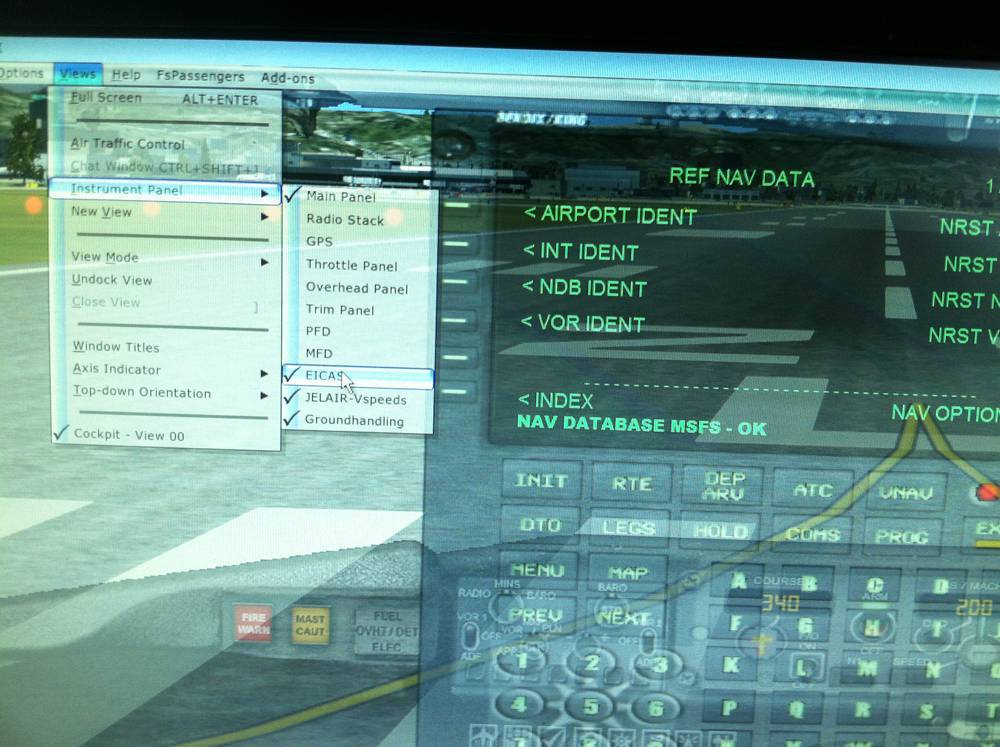 This is where I got mine
http://simviation.com/1/browse-Panels-60-4
Boeing 737-800 Panel with trinkets
for just the fmc you only need three of the files in the panel folder
Alrot_CitX.CAB
B737_800.cab
panel.cfg
if you already have made changes to the panel of the aircraft that your adding the fmc to then you want to edit the lines in your panel to add the gauges.
it can be added to other planes but would require more complicated programing. would need to extact the b737_800.cab to get the fmc.xml,eicas.xml,eicas2.xml files and add them to the cab file for the plane your wanting. also need to edit the panel.cfg file and modify the eicas window size line codes in it to make sure it is the same as in the 737-800. then you would need to to repack the cab files using FS2004SDK, Cabdir_SDK tool.