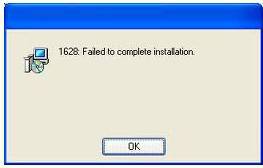 Hello guys, I hope you can help me with this problem! I have been searching a while for an answer, nothing found! Every time I try to install FSX I have the problem 1628: Cannot Install. Is there something wrong whit Installwizard, the game or my computer?
Is there anything I can do??? Plz help me. FSX is one of my favourite games.
I have Windows 8 (64bit)
Processor: Intel Core i7-3770 CPU @ 3.40GHz
AMD HD7770[/i]
See if this helps.
http://support.microsoft.com/kb/910816