Francesim's La Reunion Island Review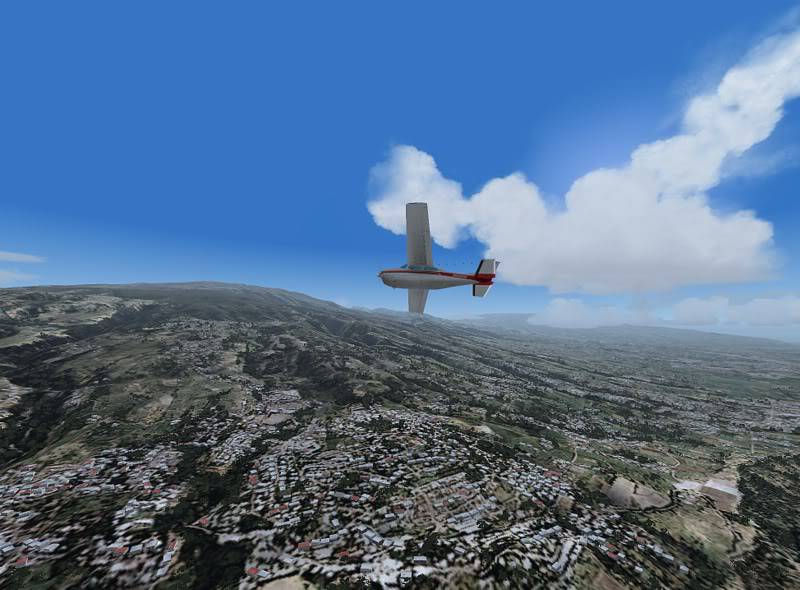 I recently downloaded the payware scenery for "La Reunion Island" by Francesim, and have to say, it combines everything I could have ever wanted from a flight simulator scenic package.
It really has it all, a beautiful range of photoreal textures, matching autogen, stunning terrain mesh, a fleet of addon custom AI traffic flying in, out and around of the island- and yes, it is an island- which is the best location for a scenery addon, as there are no immediate clashes with the rest of the default FS world!
The location of La Reunion was the primary selling point for me, as I have been looking for a decent tropical escape in my virtual world for quite a while, and after discovering the joys of the Canarysim expansion, I was prepared to pay for an island manufactured by Francesim, (As I already have their fantastic Corsica expansion) who although they are not so well known as there website is in French, I highly regard them as the best in the business when it comes to the virtual world of flight simulation.
Anyway, back to location. As I mentioned before, when you have an enhanced island on flightsim, your only limitation is the sea as a boundary rather than borders with default landscapes, which can be off-putting after spending so money to get rid of there sight. I wanted this island to be "tropical" as beforehand, when I bought the Corisca addon, I received a Mediterranean look, and with the Canarysim pack, I got a rather dry African feel. So with La Reunion, being France's naval base in the Indian Ocean, you can imagine the landscape is much different to my other addons, with lovely green textures complimenting sandy beaches and blue lagoons as the slope down into the sea.
Also, being in the middle of the Indian Ocean, La Reunion serves as a fantastic stop over for long-haul journeys for those of you who enjoy the heavy metal flying, with Gillot (FMEE) airport included in the scenery, with custom AFCADS and terrain adjustments, letting it fit seamlessly in with the photoreal ground textures and the terrain.
Ah yes, the terrain 😀 How does LOD9 21m mesh sound to you? It is truly stunning with the islands diverse volcanic landmass, with peaks reaching over 3000 feet, many giant active volcanoes steaming away, as well as loads of craters, lakes, rivers, valleys and crevices. The island itself only has an area of 2,517 square kilometer yet I have barely began to explore even a small percentage of what is on offer.
La Reunion is a GA pilot's paradise, in both senses of the word. Firstly, the island is a fantastic tropical getaway, and secondly, there is the opportunity for hundreds of hours worth of flying to be done, with every new corner you turn, a new adventure awaits. You seriously cannot run out of things to do here, as the island is such a geographical phenomenon, and once you begin flying here, you will never want to leave!
The island has so many different faces, with landscapes varying from the north tip to the south, and with endless ways to customize your experience by using various weather themes and time/date settings. The package does not include nighttime photoreal, which is understandable considering it is a downloadable only package, and with so many steep peaks around, night-time flying might not be so safe!
Another cool thing about La Reunion is that there are many, many towns both down by the sea and up in the hills. I can run my average machine with the display settings maxed out, viewing Francsim's accurately placed autogen in all its glory, and still receive an unbelievable 35FPS! My computer normally runs at about 15-20FPS, so I was very happy to see how smooth the rather complex addon ran, this being down to it's location, out in the middle of the ocean, with no other scenery rendering itself in the background for miles away!
I really can't express how pleased I am with this addon, and as always, the screenshots just don't do it justice and I think you really need to fly here yourself to get the total satisfaction that I am feeling. If I could give the scenery a star rating out of five, I would award Francesim's La Reunion Island five stars, even though it does not include nighttime textures, because all its other amazing features, that I have just outlined, manage to balance it out.
Click here to buy it: http://secure.simmarket.com/product_info.php?products_id=1459
You can also look at a whole separate collection of screenshots displaying the volcanoes and surrounding area here: https://forum.flyawaysimulation.com/forum/topic/14806/la-reunion-island-my-new-payware-scenery/
CT. 😉