Ok, my son is a Mission Control Specialist (yes, the same lab building where the shootings took place). I'm a NASA buff and see the Astronauts all the time in Houston coming in, flying their prescious T-38's. As a matter of fact, they've erected 2, just outside of JSC (Johnson Space Center) main gate, as if flying in formation. I'd love to get my hands on the sim...anyone up for making the mod? Let me know when you get it done, I'm very willing to "support" your cause. I'd rather stay away from the blue angels, due to superstition. I don't want a black mark in my logs, if you get my drift.
By the by, someone commented, what's a Blone....it's a blonde who's shaved his head bald, but has the blonde beard to prove it.
Any takers? Come on guys, I'm so eager to fly one of these ultimate planes that can take more G's than anything we've put out here yet. They're narrow wing span and profile are what allow them to twist and turn into some of the most awe inspiring manuevers ever witnessed. Aside from our infamous F18 Super Hornet, I've yet to see "in person", anything that can top it. Show me! I don't take words....I need proof.
So any of you old "chiefs" out there who can show this youngster a thing or two, please...be so obliged to walk the walk!
Cheers all.
YAFN (w/science under his belt)
I've been a big fan of the T-38 talon since I was a kid, it's one of my favorite aircraft. I have one but it's for FS9. Here is a link in case you're interested.
➡ https://flyawaysimulation.com/downloads/files/477/fs2004-northrop-canadair-vf-5d-zancudo-t-38-talon-early-70s/
➡ http://en.wikipedia.org/wiki/T-38_Talon
➡ http://www.airforce-technology.com/projects/t-38/index.html#t-385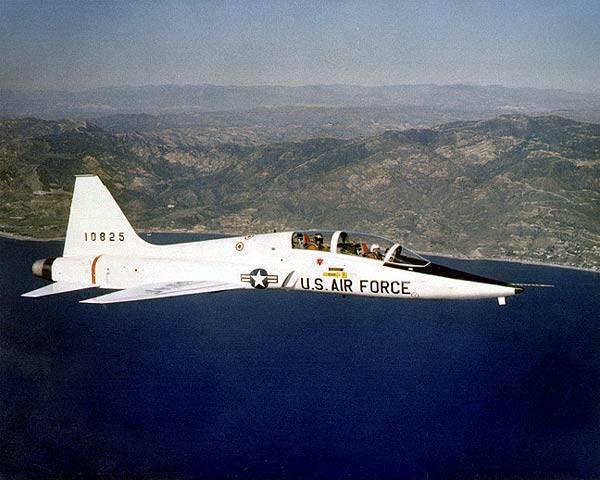 The Talon was one of the first planes I got upon getting FSX. They are in NASA trim, one with baggage pod, the other without. It is still a little handful for me when it comes to landing though.