I just uploaded fictional Dominator Air freight textures for the default B747-400 to AVSIM.
As usual type my name colin reece in the AVSIM search if you want it.
The name was a bit awkward as it was in a seperate box and it didn't give me much room to play with, I wanted the text to be a bit different but I made do.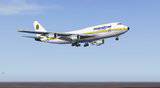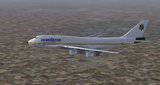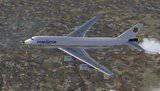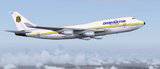 Col.
To be honest i don't really like this one 😞
But still a good repaint.
Why not start working on other aircrafts like the CRJ-700
Thanks for your honesty, I appreciate that. I'm not 100% on it myself I must admit, I am doing a few repaints of the default A/C to save people looking for the the base aircraft to download first.
I have done others as you may well know, I'll have a look.
When I started this one I had a thought of how I was going to do it but the text panel threw me so I had to change it, I had done a bit on it already so I didn't fancy stopping, but now I wished I had.
It's got clean lines though... that works. I think the only downside to this one is the fact that for such a large a/c it's not that exciting... but then most liveries aren't.
Hi bel,
Yeah you are right, plus it's a freighter and some are a bit drab, I've got it as an ai flying round the clock from VHHH-EGCC and back.
Col.
Tail logo could be a bit bigger, but other than that nice and simple. I like it.
Thanks Vagas,
Some must like it, I've had about 20 downloads so far, not much I know but I only post here.