Inspired by Reggie Fields Wingspan & FSX parking spot size reference, I wanted to provide something comparable for military aircraft. I made a similar list and thought about a way to publish it. A web site was the natural solution. That was the birth of "The Owl's Nest".
I decided to go one step further with my list and enhanced it by adding:
• the year of introduction
• the number of aircraft built
• the crew size
• the speed in knots
• the range in miles
• the ceiling in feet
Today this reference contains 700+ military aircraft from the 1930 onwards. You can sort and filter all relevant fields. Every aircraft has a link to the respective Wikipedia article for background information.
What else can you find at "The Owl's Nest"?
• a complete overview of all MAIW packages, telling you what aircraft are included, a link to the AVSim download and the original MAIW package description
• a complete overview of all UKMil packages with a link to the UKMil download
• an online converter for distances and speeds
• a referrals page where I describe sites and tools which I find extraordinary
• and more
There are some additional features I will add during the coming months (see the To-do list for details), but I feel the site is mature enough to go live.
I made it my rule that for every referral at "The Owl's Nest" I inform the owner and have him approve my link and the usage of any logos and material.
If all this sounds promising, come and visit "The Owl's Nest". Your feedback is highly appreciated.
I like to announce two cool new features of The Owl's Nest.
ICAO Database
Via two list boxes 'Country' and 'County' (the latter only applicable for Australia, Canada and the United States) you can display all airports for a country. The data displayed for each airport is Country, County, City, Airport name, Longitude, Latitude, Altitude, ICAO and IATA.
Airport Search
On a separate page you can search for any airport by providing either the city or airport name or the ICAO or IATA. This works with substrings which is an advantage if you only know parts or a name or are unsure how something is spelled.
Both pages are linked under the 'Tools' section of the menu.
Cheers,
Martin
The Owl's Nest has seen another major update.
Great Circle Distance Calculator
You provide the ICAO code for both the airport of origin and destination. The distance between the two airports is calculated and you are presented the result in KM, Miles and Nautical Miles.
This page is linked under the 'Tools' section of the menu.
Cheers,
Martin
Nice website man, I like downloading MAIW stuff and this tells me more about it and in a simpler way. Thanks.
Happy New Year!
I have updated the tutorial on how to use the MAIW packages in FSX. I have added a description how to correct some errors (valid for FS9 as well) and a list of all textures and effects installed by MAIW packages.
In addition I have released Version 2.0 of my MAIW Propeller Texture Replace Tool.
The purpose of this tool is to replace the propeller texture prop-hs.bmp, which is displayed in FSX as a solid disk due to an FS9 compatible (white) alpha channel.
Different than in the last version where only one replacement texture was used the current version replaces all 24 different prop-hs.bmp textures with the individually corrected file. This has to happen 778 times if you have all MAIW packages installed, so it's not a task done easily by hand. If you have already used the last version of my tool please have a look at the included Read-Me file.
You can download tutorial and tool in the MAIW section of The Owl's Nest.
This website is absoloutely brilliant, kudos to you my friend! 😀
Added to my bookmarks--Nice job!
Thank you for the nice words 😀
Very useful, pushed it right up the top of my bookmarks list 👍
I have released version 2.0 of the MAIW FSX Installation Guide. It goes far beyond version 1.x by that it introduce a location concept for MAIW files in FSX. For each file you are told if and where to copy it over in FSX.
Also the layout of The Owl's Nest has changed. The menu bar has moved from left to top with the menu items dropping down. Furthermore the menu and header is alway visible, while the content scrolls. The website supports IE >= 6, Mozilla and Opera.
I hope that you like both the new guide and the new web. Your feedback is highly appreciated.
The Owl's Nest has seen some changes in the last quarter.
1. Both Airport Search and Distance Calculator now have Google Maps support. You can open the airport location in Google Maps by clicking on the link in the airport search results.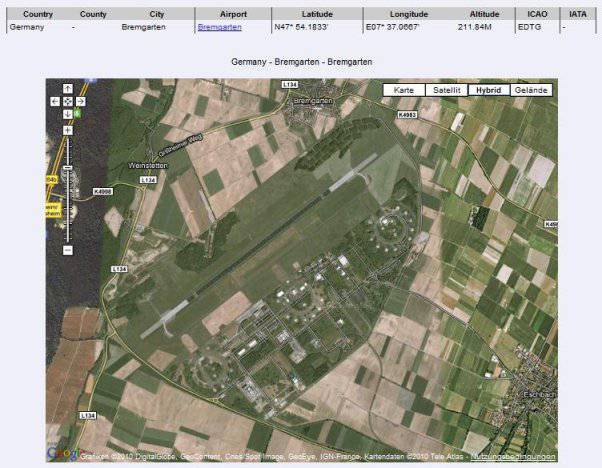 The distance calculator presents the calculation result with a map showing the route.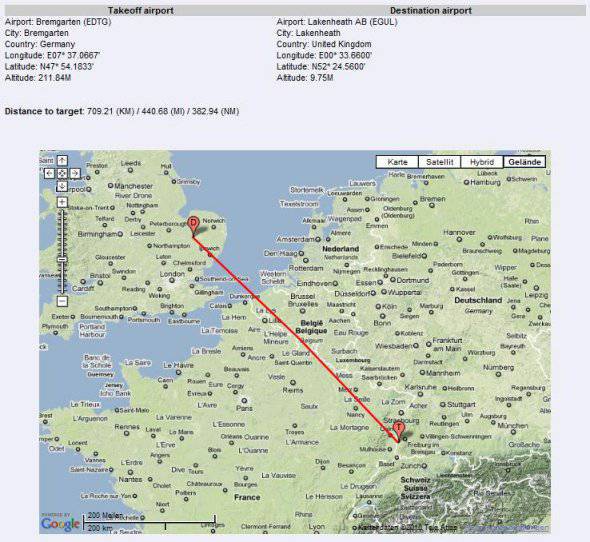 2. I have established Owl-AI to support the release of the Ralf Kreibich AI collection. The first Owl-AI release - coming soon - will be a huge F-104 package. I have teamed up with Ray Parker who has made all the marvelous paints. You can read about the background and the next releases in the Owl-AI section.
If you have a military AI aircraft that you like to publish under the Owl-AI umbrella you are welcome to contact me.
3. More and more people install MAIW packages in FSX. There are only few issues, most of them concerning opaque canopies. I have made texture fixes for the Fernando Martinez Tornado and Mirage 2000 models for all MAIW packages. Furthermore I have released a tool to fix the opaque canopy of Rysiek Winawer's great A-10 model. All fixes and tools are available in the new Download Section.
The Owl's Nest has seen a major update. The site design has changed to a much lighter shade.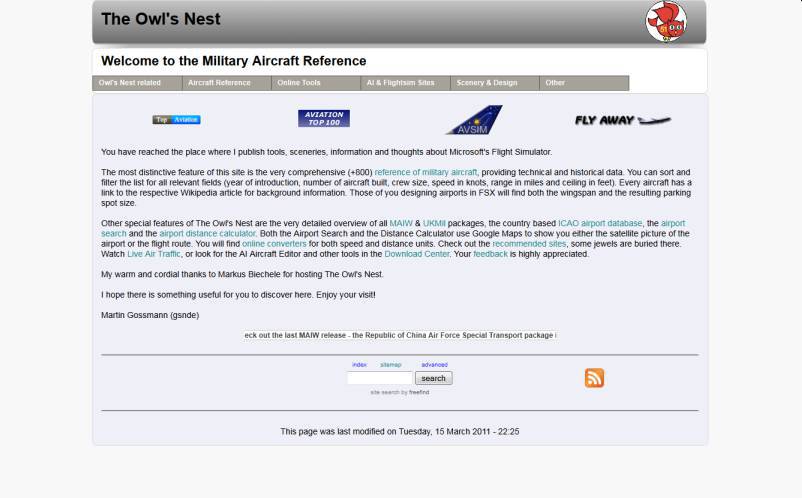 Other changes are:
New and more robust Download Center
Live Air Traffic Viewer
redesign and update of several pages
no fixed page header any longer
all tables shown with full length immediately
as per request works with mobile phone browsers Safari and Opera now (I never thought of testing that to be honest )
You are welcome to check out the new design whenever you like 🙂
Good day
I think you might be interested in a new feature that I have introduced to The Owl's Nest lately. Namely a reference of many of the often asked and looked for military AI aircraft, paints and flight plans, that are not included in the well known packages. I know that almost everybody is aware of some great military AI aircraft, paints and flight plans not mentioned yet. You can download an Excel sheet from the page and provide me with your data in the right format - if you like to do so 😀
The Military AI Reference contains more than 900 entries by now. The Military AI World Map reflect all these plus the MAIW packages. So if you have not been around for a while, you might want have a look again.
Have a nice weekend!
With a proud feeling I can say that today - exactly 4 months after the introduction - the Military AI Reference has passed 1.000 entries. I like to express my thanks to the kind people of MAIW, AIG and NZFF who - exclusively - have provided feedback and helped to make this list what it is today.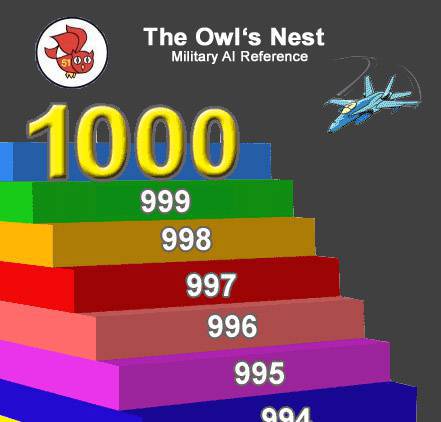 Time for another update 😀
The Military AI Reference now lists over 2.600 military AI models, paints and flight plans and should be a pretty good start if you want to venture in the world of military AI or if you are looking for something specific.
I have updated the Most missed Military AI Poll to show which models are in development or meanwhile released. Furthermore I have added many aircraft that you have suggested. So if you want to see what releases you can expect in the coming months check out the poll.
A new feature of The Owl's Nest is The Screen Shot Gallery. Only recently I discovered how easily I can combine the two things I really like: photography and flight simming. The Gallery already contains more than 600 of my shots.
This is what you can expect.
If you enjoyed these shots, please come over and snoop around in the Screen Shot Gallery.