I have both of these aircraft and they use the same panel. One item that is missing is the indicator to show how much flap has been deployed. Looking an outside view it is hard to determine just how much has been lowered/raised.
I have yet to find the means to do this, the Boeing 747 has the indicator but it does not appear in the panel.cfg file. Can anybody please put me straight?
I flew in a First Choice aircraft last week from Mombasa Moi Int to Manchester Int UK. A message from the flight deck told me that the takeoff speed was 240 mph (not kias) which seems high to me as most widebodies these days seem happy to leave Mother Earth around 150-160 kias. I wonder what they were telling me
Hi Aldeeb,
if your 767 uses the same panel as the 777 it probably means that the 767 is aliased to the MS default 777 panel which is rather basic. I'm sure you are aware that you can see the flaps position if you bring up the sub panel for the Throttle Quadrant as of course is also possible in the 747 panel. But yes, in the 747 MS default panel you can see the flaps position without having to bring up the Throttle Quadrant sub panel.
I have a little illustration here using the 777 panel from Simmer's Sky. You will see that some parts are taken straight out of the MS 777 panel e.g. the Throttle Quadrant.
This panel however has an additional display which I have outlined in red... I hope you can see it, my painting skills are extremely rudimentary


Here you can see the flaps retracted on the sub panel -- equivalent to Slats 0 and Flaps 0 in the display below outlined in red.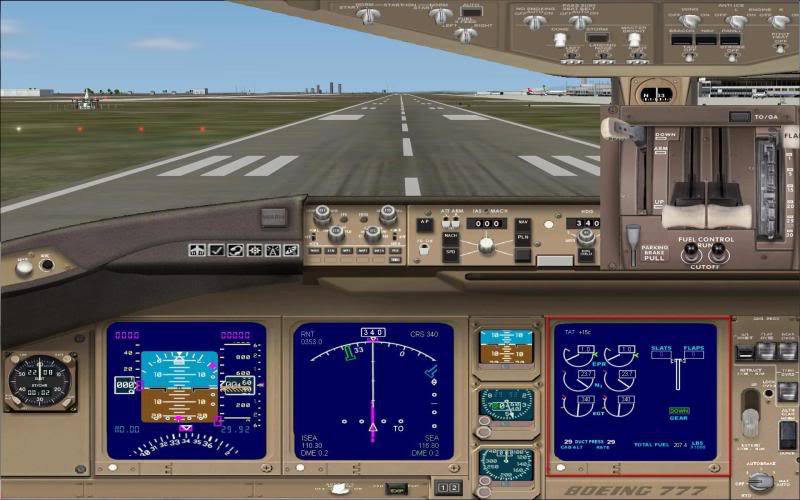 Here: Flaps 1 on the sub panel -- equivalent to Slats 5 and Flaps 1 in the display below.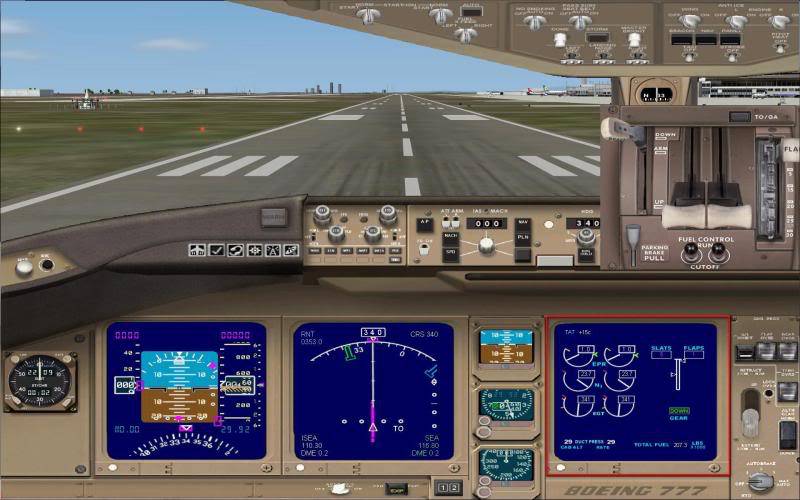 Here: Flaps 5 on the sub panel -- equivalent to Slats 5 and Flaps 5 in the display below.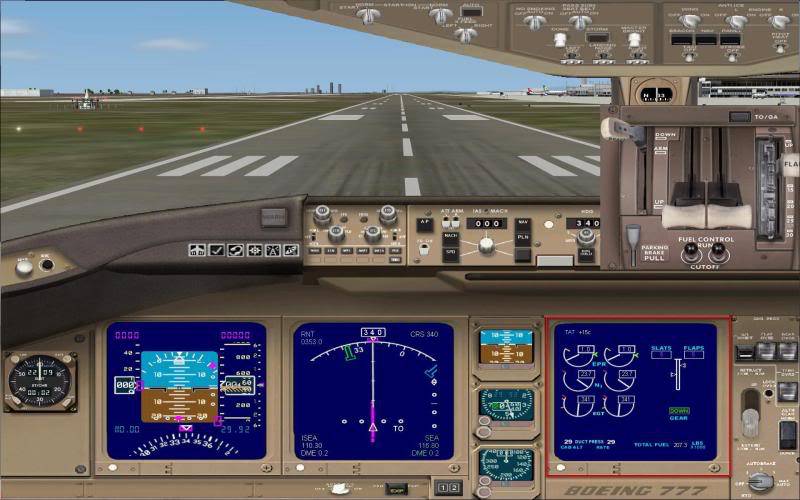 etc... perhaps if you hold down Ctrl and use the scroll wheel on your mouse you might be able to zoom in.
The indicator / display in question is classified as a Gauge (EICAS)... though depending on the developer of the panel it could be in
[Window Titles] under
Window00=Main Panel as in the default 747 i.e. gauge13=Boeing747-400!EICAS Display, 443, 145
or:
it can be found in
[Window Titles]
Window00=MAIN_PANEL
Window01=OVERHEAD_PANEL
Window02=EICAS 1 and 2 -- Window00 and Window02 as in the case of this Simmer's Sky 767 panel.
Now if you look at the panel.cfg of the default 777 there is no EICAS to be found hence the missing indicator.
Now you could roll up your sleeves and add an EICAS with flaps indicator to the default 777 panel and edit the panel.cfg accordingly, or simply look for a better freeware panel and use that instead. I know what I would do


---------------------------------------------------------------------------
---------------------------------------------------------------------------
I would have liked to join you in Mombasa recently... I wonder if P&O are still going there.
Takeoff speed at 240 mph does sound a bit excessive - I wonder, did the pilot say Insha'Allah after that announcement?
Happened to me once flying Biman (Bangladeshi national carrier) from Athens to Singapore. A 737 with many, many stops on the way... without going into the rest of the gory details of that flight, we were approaching Kuala Lumpur for yet another stop when the captain announced: "We will be landing in Bombay in approximately 20 minutes... Insha'Allah


Tailhook that really is a magnificent response to my query and the panel you show is brilliant - I will get down to what you have sent when 'er indoors has made the morning coffee, which I really need this morning.
I tried to view the Flight Deck of the First Choice 767 in which I flew a couple of weeks ago from Mombasa to Manchester but they weren't having any of it - the US Immigration people at Tampa were much more friendly last year when they told me that at 79 I no longer posed a threat and didn't use the eye scan etc. Don't think they have heard of terrorists of advanced years!
Hi Tailhook - that really is a much better than the basic one I've been using and I will see if I can find it on the www Yes, I was very dubious about the speed as it looked nothing like the real thing as my sim thundered along 03.
These days MSA doesn't see any scheduled passenger liners as the arrival of long haul flight killed them off in the 60s, it didn't do the East African Railways much good either. P&O's nearest to Africa was passing through the Suez canal and thenceforward they did not go south to Africa. I travelled on the P&O liner ss "Corfu" out to Singapore back in 1955 and back 3 years later on a freighter of the Ellerman Line ("City of Perth"). Mombasa was served by two lines - Union Castle and British India. I travelled twice on ss "Kenya Castle" from London and on the final voyage of "Durban Castle" in 1963. These were not mainline Union Castle ships which used the Southampton-Capetown route and these were much larger and faster ships. BI had liners of similar size to Kenya Castle and I only know that they served MSA from Southampton - Kenya lasted a long time, firstly as a youth cruise ship and also took part in the retaking of the Falklands, now long broken up.
the handle here is Mike (and your's?)
Hi Tailhook
I tried without success to find the panel you describe, I found what is the Japanese flight sim site but didn't see any signs of a panel. Do you have a link please?
Aldeeb I need to apologize for making things more complicated than they are. My brain was "over-multi tasking" ... looking at all the trees and not seeing the forest.
Yes, the Simmer's Sky panel is part of a payware package I have. IMHO though, there are some freeware panels out there superior to the one in my artwork


But let's get back to basics. Comparing another freeware 777 panel with the default one I rediscovered the flaps indicator. Now here are two pics of the default 777 panel:
When you load it, it probably looks like this - notice the position of the switch inside the red rectangle:

Now if you turn the switch to EICAS you'll be able to see your flaps position:

I was actually looking for that switch when I loaded the panel yesterday but couldn't find it... how stupid is that

Anyway, I'm looking at a couple of freeware panels, I'll let you know if any of them are good.