All 20 aboard die as aircraft breaks apart, hits ocean.
MIAMI, Florida (CNN) -- Investigators are trying to raise the wreckage of a seaplane from the ocean floor off Miami as they try to determine what caused the craft to break apart and slam into the water, killing all 20 aboard.
The vintage seaplane was headed to the Bahamas when it went down Monday afternoon. Amateur video showed the plane coming apart and part of it slamming into the water in a fireball.
Mark Rosenker, acting NTSB chairman, said a salvage team would attach balloons to the pieces of the Grumman G73 airplane and try to lift them onto a barge Tuesday.
"It might be trucked to a hangar, but we'll do a preliminary investigation when it first gets on shore," Rosenker said.
Teams would also continue their search for the aircraft's cockpit voice recorder, he said, in the hopes it will contain clues about what caused the fiery crash of the seaplane, which was built in 1947.
Investigators said they are treating the incident as an accident and that one factor might have been the plane's age.
"We'll be looking at operations. We'll be looking at human factors," he told CNN, as well as the plane's structure and engines.
Divers were mapping the crash site Tuesday morning and documenting the debris field through photographs, Coast Guard Capt. James Maes told CNN.
There were no apparent survivors of the crash. Nineteen bodies were recovered Monday, and the U.S. Coast Guard will search again Tuesday for a 20th person.
The airplane, operated by Chalk's Ocean Airways, was carrying two pilots, 15 adult passengers and three infants to Bimini in the Bahamas. (Map)
The plane, which takes off and lands on the water, crashed about 2:30 p.m., officials said.
Amateur video shows what appears to be the fuselage slamming into the water, followed moments later by an object engulfed in a large ball of fire -- possibly one of its wings. Trails of thick black smoke could be seen in the sky. (Watch amateur video of the crash -- 0:26)
"That's a truly remarkable piece of film," said Robert Francis, the former chairman of the National Transportation Safety Board. "This piece of film will now allow the NTSB to prioritize, a little bit, what they're looking for in terms of the wreckage."
Witnesses had described hearing a loud explosion and seeing the plane break up.
One woman said the plane was flying "pretty low" and "a little bit loud," when, "all of a sudden, we just heard it blow up." (Watch witnesses describe the plane's plunge -- 1:52)
"I saw two pieces, and it went down into the water," she said.
Another witness said he saw the wing come off, and "it exploded."
The crash prompted an urgent search-and-rescue operation involving the Coast Guard, fire department and other emergency departments. Three Coast Guard search vessels, aided by private boats and at least one helicopter, scoured the waters.
Chalk's general manager, Roger Nair, said the crash of Flight 101 was the first crash of a plane carrying passengers since the company was founded in 1919.
"We are a close-knit, family airline, and most of our passengers have been our customers for an extended period of time," he said. (Airline history)
NTSB records confirmed that the airline had never had a fatal accident with passengers on board before Monday. However, one of Chalk's planes crashed in March 1994 near Key West, killing the two occupants, both pilots.
Monday's crash closed down the main ship channel leading from the Port of Miami, Maes said, adding the the channel will not reopen until the wreckage is removed.
"We're hoping we can reopen the channel sometime today," Maes said.
A spokeswoman for the FBI's Miami office said Monday two agents were sent to the site but that there was no evidence of foul play.

This was on Fox news all afternoon yesterday, they are attempting to raise the plane now, it is in about 35 feet of water.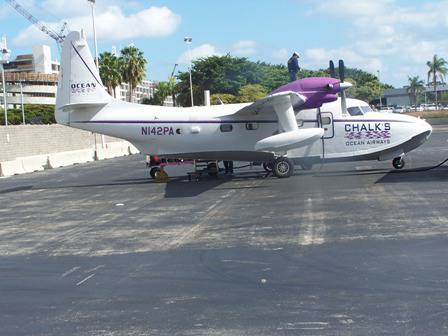 This is one of their planes, I don't know if it's the one that went down or not.
Yes that is #101 and the one that went down. Just very sad. These planes and Chalk's Airways are an icon to Miami,FL. They are beautiful to watch land and takeoff. Chalk's is highly regarded for their reputation for safety and never having a civilian crash. These planes are really cool! Watching the video it looks like to me that the right engine exploded (Pratt&Whitney G38 turboprop) and caused the right wing to go under stress and break off.
Once this occured the plane was completely in trouble and no stable control would be available. The plane took a good 200 foot plunge at a sharp 30-40 degree angle. I just pray that the impact killed everyone instantly. I would hate to think they suffered and drowned. Most of the bodies were still strapped in their seats when recovered. Terrible.[/img]
alohajoe wrote:

is that plane similar to the Grumman Goose?

Also very sad day especially just before Christmas....
The Goose, the Albatross and the Mallard are all very similar. All made by Grumman, all good airplanes but old.
Yer I heard about it. RIP to those unfortunate passengers 😞
I found this photo below of the acciedent at www.planecrashinfo.com along with this passage: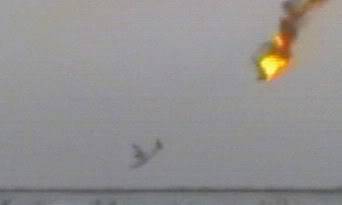 Date: December 19, 2005 Time: 14:30
Location: Off Miami Beach, Florida
Operator: Chalk's Ocean Airways Flight: 101
AC Type: Grumman G73T Turbo Mallard
Reg: N2969 cn: J-27
Route: Miami, Florida - Bimini, Bahamas
Aboard: 20 Fatalities: 20 Ground: 0
Details: The seaplane crashed off Miami Beach next to a jetty as it was taking off. There was an explosion and fire and the right wing separated prior to the plane impacting the water. The aircraft was carrying 15 passengers, 3 infants and a crew of two.
These are Grumman Mallards. They got rid of the old radial engines years ago and replaced them with Pratt&Whitney turboprops. They are such a classic and classy airline. I have personally flown on them 3 times and loved every flight. There is allot of noise/stress on the aircraft on initial takeoff and climb. Those engines are torqued up and screaming right at you. I love that sound!!!
They are flying again today. I read somewhere that Grumman made a press conference release of the traedy and are sending engineers to look at the remaining 6 Chalk's still operates. This one is my favorite in their fleet.
Yea, I read years ago that Corona pays Chalk's $100,000 USD a year to advertise on the plane. Read today that the NTSB found cracks in the spar or main support beam that the wing connects to the fuselage, thus causing the wing to seperate. The wings on these Grummans are wet wings (meaning fuel is inside of them). This would explain possible sparks and fire.
AstroSteve