I went down to my local PC store and got myself a 1GB stick of RAM, plugged it in at home, and booted up my PC only to be told "There have been significant hardware changes been made and you must re-actiavte windows xp"
Problem: I have already used my activation key on my legal copy and once I phoned up the Microsft help line they only confrimed this and did not help at all 😳 I can't contact the shop I bought it from as it is Easter weekend and the shops are not open for the next two days- the same amount of time I have been given to re-actiavte windows 😳 😳 😳
What can I do??? Someone please help me, I am desperate here ❗
Also, I started up FS2004 with now 1.5 GB ram to see the impact my $160 of spending had done. I went to YBBN (Brisbane) where I normally get a lag of 6FPS heading towards the city centre, and now it ran semi-smooth at 14FPS.
I tried GTA San Andreas and Need For Speed Most Wanted and did not notice any difference. I then tried SimCity4 and still recived the same lagg I had before I installed my new RAM.
The question I have is, did I put my new stick in the right slot? Before hand I had two slots, #1 with 256mb in it and #2 with 512mb in it. All I did was swap the 512mb in #2 for the 1gb stick as in the diagram below: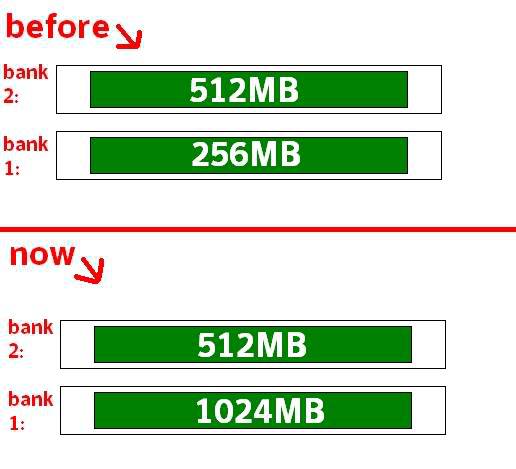 Is this correct or do I need to swap my sticks over in order to recive better preformance or something. Control Panel registers I have 1.50GB of RAM so i'm not sure what to do...what effects should I be seeing on my PC now I have upped my RAM?
Please help ASAP
Thanks in advance-
Andrew
The slots you had put your ram are correct according to your drawing.
Your system will run easily on multitasking and you will notice smoother running of your FS graphics.
Did you try to re-activate windows anyway?(Sorry for MS guys but i find this kind of secure settings a load of

)
buy another copy of windows..
or get one that doesn't require activation

I posted this same message on the VistaOz forums and a member said this:
There is NO WAY you should get the "activate" message just adding ram.
I have added ram to several computers and NEVER had to re-activate.
Is this because I removed my graphics card for a few minutes while swapping the RAM prehaps?
It looks like my only option is to buy another copy of windows

Thats going to cost me loads 😞
or get one that doesn't require activation
Meaning what? I dont want any pirated stuff on my pc...
Does anyone think it is worth swapping the memory to different slots would help?
Hi there CT,
Glad you got some extra memory. Windows should only need re-activated if you have changed 4-5 bits of Hardware.
Have you tried re-activating using your windows key?
last year I had a major computer problems. I had to change the following bits of hardware.
CPU
Mobo
GC
Sound Car
I wasn't asked to re-activated Windows. I only had to re-activated it when I upgrade my RAM. Also when ever I reformat my HD I had to re-activate Windows. I have reformated my drive about 5 times and have had no problems at all with Windows.
Try and put in your Windows key and everything should be fine.
If you need anymore help just ask
Liono
Try and put in your Windows key and everything should be fine
I just tried that and it worked ❗ ❗ ❗
Wow- I am so happy, thank you very much for that tip- I don't know why it didn't work yesterday 😕
Oh well- now it is all is sorted, cheers 🍻